Whether you are a photographer, nature-lover, adventurer or just looking for an amazing experience, you've come to the right place. This collection features some of the most unique places across the U.S.A state of New Mexico for surreal vistas that will inspire. Get ready for some wanderlust. New Mexico is a haven for the unexpected. A place for those who seek to follow their own path. New Mexico is a every photographer's dream.

New Mexico is known as the Land of Enchantment.

1. GHOST RANCH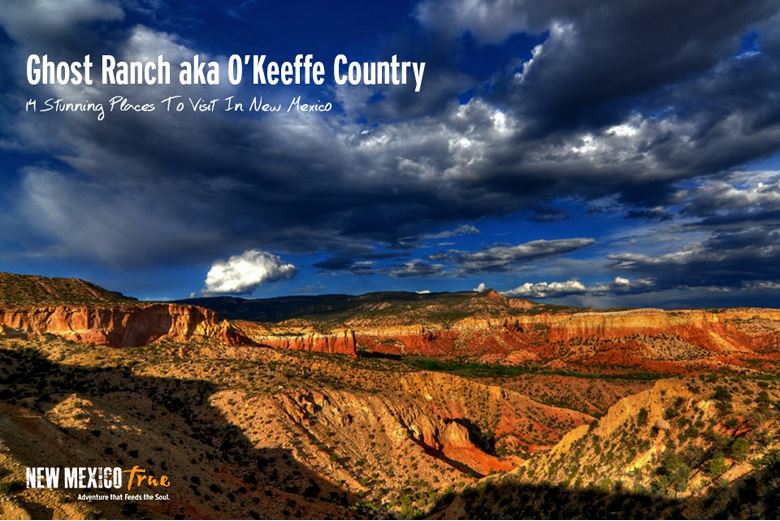 With the dramatic landscape of red and yellow cliffs, Ghost Ranch in Abiquiu, New Mexico, encompasses 21,000 acres of towering rock walls, vivid colors and vast skies. It boasts beautiful scenery, was home to Georgia O'Keeffe and has activities to suit any interest including hiking, horseback riding and kayaking among others.

2. SHIPROCK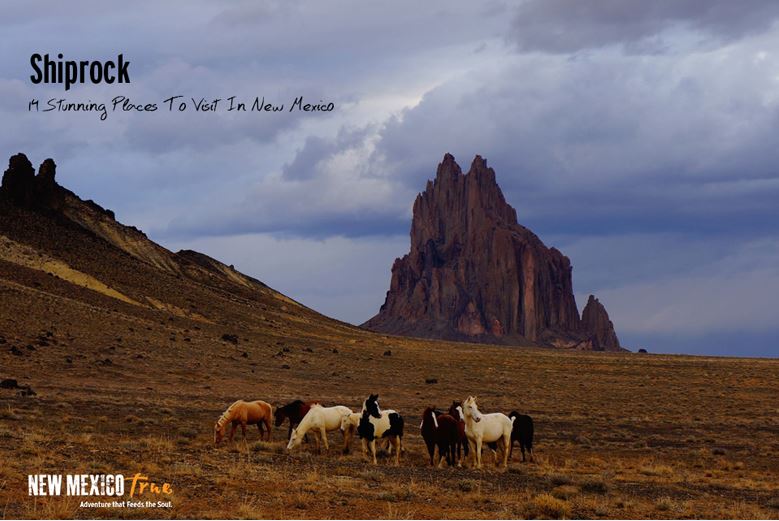 This magnificent landmark can be seen 50 miles in any direction. Shiprock, or Shiprock Peak, rises nearly 1,583 feet above the high-desert plain on the Navajo Nation in the Four Corners region of New Mexico. Shiprock is a sacred mountain to the Navajo people and point of interest for hikers, photographers and film producers. It is illegal to climb without a permit from the Navajo Nation.

3. CARLSBAD CAVERNS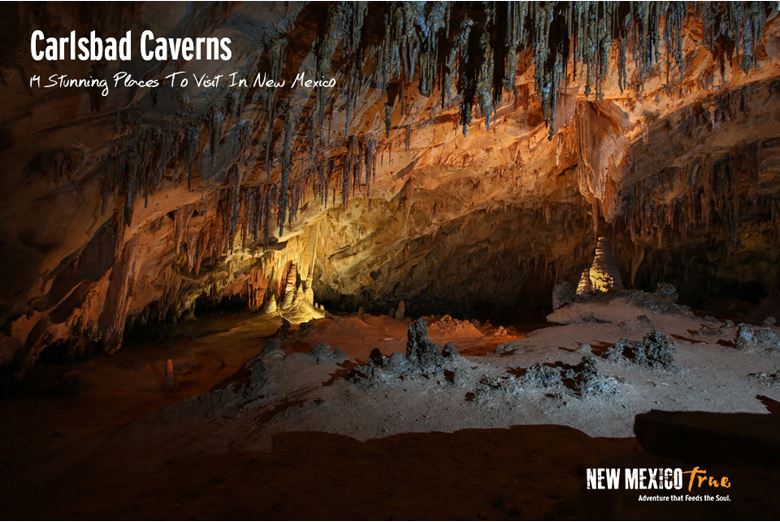 Secretly tucked below the desert terrain are more than 119 known caves – all formed when sulfuric acid dissolved the surrounding limestone.

4. TENT ROCKS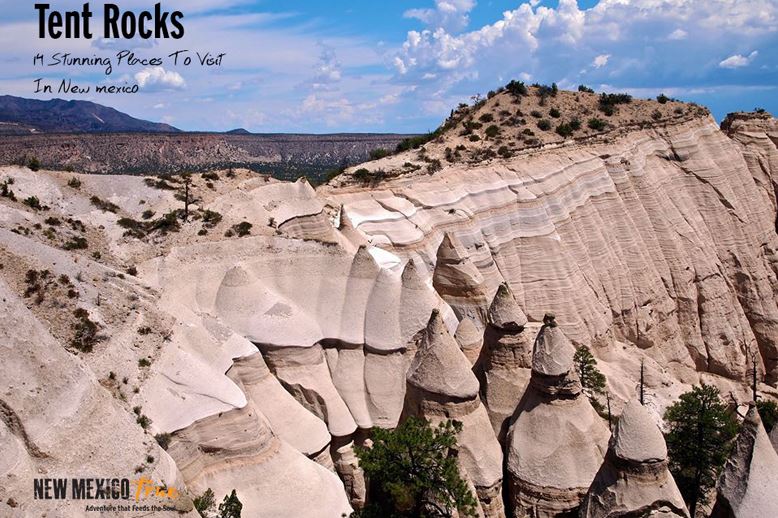 The cone-shaped tent rock formations at this breathtaking National Monument are the products of volcanic eruptions that occurred 6 to 7 million years ago leaving pumice, ash, and tuff deposits over 1,000 feet thick.

5. WHITE SANDS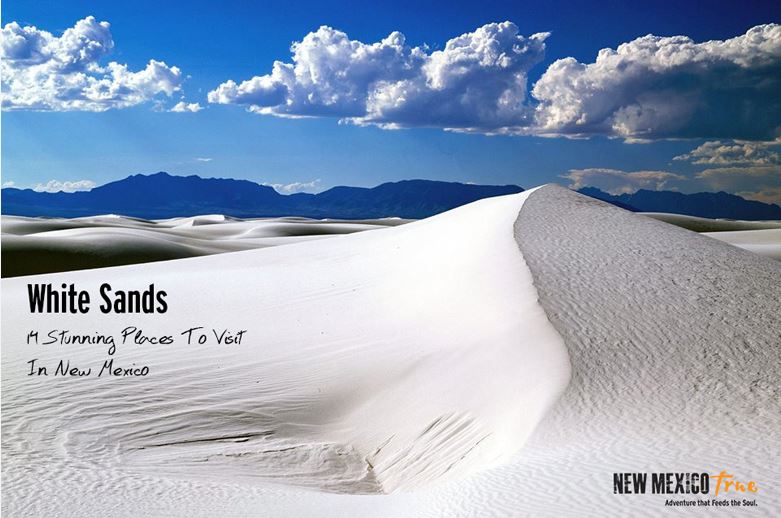 Awesome wave-like dunes of gypsum sand engulf 275 square miles of desert creating one of the world's great natural wonders – the glistening white sands of New Mexico.
Read Also:
12 Interesting Facts About Bolivia
20 Things About Kazakhstan You Didn't Know

6. MAGDALENA STAR PARTIES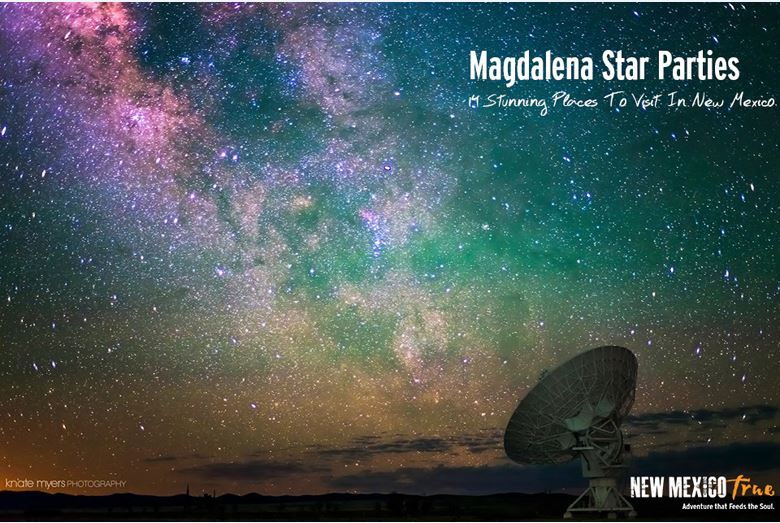 The darkness and clarity of the New Mexico sky is a special treat that is all too rare today. Have you ever seen the Andromeda Galaxy or the Great Nebula in Orion or the Beehive Star Cluster with your naked eye? Here, you can see these and more!

7. TAOS GORGE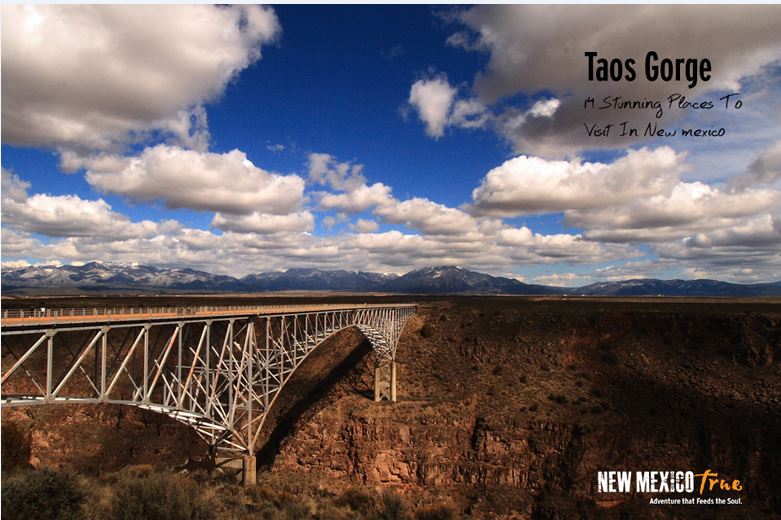 At 650 feet above the Rio Grande, the Taos Gorge Bridge is the fifth highest bridge in the United States. Stand overhead to capture magnificent photos of the Rio Grande, or raft through it for more adventure.

8. BLUE HOLE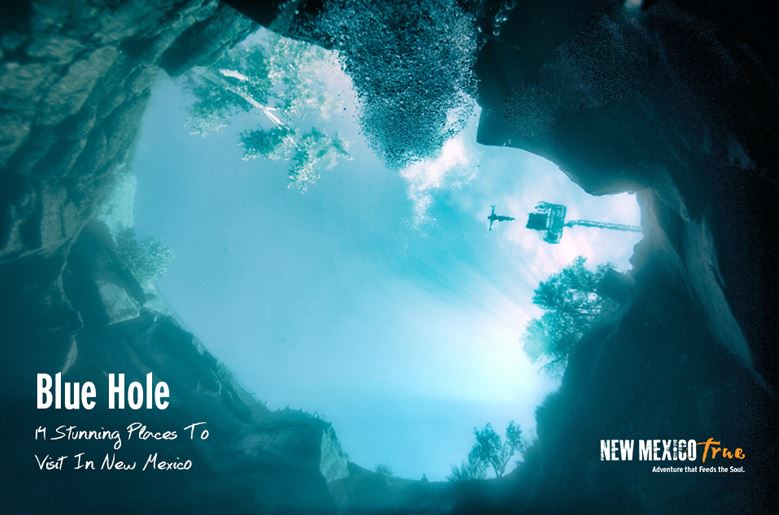 The Blue Hole in Santa Rosa, NM is a natural, bell-shaped pool that is 80 feet deep, has astonishing clarity and a constant water temperature of 61 degrees. This geological phenomenon makes Santa Rosa the scuba diving capitol of the southwest.

9. BRAZOS CLIFFS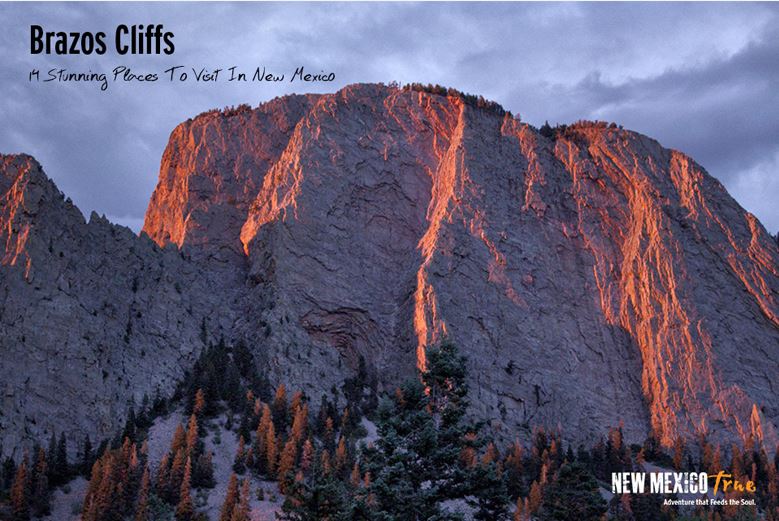 Rising over 2000' above the Chama River, the sheer granite of the Brazos Cliffs is some of the oldest rock found in New Mexico. Catch this monolith at sunset for spectacular lighting!

10. BANDELIER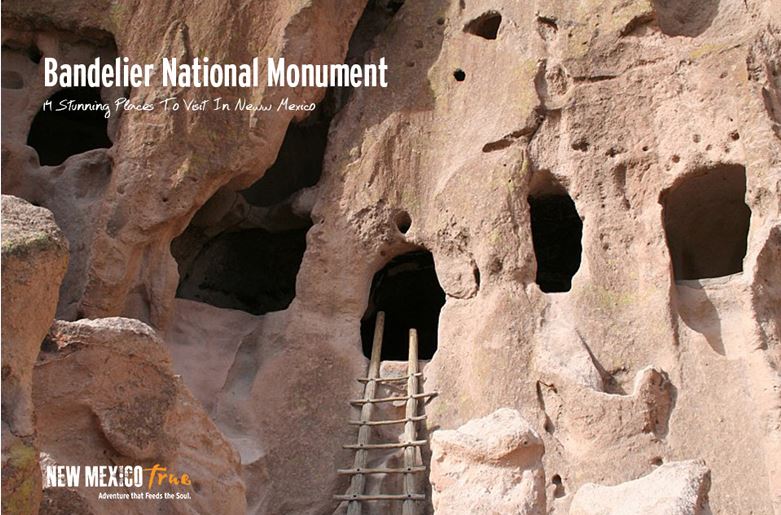 Bandelier National Monument spans 33,000 acres of ruggedly beautiful canyon and mesa country that contain some of the most unusual and interesting ancient ruins in the Southwest.

11. BOSQUE DEL APACHE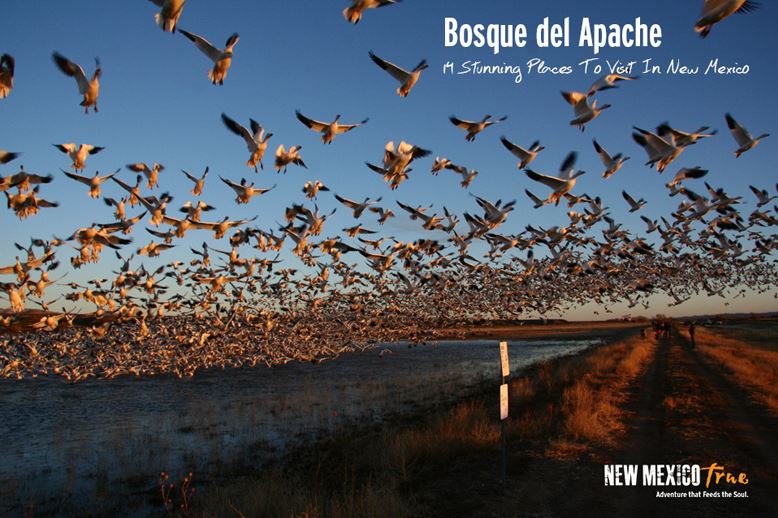 At this spectacular national wildlife refuge tens of thousands of birds–including sandhill cranes, Arctic geese, and many kinds of ducks–gather each autumn and stay through the winter. Try to capture a photo when they all erupt in flight then head for a hike or a picnic while taking in the sights.

12. VALLES CALDERA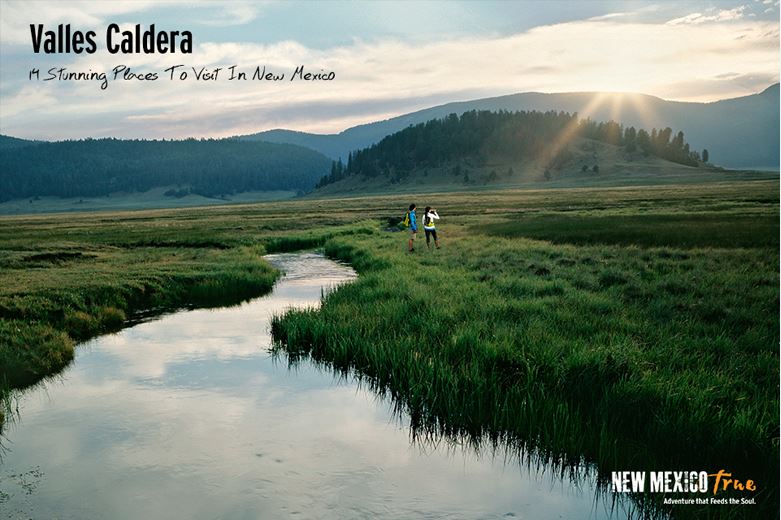 New Mexico's Super Volcano! This 89,000 acre National Preserve is in the heart of one of three super volcanoes in the United States. Known for its expansive high mountain valleys, large elk herds, and diverse history, the Preserve is a favorite among the locals and visitors alike.


13. GILA CLIFF DWELLINGS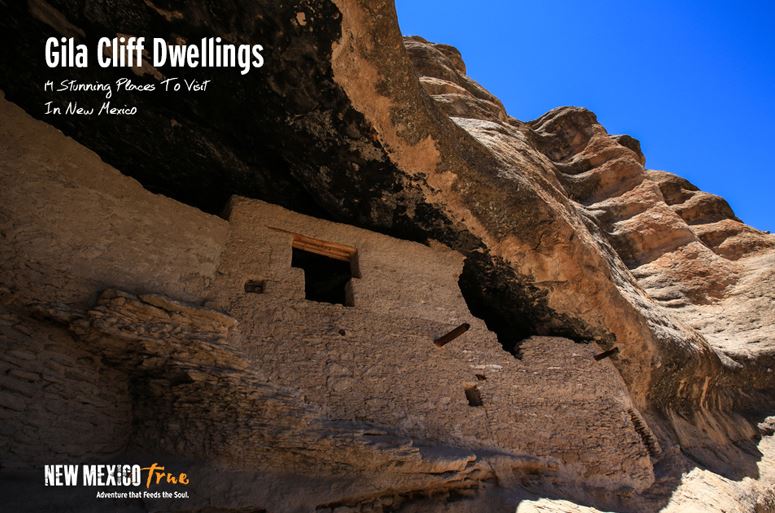 The Gila Cliff Dwellings National Monuments offers a glimpse of the homes and lives of the people of the Mogollon culture who lived there over 700 years ago. Their dwellings, built within five of the natural caves of Cliff Dweller Canyon or in the open, are accessible to the public.

14. BISTI BADLANDS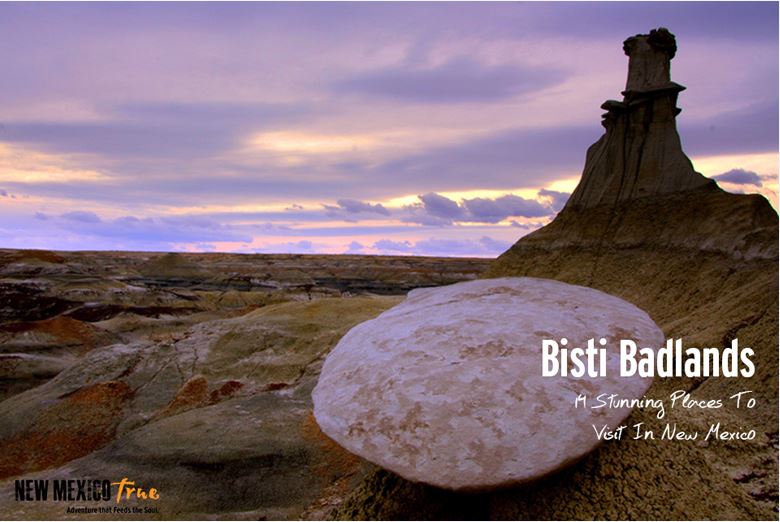 The Bisti Badlands / De Na Zin Wilderness Area was once a coastal swamp of an inland sea, home to many large trees, reptiles, dinosaurs and primitive mammals. Today the preserved record of this swamp offers some of the most unique scenery in the Four Corners region.
Which is your favourite Place in United State? Share your views by commenting below, by tweeting us @Reckontalk, or by posting on our Facebook page.
[divider scroll_text="Back To Top"]