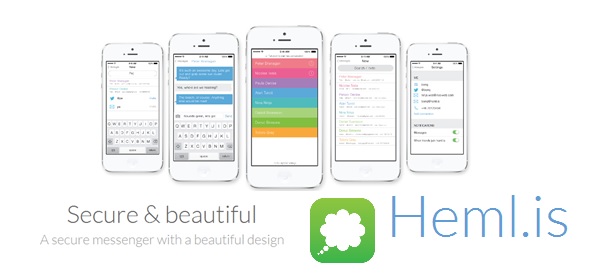 Secrets are only secrets if they are secret.
Hemlis (Heml.is) is a new mobile messaging application with superior encryption technology to prevent outsiders from peeking through your conversations from the team of Peter Sunde (Cofounder Pirate Bay), Linus Olsson & Leif Hogsberg.
Hemlis means "Secret" in Swedish. And .is is the top level domain of Iceland, a small but beautiful nation in northern europe – quite close to Sweden! The Icelanders are famous for data protection and it's one of few top level domains that has proven that they do not cave in to pressure easily.
This messaging application is seems to be a strong critical response to National Security Agency's (NSA) PRISM online survelliance program. (PRISM program was leaked last week to media by Edward Snowden- A NSA contractor).
We're building a message app where no one can listen in, not even us. We would rather close down the service before letting anyone in.
– The Hemlis Team
Hemlis will initially be available on iOS & Andriod mobile operating systems. As per founders they will try their best to keep this application in open space domain but not entirely because open source code doesn't guarantee privacy at utmost level. They also said it won't collect data, sell advertising or accept funding from investment firms and angel investors.
Hemlis Team is receiving lot more request from Windows mobile phones than expected and heopfully will launch on that plateform in incoming months.
 To guarantee the safety of our users, we cannot accept money "with string attached"
– The Hemlis Team (Ref. Their official blog post)
Sunde and Olsson have previously attempted to create an ultrasecure cloud storage service- Bayfiles and cofounded the crowdfunded social plateform Flattr.
The founders are currently raising money through crowdfunding campaign. People who are interested in hemlis secure mobile chatting application and those who always supported an open source non-commercial innovation has already donated landmark $100,000 in just one and a half day through Paypal and Bitcon donations.
Watch hemlis Introductory Video:
https://www.youtube.com/watch?feature=player_embedded&v=oPeujbY3feM
---