A Catholic nun has become an overnight pop sensation after stunning the jury of Italy's The Voice TV talent show with her version of the Alicia Keys hit "No One".
Sister Christina Scuccia, a 25-year-old Sicilian, bopped about on the stage in her black habit and a large cross necklace on the show, sparking wild cheers from the audience and stunned reactions from the four judges. Her performance has been viewed more than 80 million times on YouTube.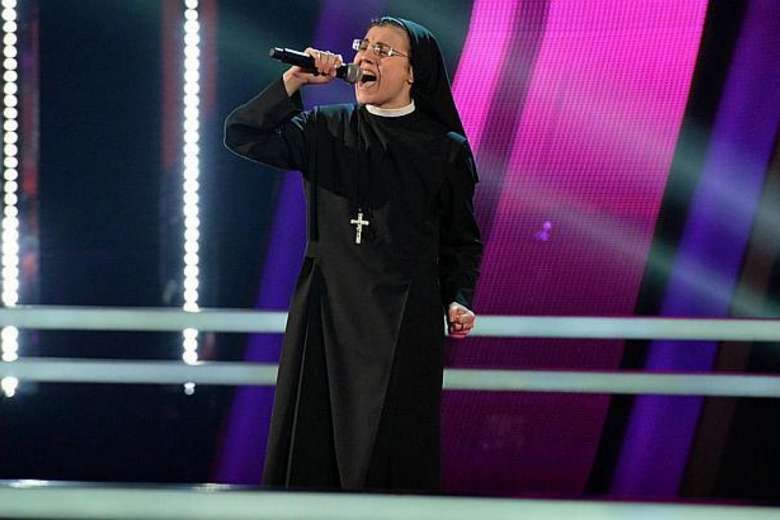 When 25-year-old Sister Cristina Scuccia appeared on The Voice of Italy, she floored the audience and judges with her performance.
After stunning judges and viewers of Italy's version of The Voice on national television earlier, Sister Cristina Scuccia is raising eyebrows once again with the song she has chosen to release for her first single, complete with video.
The singing nun delivers an almost hymn-like cover of one of the most notorious songs from Madonna (No, not that Madonna; the pop star) – Like A Virgin. Watch the video here:
The nun, who has an easy smile and is a member of the Ursuline Sisters of the Holy Family, said: "I came here because I have a gift, and I want to share that gift." One of the judges, Italian rapper J-Ax, said he was "moved to tears".
She said she had been inspired to go on the show by Pope Francis, who "told us to come out" of our convents and spread the word of God.
Asked by judge Raffaella Carra what the Vatican thinks about her going on a talent show, she quipped: "I'm waiting for a call from the pope!"
Scuccia decided to become a nun after playing the part of a saint in a comic musical in 2007, according to Italian media reports. The video of her performance has gone viral in Italy, with even the Vatican's minister of culture Gianfranco Ravasi tweeting his admiration. "If I had heard you sing in mass when I was young, I'd be pope by now," J-Ax said, to the audience's delight.