How can a lingerie brand convince men to buy lingerie for their women? Simple, just show beautiful models wearing the lingerie, and enable men to buy it directly from the picture. But that's been done to death for ages. How do you provide them the added incentive to make the purchase? This is how.
Marisa, a Lingerie company came up with a mind-blowing campaign named 'Strip Commerce'. On their e-commerce site, they added a new dimension to the purchase experience. Men could browse through the various models wearing their lingerie. The twist here was that once they buy a particular under-clothing, that bra or panties would disappear and the model would be completely naked.
Well, we have to say that, this is a pretty BOLD move !
[youtube height="500″ width="800″]https://www.youtube.com/watch?v=OlUCt6SqNPY[/youtube]

Audio: A Voz do Brasil
Bronze Lion – Mobile Lions
Marisa – Lingerie
Almapbbdo São Paulo, Brasil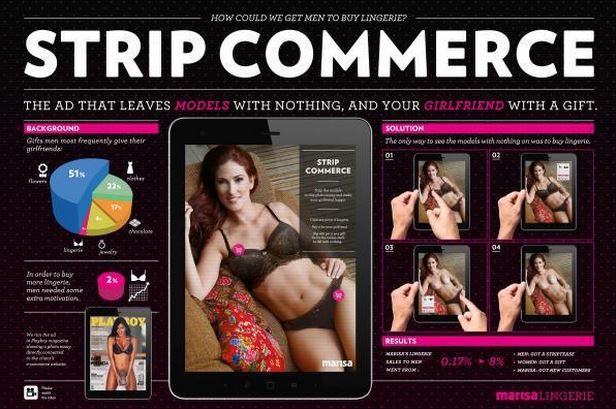 [divider scroll_text="Back To Top"]