It might be just few days that Narendra Modi, the Workaholic has been India's Prime Minister, but there has been no let up on his style of work. His extreme dedication and hardwork have been a little tough on other babus and netas in his team.
A known workaholic who maintains a punishing 18-hour daily schedule, Narendra Modi has not made life very easy for his ministers and bureaucrats, from whom he expects the same levels of work and commitment.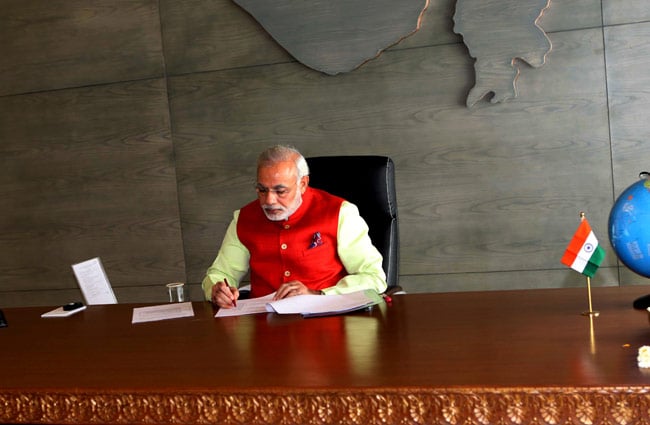 This report in the Business Standard quotes Minister of State for Home Affairs, Kiren Rijiju, as saying that the main problem faced by Modi's staff is that the man himself is up and running at 5.30 am even after working till well after 1 am. Food Processing Minister Harsimrat Kaur Badal is also quoted as saying she got a call from Modi at 9 in the morning asking her to meet him in 10 minutes. "I left whatever I was doing and simply rushed because I know the PM doesn't like latecomers," she has been quoted as saying. And everyone is jumping to attention with good reason.
The Economic Times gives a closer glimpse into what life is like under Modi, quoting a series of unnamed ministers and bureaucrats. They talk about what is expected of them in terms of inputs (short action bullet points, not theories), how they are supposed to be well prepared for meetings, be ready to sit in follow up meetings and of course work, work, work. "Officers cannot leave till the ministers are in office.
Following in the footsteps of Modi, ministers have started calling babus late evening and even early morning to discuss issues," a senior official has been quoted as saying. And in the true spirit of the obsessive new boss, Narendra Modi has been carrying out spot inspections of the ministries, commenting on cleanliness and being a general stickler for rules.
While babus are speculating that life will get easier for them after the budget, Modi's zeal to effect change in a hurry, coupled with his existing reputation as someone comfortable with a gruelling work schedule does not give them much hope in this regard. So expect huge changes in the government offices in central Delhi: Longer working, bleary eyed, jumpy netas and babus among them. Of course there is already some debate on whether long working hours and a demanding task master is the best way to get the best out of your employees. "Many consultants draw parallels from the corporate world to say while a CEO should be a hard taskmaster, he has to draw the line somewhere. Otherwise, such a CEO is referred to by his colleagues as a slave-driving psycho," says the Business Standard. It's unlikely that Narendra Modi will care. After all he has been called worse.
If the work culture in the public sector and specially the government is changed in such a way, the popular phrase "Acche din aane wale hain" will be a reality soon.
[divider scroll_text="Back To Top"]