A Patalia Peg refers to a quantity that is roughly 120ml amount of alcohol in a single peg.

The Patiala Peg is generally associated with Maharaja Bhupinder Singh of Patiala who also founded State Bank of Patiala in 1917, was the proud owner of Patiala Necklace. Interestingly, he was also the captain of the first Indian cricket team that visited Britain in 1911. Maharaja Bhupinder Singh was also the Chancellor of Chamber of Princes from 1926 to 1931.
The story behind Patiala Peg:

"Maharaja Bhupinder Singh of Patiala had a Polo team, which was undefeated during his reign. Part of his army consisted of legendary warriors of Punjab. Their favourite pastime was skullpegging. The skulls of their enemies buried half way into the ground, they lifted the skulls by pegging them with their spears as they rode their horses, rider and horse inebriated with 'bhang'. The civilized version of the game came to be known as 'Tent Pegging'. It was a fearsome Maharaja's generous reward for a fine performance and dire retribution for the loser that made the Patiala team world tent-pegging champions. It was in the Patiala tradition to invite the 'Viceroys Pride', for a friendly engagement in the Maharajas territory.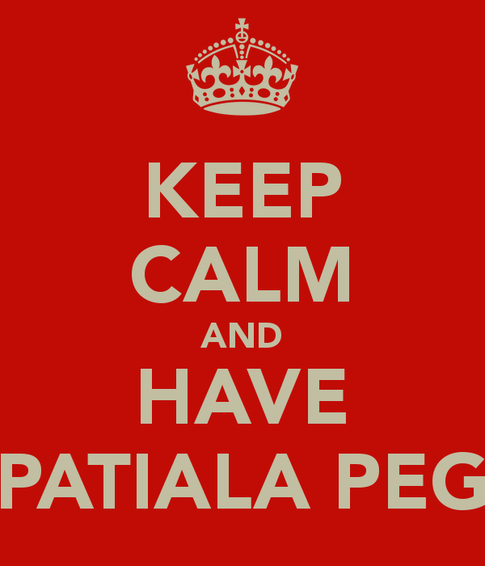 The 'Viceroys Pride', all Irish men, handsome in their gait, were the ones who would drink till the night's end, and were still able and proud to walk straight.

When the 'Viceroys Pride' arrived in Patiala for a friendly match, the home team felt nervous and feared that if they lost the game, it would be their skull on which their Maharaja would peg his spear. So a conspiracy was hatched.

On the evening before the encounter, the 'Viceroys Pride ' was entertained to the pouring of a double measure of whiskey in every peg, later called the "Patiala Peg". In the morning, they went into the friendly match of tent pegging, their heads heavy and groggy. While they were drinking, the pegs used for tent pegging were replaced with smaller ones for the 'Viceroys Pride' and the larger ones for the home team.
Main Image Source
[divider scroll_text="Back To Top"]