Are you an indian who does not care about cricket at all? Now for those who don't realise the problem with this, its a bit like being in a pack of lions and not being fond of hunting. You tend to be lost in all those conversations about the square cut shots, under the arm bowling and all those references to that random Firoze Shah Kotlah match in 1995 where someone made a 200 or took 10 wickets. Let's come to the point, the topic Why Sachin Ramesh Tendulkar (born 24 April 1973) is so important for every Indian even for those who don't care about cricket.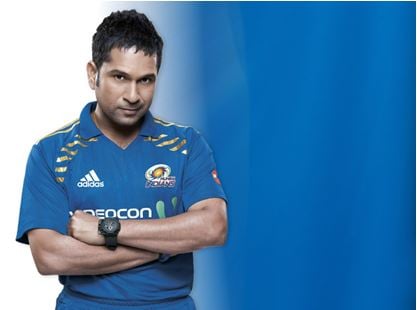 Sachin has been the Muhammed Ali, Roger Federrer, Tiger Woods of cricket, and has been a pride of the nation. Every young boy in India wants to bat like Sachin, be like Sachin or at best one fortunate day just be able to take an autograph to make his own life complete. Those who don't care about cricket are obviously interested in none of that! Don't get me wrong, But somewhere in deep corner of their heart everyone respect him for his achievements and his ability as a sportsman.
But, that is not the reason he matters to Indians. To them, he does what our national anthem could never do, what stories of our freedom struggle could never do, what our national leaders over all these years could not even some close to, and to an extent what even Mahatma Gandhi couldn't manage to do. He brings my country together. Sachin Tendulkar is one and the only thing india unites on. Be it Hindus, Muslims, North Indians, South Indians, guys, girls, the urban high rise city folks or the farmer in the village, when Sachin is on 99 we all have but one wish in our hearts.
To Indians Little Master is a symbol of Nationalism like no other one has seen in his/her lifetime. Why does india need a symbol like that? Because Indians are all different! They don't share the same religion, gods, language, food, culture, past, and even race. The Indians always have plenty of stuff to differentiate each other on, but little that brings them together. We need such a symbol now more than ever, as we need to come together tackle the bigger problems and rise up to where we should have been, where India should have been.
[accordion]
[acc_item title="David Richardson, ICC Chairman" style="primary " ]
He was an exceptional cricketer who earned the utmost respect of his peers, team mates, opponents and fans all over the world through his talent, performances and fierce competitiveness.
[/acc_item]
[acc_item title="Anjali, Wife Of Sachin" style="success" ]
I have always known, from even before we got married, he is not only mine. Cricket comes first. He belongs to Mumbai, he belongs to the country and then he belongs to us
[/acc_item]
[acc_item title="Reger Federer, The Tennis Great" style="info" ]
What a remarkable career @sachin_rt. Wish you the very best moving forward #ThankYouSachin
[/acc_item]
[acc_item title="Matthew Hayden, Austrlian Cricketer" style="warning" ]
Chase dreams and no short cuts, be a good person #dad patience, prayers and sacrifices #mum whatever you do, do it 100%#brother #Sachin
[/acc_item]
[acc_item title="Harbhajan Singh, Indian Cricketer" style="danger" ]
Let's salute the master. Cricket won't be the same without u. For me u r cricket. Thank u paji for everything
[/acc_item]
[/accordion]
Sachin's departure from cricket, is not only crickets loss but also India as a nation, and for Indians as people. His spot is empty. Someone amongst the billion of us needs to fill that place and fill it fast. Let's hope we can once again as a nation come together with the same hopes and same feelings in our hearts for someone. It saddens to think that when they write the history books, they will mention Gandhi, Sardar Patel, Bhagat Singh, the Constitution, the National Anthem, our National Flag, but will confine Sachin to the sports records and ignore this great man's biggest contribution to India or may be not as Sachin Tendulkar (A.k.a SRT )- The Yougest Person and the First Sportsman has been nominated for Bharat Ratna (the highest Indian Civilian Award)
The joy he brings to the millions of his countrymen, the grace with which he handles all the adulation and the expectations and his innate humility – all make for a one-in-a-billion individual.

-Glenn McGrath, A former Australian Medium pacer considered one of the greatest bowlers in cricketing history


ThankYouSachin



---