New Zealand has been called "God's own country" and the "Paradise of the Pacific" since the early 1800s. New Zealand is increasingly known, both in the indigenous Māori language and by Pakeha, as Aotearoa, often translated as land of the long white cloud.
New Zealand is a country of stunning and diverse natural beauty: jagged mountains, rolling pasture land, steep fiords, pristine trout-filled lakes, raging rivers, scenic beaches, and active volcanic zones. These islands are one of Earth's most peculiar bioregions, inhabited by flightless birds seen nowhere else such as a nocturnal, burrowing parrot called the kakapo and kiwi. Kiwi are not only one of the national symbols – the others being the silver fern leaf and koru – but also the name New Zealanders usually call themselves.
It's diverse landscape makes for a traveller's dream, allowing one to stumble upon some of the most unusual, strange and just plain weird places like no where else on earth. So here it is, our Top 15 Amazing, Weird & Interesting Places of New Zealand you must visit before you die.

1. Cathedral Cove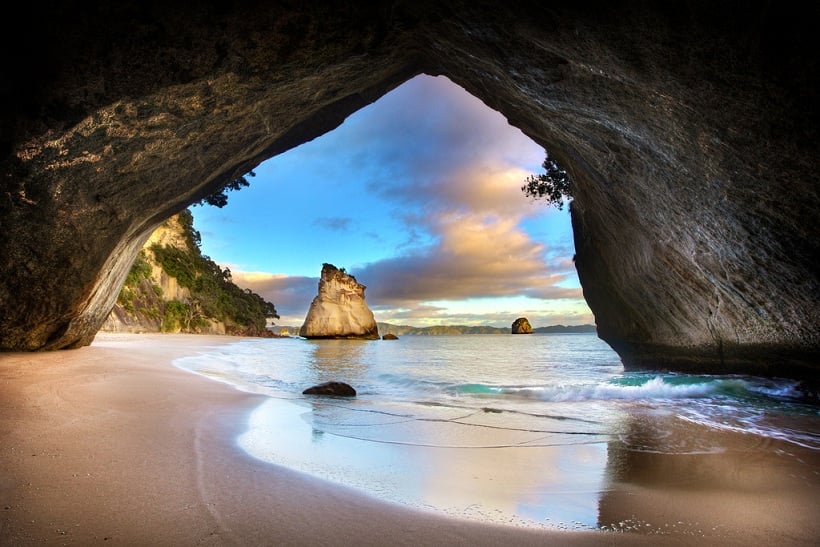 Take a trip to Cathedral Cove to view some of New Zealand's most spectacular coastal scenery. Accessible only on foot or by boat, famous Cathedral Cove is one of the "must visit" sites on the Coromandel Peninsula. The track begins at the northern end of Hahei. The Cathedral Cove walk starts from the carpark on GRANGE Road and is approx. 1.5 hrs return walk. You can visit Cathedral Cove anytime. To walk down is approx. 35mins one way. Stingray Bay is 20mins from carpark. The walk back out is approx. 45mins. Snorkel Trail at Gemstone Bay 10min from car park.

2. Cape Reinga Sand Dunes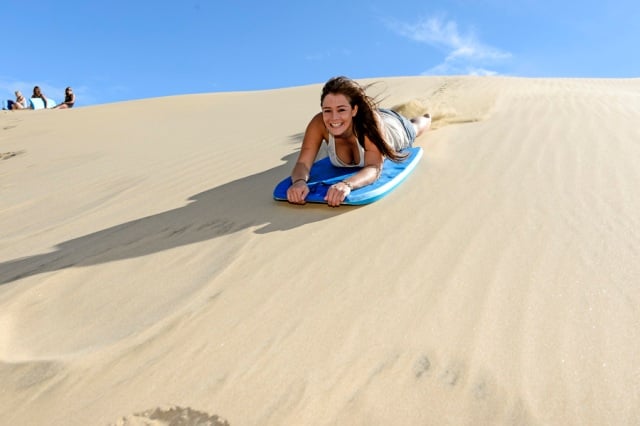 Sand Boarding in Cape Reinga, New Zealand. Cape Reinga is ultimate northern New Zealand. See two oceans collide & discover the place of leaping, where Maori spirits begin their final journey.

3. The World's Steepest Street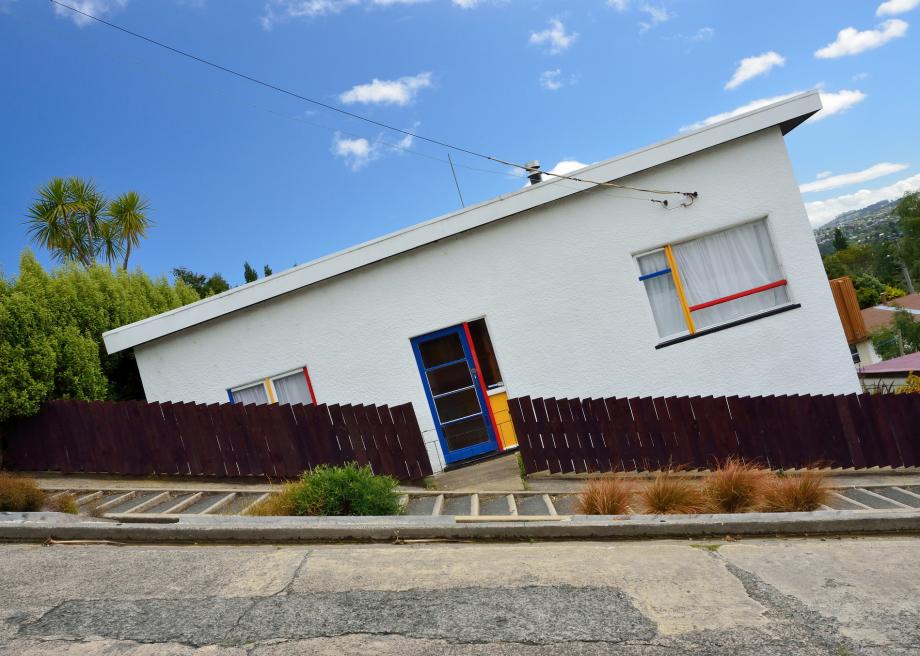 Baldwin Street, in Dunedin, New Zealand is the world's steepest residential street, according to the Guinness Book of World Records. It is located in the residential suburb of North East Valley, 3.5 kilometres northeast of Dunedin's city centre.

4. Moeraki Boulders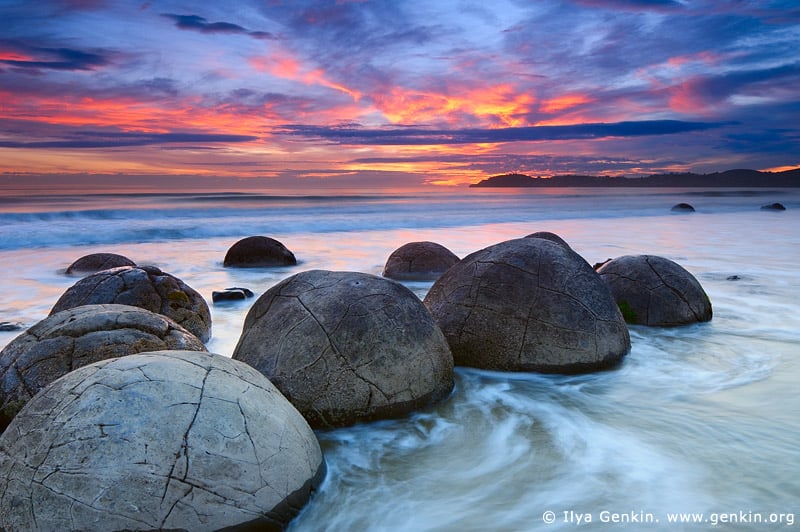 The Moeraki Boulders are unusually large and spherical boulders lying along a stretch of Koekohe Beach on the wave-cut Otago coast of New Zealand between Moeraki and Hampden.

5. Christchurch's post earthquake "Restart Mall"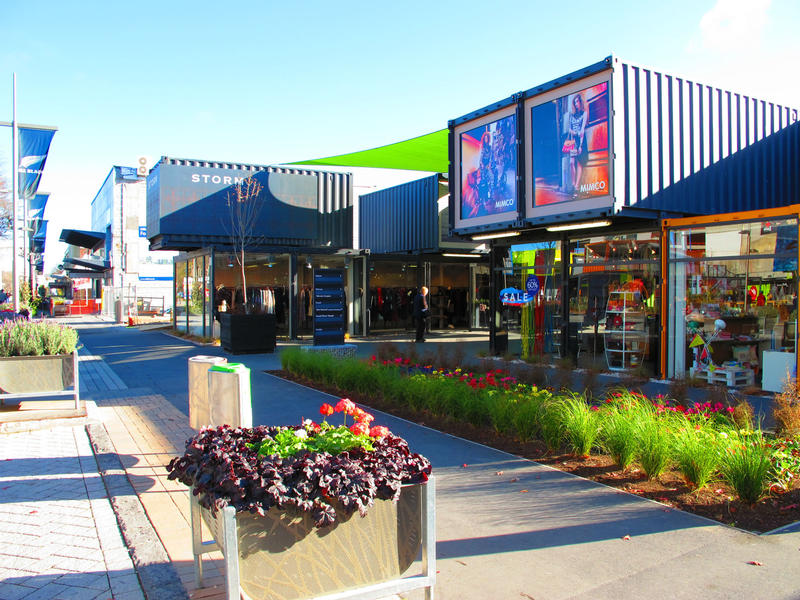 Re:START is an outdoor retail space consisting of temporary buildings made from shipping containers. Opened in October 2011, Re:START has been steadily growing to approximately 40 retailers, a number of food caravans and a market on the weekend.
Temporary shops made from shipping containers were fitted out as retail premises, accommodating 27 shops known as Re:START. Ballantynes, Christchurch's remaining department store, also reopened and is the retail anchor. Prime Minister John Key officiated at the opening ceremony.
Organisers initially claimed that it was the world first pop-up mall, but there were already container malls in other places, for example Cholula (Mexico) and Bishkek (Kyrgyzstan). Organisers of the Christchurch mall project were threatened with legal action by organisers of a similar project in London (Boxpark) that is yet to open.

6. Doubtful Sound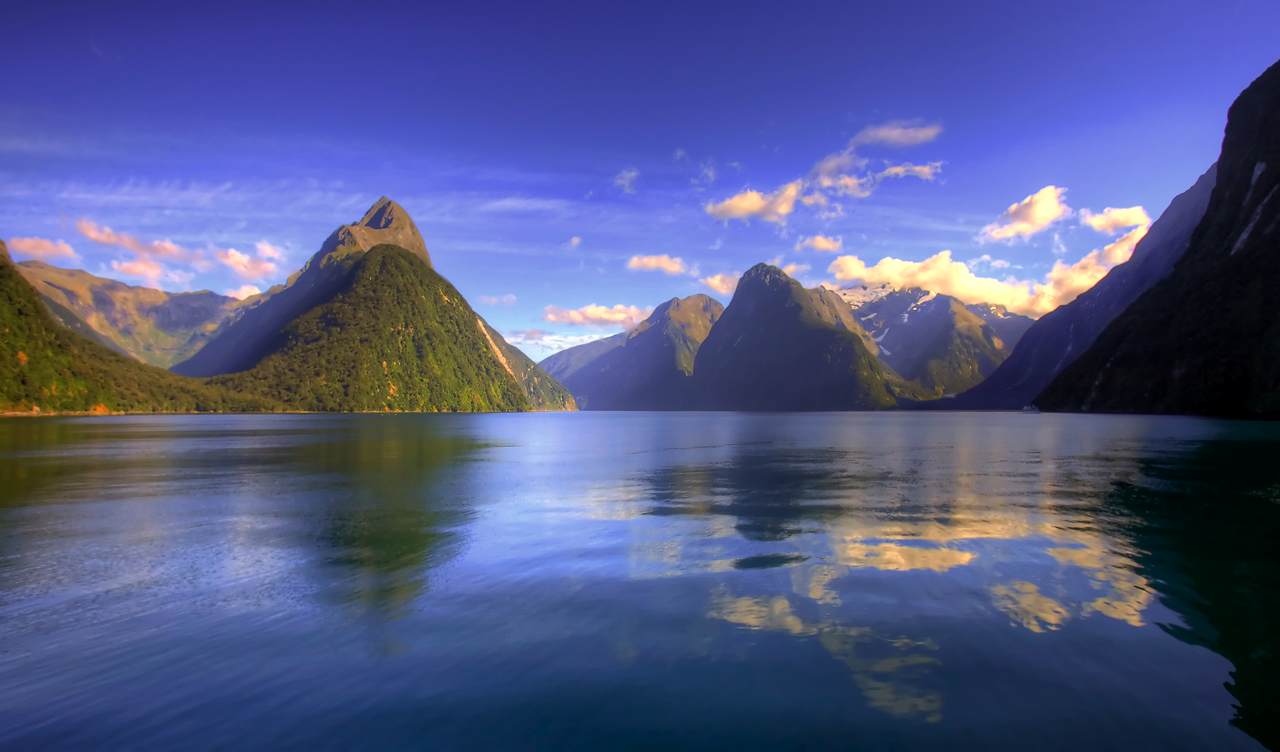 Doubtful Sound is a very large and naturally imposing fiord in Fiordland, in the far south west of New Zealand. It is located in the same region as the smaller but more famous and accessible Milford Sound. Sometimes called 'the Sound of Silence', there is a cloistered serenity within Doubtful Sound that contrasts with Milford Sound. The fiord is rich in flora and fauna, New Zealand Fur Seals and Fiordland Crested Penguins can be seen on many of the small islets at the entrance of the fiord.
At 421 metres deep, Doubtful is the deepest of the fiords and is long and winding with three distinct 'arms' and several outstanding waterfalls in the area from Deep Cove to the open ocean, a distance of around 40.4 kilometres.

7. The World's Longest 'Bra' Fence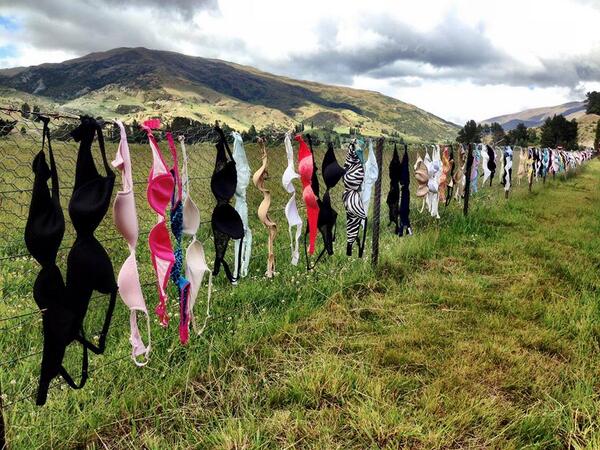 The Cardrona Bra Fence was a controversial weird tourist attraction in Central Otago, in New Zealand. At some point between 1998 and 1999, passers-by began to attach bras to a rural fence. The fence gradually became a well known site as the number of bras grew to hundreds. The fence is located on a public road reserve, adjacent to farm property in the Cardrona Valley area southwest of Wanaka, near a motorcar racetrack.
The Bra Fence began at some point between Christmas 1998 and New Year 1999, when four bras were attached to the wire fence alongside the road. Four girls were said to be partying on New Year's Eve of the new millenium and decided to take their bras of and leave them hanging on the fence as a sort of celebratory ritual. In a matter of months, the fence was littered with over 60 bras flapping in the wind. By 2006, a splendid collection of 1,500 mammary support garments of all colors and cup sizes adorned the humble fence in the rolling Kiwi countryside.

8. Fox Glacier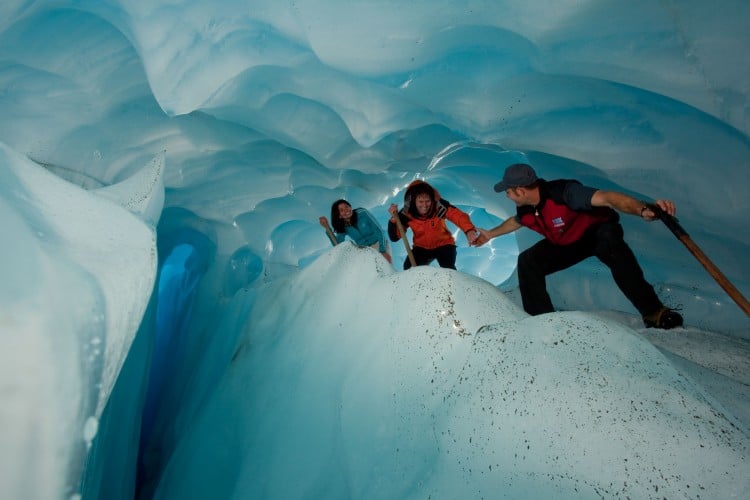 The Fox Glacier is a 13 km long glacier located in Westland Tai Poutini National Park on the West Coast of New Zealand's South Island. It was named in 1872 after a visit by the then Prime Minister of New Zealand, Sir William Fox.
Like nearby Franz Josef Glacier, it is one of the most accessible glaciers in the world, with its terminal face an easy walk from Fox Glacier village/Weheka. It is a major tourist attraction and about 1000 people daily visit it during high tourist season. Though people are told not to, some go beyond the barriers and climb without guides onto the glacier, whose rapid advance creates dangers of sudden ice and rockfalls.

9. Wai-O-Tapu Geothermal Wonderland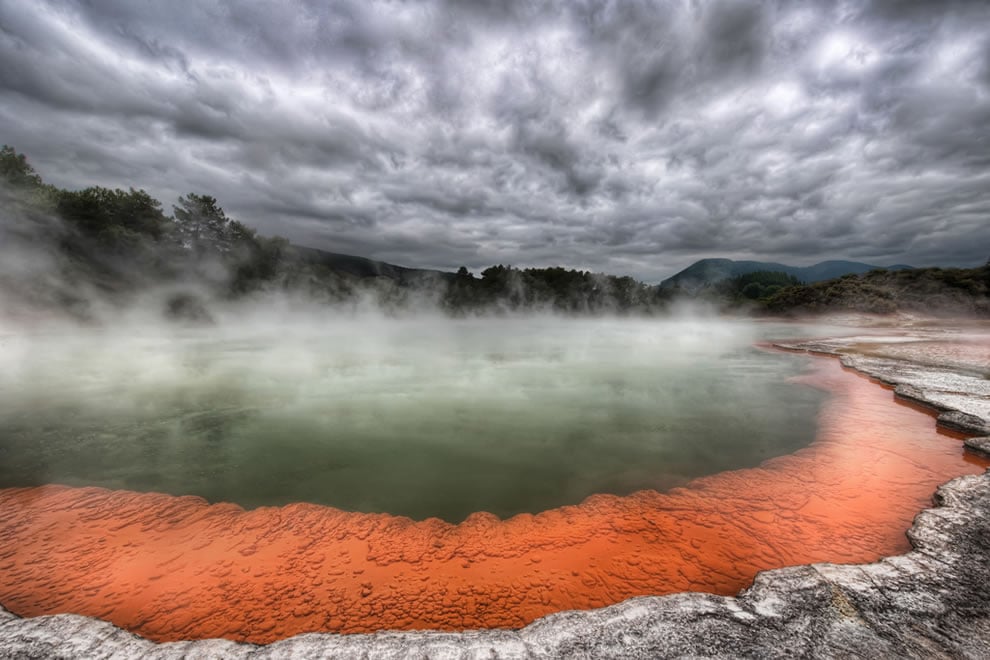 Waiotapu is an active geothermal area at the southern end of the Okataina Volcanic Centre, just north of the Reporoa caldera, in New Zealand's Taupo Volcanic Zone. It is 27 kilometres south of Rotorua. Due to dramatic geothermal conditions beneath the earth, the area has many hot springs noted for their colourful appearance, in addition to the Lady Knox Geyser, Champagne Pool, Artist's Palette, Primrose Terrace and boiling mud pools. These can mostly be viewed through access by foot, and in addition to a paid and curated experience, naturally forming hot springs appear around the area.
The area has a long history as a tourist attraction. While the area has been protected as a scenic reserve since 1931, a tourist operation occupies part of the reserve under a concession. It operates under the name "Wai-O-Tapu Thermal Wonderland".

10. Tunnel Beach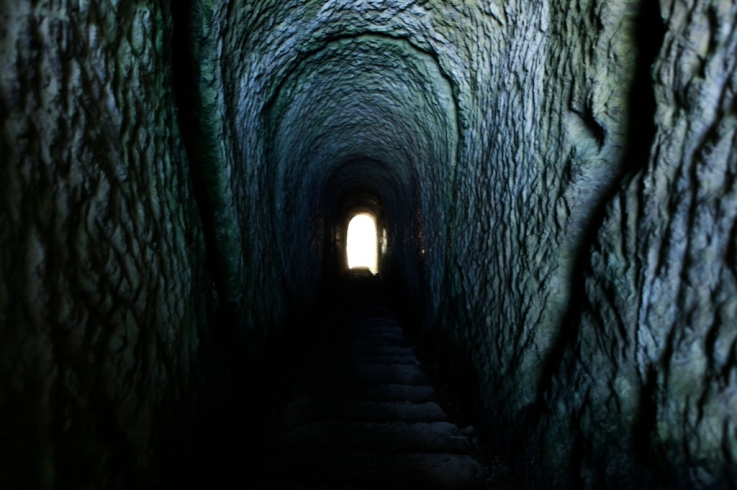 Tunnel Beach is a locality 7.5 kilometres (4.7 mi) southwest of the city centre of Dunedin, New Zealand. Located just south of St Clair, Tunnel Beach has sea-carved sandstone cliffs, rock arches and caves. Beyond the beauty of the rugged sandstone cliffs, its claim to fame is the tunnel down to the beach that a local politician, John Cargill, son of Captain William Cargill, had commissioned for his family in the 1870s.
Access to the beach is via a track across private farmland, and is open year round excluding lambing season from August to October. The track was opened in 1983, and is a popular walking track. It descends from 150 metres (490 ft) above sea level at its start, a short distance off Blackhead Road, winding for some 1200 metres to the top of the tunnel close to a natural sea arch. The tunnel descends 72 steps to the beach, and is dimly naturally lit. Note that the path down is steep and can be very slippery following wet weather.

11. The Lord of the Rings filming locations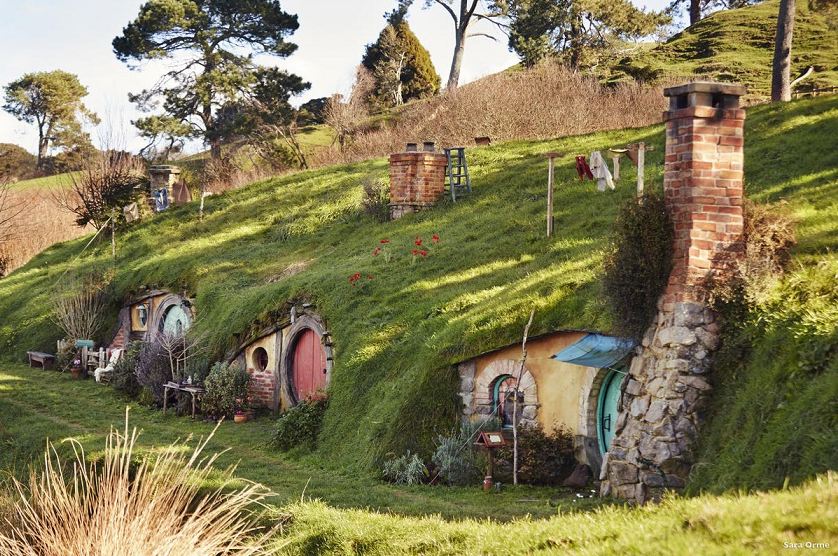 The Lord of the Rings movie trilogy was filmed entirely in New Zealand. Experience the stunning locations and lands that starred as Middle-earth. New Zealand is known as Middle Earth for its Lord of the Rings and The Hobbit trilogies. New Zealand born Peter Jackson filmed the entire six films in various locations around New Zealand.

12. Buried Maori Village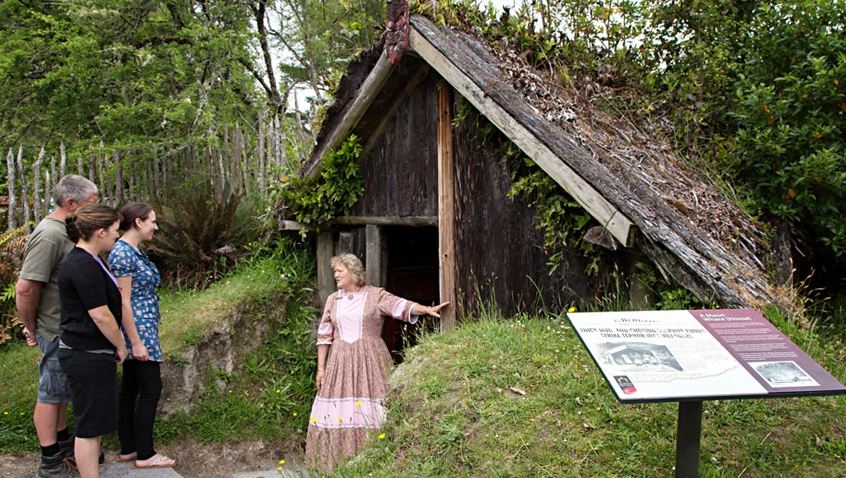 Te Wairoa, also known as The Buried Village is located close to the shore of Lake Tarawera in New Zealand's North Island. It was a Māori and European settlement founded in 1848 by Christian missionaries where visitors would stay on their way to visit the Pink and White Terraces. The village was destroyed by the eruption of the volcano Mount Tarawera on June 10, 1886. 120 people died in the eruption, many of them in other villages closer to the volcano.
The Buried Village is open to the public and shows the excavated ruins of the village, recovered relics on display in a museum and the history of the eruption. It is located 14 kilometres southeast of Rotorua on Tarawera Road.

13. Waitomo Glowworm Caves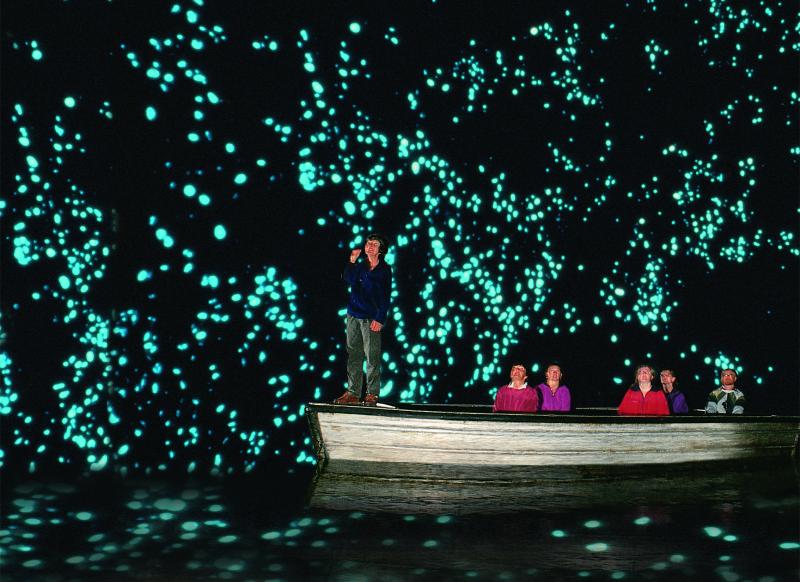 One of the most jaw-dropping destinations is the Waitomo Glowworm Caves. The Waitomo Glowworm Caves attraction is a cave at Waitomo on the North Island of New Zealand, known for its population of glowworms, Arachnocampa luminosa. This species is found exclusively in New Zealand. The attraction has a modern visitor centre at the entrance, largely designed in wood. There are organized tours that include a boat ride under the glowworms.

14. Hot Water Thermal Beach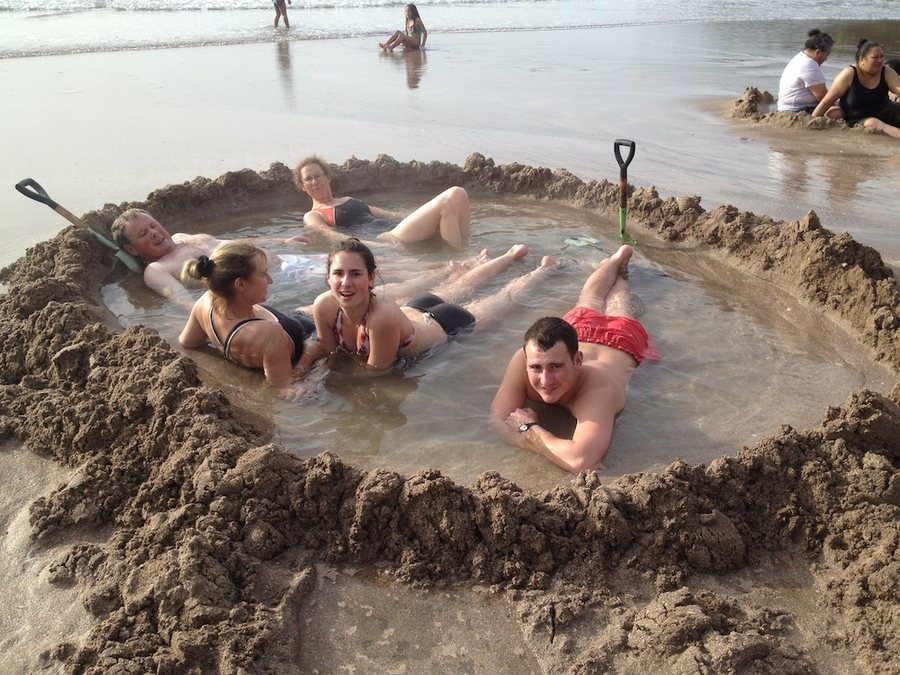 Hot Water Beach is a world famous Hot Water Beach on Mercury Bay on the east coast of the Coromandel Peninsula, New Zealand. Its name comes from underground hot springs which filter up through the sand between the high and low water tidal reaches. The beach is a popular destination both for locals and tourists visiting New Zealand. Annual visitor numbers have been estimated at 700,000, making it one of the most popular geothermal attractions in the Waikato Region.

15. The Tree Church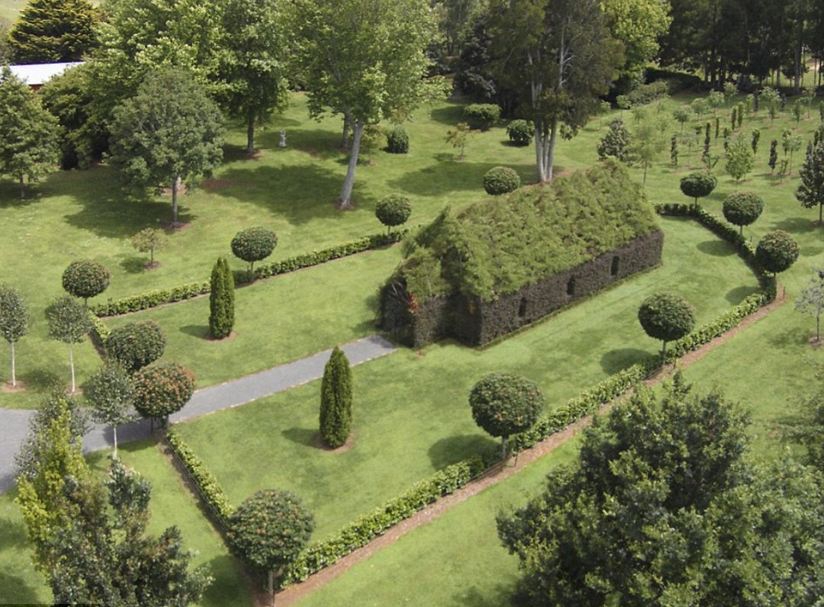 The Tree Church in Ohaupo, New Zealand is formed almost entirely from living trees with thick leaves covering its shady interior. A heavenly 100-seat chapel set among a 3-acre landscaped garden, the church boasts walls made of living trees planted around an iron frame.
In 2011, Barry Cox, who runs a tree relocating business, decided that his backyard was missing an old stone church like the ones he had studied and admired on travels to Europe. So he decided to unite his passion for ecclesiastical architecture with his skills as a landscaper who specializes in replanting mature trees using a tree spade.
H/T: wikipedia.com & newzealand.com