Cricket fans are famous for taking their sport seriously and devoting themselves to their team. Crazy, colourful and passionate fans of World Cricket. Today we take a look at 16 Hardcore cricket fans who have made cricket entertaining. These are best crazy fans of cricket ever.
1. Sudhir Kumar Gautam – India Cricket Super Fan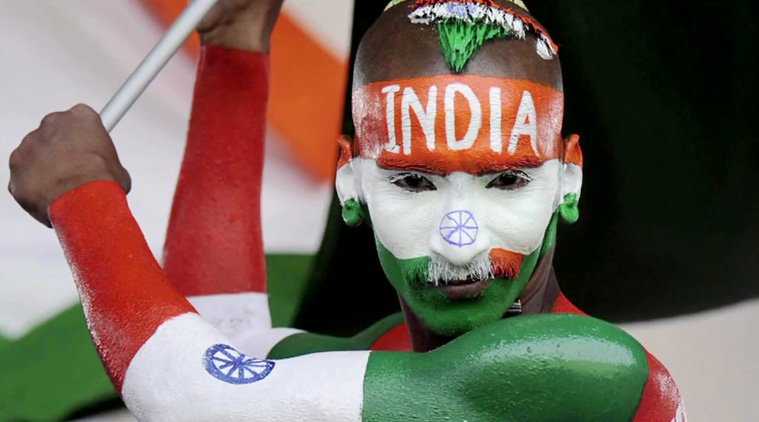 Tri-coloured painted body, shaved head with an India map carved on his scalp with hair and a painted name of Sachin Tendulkar on his body, Sudhir Kumar Gautam is one of sports' most iconic fans. Not to forget his famous conch shell that he blows often. Born on 1981 at Muzaffarpur, Bihar, he is widely known for attending India's home matches since 2003. Initially he used to work in a milk company and was trained as a teacher. Later, he was sponsored by BCCI for every match. He was also seen celebrating with the World Cup trophy with Sachin Tendulkar after India's victory in 2011 World Cup. His parents were unhappy with his living style and he was also the subject of a documentary movie called "Beyond all boundaries", made by Sushrut Jain. Despite Tendulkar's retirement, Sudhir continues to travel with the Indian team and supports them.

2. Percy Abeysekera – Sri Lanka Cricket Super Fan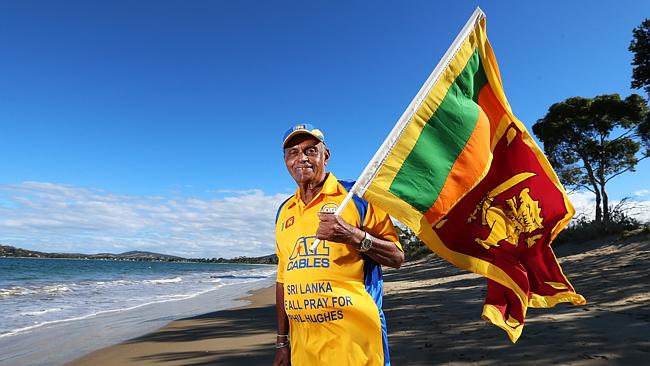 Sri lankan's one-man cheer squad, Percy Abeysekera, one of the most famous cricket fans in the world, remembers Sri Lanka's cricketing journey over the years. The 79-year-old has been following the Sri Lankan team for over three decades now. According to inimitable Percy, there is hardly a cricket ground in the world that he has performed circumference with the Lion flag. Percy is a legend and is synonymous to Sri Lankan cricket. He has been supporting his team since the time they didn't even have Tests status. He rose to fame during the 1996 World Cup, which Sri Lanka won. At the age of 77, he retired after Sri Lanka won their first ever Twenty20 World Championship in 2014.
"I have cheered Sri Lanka for thirty years without the flag and further 30 years with the flag. Throughout these years I have witnessed Sir Don Bradman in action, received many accolades from all cricket playing countries of the world and at the same time was had been an object of criticism for many. It's been a great and memorable journey and I'm ever grateful for my family, friends and all those who adore me. My love for cricket will never die unless I do so," Percy said.

3. GRAVY The Entertainer – West Indies Cricket Super Fan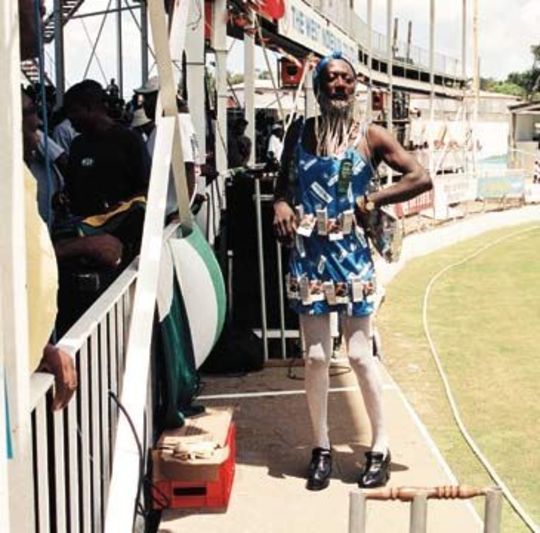 Labon Kenneth Blackburn Leeweltine Buckonon Benjamin, or Gravy to the cricketing world, is one of the most famous cricket fan. Gravy is synonymous to Caribbean cricket. His famous style of entering the ground with the band artists, variety of costumes like white wedding dress and his indifferent dancing skills was loved by both spectators and cricketers.

His dancing around while sporting the cricket kit is one of the symbols of West Indian cricket. He was never paid for his activities like other special fans. Since 1988, Gravy started entertaining the crowds till his retirement in 2000. After his retirement, he now runs a hardware stall in St. John's, Antigua. Born on 1955, his real name is Labon Kenneth Blackburn Leeweltine Buckonon Benjamin. In February 2004, he was shot in the arm, which he later clarifies that it had happen mistakenly as he never had any problems with anyone.
Gravy was a middle-aged, big-bearded, cross-dressing (platform shoes, shawl and tutu) gymnast and dancer. Chickie's Disco – which pioneered music between balls and was always in tune with the state of the game – provided the soundtrack for Gravy's moves, as the funkily-dressed-one writhed and wriggled his way around the fabled double-decker stand, swinging from the rafters and entertaining rapturous fans below.

4. Larry the leprechaun – Ireland Cricket Super Fan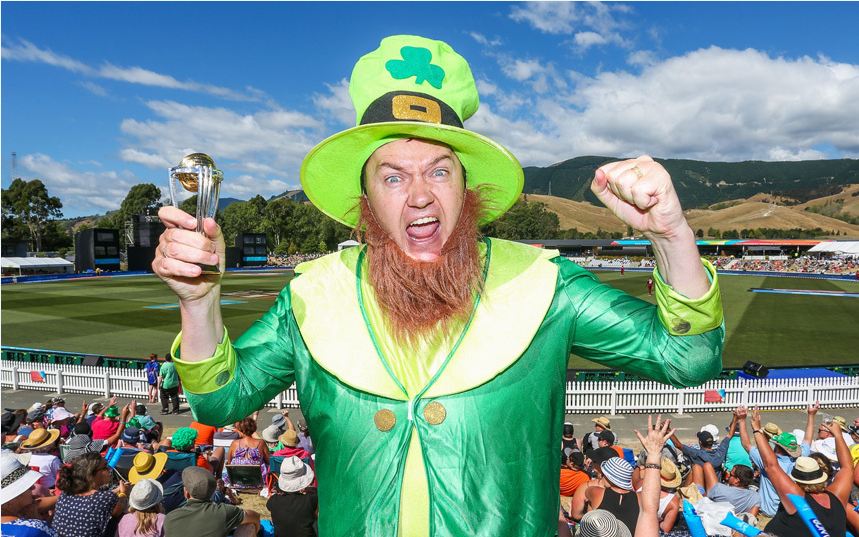 "Peel a banana, mash a banana, throw a banana, and let's go bananas!" That's what we hear from the dedicated Irish fan.Larry is a relative newcomer to the famous fan scene and was one of the highlights of the World Cup. Clad in classic leprechaun attire he was a vocal presence in the stands – often alongside his young son Hamish ("Little Larry") – as Ireland fought passionately not just for wins, but for World Cup status. He barracked the ICC on Twitter, gave interviews and sang and danced his way through Ireland's joyous – and eventually tearful – campaign. Larry is Adrian Raftery who, rather wonderfully, is a university lecturer in taxation, born and bred in Melbourne – his parents had moved in the 1970s – but always very aware of his Irish heritage. Eventually, an old schoolmate in Australia, Jeremy Bray, wound up playing for Ireland and Raftery decided to head to the West Indies for the 2007 World Cup, beginning a joyous journey to semi-stardom.

5. Carl Teusner – Australia Cricket Super Fan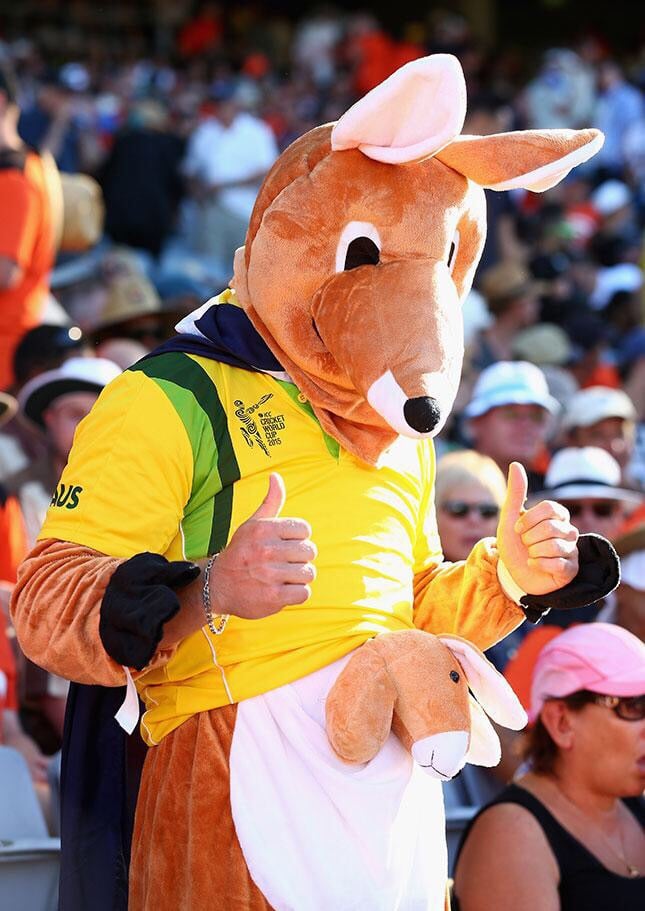 The rookie of the Super Fan scene, the distinctive Kangaroo-costume-wearing supporter was a mystery when he first started rocking up at World Cup games. But it soon turned out Skippy was actually Carl Teusner, a modern-day cricket nut who has attended 10 games – including the World Cup final – spanning Melbourne, Adelaide, Canberra, Brisbane, Auckland and Nelson. As if to mark him out as a next-gen star, his name even bears a hashtag. Silicon Valley would be proud.
Teusner is a die-hard fan of Australian cricket team and was seen during the World Cup 2015 in a Kangaroo costume. He would have never imagined that he would get this much of attention during the tournament. Teusner met with cricketers like Brett Lee, Michael Slater and Mark Waugh during the event. He was highly inspired by the Ireland's Larry the leprechaun which made him do something extraordinary for Australia.

6. OLI BROOM – England Cricket Super Fan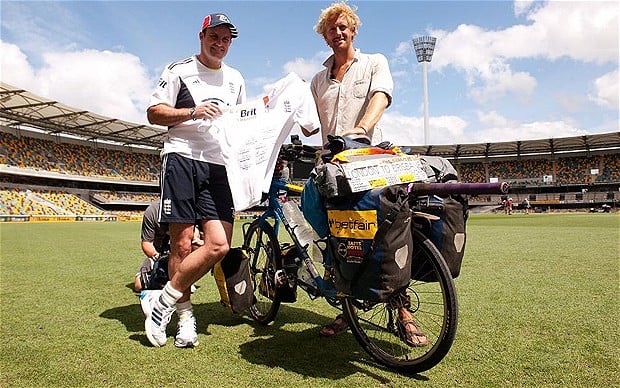 Perhaps inspired by Britain emerging as the cycling capital of the world, Broom took to his saddle at Lord's with little more than a bag and trusty cricket bat. His destination? The Gabba! His journey spanned 14 months, 23 countries (he played cricket in all but three) and 15,500 miles. It was all worth it, though, as – having made it on time – Oli saw England crush the Aussies 3-1 in their own backyard (anyone remember what that felt like?).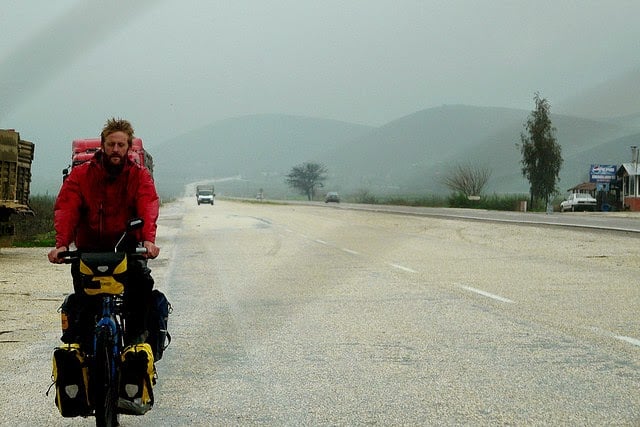 Oh, and he was also supported at least some of the way by 17 friends, who accompanied him to Dover – where they quickly turned around and headed back to HQ realizing the whole idea was a bit ridiculous.

7. Shoaib Al Bokhari – Bangladesh Cricket Super Fan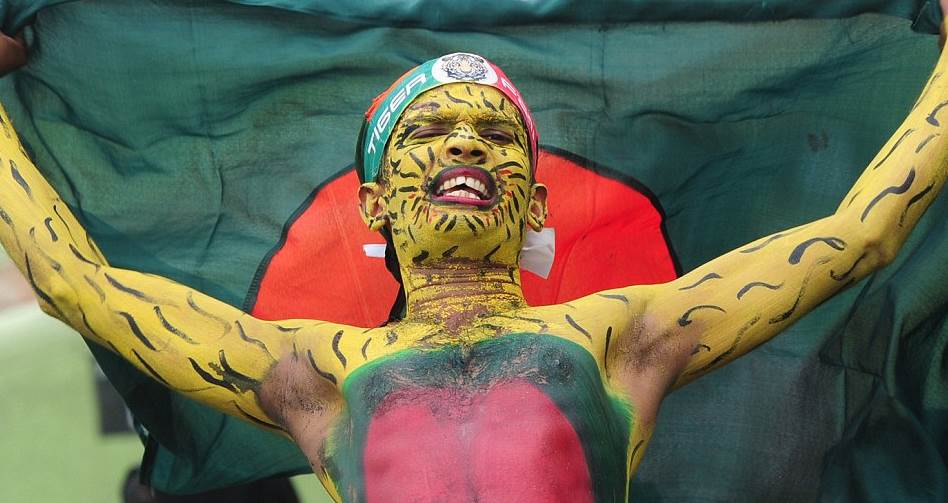 We can call him a mad Bangladesh cricket fan or Yellow Tiger with a human coat. Motor mechanic by profession but his true identity is crazy Bangladesh fan. He can cheer his side all day irrespective of it being chilly day in Christchurch or the extreme weathers of subcontinent. He would never care about from where he would get his next meal or if he will he get a proper bed to sleep or not. His journey has not been easy as over the years his side have lost more matches but Bokhari hasn't stopped cheering and it's been nine years since he is cheering the side. However, things have changed now and Bangladesh's emergence as a strong cricket unit has brought Bokhari limitless joy.

8. Chacha Cricket – Pakistan Cricket Super Fan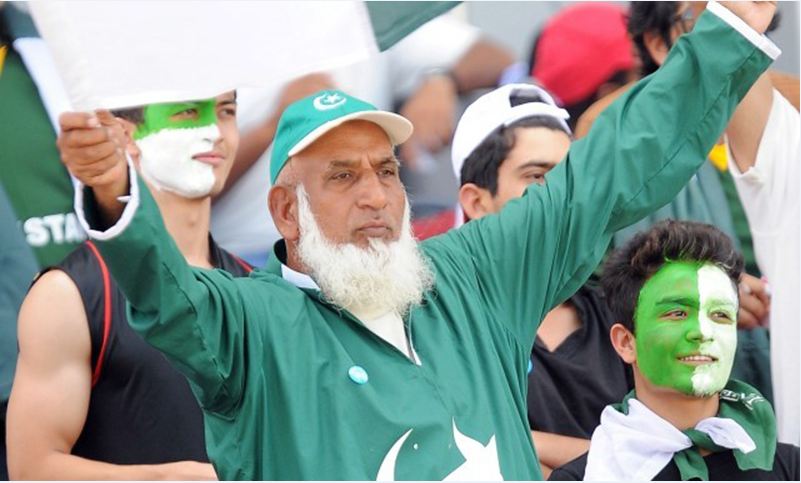 White beard, full green Salwar Kameez and a white cap designed on patterns of Pakistan flag. Chaudhry Abdul Jalil is one of the most dedicated supporters of the Pakistan side. He became world famous during the Sharjah cup matches in 1980s and he supported the side like no other fan. At that time he was a truck driver in UAE. Later Pakistan Cricket Board (PCB) hired him and sponsored him to cheer for Pakistan cricket team all-over the world. But during the ICC Cricket World Cup 2015, PCB didn't sponsor him. Further he was again seen during the ongoing Pakistan versus Zimbabwe series in Lahore as he famously chanted, "Pakistan Zindabaad" and "Jeetay Ga Bhai Jeetay Ga, Pakistan Jeetay Ga."

9. Barmy Army – England Cricket Super Fan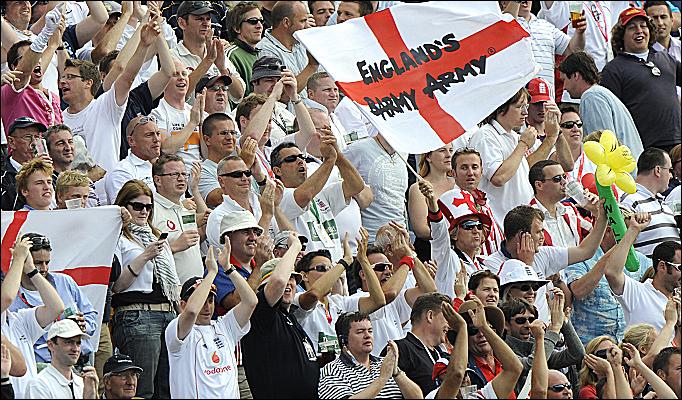 Barmy Army is a group of English cricket fans, which was founded by three friends who travelled to Australia for the Ashes series of 1994-95 season to cheer England. The name 'Barmy Army' was given by Australian media as they never stopped chanting for England, irrespective of the side's good or bad performances. It's a very much organised community, where supporters of England cricket join to cheer their team in a unique style. Apart from Lords, in most of the grounds, there are set areas for Barmy Army fans.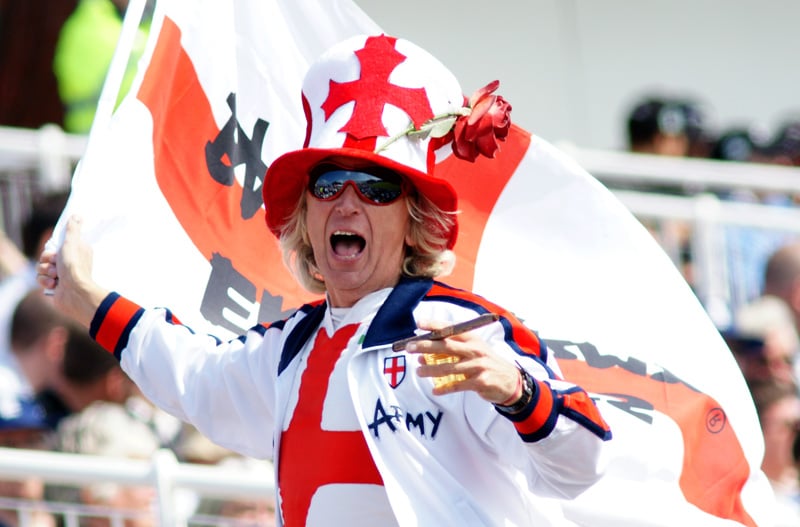 There's much to like about the Barmy Army. They spend millions travelling the world to watch a cricket team who, despite a brief golden spell, have been pretty shoddy throughout the time they've been followed by the Army, the mighty, mighty Army. They've provided a spirited soundtrack to England's overseas Test exploits for two decades, carrying themselves with a healthy dose of gallows humour, and, on the whole, they really know their cricket. Ol' Vic Flowers is often the face of the operation, but he ain't the heart, or the lungs. That's Billy The Trumpet. The Army are known for their witty, cutting lyrics – many are the work of jobbing scribe Paul Winslow – but not the quality of their "singing". The standard of classically-trained Billy's backing track is, however, not in question.

10. Bharat Army – India Cricket Super Fan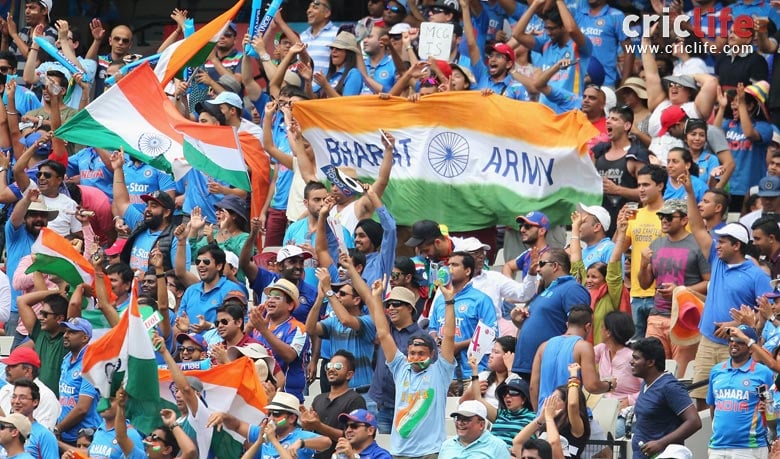 This is another group similar to the Barmy Army. It was founded by four Indians in England to support the Indian cricket team around the world. This group was founded in 1999 when England hosted the World Cup. From then onwards, Bharat Army continued building their patriotic and loyal base. This group was frequently seen during India's matches in ICC Cricket World Cup 2015.

11. Mohammad Basheer Bozai – India/Pakistan Cricket Super Fan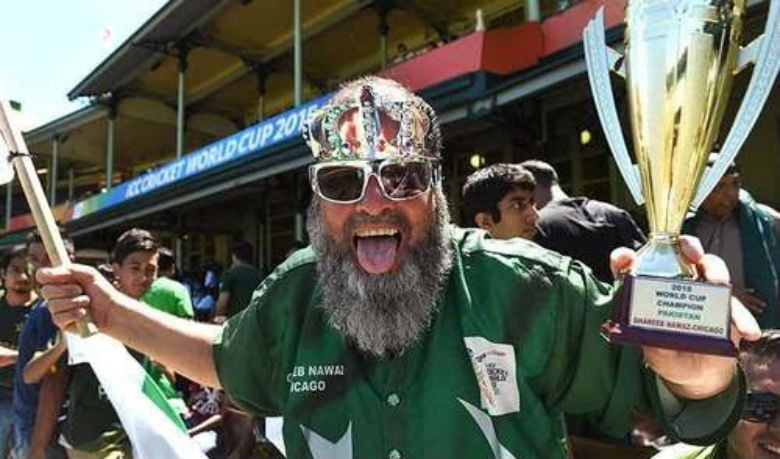 Born in Pakistan, settled in Chicago, Bozai, who has an Indian wife, is a huge fan of Indian cricket great Mahendra Singh Dhoni. Isn't it quite interesting! Bozai is one of the rare people who neutrally support both India and Pakistan cricket team. He was first seen during the ICC T20 World Championship 2014 in Bangladesh, where Dhoni gifted him a ticket for the final match. Before the Indo-Pak clash in the World Cup 2015 he was seen chanting on the streets of Adelaide, "Jis desh me Ganga behti hai us desh ki meri biwi hai." Basheer is 55 year-old and originally from the vast southern metropolis of Karachi.

12. H Saravanan – India Cricket Super Fan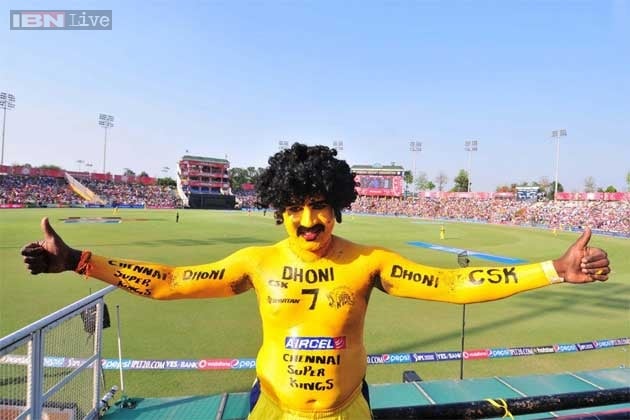 Like Tendulkar, even Dhoni has a wide fan following. H Saravanan is one of the biggest Dhoni and Chennai Super Kings' (CSK) fans. He paints his body yellow with Dhoni's name and jersey number on his body. He also sports a fake black wig as he cheerfully waves the CSK flag. Saravan says that it takes five hours to complete the painting work on his body. Though he grew up watching and admiring Tendulkar, it was Dhoni's side's T20 World Championship victory in 2007, which forced him to turn into a dedicated Dhoni fan.

13. Sudesh Piyatissa – Sri Lanka Cricket Super Fan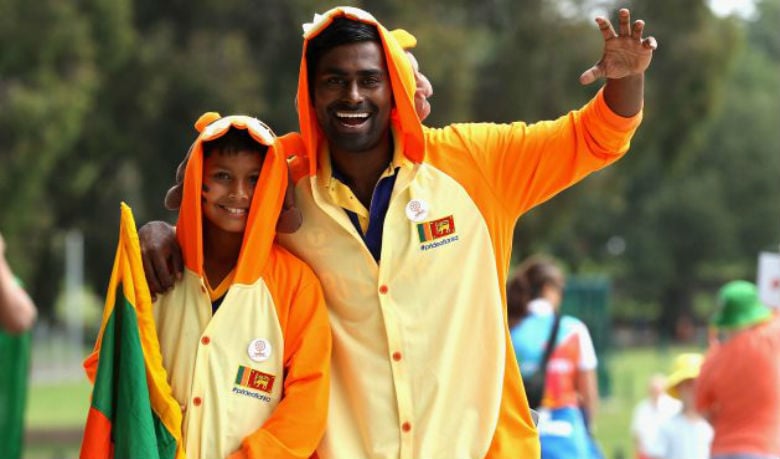 Every fan has his own style of supporting his national team and Sudesh is no different. In fact, he is a creative man. He came up with an idea of making a video which includes players like Mahela Jayawardene, Kumar Sangakkara, etc. as the Lion King of Sri Lanka. He was seen sporting an eye-catching orange costume during the World Cup 2015. He sold the costume to hundreds of Lankan fans through his website prideoflanka.com.au and donated all the money to a Sri Lankan charity supported by Sangakkara and Jayawardene.

14. Gayan Senanayakagayan – Sri Lanka Cricket Super Fan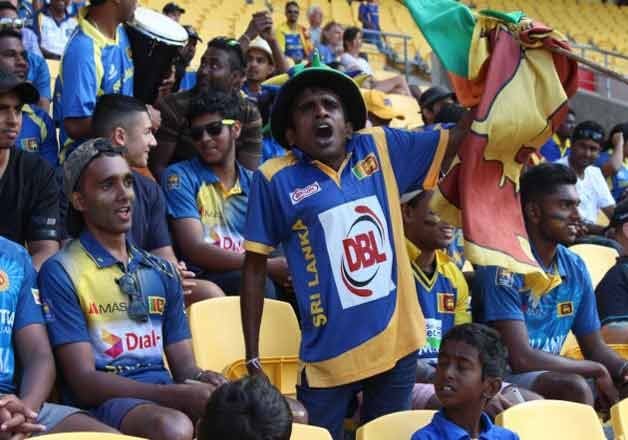 Gayan is another super-fan of Sri Lankan cricket team, who began making frequent appearances as a 17-year old in 1996. Sri Lanka winning the World Cup has inspired many peoples and Gayan was one of them. He has attended more than 200 games at home and abroad. He is famously known for chanting, "Common Sri Lanka!"

15. Ram Babu – India Cricket Super Fan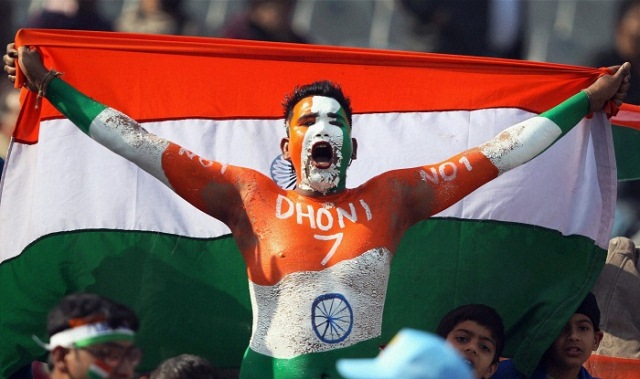 Here is another crazy Dhoni fan. Wherever the Indian captain goes, Ram Babu follows him. Before the Twenty20 World Cup final 2014, he fell sick and Dhoni himself rushed to his aid and ensured he got treated by the Indian cricket team doctor. Ram Babu is basically from Haryana and had also played till the district level in Punjab. Death of his father in 2007 forced him to quit cricket, as he was the eldest in his family and now had the responsibility of three younger sisters and three younger brothers. After leaving cricket, he started a job but couldn't kept himself out of sport and later turned into one of the biggest Dhoni fans. He is mostly seen alongside Sudhir and like the Tendulkar fan, he too paints his body with the tri-colour along with Dhoni's name and jersey number.

16. Mohammad Zaman Khan – Pakistan Cricket Super Fan

Mohammad Zaman Khan is famously known as Chacha T20. He was a chauffeur in Dubai but resigned from his job in 2011 to cheer for Pakistan in Asia Cup as his leave application was not approved. When he was child, his dream was to serve his country as an army man but he couldn't complete his education, went to Dubai and used make sweets. Since 1987, he has been watching cricket matches of Pakistan in ground alongside the famous Chacha Cricket. He has been a frequent to Pakistan's matches in the UAE. Pakistan in the last six years have played a lot of games in the UAE due to security issues back home and Chacha T20 has been there to cheer them. He was once asked in an interview famously said that he wishes to be buried with the Pakistani flag, just like a soldier. Zaman is 57 years-old and is gaining popularity by the day.
Who is Your Favourite??
H/T: criclife.com
[divider scroll_text="Back To Top"]