Japanese Fans Cleans up the stadium after Fifa World Cup Match – We must learn from them how to represent the Nation & it's Values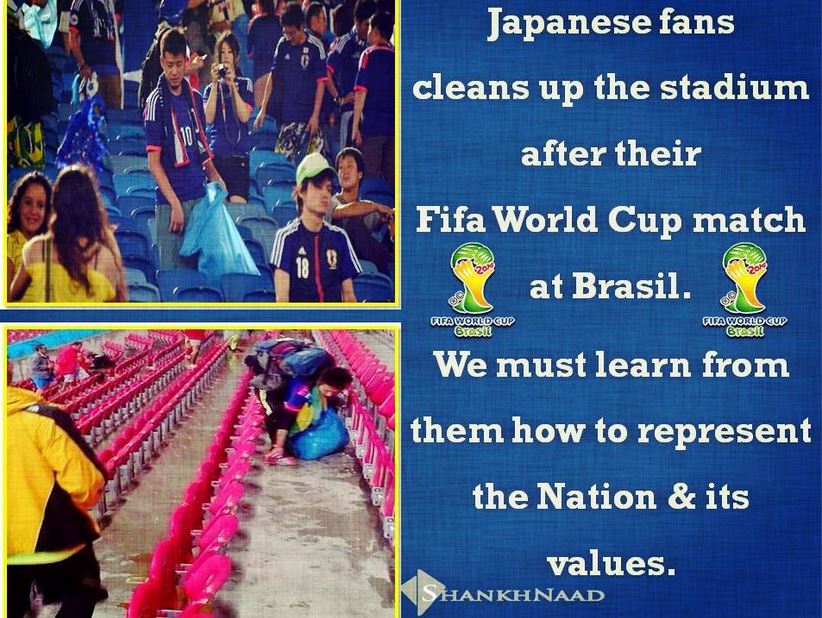 The football showdown between Japan and Greece ended in a scoreless draw, but the Japanese fans scored top points from the clean-up crew after leaving the stands of the stadium and its bathroom unblemished.
It turns out that Japanese football fans have a tradition of cleaning up the stadium after matches at home, a practice which the fans vigorously undertake in Brazil.
The World Cup is an opportunity to learn from different cultures and the national team.
In Japan it is considered appropriate to clean up after yourself at public events such as concerts, sporting events, and festivals. Some even take the trash home if there is no place to dispose of it on the spot. Moreover, it is common after eating in a restaurant, to clean your table, leaving it the way you found it.
Japanese football fan Kei Kawai told "We try to do little bit of clean-up to show respect to the host country and just, you know, show off how clean things are in Japan. And we like to make it so here, too,"
"we are all told in school that we clean up our things and when we come somewhere, we just clean up even better than when we come in."
Brazilians, the host nation seems amazed, "This is fantastic. A great example for us Brazilians," one fan told the local news outlet, while in social networks people have been calling Japanese fans the "most respectful" and "best fans at the World Cup."
——————————-
Let's have vision of Clean India, we must be passionate about a clean India.
Why a clean India:
A clean India is something which every citizen of India – be it a child just born who opens eyes, to an aging parent in the evening of his or her life, and all of us in between – desires, deserves, and dedicates to mother earth, and to the lands, water, and air of India.
However, all of above appears a wishy-washy idea. We the people of India have allowed a narrative that says that nothing can be done about cleanliness, to become the dominant psyche of our nation. This is the national narrative that we seek to shake and dismantle in the Come, Clean India campaign.
A non-clean India kills around 1,000 children every day and poses health problems to millions. A non-clean India hurts the tourism economy of India to a magnitude of which we have no estimation. A non-clean India damages the image and soft power of India to a degree of which we have no idea. And a non-clean India degrades our self-respect as Indians.
The way ahead for a clean India is simple – it needs strong political will. With Modi's clarion call, there is hope. It is widely understood that there are three components which can help to clean up our towns and waters – our own civic habits, strong and effective policy and administration, and technology and innovations for waste management. All of this is to be capped by iron-fisted political will and demonstrable results.
So far our leaders have let us down woefully by neglecting cleanliness. I sometimes wonder why some newly elected chief minister does not make sure that the state capital is clean within 6-9 months of his taking office – there is political advantage to doing this. If he does this, people will see a visible change under the new chief minister, and he can burnish his credentials as an effective administrator. But, alas, no chief minister has adopted this strategy for political and civic benefit.
A dirty India also damages our credibility. People see a nation which cannot manage its waste, and which has allowed even its holiest of rivers to become dirty beyond description. It implies that its leaders and citizens are numb to the garbage they see all around, and thus do not respect health, quality, and environment.
There are several steps that Modi will have to take to restore India's credibility. There are several steps that Modi will have to take to make India clean by 2019.
A clean India will go a long way in making a credible India. Come, Clean India.
This articles was first appeared at Dr. Subramaniyan Swamy's Facebook Page
[divider scroll_text="Back To Top"]