Many People Die While Challenging These Deadly Highways. Traffic accidents claim the lives of many passengers each year, it is very sad for one to pass away or lose a loved one in this manner.
Most carnage occurrences are caused by poor road habits such as over-speeding, drunken driving or chatting on the phone while holding the steering. However, other factors that cause accidents are beyond human control such as poor weather conditions and narrow, winding roads that limit visibility.
Fasten your belts before knowing Top 10 Deadliest Roads In The World
12. Karakoram Highway – Pakistan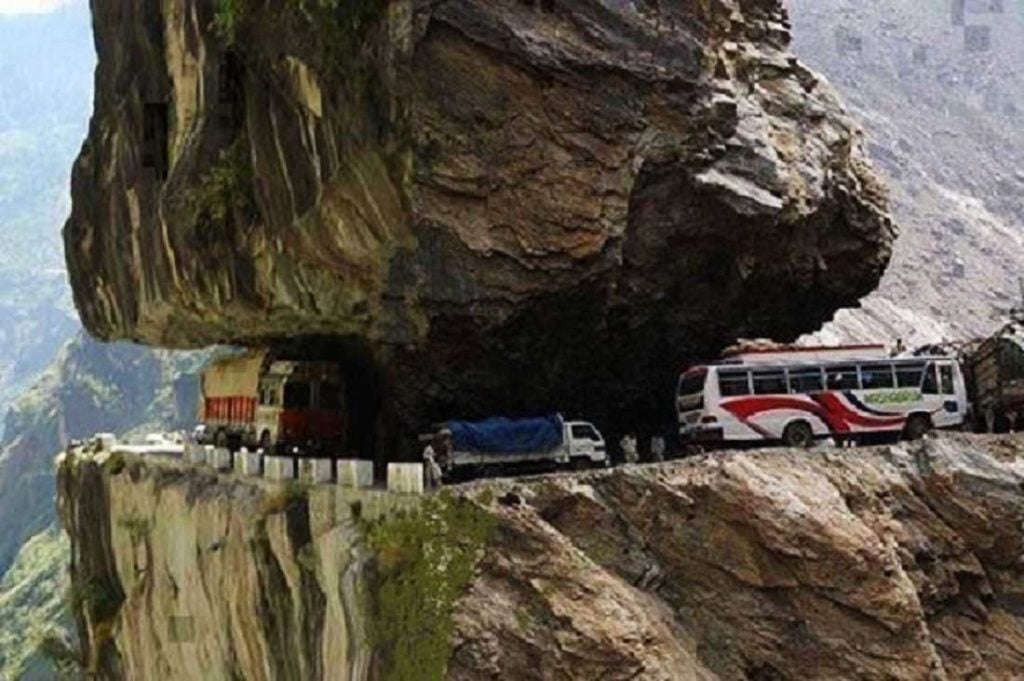 The Karakoram Highway is also known as national highway 35 or N-35. It is a national highway in the location of Pakistan and it is 1300 kilometer long that extends from Punjab and crosses China. This highway seems to be the famous tourist attraction and it is regarded as the massive paved roads in the globe, thereby passing through Karakoram Range. Due to its massive elevation as well as difficult circumstances, it is considered as the eight wonder of the world. Other than that, this highway is also section of Asian highway as well.
11. Pasagge du Gois – France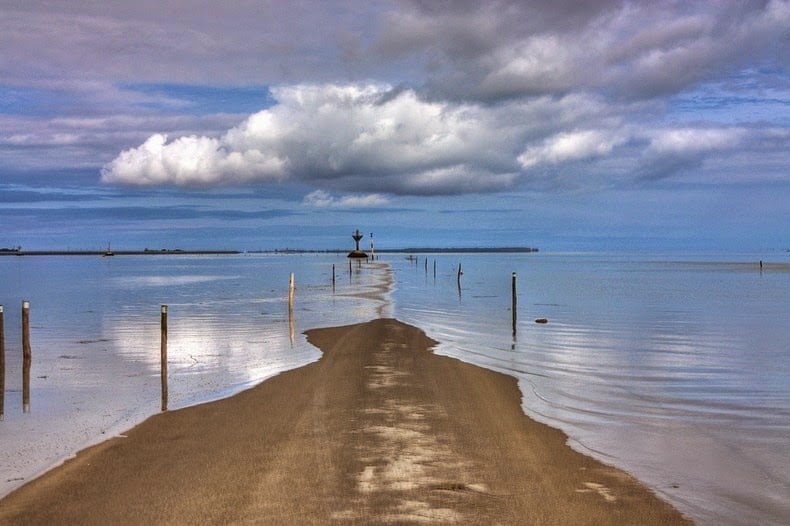 This passage leading to the Noirmoutier Island in France is a passage that faces periodical flooding, at times twice a day. These periodical floods often leave behind sea weeds and other marine plants on the road. It is highly advised to carry along your boats!
10. The Guoliang Tunnel Road – China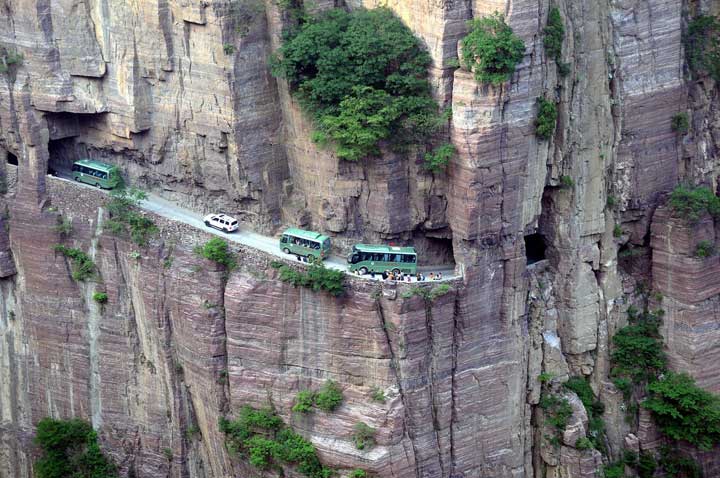 The Guoliang Tunnel Road is developed alongside the mountain found in the China. This road connects the Guoliang village with the Thailand Mountains found outside. This terrain was restricted because it involves difficult path on the mountainside. The Guoliang village is nestled in the Vale enclosed by towering mountains which cut-off from exterior civilization. The tunnel will be opened for traffic during 1st may 1977. This tunnel road is considered as the beautiful tourist attraction and got 5th position in the list of most dangerous roads in the world. It's also suitable for film shooting as well.
9. James Dalton Highway – Alaska USA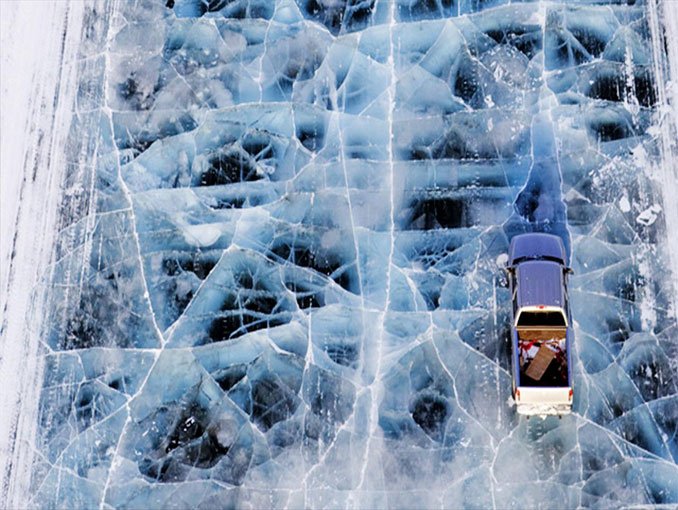 The James Dalton highway is one of the northernmost roads in the world. It covers a large part of the Arctic and reaches the highest motor-able point of Alaska – The Atigun Pass. The extreme remoteness and temperatures add on to its credentials for the world's deadliest roads. Along the 414 mile stretch only one place offers services during winters – Coldfoot (population 13). It is the longest stretch without services in the entire North America.
8. Fairy Meadows Road – Pakistan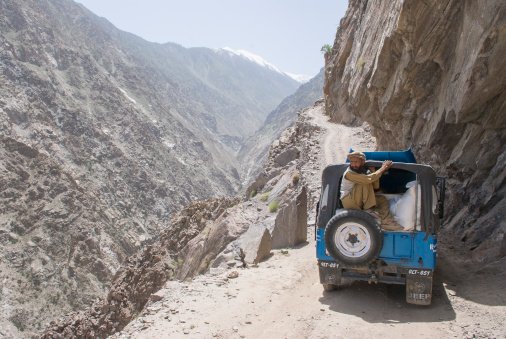 In order to reach the base of Nanga Parbat, one has to first tread upon this precarious path. Many mountaineers who have climbed Nanga Parbat in the 20th Century have termed the road to Fairy Meadows as one of the world's deadliest roads and felt that climbing Nanda Parbat is as good a feat as driving on this road.
7. Skippers Canyon Road – New Zealand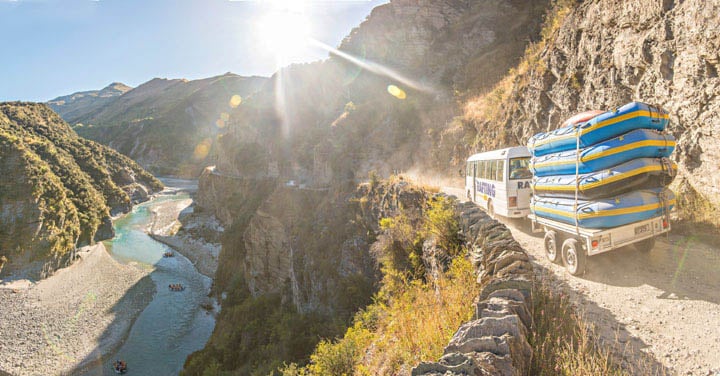 Skippers Canyon Road is situated on the south-western part of New Zealand. This road is considered as one of the most scenic spots and it is unbelievably scary. This route is completely narrow and enthusiastic to maneuver car riding. The gravel road consists of 16.5 miles and it cares for 140 years. Though it is regarded as the dangerous road, car insurance is quite necessary while you ride on it. The road was created at the time of gold rush as it is very narrow and unpaved. When you step towards car driving, you will be fragile until you find a room to take rest.
6. Halsema Highway – Philippines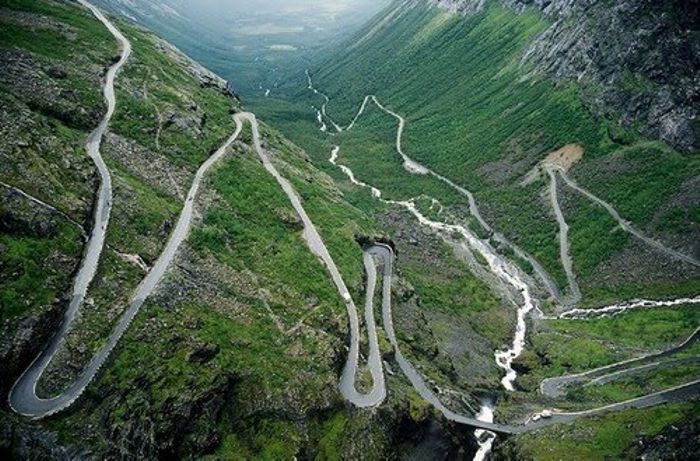 Halsema is known as the "main artery" of the Cordillera's road system, the 150-mile Halsema Highway links Baguio and Benguet province to the rest of Northern Luzon. Landslides, mud slides, and falling rocks are common along this road. Local bus drivers are said to be traveling at high speeds on these precariously narrow roads, adding on to the risk element for every vehicle present on the one of the deadliest roads of Philippines. Extreme foggy conditions and slippery asphalt during rainy season just makes things worse.
5. North Yungas Road – Bolivia deadliest roads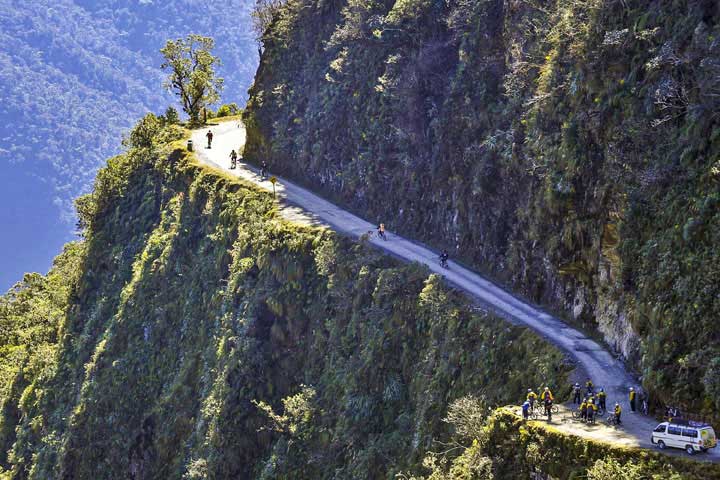 the he North Yungas Road is 56 kilometers from La Paz to Coro Ico. It is regarded as the world most dangerous terrain. It is also demoted as road of fate, death road or road of death. As per the road, it is estimated that about 200-300 travelers were been killed in this road. This road comprises of road markings where massive accidents takes place. During to the danger of the road, it is regarded as famous tourist destination. Most of the thrill-seekers and mountain biking enthusiasts visit this place to have downhill biking for about 64 kilometer. Massive number of riders and cyclists had died on this road due to its dangerous condition.
4. Zojila Pass – India deadliest roads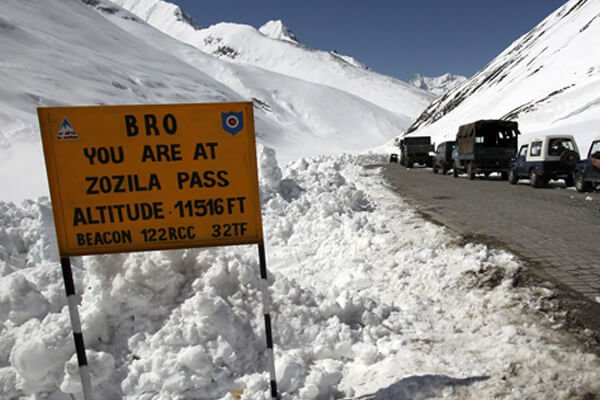 The Zoji Pass is one of the high mountain pass situated on the Indian national highway in between Leh and Srinagar. It is 9 kilometer from sonamarg and offer essential link between Kashmir valley and ladakh. This road runs at an elevation of about 11,575 feet and it is the second biggest pass next to Fotu La. This pass will be closed at the time of winter because border road organization will be working towards extended traffic in rest part of the area. This road is must-see place for the enthusiastic riders. It serves as a connecting route for army convoys and medical supplies.
3. Los Caracoles Pass – Chile Argentina deadliest roads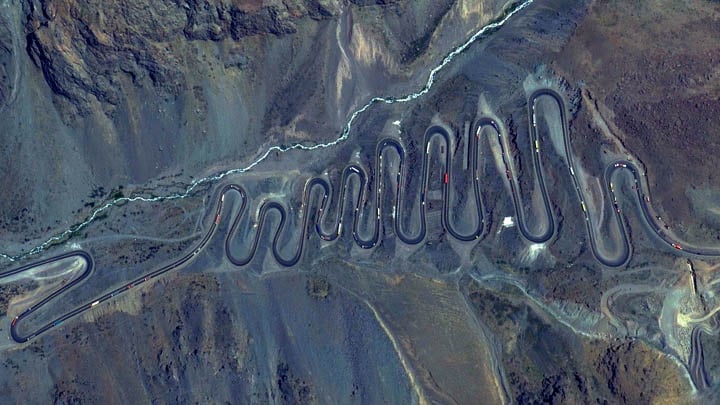 Amongst one of the deadliest roads of the world, this is one of the 40 connecting roads between Chile and Argentina and definitely the most beautiful and adventurous one. It begins with a gentle slope and eventually goes in spirals up to an altitude of 10,521 meters.
2. Jalalabad – Kabul Road – Afghanistan deadliest roads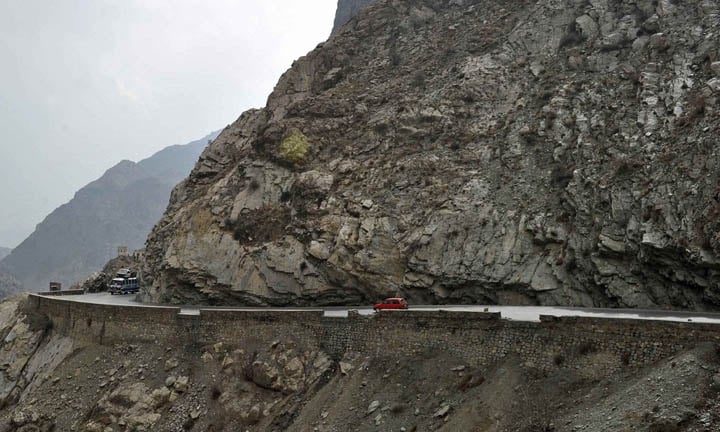 This 65-kilometer road is so dangerous that at least one fatal crash happens every day. This two lane highway run along 600 meter deep gorges. Across the years it has seen hundreds and thousands of vehicles flip and flatten. The condition of the road and the inclement weather is not the only thing that makes it one of the world's deadliest road, Taliban plays a crucial role in adding on to the deadly aspect of it.
1. NH 22 – India deadliest roads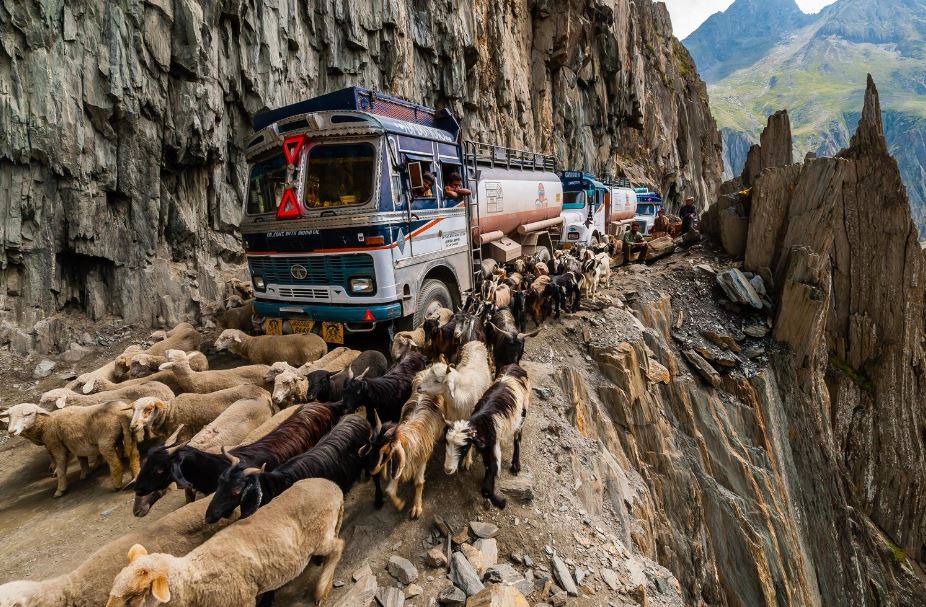 The national highway 22 in India is cited as the world's deadliest road across various channels and websites. It's poor maintenance, hazardous terrain and unpredictable calamities make it extremely difficult to drive on. The hundreds of trucks carrying tons of weight drive at the speed of snails and on the contrary cars and bikes speed across. This contrast makes it all the more fatal and life taking. It stretches to a length of 416 Kilometers, the image shows a part of it in the hilly areas.
I know most of you are feeling adventurous after reading top 10 deadliest roads in the world. Now share it if you like it with your friends & enemy…..
Before You Go Just Watch YouTube Videos About Deadliest Roads In The World:
[youtube width="800″ height="500″]https://youtu.be/nO60WwpFeok[/youtube]
[youtube width="800″ height="500″]https://youtu.be/Po6PLoGesok[/youtube]
[youtube width="800″ height="500″]https://youtu.be/ny0udSddT_U[/youtube]
[youtube width="800″ height="500″]https://youtu.be/SahVesKvkv8[/youtube]