Dosa Plaza: How Prem Ganapathy built Rs 30 crore empire with seed capital of just Rs 1000

He could just pass 10th. He was jobless. Nothing too much in the name of assets.
He reached Mumbai is search of job. It was not a great start for him. He was looted outside the Bandra station for the only rupees 200 he had and other belongings. He lost everything excluding the clothes he was wearing.
The most unfortunate thing was that he was robbed by the person who accompanied him to Mumbai and promised a rupees 1200 per month job. Because he feared that his parents would not allow him work in Mumbai, he came to Mumbai without informing them.
A class X passout with no particular skill set, I was lured to Mumbai, only to be robbed. It was an inauspicious start to my entrepreneurial journey, but it turned out for the best.
Before coming to Mumbai, he worked in Chennai and earned rupees 250 a month. He would send the money to his family in Nagalapuram Village located in the Tuticorin district of Tamilnadu. His family included his parents and seven siblings.
At Bandra station in the year 1990, a 17 year old boy who had nothing, except determination.
He did not understand Hindi. Feeling pity about his situation, a Tamilian took him to a temple and appealed visitors to contribute money and arrange a ticket for him to Chennai.
But the 17 year old boy, Prem Ganapathy, was damn sure that Mumbai is going to make his life.
After bit of effort, he got a job of washing utensils at Mahim Bakery. He would earn rupees 150 per month. He continued working at several restaurants to earn and save.
In about two years, he saved some money to start his own business of selling Idlis. He hired a handcart for rupees 150 per month rent and bought some utensils along with a stove for rupees 1000. It was year 1992, when he started operating his business outside Vashi railway station.
I belonged to a poor family from Nagalapuram in Tamil Nadu's Tuticorin district and had to abandon my dreams of higher studies to support my parents and seven siblings. I headed for Chennai, but only managed odd jobs, which fetched around Rs 250 a month that I'd send back home.
After doing it all alone for some time. He felt the need for some manpower as his business grew. He brought two of his younger brothers to Mumbai. He ensured hygiene at the eatery and they all wore a cap. This was a surprise for his customers as roadside eateries did never care about this.
Local authorities seized his cart on many occasions and he had to pay penalty to get it back as such carts did not get a license. In few years, he saved some money and leased a shop by giving rupees 50000 as deposit. They paid a monthly rent of rupees 5000 and also hired two additional employees. His streetside cart was now a small restaurant.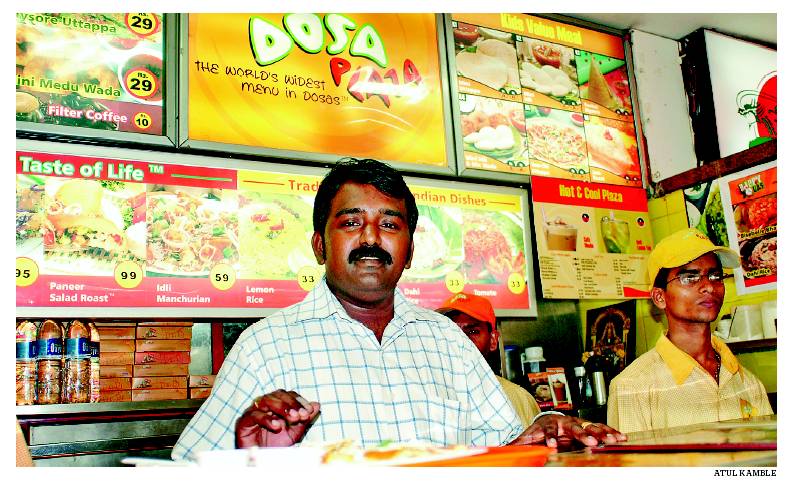 Many of his frequent visitors were college students and he made good friendship with them. He learned using internet from them and started looking for recipes on internet. He started experimenting with dosas and in the first year itself, introduced 26 new dosas like Schezwan Dosa, Paneer Chilli Dosa and Spring Roll Dosa. By 2002, his restaurant had 105 varieties of dosa and earned a lot of fame.
However, he always dreamt of having an outlet in a mall. He approached many malls but his offer was turned down as they were reserved for big brand like McDonald's etc.
But he got an opportunity to open his outlet in the Center One Mall at Vashi. He got the opportunity because the managerial staff at the mall were frequent visitors to his restaurant. His outlet in the mall was a big success and people started asking for business franchisee. He agreed to the offer on a condition that all the ingredients will be provided by them.
In year 2012, they had 45 restaurant across 11 Indians states and 7 at foreign nations like New Zealand, Dubai(U.A.E), Muscat(Oman). Everything under the name of The Dosa Plaza.
The man who was standing outside Bandra station without a single penny with him in 1990, had set up a brand and empire of 30 crores in 2012.
Dosa Plaza is the sole runner in the category of south Indian cuisines that has gained popularity nationwide for its innovative approach and wide varieties of recipes. From a humble inception, Dosa Plaza grew into a lavish success story that it has become today. It has sailed different waves and seen different tides before achieving its current position – India's fastest growing food chain of south Indian cuisine.
History Of Dosa Plaza

1990
Mr. Prem Ganapathy, a passionate cook and aspiring entrepreneur from Tamil Nadu, arrived at Mumbai took up a cook's job in a small restaurant.

1992
Mr. Ganpathy started an outlet serving south-Indian cuisine alongside a street in Navi Mumbai.

1992-1997
Mr. Ganapathy was joined by his brothers during this period. Mr. Ganapathy used to sell 10 –15 variety of dosa's in his menu.

1998
Prem Sagar Dosa Plaza started off as one man's dream. Mr. Ganpathy, the man behind the creation of India's only most popular venture for south-Indian cuisine, launched a well-polished open restaurant.

1999
Along with his Dosa outlet he tried his luck by investing in a Chinese Restaurant in which he incurred a loss. But he tried Chinese cuisine in his dosa's which worked very well he got passionate and invented variety of dosa's with Chinese style like American Chopsuey, Schezwan Dosa, Paneer chilly, Spring roll dosa etc.
By the year end, Dosa Plaza had fashioned 20-25 original varieties of dosas.

2000
He made his Dosa's popular by serving them complimentary to his customers which was eagerly accepted by his customers. The tremendous response he received from his customers inspired him to fashion many more original one-of-its-kind recipes. Dosa Plaza had already made its presence felt in the hearts of the food-lovers.
By 2002, Dosa Plaza had 104 delicious varieties of dosas in its list.

2003
Prem Sagar Dosa Plaza opened his first branch as Dosa Plaza in Shopping Mall with well furnished, well-polished Express model outlet with an International look and served healthy and nutritious dosa's. Dosa Plaza gained popularity and was noticed by the media as an emerging trend amongst food-lovers. Dosa Plaza opened franchising offer rights started pouring in. During this year Mr. Ganapathy signed and opened his 1st franchise outlet at Thane, Wonder Mall.

2005
Dosa Plaza opened outlets in 7 different locations of India like Inorbit Mall-Malad, R-Mall- Mulund, Sahara Mall-Lucknow etc. across India.

2007
Dosa Plaza had established its outlets in 9 states of India and was spearing into the international market. With 23 outlet all over india

2008
Dosa Plaza make its presence in largest mall of Asia. 2008 marks the entry of the brand Dosa Plaza into International market by opening outlet in New Zealand & 35 Outlets in India.

2009
Dosa Plaza plans to opens its 2nd outlet in New Zealand at Sky City Metro, Auckland. Dosa Plaza now has its presence in 12 states of India.

2010
Dosa Plaza has opened its 3rd outlet in New Zealand at 14B Botany junction,227 te Irirangi, Dr Manukau City.

2011
Dosa Plaza launches its 1st Outlet of Middle East in DUBAI.

2012
Dosa Plaza launches its 4th outlet in Middle East, having its presence in Muscat, Dubai & Sharjah.
By 2012 Dosa Plaza operates 45 outlets in India and 7 International Outlets in 3 Countries (UAE, OMAN & NEW ZEALAND). The company's strategy is to grow profitably by making each store self sustainable. The company will expand through franchise model in addition to opening its own stores.
Dosa Plaza is a member of Franchise Association of India (FAI), the association, FAI is the member association of the prestigious World franchise Council (WFC) from India. Dosa Plaza follows the Franchise Code of Conduct laid down by the Association.
Watch Prem Ganapathy's Exclusive Interview

[youtube height="500″ width="800″]https://www.youtube.com/watch?v=diDX3rvlDkc[/youtube]
If you are interested World's largest South Indian Dish Menu you can have look at Dosa Plaza Menu.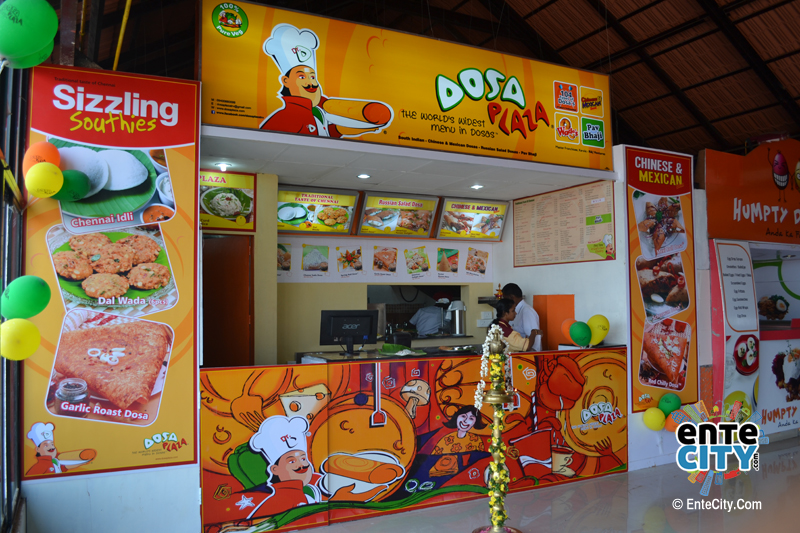 [divider scroll_text="Back To Top"]