Reza Gul, 20, was attacked by her husband on Sunday after arguing with him over his decision to take a 6- or 7-year-old niece as his fiancée, Gul's mother, Zarghona, told the Times. Gul's husband, Muhammad Khan, 25, then allegedly cut off her nose with a knife. Khan and his family had beaten and abused Gul throughout her six-year marriage.



Her husband, Mohammad Khan, had recently returned from Iran and begun beating and torturing his wife, before also taking a second bride who was aged just seven, it was claimed.
The incident highlights the endemic violence against women in Afghan society, despite reforms since the hardline Taliban Islamist regime was ousted by a 2001 U.S.-led invasion.
Community elders and Taliban representatives in their village had tried mediating with the family to help sort out their problems, a traditional method of dealing with marital issues.
Khan had now disappeared from the village, and local security forces including the intelligence agency and police were searching for him.
Before cutting off his wife's nose, Khan had promised Taliban leaders in the village that he would stop harming Gul.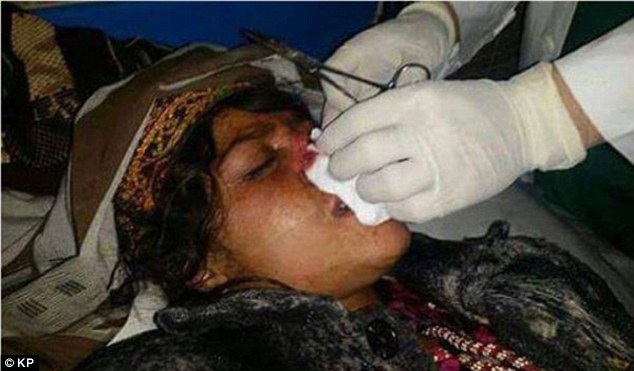 Severing women's noses is not unheard of in Afghanistan and like most abuse probably happens more often than is publicly acknowledged.
The disfigured woman's photograph was widely shared on social media, prompting calls for tough action against the husband.
Kabul-based women's rights activist Alema said: 'Such a brutal and barbaric act should be strongly condemned.
'Such incidents would not happen if the government judicial system severely punished attacks on women.'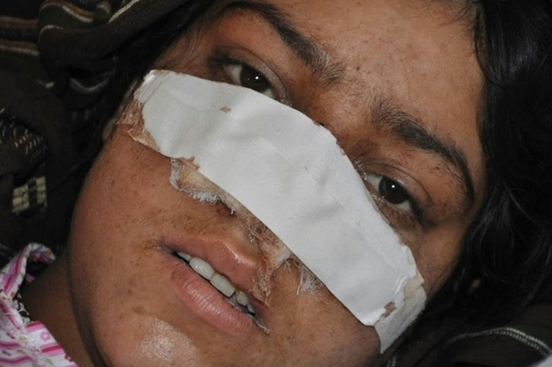 It was not immediately clear what prompted the husband to attack Gul, the mother of a one-year-old child who was married off five years ago as a teenager.
According to the U.N., Afghanistan remains one of the worst places to be a woman, and violence against women remains "endemic." Child marriages, like the one Khan was said to be arranging, are also common, robbing girls of the opportunity for education and often leading to abuse.