Rani Lakshmi Bai was one of the leading warriors of the India's first struggle for independence. A symbol of bravery, patriotism and honour. Rani Laxmi Bai, the Rani of Jhansi (19th November 1828 – 17th June 1858) was the queen of the Maratha-ruled princely state of Jhansi, situated in the northern part of India. She was one of the leading figures of the Indian Rebellion of 1857 and a symbol of resistance to the rule of the British East India Company in the subcontinent.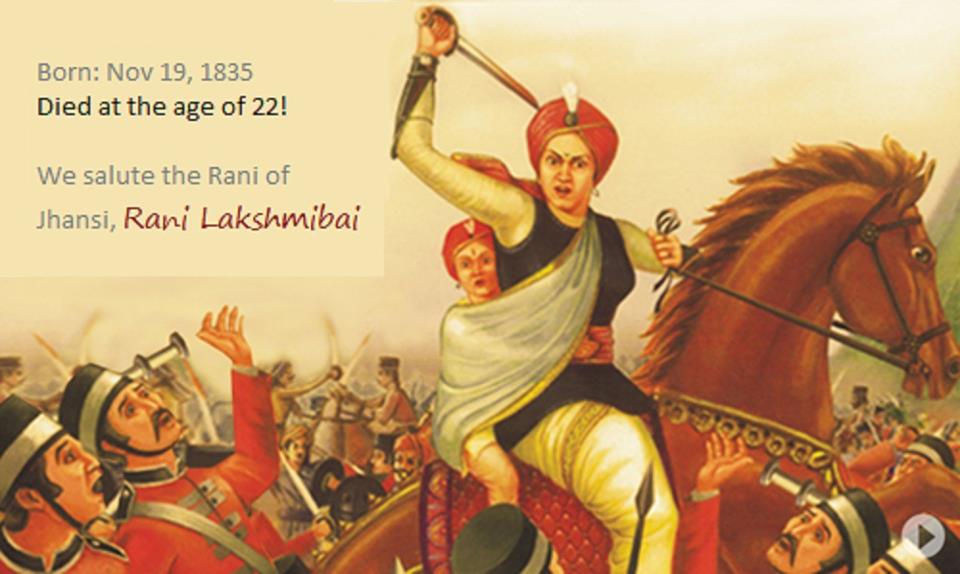 Her father worked at the Peshwa court of Bithoor and because of his influence at court Laxmi bai had more independence than most women, who were normally restricted to the zenana. She studied self-defence, horsemanship, archery, and even formed her own army out of her female friends at court. Here we present some facts you should know about greatest women fighter of india.
Jhansi Ki Rani a.k.a Rani Lakshmi Bai a.k.a Manikarnika Facts
1.  The exact date of birth of Lakshmi Bai is still a topic of debate. It is believed that she was born probably on November 19, 1828 in Varanasi and was named Manikarnika.
2. She got married to the King of Jhansi, Gangadhar Rao Newalkar at the early age of 7 in May 1842 and was renamed Lakshmi Bai.
3. Her mother died when she was only 4 years old. She was educated at home and her studies included shooting, horsemanship and fencing.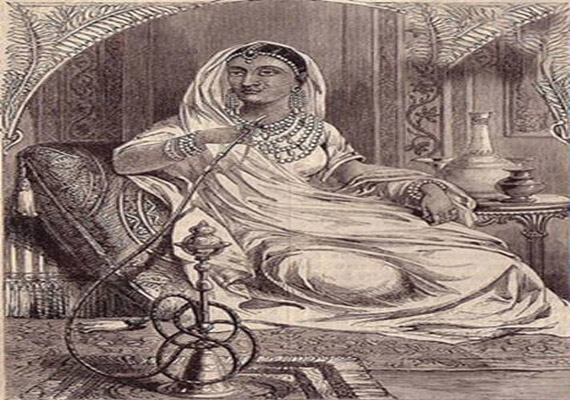 4. She was more independent than other girls of her age and was raised in a manner more usually associated with sons at that time.
5. She became the ruler of Jhansi when she was only 18 years old.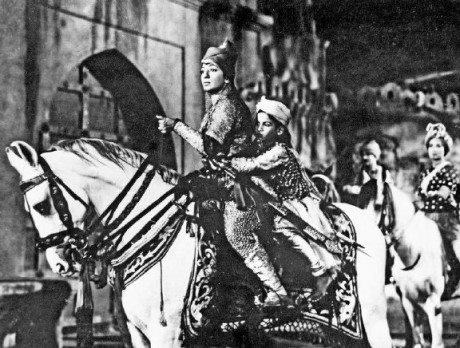 6. Her marriage to Gangadhar Rao was short-lived and being inexperienced in handling the affairs of the state, the British officials took advantage of the situation and seized Jhansi. She was given a pension of 5,000 and was ordered to abdicate the fort as a ruler.
7. It is said that not wishing the British to capture her body, Lakshmi Bai asked a hermit to burn it.
8. She was cremated, later, by a few locals.
9. In a British report of this battle, Hugh Rose, a senior British Army officer, described her as 'personable, clever and beautiful'.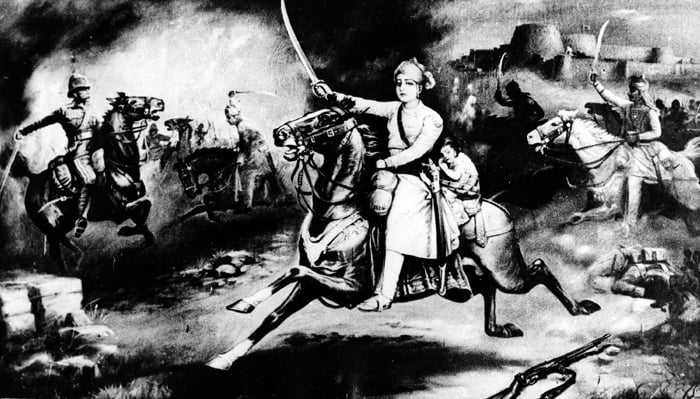 Suggested reads: Greatest Queen Warriors In Indian History | Story Of Sacrifices And Bravery
10. Lakshmibai National University of Physical Education in Gwalior, Maharani Laxmi Bai Medical College in Jhansi, the Rani Jhansi Marine National Park located in the Andaman and Nicobar Islands have been named after her. A women's unit in the Indian National Army is named the 'Rani of Jhansi Regiment'.
11. Two postage stamps were also issued, in 1957, to honour the birthday of the rebellion.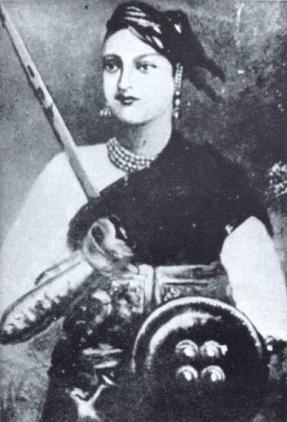 Rani of Jhansi Biography
Born: 19 November 1828, Varanasi
Died: 18 June 1858, Gwalior
Full name: Manikarnika (Also known as Lakshmibai & Manu Bai)
Nickname: Manu
Spouse: Raja Gangadhar Rao Newalkar (m. 1842–1853)
Parents: Bhagirathi Sapre, Moropant Tambe
Predecessor: Gangadhar Rao
Successor: British Raj
Issue: Damodar Rao, Anand Rao (adopted)
House: Maratha Empire
Lakshmibai or Manikarnika (Manu Bai) was born on 19 November 1828 in the holy town of Varanasi into a Marathi Brahmin family. She was named Manikarnika and was nicknamed Manu. Her father was Moropant Tambe and her mother Bhagirathi Sapre (Bhagirathi Bai). Her parents came from Maharashtra and was cousin of Nana Sahib. Her mother died when she was of four years. Her father worked for a court Peshwa of Bithoor district who brought up Manikarnika like his own daughter. The Peshwa called her "Chhabili", which means "playful". She was educated at home and was more independent in her childhood than others of her age; her studies included shooting, horsemanship, fencing and Mallakhamba with her childhood friends Nana Sahib and Tatya Tope.
Manikarnika was married to the Maharaja of Jhansi, Raja Gangadhar Rao Newalkar, in May 1842 and was afterwards called Lakshmibai (or Laxmibai) in honour of the Hindu goddess Lakshmi. She gave birth to a boy, later named Damodar Rao, in 1851, who died after four months. The Maharaja adopted a child called Anand Rao, the son of Gangadhar Rao's cousin, who was renamed Damodar Rao, on the day before the Maharaja died. The adoption was in the presence of the British political officer who was given a letter from the Maharaja instructing that the child be treated with respect and that the government of Jhansi should be given to his widow for her lifetime. After the death of the Maharaja in November 1853, because Damodar Rao (born Anand Rao) was adopted, the British East India Company, under Governor-General Lord Dalhousie, applied the Doctrine of Lapse, rejecting Damodar Rao's claim to the throne and annexing the state to its territories. When she was informed of this she cried out "I shall not surrender my Jhansi" (Mai meri Jhansi nahi doongi). In March 1854, Lakshmibai was given an annual pension of Rs. 60,000 and ordered to leave the palace and the fort. Rani Lakshmibai has been known to the British most commonly as "the Rani of Jhansi"; in Hindi she is often known as "Jhansi ki Rani".
Rani Lakshmibai was accustomed to riding on horseback accompanied by a small escort between the palace and the temple although sometimes she was carried by palanquin. Her horses included Sarangi, Pavan and Badal; according to tradition she rode Badal when escaping from the fort in 1858. The Rani Mahal, the palace of Rani Lakshmibai, has now been converted into a museum. It houses a collection of archaeological remains of the period between the 9th and 12th centuries AD.
According to a memoir purporting to be by Damodar Rao he was among his mother's troops and household at the battle of Gwalior; together with others who had survived the battle (some 60 retainers with 60 camels and 22 horses) he fled from the camp of Rao Sahib of Bithur and as the village people of Bundelkhand dared not aid them for fear of reprisals from the British they were forced to live in the forest and suffer many privations. After two years there were about 12 survivors and these together with another group of 24 they encountered sought the city of Jhalrapatan where there were yet more refugees from Jhansi. Damodar Rao surrendered himself to a British official and his memoir ends in May 1860 when he has been allowed a pension of Rs. 10,000, seven retainers only, and is in the guardianship of Munshi Dharmanarayan.
Rani Laxmi Bai in 1857:
On May 10, 1857 the Indian Rebellion started in Meerut. This began after the rumour that the new bullet casings for the Enfield rifles were coated with pork and beef fat and unrest began to spread throughout India. During this chaotic time, the British were forced to focus their attentions elsewhere, and Rani Laxmi Bai was essentially left to rule Jhansi alone, leading her troops swiftly and efficiently to quell skirmishes initiated by local princes.
Rani Laxmi Bai had always been hesitant about rebelling against the British. Her hesitation eventually came to an end when British troops arrived under Sir Hugh Rose and laid siege to Jhansi on 23 March 1858. An army of 20,000, headed by Tatya Tope, was sent to relieve Jhansi but failed to do so when his forces engaged with the British on 31 March. Three days later the besiegers were able to breach the walls and capture the city. The Rani escaped by night with her son, surrounded by her guards, many of them women.
Along with the young Damodar Rao, Rani Laxmi Bai decamped to Kalpi along with her troops, where she joined other rebel forces, including those of Tatya Tope. The two moved on to Gwalior, where the combined rebel forces defeated the army of the Maharaja of Gwalior and later occupied a strategic fort at Gwalior. However, on 17 June 1858, while battling in full warrior regalia against the 8th (King's Royal Irish) Hussars in Kotah-ki Serai near the Phool Bagh area of Gwalior, she was killed at battle. The British captured Gwalior three days later. In the British report of the battle, General Sir Hugh Rose commented that the Rani, "remarkable for her beauty, cleverness and perseverance", had been "the most dangerous of all the rebel leaders."
Her father, Moropant Tambey, was captured and hanged a few days after the fall of Jhansi. Her adopted son, Damodar Rao, fled with his mother's aides. Rao was later given a pension by the British Raj and cared for, although he never received his inheritance. Damodar Rao settled down in the city of Indore, and spent most of his life trying to convince the British to restore some of his rights. He and his descendants took on the last name Jhansiwale. He died on 28 May 1906, at the age of 58 years.
Subhadra Kumari Chauhan (1904- February 15, 1948). She joined the Non-Cooperation Movement in 1921 and was the first woman Satyagrahi to court arrest in Nagpur. She was jailed twice for her involvement in protests against the British rule in 1923 and 1942. She has authored a number of popular works in Hindi poetry. Her most famous composition is Jhansi Ki Rani, an emotionally charged poem describing the life of Rani Lakshmi Bai. The poem is one of the most recited and sung poems in Hindi literature.
झाँसी की रानी



— सुभद्रा कुमारी चौहान
सिंहासन हिल उठे राजवंशों ने भृकुटी तानी थी,
बूढ़े भारत में आई फिर से नयी जवानी थी,
गुमी हुई आज़ादी की कीमत सबने पहचानी थी,
दूर फिरंगी को करने की सबने मन में ठानी थी।
चमक उठी सन सत्तावन में, वह तलवार पुरानी थी,
बुंदेले हरबोलों के मुँह हमने सुनी कहानी थी,
खूब लड़ी मर्दानी वह तो झाँसी वाली रानी थी।।
कानपूर के नाना की, मुँहबोली बहन छबीली थी,
लक्ष्मीबाई नाम, पिता की वह संतान अकेली थी,
नाना के सँग पढ़ती थी वह, नाना के सँग खेली थी,
बरछी ढाल, कृपाण, कटारी उसकी यही सहेली थी।
वीर शिवाजी की गाथायें उसकी याद ज़बानी थी,
बुंदेले हरबोलों के मुँह हमने सुनी कहानी थी,
खूब लड़ी मर्दानी वह तो झाँसी वाली रानी थी।।
लक्ष्मी थी या दुर्गा थी वह स्वयं वीरता की अवतार,
देख मराठे पुलकित होते उसकी तलवारों के वार,
नकली युद्ध-व्यूह की रचना और खेलना खूब शिकार,
सैन्य घेरना, दुर्ग तोड़ना ये थे उसके प्रिय खिलवार।
महाराष्टर-कुल-देवी उसकी भी आराध्य भवानी थी,
बुंदेले हरबोलों के मुँह हमने सुनी कहानी थी,
खूब लड़ी मर्दानी वह तो झाँसी वाली रानी थी।।
हुई वीरता की वैभव के साथ सगाई झाँसी में,
ब्याह हुआ रानी बन आई लक्ष्मीबाई झाँसी में,
राजमहल में बजी बधाई खुशियाँ छाई झाँसी में,
चित्रा ने अर्जुन को पाया, शिव से मिली भवानी थी,
बुंदेले हरबोलों के मुँह हमने सुनी कहानी थी,
खूब लड़ी मर्दानी वह तो झाँसी वाली रानी थी।।
उदित हुआ सौभाग्य, मुदित महलों में उजियाली छाई,
किंतु कालगति चुपके-चुपके काली घटा घेर लाई,
तीर चलाने वाले कर में उसे चूड़ियाँ कब भाई,
रानी विधवा हुई, हाय! विधि को भी नहीं दया आई।
निसंतान मरे राजाजी रानी शोक-समानी थी,
बुंदेले हरबोलों के मुँह हमने सुनी कहानी थी,
खूब लड़ी मर्दानी वह तो झाँसी वाली रानी थी।।
बुझा दीप झाँसी का तब डलहौज़ी मन में हरषाया,
राज्य हड़प करने का उसने यह अच्छा अवसर पाया,
फ़ौरन फौजें भेज दुर्ग पर अपना झंडा फहराया,
लावारिस का वारिस बनकर ब्रिटिश राज्य झाँसी आया।
अश्रुपूर्णा रानी ने देखा झाँसी हुई बिरानी थी,
बुंदेले हरबोलों के मुँह हमने सुनी कहानी थी,
खूब लड़ी मर्दानी वह तो झाँसी वाली रानी थी।।
अनुनय विनय नहीं सुनती है, विकट शासकों की माया,
व्यापारी बन दया चाहता था जब यह भारत आया,
डलहौज़ी ने पैर पसारे, अब तो पलट गई काया,
राजाओं नव्वाबों को भी उसने पैरों ठुकराया।
रानी दासी बनी, बनी यह दासी अब महरानी थी,
बुंदेले हरबोलों के मुँह हमने सुनी कहानी थी,
खूब लड़ी मर्दानी वह तो झाँसी वाली रानी थी।।
छिनी राजधानी दिल्ली की, लखनऊ छीना बातों-बात,
कैद पेशवा था बिठुर में, हुआ नागपुर का भी घात,
उदैपुर, तंजौर, सतारा, करनाटक की कौन बिसात?
जबकि सिंध, पंजाब ब्रह्म पर अभी हुआ था वज्र-निपात।
बंगाले, मद्रास आदि की भी तो वही कहानी थी,
बुंदेले हरबोलों के मुँह हमने सुनी कहानी थी,
खूब लड़ी मर्दानी वह तो झाँसी वाली रानी थी।।
रानी रोयीं रिनवासों में, बेगम ग़म से थीं बेज़ार,
उनके गहने कपड़े बिकते थे कलकत्ते के बाज़ार,
सरे आम नीलाम छापते थे अंग्रेज़ों के अखबार,
'नागपूर के ज़ेवर ले लो लखनऊ के लो नौलख हार'।
यों परदे की इज़्ज़त परदेशी के हाथ बिकानी थी,
बुंदेले हरबोलों के मुँह हमने सुनी कहानी थी,
खूब लड़ी मर्दानी वह तो झाँसी वाली रानी थी।।
कुटियों में भी विषम वेदना, महलों में आहत अपमान,
वीर सैनिकों के मन में था अपने पुरखों का अभिमान,
नाना धुंधूपंत पेशवा जुटा रहा था सब सामान,
बहिन छबीली ने रण-चण्डी का कर दिया प्रकट आहवान।
हुआ यज्ञ प्रारम्भ उन्हें तो सोई ज्योति जगानी थी,
बुंदेले हरबोलों के मुँह हमने सुनी कहानी थी,
खूब लड़ी मर्दानी वह तो झाँसी वाली रानी थी।।
महलों ने दी आग, झोंपड़ी ने ज्वाला सुलगाई थी,
यह स्वतंत्रता की चिनगारी अंतरतम से आई थी,
झाँसी चेती, दिल्ली चेती, लखनऊ लपटें छाई थी,
मेरठ, कानपूर, पटना ने भारी धूम मचाई थी,
जबलपूर, कोल्हापूर में भी कुछ हलचल उकसानी थी,
बुंदेले हरबोलों के मुँह हमने सुनी कहानी थी,
खूब लड़ी मर्दानी वह तो झाँसी वाली रानी थी।।
इस स्वतंत्रता महायज्ञ में कई वीरवर आए काम,
नाना धुंधूपंत, ताँतिया, चतुर अज़ीमुल्ला सरनाम,
अहमदशाह मौलवी, ठाकुर कुँवरसिंह सैनिक अभिराम,
भारत के इतिहास गगन में अमर रहेंगे जिनके नाम।
लेकिन आज जुर्म कहलाती उनकी जो कुरबानी थी,
बुंदेले हरबोलों के मुँह हमने सुनी कहानी थी,
खूब लड़ी मर्दानी वह तो झाँसी वाली रानी थी।।
इनकी गाथा छोड़, चले हम झाँसी के मैदानों में,
जहाँ खड़ी है लक्ष्मीबाई मर्द बनी मर्दानों में,
लेफ्टिनेंट वाकर आ पहुँचा, आगे बड़ा जवानों में,
रानी ने तलवार खींच ली, हुया द्वन्द्ध असमानों में।
ज़ख्मी होकर वाकर भागा, उसे अजब हैरानी थी,
बुंदेले हरबोलों के मुँह हमने सुनी कहानी थी,
खूब लड़ी मर्दानी वह तो झाँसी वाली रानी थी।।
रानी बढ़ी कालपी आई, कर सौ मील निरंतर पार,
घोड़ा थक कर गिरा भूमि पर गया स्वर्ग तत्काल सिधार,
यमुना तट पर अंग्रेज़ों ने फिर खाई रानी से हार,
विजयी रानी आगे चल दी, किया ग्वालियर पर अधिकार।
अंग्रेज़ों के मित्र सिंधिया ने छोड़ी रजधानी थी,
बुंदेले हरबोलों के मुँह हमने सुनी कहानी थी,
खूब लड़ी मर्दानी वह तो झाँसी वाली रानी थी।।
विजय मिली, पर अंग्रेज़ों की फिर सेना घिर आई थी,
अबके जनरल स्मिथ सम्मुख था, उसने मुहँ की खाई थी,
काना और मंदरा सखियाँ रानी के संग आई थी,
युद्ध श्रेत्र में उन दोनों ने भारी मार मचाई थी।
पर पीछे ह्यूरोज़ आ गया, हाय! घिरी अब रानी थी,
बुंदेले हरबोलों के मुँह हमने सुनी कहानी थी,
खूब लड़ी मर्दानी वह तो झाँसी वाली रानी थी।।
तो भी रानी मार काट कर चलती बनी सैन्य के पार,
किन्तु सामने नाला आया, था वह संकट विषम अपार,
घोड़ा अड़ा, नया घोड़ा था, इतने में आ गये अवार,
रानी एक, शत्रु बहुतेरे, होने लगे वार-पर-वार।
घायल होकर गिरी सिंहनी उसे वीर गति पानी थी,
बुंदेले हरबोलों के मुँह हमने सुनी कहानी थी,
खूब लड़ी मर्दानी वह तो झाँसी वाली रानी थी।।
रानी गई सिधार चिता अब उसकी दिव्य सवारी थी,
मिला तेज से तेज, तेज की वह सच्ची अधिकारी थी,
अभी उम्र कुल तेइस की थी, मनुज नहीं अवतारी थी,
हमको जीवित करने आयी बन स्वतंत्रता-नारी थी,
दिखा गई पथ, सिखा गई हमको जो सीख सिखानी थी,
बुंदेले हरबोलों के मुँह हमने सुनी कहानी थी,
खूब लड़ी मर्दानी वह तो झाँसी वाली रानी थी।।
जाओ रानी याद रखेंगे ये कृतज्ञ भारतवासी,
यह तेरा बलिदान जगावेगा स्वतंत्रता अविनासी,
होवे चुप इतिहास, लगे सच्चाई को चाहे फाँसी,
हो मदमाती विजय, मिटा दे गोलों से चाहे झाँसी।
तेरा स्मारक तू ही होगी, तू खुद अमिट निशानी थी,
बुंदेले हरबोलों के मुँह हमने सुनी कहानी थी,
खूब लड़ी मर्दानी वह तो झाँसी वाली रानी थी।।
REAL PHOTO (Image) Of RANI JHANSI (1828 – 1858 )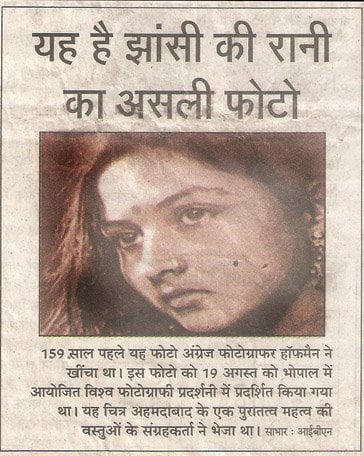 [divider scroll_text="Back To Top"]