Hey Guys Whats up!! In this Post we will address one of the common network-related problems many smartphone users encountered. we have found the easiest way to fix Not Registered On Network problem with samsung or any other Android phone.
Samsung galaxy not registered on network error occurs when you are attempting to make a call or text. Sometime this error "NOT REGISTERED ON NETWORK" came for user in International or National Roaming. The Main reason behind this mostly is Your current Service Provider is not notified of your IMEI number, and then you get this error on the Pop Up Screen " not registered on a network" don't worry, we have found solution of this problem and all the Issues with Android not registered on a network are gone.
Please, be aware that your phone is already unlocked. It's not the case where you have to unlock your device to remove the "Android Not Registered On Network" error. This Solution applies to all Android/ Samsung Galaxy Phones.
The Reason Why You are experiencing Not Registered On Network error: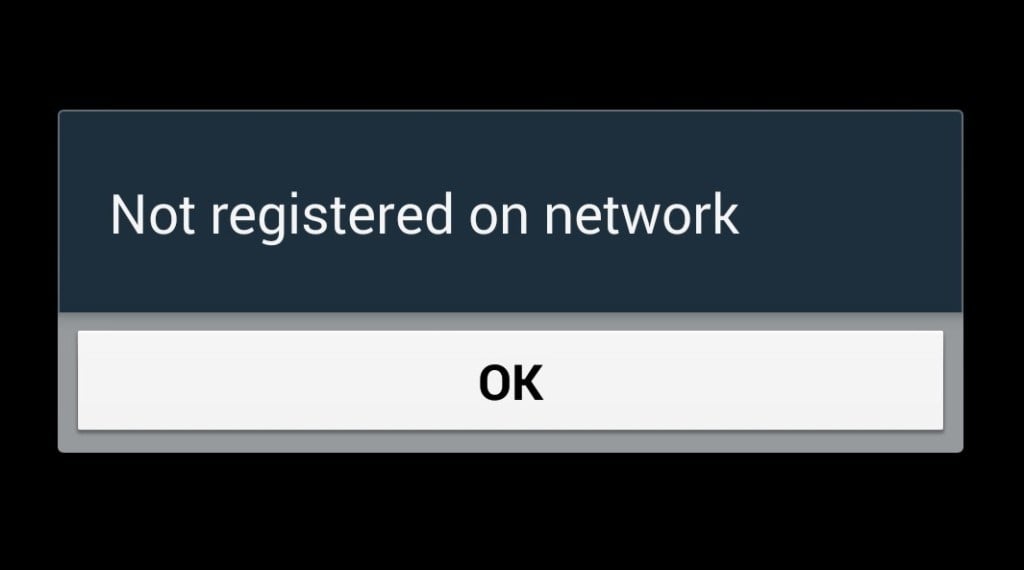 This Error may occur because of the firmware or software that are not up to date, and your phone may be ruining the Earlier Software Update. Not Registered On Network error is a common android problem that occurs on T-Mobile, vodafone,at&t,airtel,rogers,virgin and even after root.

How To Fix Samsung Galaxy Not Registered On Network

Method 1:

Make sure you are connected to a Wireless connection:
>First Get Your Galaxy Up and Running. Charged and ready
>Place Your SIM Card in the Phone
>Navigate to Settings of your Phone
>Scroll Down To the bottom
>Select Software Update
>Wait For It to reboot and complete the Update
>Finished!

Note – 52.6% Of the users who are facing "Not Registered On Network"error is caused By A Nulled or Unknown IMEI # –
If These Two Methods does not work for you, I highly recommend you read –Restore Galaxy Null IMEI # and Fix Not Registered on Network

Method 2:

I found this solution by messing around with my Samsung galaxy phone,
Please follow this method precisely, and if it doesn't work at first, try doing it over again.
>Turn off your phone by "Holding the Power Button and the Home in conjunction"
>While the phone is off, wait for 2 minutes.
>After 2 minutes, remove the battery and the SIM card from the phone
> Press the Power button and the home button together for 10 consecutive times.
>Afterwards, hold the power and home key for 1-3 minutes.
>After, insert your SIM card and the battery
>Turn on your Samsung galaxy.
>While your phone is on, remove your SIM card, and then re-insert it. Repeat this five times.
>A message will appear saying that you need to "Restart your Phone"- click it.
>Finally, your Samsung galaxy should boot up with no errors: "error while searching for network, your SIM card does not allow connection for this network and not registered on network"

Method 3:

If both of the above method didn't work, then the problem lies in your SIM Card.
Trying a different SIM card might solve the problem. It worked for most people.

Method 4:

Update your APN Settings:
Under Wireless and Networks, click Mobile Network > Access Point Names > Click menu, left button from the home key > Select New > Now Enter the require APN settings for your carrier
If you are using T-Mobile enter this
"Name: T-MobileAPN: epc.tmobile. com if you have an LTE Device, you should use: fast.tmobile. com
Proxy: <leave in="" blank="">
Port: <leave in="" blank="">
Username: <leave in="" blank="">
Password: <leave in="" blank="">
Server: <leave in="" blank="">
MMSC: http: //mms.msg.eng.t-mobile. com/mms/wapenc
MMS proxy: <leave in="" blank="">
MMS port:<leave in="" blank="">
MMS protocol: WAP 2.0
MCC: 310
MNC: 260
Authentication type: <not set="">
APN type: <leave in="" blank=""> OR Internet+MMS"
If you are using AT&T ENTER THIS
"Name: AT&TAPN: wap.cingular
Proxy: <leave in="" blank="">
Port: <leave in="" blank="">
Username: [email protected] com
Password: cingular1
Server: <leave in="" blank="">
MMSC: http://mmsc.cingular. com
MMS proxy: wireless.cingular. com
MMS port: 80
MCC: 310
MNC: 410
Authentication type: <leave in="" blank="">
APN type: default,supl,mms OR Internet
APN Protocol: Leave it on the Default one"
Method 5:

Wireless & Networks > Mobile Networks > Network Operators > choice either your own network or Automatically
Method 6:

Not registered on network may also occur because the SIM card was not insert correctly, which may cause mobile network not available and error searching for network.

Note:If you hit the update from settings, and it says "NO FIRMWARE FOUND" You have to update via kies on your computer for samsung mobile.

Updated Fix:

Step 1:
First, go to Settings.

Step 2:
Then go to Wireless and networks.

Step 3:
Then Tap Mobile Networks (If mobile networks not found then tap More settings and then find and tap Mobile networks). Watch video to understand and solve this issue easily.

Step 4:
Now tap Networks operators.

Step 5:
After complete searching…. Then select your Network Operator (Like Vodafone, Idea, AirTel, etc.)
That's it, problem solved.

Step 6:
In Mobile Networks, set Network mode as WCDMA only and restart your phone. After restarting, follow above steps.
At this point, though, there's not much we can about the problem so calling your service provider is the best you can do. After all, they can replace your unit if they, too, can't fix it.

Credit: Chevy Powell
Source: technobezz.com
[divider scroll_text="Back To Top"]