Coober Pedy is a town in northern South Australia, 846 kilometers north of Adelaide on the Stuart Highway. According to the 2011 census, its population was 1,695. On the surface, the place looks pretty deserted. A treeless plain on the edge of the Stuart Ranges, with a few sparsely spaced houses, a couple of inns and restaurants, a police station, a school and a hospital further north. But that's only half the town. The other half lives underground in spacious caves and tunnels called "dugouts" where the town's residents have built homes, hotels, restaurants, bars, churches and more.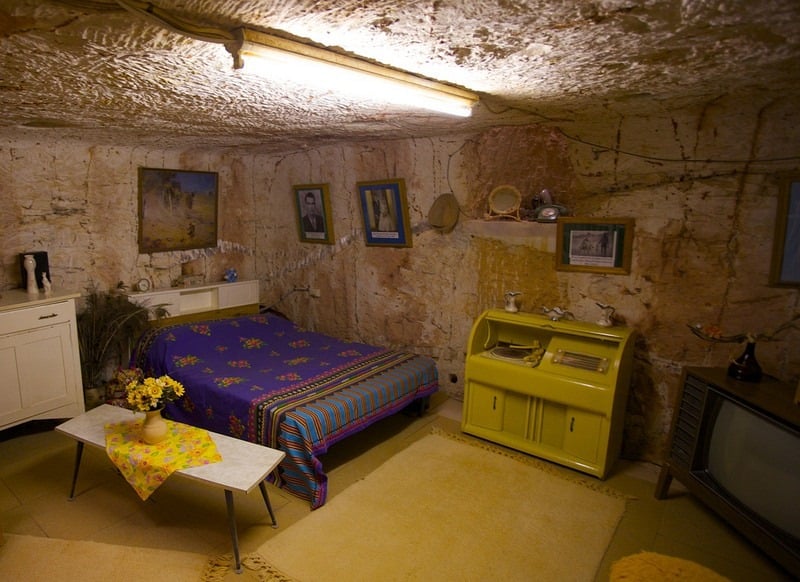 Coober Pedy History
Coober Pedy was established in 1915 following the discovery of opal by a 14-year old boy who was camping with his father's gold prospecting party. Within a few years hundreds of prospectors were tearing up the turf. But people who flocked here to mine the previous stones soon discovered life above ground was pretty tough. In the summer, the temperature often exceeds 40 degrees Celsius. On these hot days, the relative humidity rarely gets over 20%, and the skies usually remained cloud-free.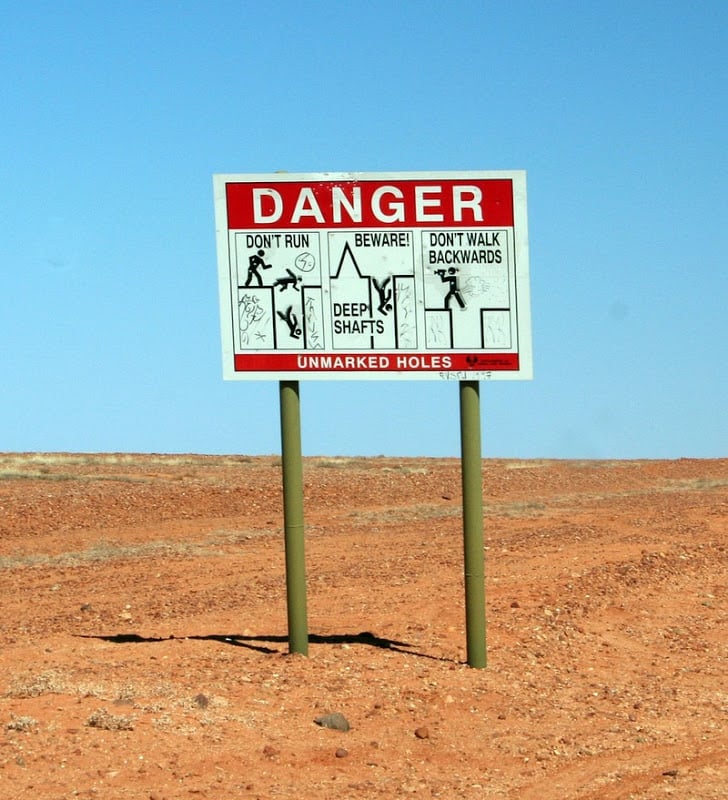 One of the most famous signs of Coober Pedy. The town has around 250,000 mine shafts and signs like this warn visitors about the dangers of walking without looking. This sign is now reproduced in t-shirts, coffee mugs, flags, bags and plenty more things which you can buy as souvenirs.
Why People Lived Underground?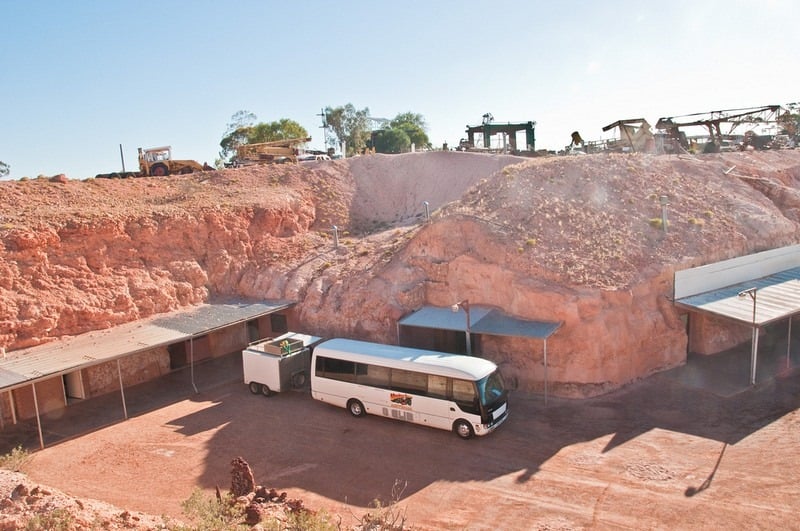 The Residents Of This Australian Town Live Underground For A Very Good Reason. Coober Pedy is a small Australian town, known for its very bizarre living arrangements. Because this remote community is located in the outback, it endures seasonal dust storms, with temperatures that reach up to 118 degrees in the shade. To stay cool during the summer and warm in the winter, residents have built homes underground that protect them from the harsh elements.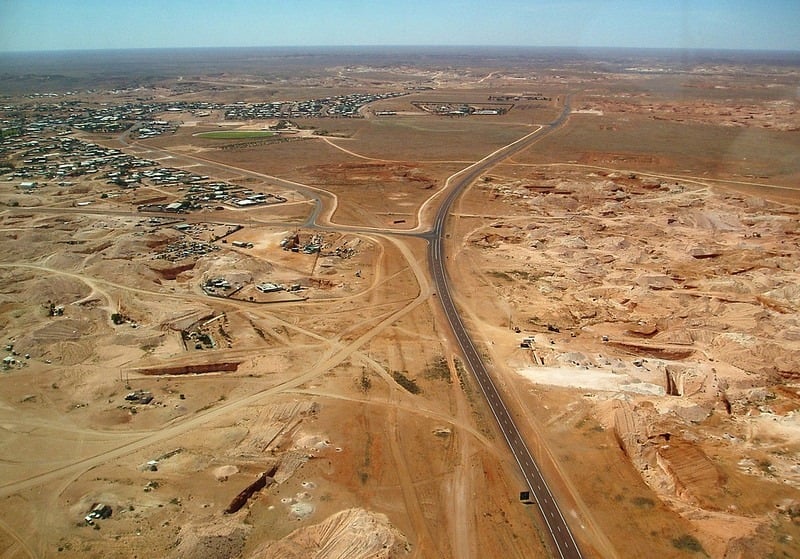 Aerial view of Coober Pedy City
To escape the scorching daytime temperatures, the residents began to live underground. The early Coober Pedy houses were built in the holes that had already been dug in search for opal. Modern homes are dug into the hill sides and include all the amenities of an above-ground home including living rooms, kitchens, walk-in closets, bar and cellar. The entrance is usually at street level, and the rooms extend towards the back into the hill. All the rooms are ventilated with a vertical shaft, keeping the temperature regulated.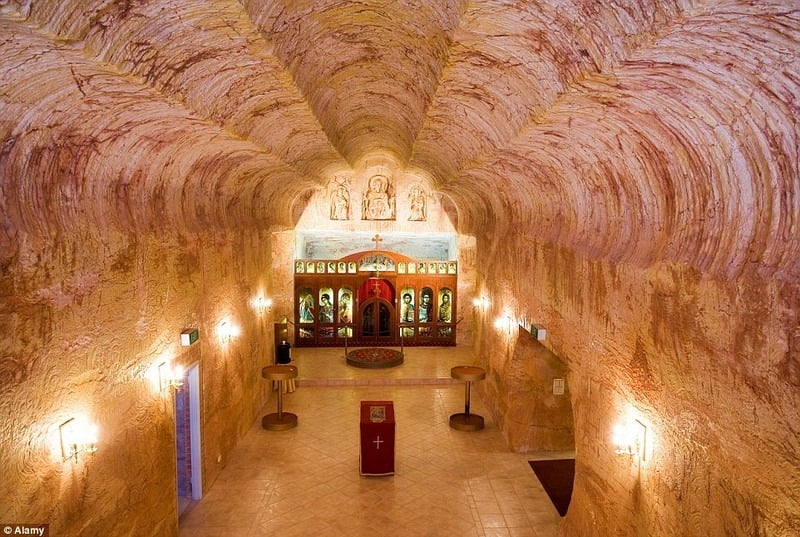 Major attraction of Coober Pedy is this underground church
This ingenious style of living was introduced by soldiers returning from the First World War to prospect from opal mining. Coober Pedy was originally known as the Stuart Range Opal Field, named after John McDouall Stuart, who in 1858 was the first European explorer in the area. In 1920 it was re-named Coober Pedy, an anglicised version of Aboriginal words "kupa piti", which is assumed to mean "white man's hole".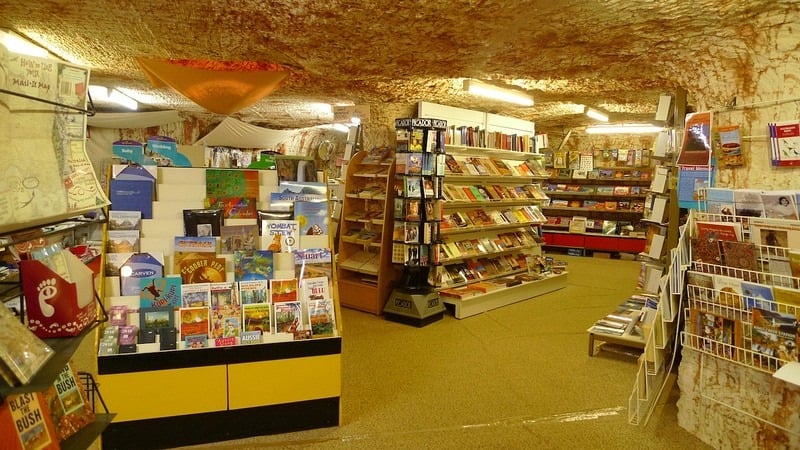 Underground Bookstore



Coober Pedy – Opal capital of the world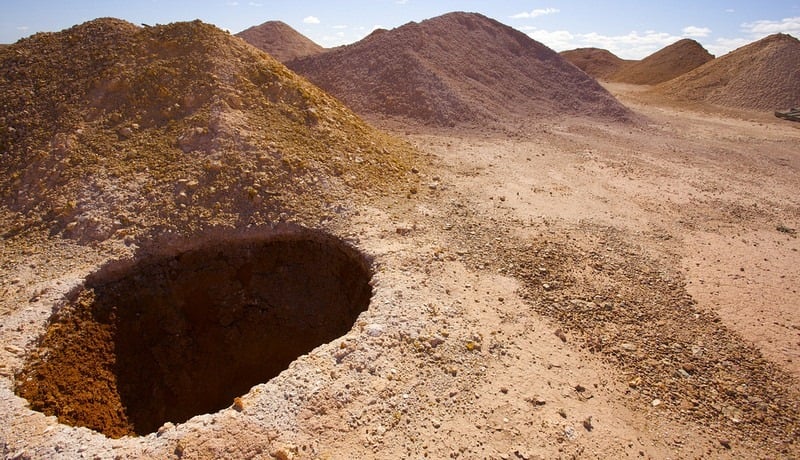 open mine shaft.
Today Coober Pedy is the leading supplier of gem-quality opal, producing the bulk of the world's white opal. The town has over 70 opal fields and is the largest opal mining area in the world. While the name "Coober Pedy" comes from the local Aboriginal term kupa-piti, meaning "white man's hole," the town itself is made up of more than 45 different nationalities. And while this place doesn't seem like the most ideal setting to call home, opal mining is an incredibly lucrative business.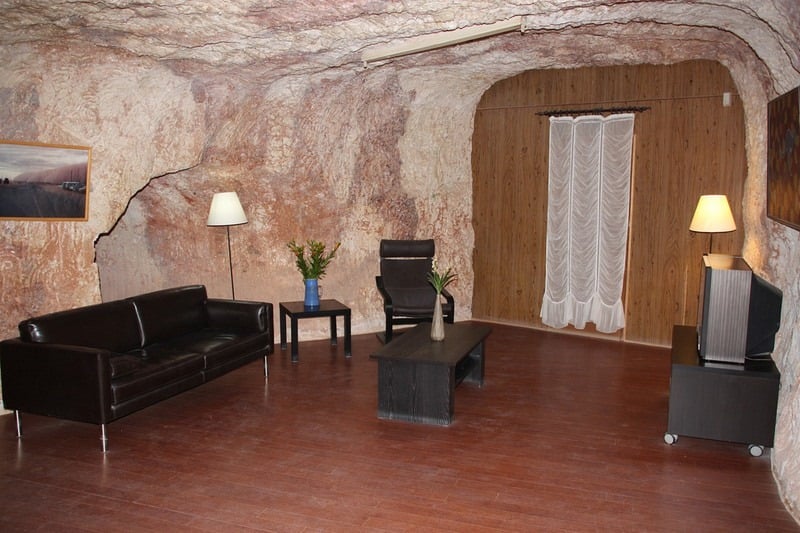 Underground Living Room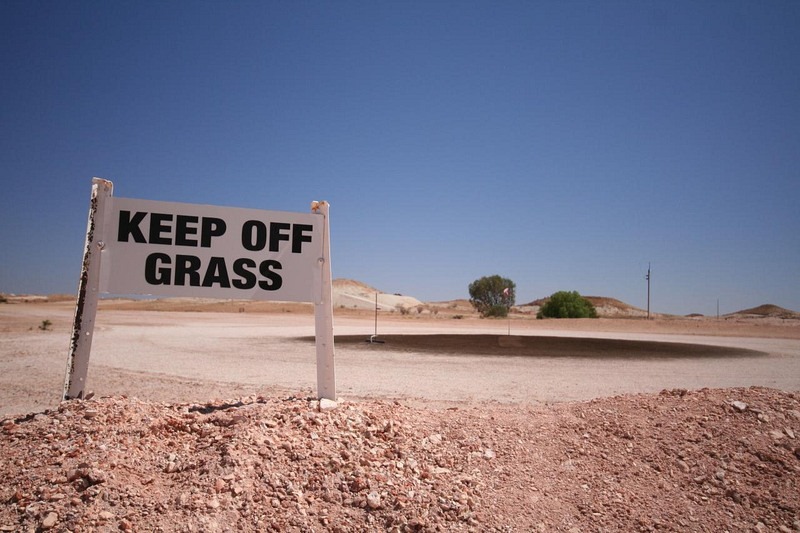 There is a local golf course – mostly played at night with glowing balls, to avoid daytime temperatures. It's completely free of grass and golfers take a small piece of "turf" around to use for teeing off. The lack of grass hasn't discouraged them to put up this sign in the golf course though.
Extreme Town Coober Pedy, South Australia
Opal Coober Pedy Video
A walk through the opal capital of the world in Coober Pedy in Australia's remote outback near Adelaide. The majority of the inhabitants live underground in depleted opal mines to hide from the burning heat.
Coober Pedy Weather
Climate – Between April and October the weather is very pleasant. Typical of a semi desert climate, the days (16 to 20° C) are mild to warm but the desert nights are cold. From November to March the weather warms up and summer temperatures can range from 35° C to the 45° C in the shade, with occasional dust storms. The annual rainfall in the area is minimal at around 175 mm (5 inches) per annum and can fall during any time of the year.

Coober Pedy Travel Information
Air
Flights between Adelaide and Coober Pedy Monday – Friday & Sunday
Regional Express Airlines
Further Information
Web Site: http://www.rex.com.au/
Phone: 13 17 13
For REX Backpacker Specials – Click here
Coach
Adelaide to Coober Pedy – departs 7.25pm arrives 6.15am. Alice Springs to Coober Pedy – departs 10.30am arrives 7.30pm.
Greyhound Pioneer
Website: http://www.greyhound.com.au/
Road
Adelaide 846kms Alice Springs 685kms Darwin 2,170kms Port Augusta 535kms Tennant Creek 1,173kms Yulara 725kms
The Stuart (Explorer) Hwy, Hwy 87
Train
http://www.gsr.com.au
Coober Pedy can also be accessed by rail via the Ghan route from Adelaide to Alice Springs. Transportation from Manguri Station, 47kms from Coober Pedy, would have to be arranged prior to departure from Adelaide or Alice Springs. Departs Adelaide on Sundays & Fridays and arrives at Manguri Station on Mondays & Saturdays.
H/T: Outback Australia Travel Secrets / Opals Down Under / www.cooberpedy.sa.gov.au / Wikipedia