The Forgotten History Of Human Zoos. In the late 1800s to well into the 1900s, Europeans created "human zoos" in cities like Paris, Hamburg, Germany, Antwerp, Belgium, Barcelona, Spain, London, Milan,  Warsaw, Poland, St Louis and New York City. These were popular human exhibits where whites went to watch Black people who were on display. The Black people were usually forced to live behind gates and in cages similar to animals in a zoo today.
Many people, (200 to 300 thousand) would visit these minorities who were like animals. The number of people intrigued by these human zoos became exponential, as 18 million came to visit the World Fair in 1889, held in Paris. Four hundred Africans and Aboriginals were displayed in front of a large crowd of people, stripped down half-naked and thrown into cages.
Human zoos were quite popular, as many of them were found around Europe during the late 1800s to the mid 1900s. However, they weren't the only continent that liked to expose humans in this way. North America, specifically the U.S., had their fair share of human zoos; however they stepped up their game from the Europeans.
In the early 1900s, the Bronx Zoo had an exclusive exhibit with a Congolese female named Ota Benga. Benga was thrown into cages with other animals, forced to carry apes and even wrestled with an orangutang. When he wasn't with the animals, she would weave twine and shoot things with a bow and arrow.
Below are several photos showing the horrible reality of Black people who were forced to live in human zoos.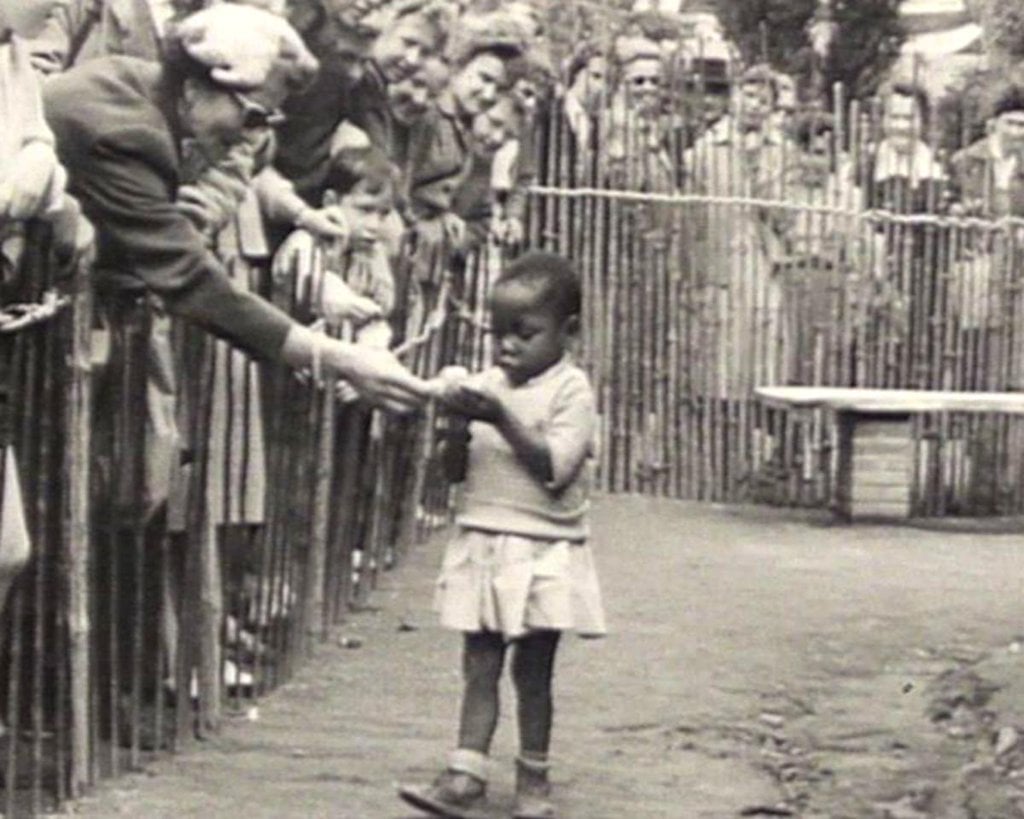 This is a "Peoples Show" in Brussels, Belgium, where the young Black girl is fed by the white spectators.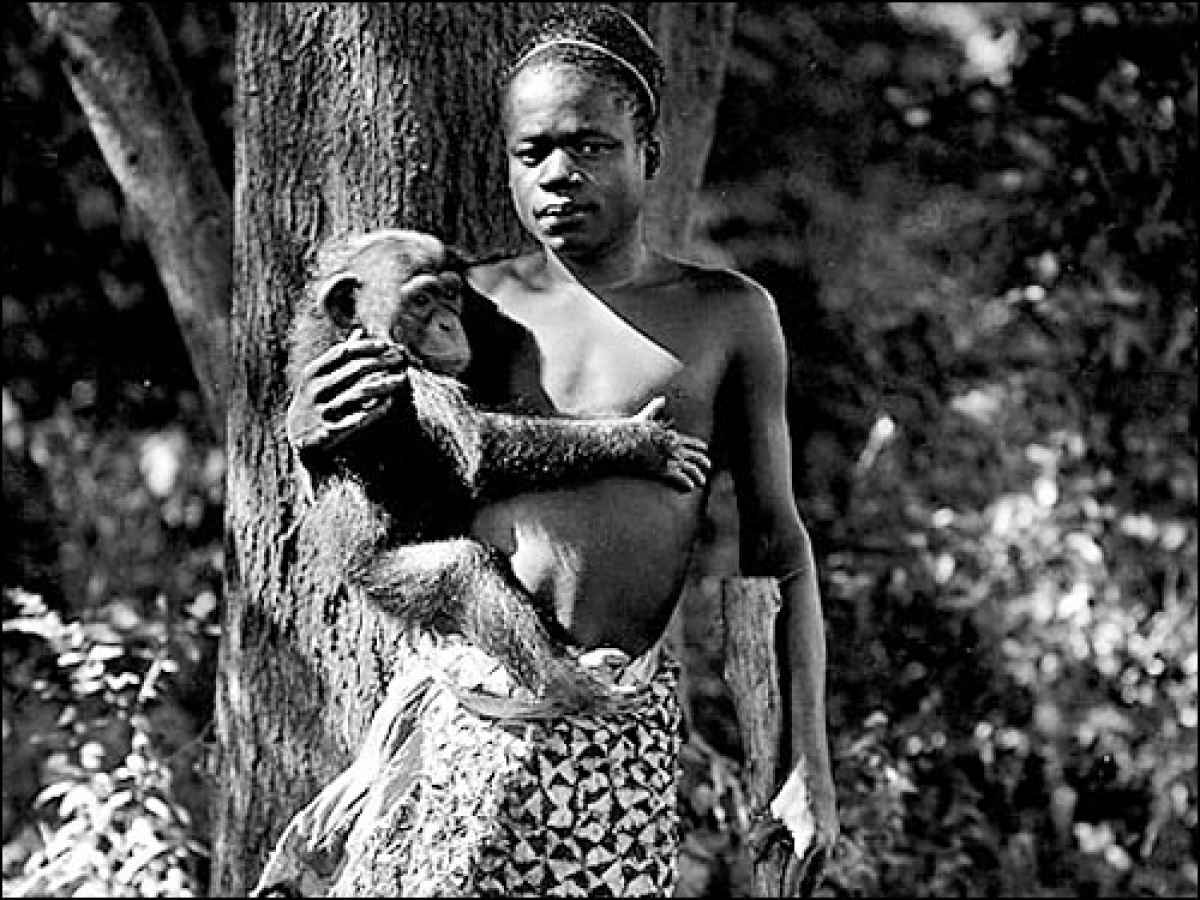 Congolese pygmy Ota Benga was on display at the Bronx Zoo in New York City in 1906. He was forced to carry around chimpanzees and other apes.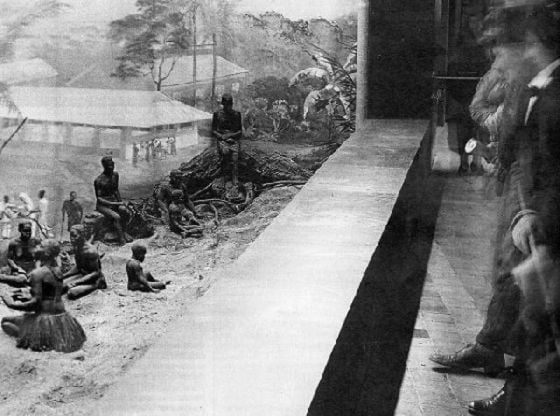 One of the many human zoos in France.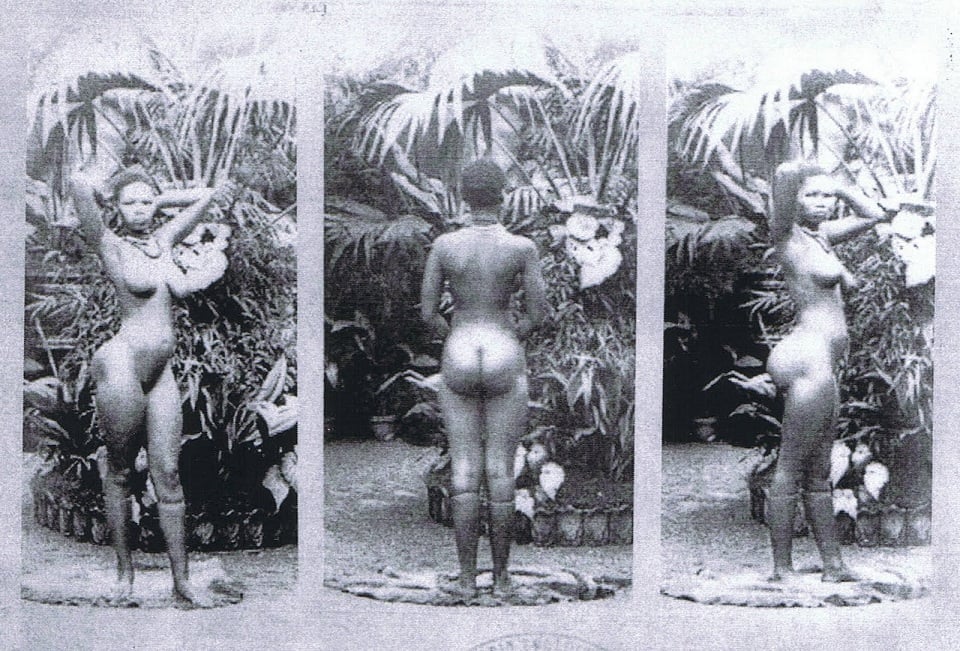 A 20-year-old girl from South Africa known as Sarah "Saartjie" Baartman was recruited to work in a Paris zoo because of a genetic characteristic known as steatopygia — protuberant buttocks and elongated labia. Whites went to the zoo to look at her buttocks and at other naked Black women with the same shape.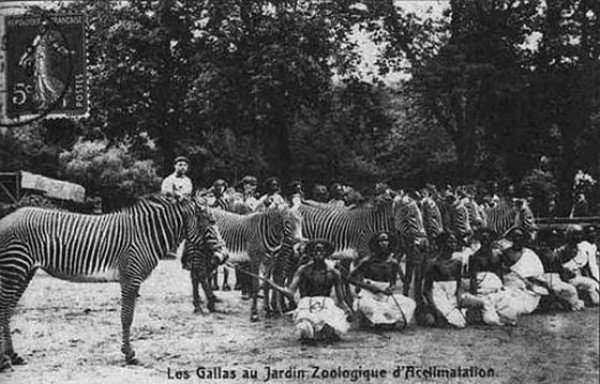 This is one of France's many "Negro Villages." It was said the village would often display Blacks to dehumanize them and compare them to animals.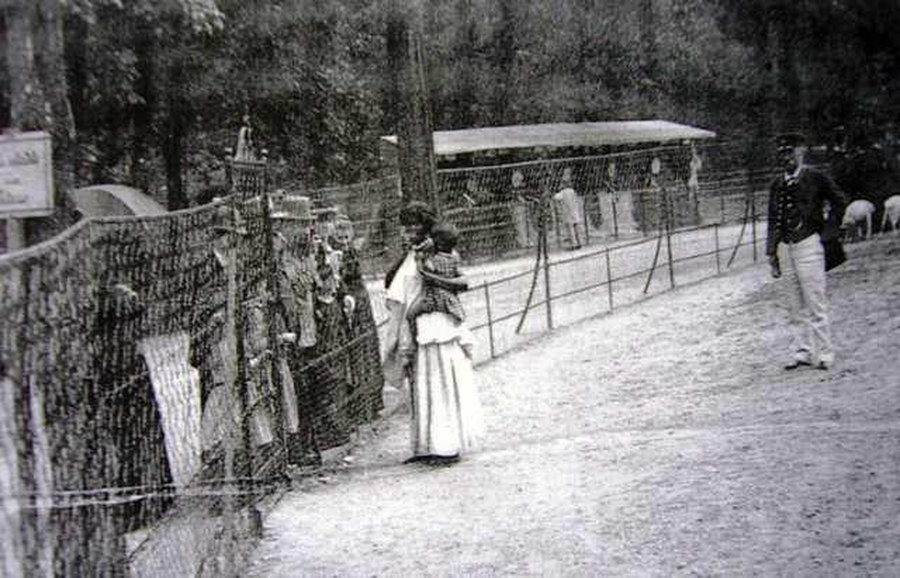 This is another "Negro Village" in France. It was called "The World Fair," where uncovered or semi-uncovered black women and children were presented in cages. Africans shooting archery in 1904 St Louis "Savage Olympics Exhibition"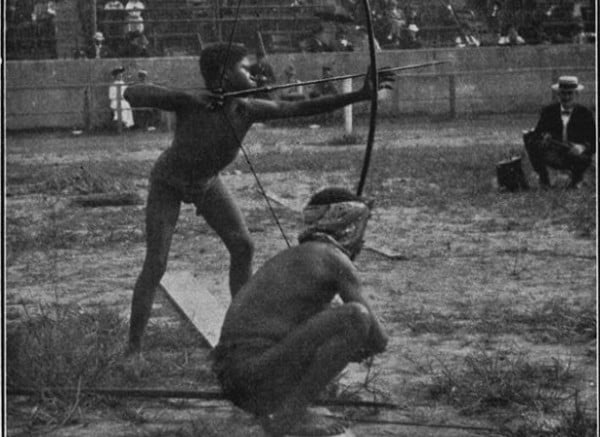 Black Africans are shown participating in archery in 1904 in St Louis at an event whites organized called the "Savage Olympics Exhibition."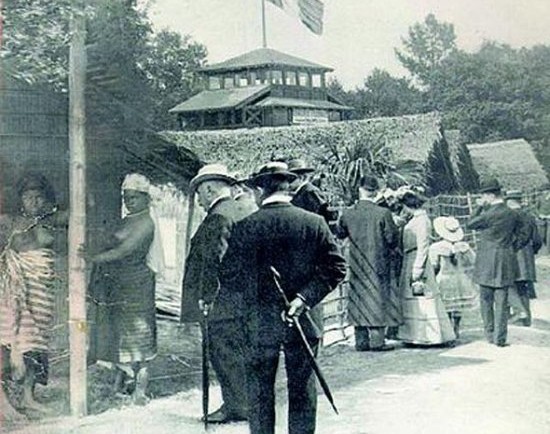 A "Negro village" similar to PT Barnum's exhibition of Joice Heth, an enslaved African-American who was blind and almost completely paralyzed. Barnum lied to the visitors saying she was the 160-year-old nurse of President George Washington.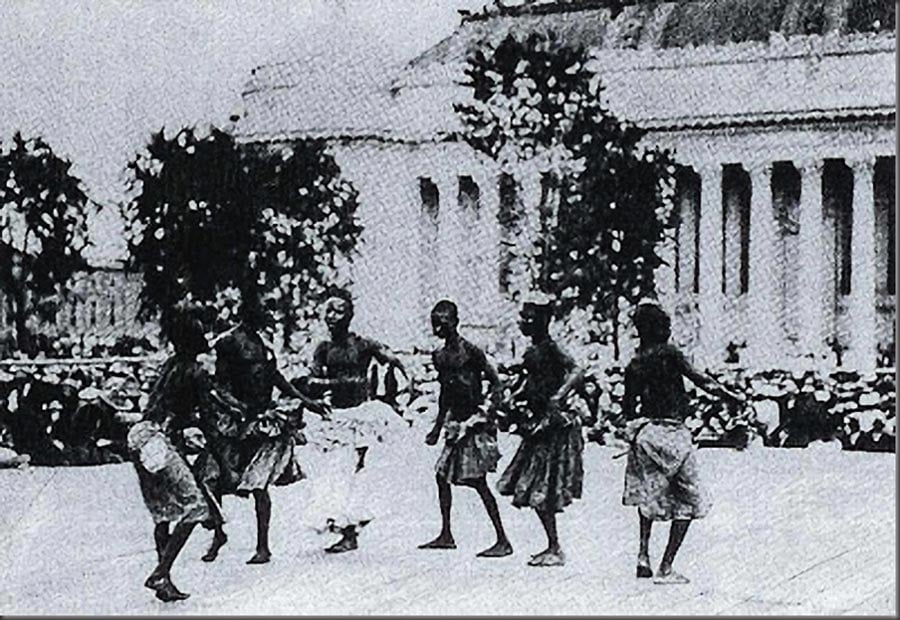 Pygmies were made to dance during numerous exhibitions to entertain visitors at zoos in both Germany and England.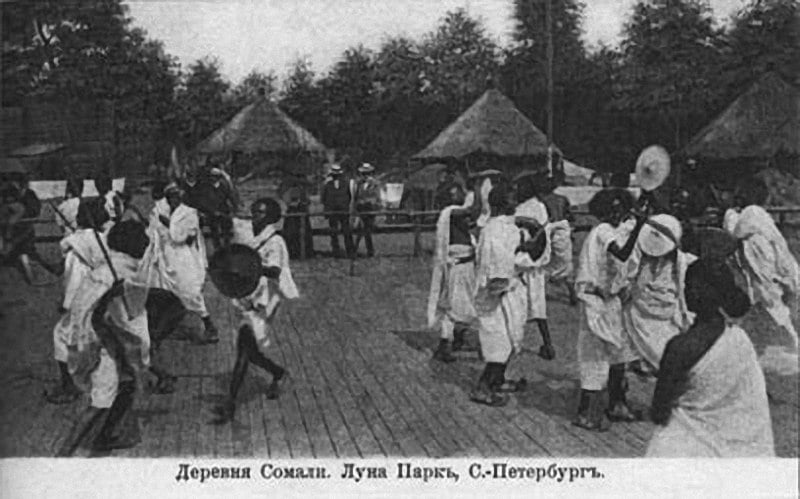 This is a Somalia village exhibit at Luna Park in St. Petersburg, Russia.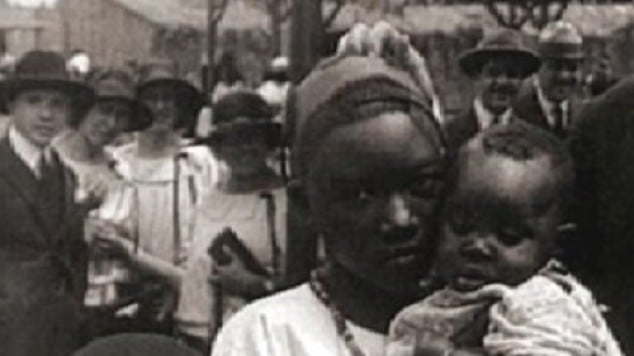 A Black African mother is shown with her child in a "Negro Village."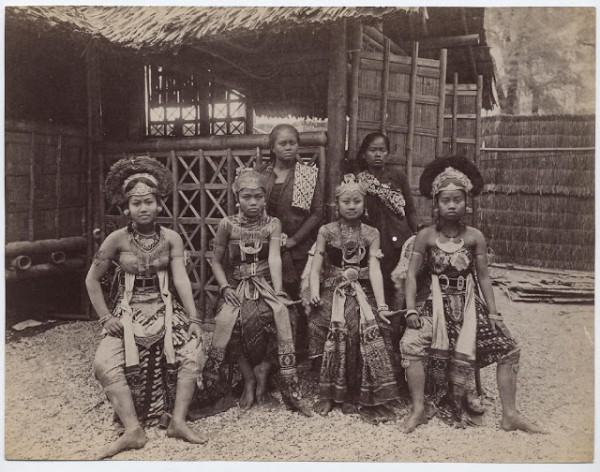 At the Parisian World Fair, this was a part of the 1931 exhibit that was so successful that it drew 34 million people that year.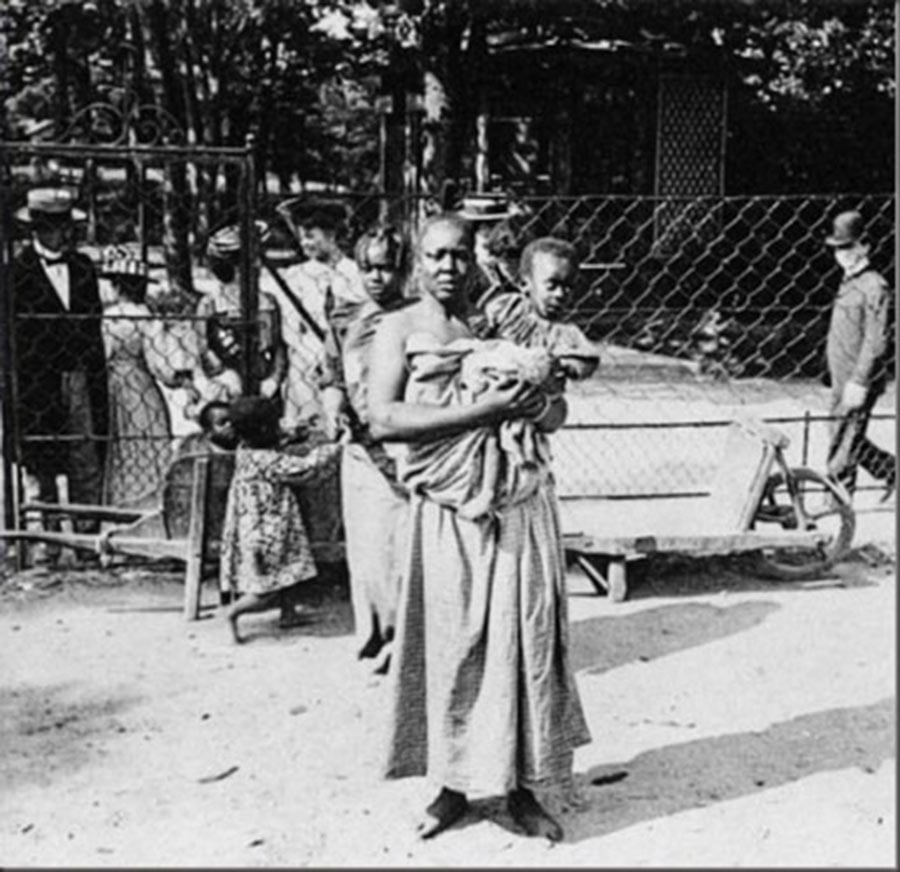 A Black mother and her child at a "Negro Village" in Germany.  This exhibit was known to be very popular and was even visited by conservative statesman Otto von Bismarck.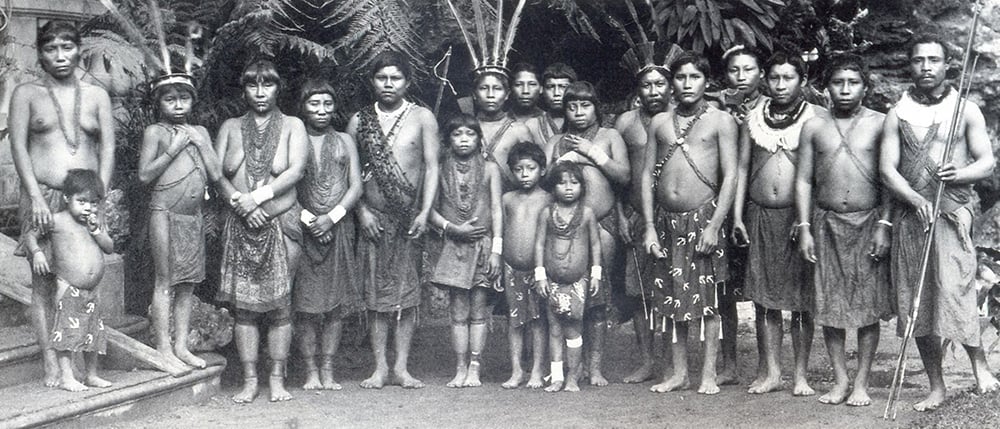 Human Zoo History:
Human zoos, also called ethnological expositions, were 19th- and 20th-century public exhibitions of humans, usually in a so-called natural or primitive state. The displays often emphasized the cultural differences between Europeans of Western civilization and non-European peoples or other Europeans with a lifestyle deemed primitive. Some of them placed indigenous people in a continuum somewhere between the great apes and humans of European descent. Ethnological expositions have since been criticized as highly degrading and racist.
The Human Zoo Science's Dirty Little Secret pt 1 of 4 [MIRROR]
[youtube height="500″ width="800″]https://www.youtube.com/watch?v=7Abi8MEz7zU[/youtube]
The Human Zoo Science's Dirty Little Secret pt 2 of 4 [MIRROR]
[youtube height="500″ width="800″]https://www.youtube.com/watch?v=hpnEM_57xSY[/youtube]
The Human Zoo Science's Dirty Little Secret pt 3 of 4 [MIRROR]
[youtube height="500″ width="800″]https://www.youtube.com/watch?v=3YFuRRmT0Dk[/youtube]
The Human Zoo Science's Dirty Little Secret pt 4 of 4 [MIRROR]
[youtube height="500″ width="800″]https://www.youtube.com/watch?v=_GdfcDgxVaA[/youtube]