Germany were crowned world champions for the fourth time after a stunning extra-time strike by substitute Mario Gotze secured a 1-0 victory over Argentina.
After 113 goalless minutes in the World Cup final, Gotze — a second-half substitute for Miroslav Klose — controlled Andre Schurrle's left-wing cross beautifully on his chest before volleying past Sergio Romero.
Twenty-four years after their last World Cup triumph, which was also achieved against Argentina, Germany could celebrate again — coach Joachim Low realising a dream that began eight years ago when he first took charge of the Nationalmannschaft.
For almost two hours, it seemed that Germany and Argentina would have to settle the World Cup final with penalty kicks.
But then, almost out of nowhere, backup forward Mario Goetze settled a cross and beat Sergio Romero far post — the first goal allowed by Argentina in some seven hours of game time — to lift Germany to its fourth World Cup title.
The match was even throughout, with Argentina earning some golden opportunites in the first half, but they were unable to convert.
Gonzalo Higuain had the two best chances for Argentina. His first, brought on by a gaffe in the German defense, left him one-on-one with the keeper, but his shot was well wide. Later he buried a goal into the net, but he was needlessly offsides.
The teams continued the scoreless play throughout the second half and for the majority of extra time. It was pretty flat, to be honest, until Goetze's goal, which came from a good ball across sent in. Frankly, it seemed no different than any of the other balls sent in the box Sunday. Goetze's finish was just better, and that was the difference.
It was another flat effort from international superstar Lionel Messi, who had a few moments of brilliance but failed to find goal for the fourth straight game after scoring four times in the group stage. It was difficult, of course, especially with German defenders surrounding him at all times. He had little help up front — even though Higuain had chances — and the absence of Angel Di Maria certainly didn't help.
So in the end, Messi couldn't do it all for Argentina, and Germany had just enough.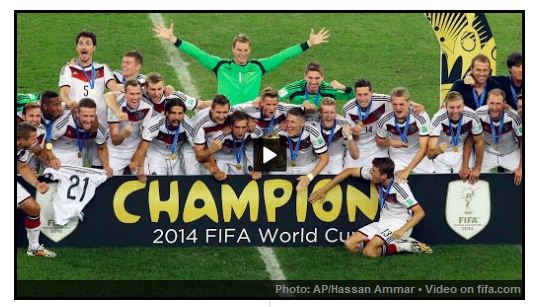 FINAL: Argentina 0 – Germany 1 (Goetze 113')
120'+ — No good. Messi's shot well high. That should do it.
120' — Messi fouled. Perhaps one last chance for Argentina, Messi.
118' — Furious pace at this point. Messi tries a header from the top of the box that goes just over the crossbar.
113' — Hey, whoa, THERE IT IS. Mario Gotze, a sub, finishes a one-touch off his chest to win the World Cup. (Probably.)
109' — Schweinsteiger gets smacked in the face on a header and he's bleeding from just below his eye.
109' — This is pretty boring.
108' — Chance for Germany on a free kick, but it's blocked.
105' — End of the first period. Early chances, but little else.
103' — Everyone seems really tired. The game is sloppy, with fouls picking up and bad touches abound.
97' — Palacio has a great chance, but his chip carries over Neuer but goes well wide. Bad first touch by Palacio, who had space.
92' — Messi tries one but it slides across in front of goal. Not too dangerous.
91' — Back at it. Terrific chance out of hand for Germany, but a great save by Romero keeps it scoreless.
Full time: So there it is. No score, and we're headed to two fifteen minute halves to decide the World Cup. If we're still tied we'll move to PKs.
90'+ — Couple late, exciting chances, but nothing going near goal. We're heading to extra time, folks.
88' — Klose, the all-time leading World Cup goal-scorer, coming off for Germany for the last time.
82' — Great chance for Kroos, but the shot is well wide. Germany really starting to pile up chances.
80' — Several chances for Germany, but they can't get anything on goal and the cross sails out of bounds.
78' — Higuain off. He should have two goals.
75' — Messi works out some clever moves and gets a shot off his left foot, but not enough bend to find the goal.
71' — Oh, great chance for Germany, but they make a mess of it and it rolls to Romero.
70' — A lot of sloppy play both ways. For instance, Benedikt Howedes just sent a cross to no one.
64' — Argentina loses it, and Mascherano whacks Klose, earning a yellow card.
62' — Play has flattened out considerably. A few chances for Germany, but nothing too dangerous.
57' — That was an…odd call. Higuain and Neuer collide, Higuain called for a foul as Neuer punches it clear. That was not a call.
53' — It has been kind of slow. Here's Christ the Redeemer.

47' — Argentina just keeps missing. This time it's Messi who sees his shot roll wide.
world cup
(via)
46' — Sergio Aguera on for Argentina as the second half is underway.
Halftime: Quite an exciting half, as both sides have had numerous chances. Pretty even, so far, too. But Higuain may be kicking himself after two golden scoring opportunities were wasted.
45'+ — Oh wow. Germany's header rings the post, somehow staying out of net just before half.
43' — Germany gets a good chance, but the shot has little pace.
40' — Boy another great chance for Argentina as Messi finds his way in front of net, but Boateng saves the day by clearing it off the line seconds before it was knocked into goal.
world cup
(via)
37' — Schurrle gets a chance, but Romero makes a nice save.
36' — Messi nearly threads a perfect ball through that would have been a sure goal, but it's cleared for a corner. Argentina has really been in control after a strong German start.
31' — Kramer now being helped off the field. He does not look…there. That looks really bad. Schurrle comes on.
30' — Poor, poor, poor Higuain. He puts this one away, but he was offsides, somewhat pointlessly. Good call.
world cup
(via)
28' — Good save from Romero, even though Mueller was offsides.
21' — Oh. Oh no. Higuain literally all alone after a terrible Germany turnover, but his shot is not close. What a great chance, wasted.
world cup
(via)
18' — Oh dear. Kramer just got mashed in the face with a shoulder. He's down receiving attention — seems a bit woozy.
daley blind netherlands world cup
(via)
13' — Good cross in by Germany, but Klose just can't get his head to it.
10' — Another good chance for Argentina, but the ground cross can't find a foot. But the Argentine side is starting to assert itself.
9' — Messi finally gets a touch and takes it deep into Germany territory, but his cut-back pass in the box is cleared.
7' — Lots of early possession for Germany — they seem, at least for now, to be the side that will have the majority of chances.
4' — Klose's free kick is stuffed and Argentina counters well. Higuain's shot goes wide, but it was fairly close and beat Neuer.
3' — Couple early chances for Germany, and Mueller earns an early free kick above the box.
1' — Okay, here we go. IT'S HAPPENING.
[divider scroll_text="Back To Top"]