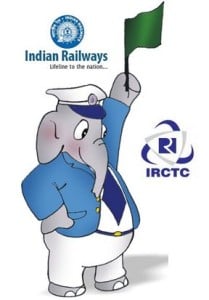 So, finally here is news of relief for Indian Railways Travellers. IRCTC's ambitious SMS based ticketing system is a reality now. Keeping in mind the heavy mobile penetration in India, and considering the fact the internet is still inaccessible to more than 60% of population of country on day to day basis,  Indian Railway Catering & Tourism Corporation (IRCTC), A government of India subsidiary has launched SMS-based ticketing system.
Railways minister Mallikarjun Kharge launched this new system yesterday and said that the service aims to "empower the common man who does not have access to internet and cannot afford to buy smartphones."
IRCTC has come up with a number of options for passengers to buy tickets without having to access the Internet. Besides the short code 5676714, one can even send an SMS to 139 or the Airtel Money system *400# or the system powered by Pyro where one needs to have a BSNL SIM card enabled with Java computer language.
To make use of any of these options, you have to get your mobile number registered with IRCTC. Each SMS will cost Rs. 3 and as the project is being launched on a pilot basis, mobile service providers have dispensed with agent charges for now. These charges as and when imposed would be the same one pays to other agents, including online charges.
One will not be required to carry a hard copy of the ticket while travelling — the SMS confirmation will be valid proof.
The facility allows for ticket cancellation as well.
Here is Step By Step SMS Railway Ticket Booking Process:
Register Your Mobile Number with your bank. [Bank will then provide you a unique Mobile Money Identifier (MMId) & One Time Password (OTP) for authorization of payment]

Now You can book your railway ticket by SMS
For booking, type an SMS with all your travel details like train number, date of journey, boarding station and destination and Class of travel, besides name, age and gender of the passenger. The SMS should be sent to 139 or 5676714.
On receiving the SMS, the IRCTC will send a transaction ID. The passenger has to reply to the SMS with PAY followed by the transaction ID and the bank password (OTP).

This confirms booking and the ticket amount will be deducted from your bank account.

On successful booking of ticket, a message will be sent to the user by IRCTC which will be sufficient as the valid travel document along with photo ID card in original.
For further queries like seat availability, Schedule, time table, PNR status you can Visit Indian Railway Official SMS site.

Note:
The SMS scheme will not be available during 8 am-12 pm for booking ARP/Tatkal/General tickets.

There will be no need for internet at any stage – booking, payment, cancellation etc.