When traveling to a new city you want to know where to go and what to see. But what can really make a difference is knowing those little things you only ever learn about a city after having been there for a while. Here are 10 things that we find funny/annoying/cute/interesting about the city where we first met: Granada.

1. If you are walking on a hill in Granada, you are most likely walking on someone's roof. The cave residents are usually friendlier than they look but they sure don't like it when tourists take photos of their homes! Well I wouldn't like it if people walked around my roof or took pictures through my windows either.

2. As a general rule: The cheaper and touristy looking the tapas bar, the bigger the portions. Quality is directly proportional to quantity though, so if you want good tapas you usually have to settle for smaller portions.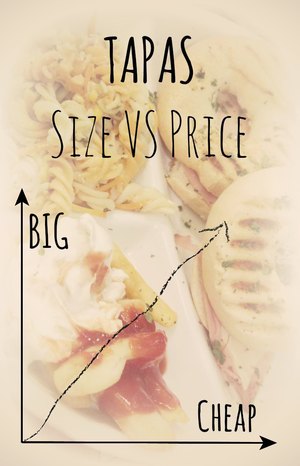 3. General opening hours in Granada: Every day 10AM-8.30PM. Closed during siesta: 1PM-5PM… And weekends. Oh, and occasionally Mondays. No fishing on Sundays so there's a reason to randomly close on Mondays… Actually. Don't trust any opening hours. Just assume that whereever you're going is probably closed due to siesta/holiday/sleeping employees/lack of fish and then you will never be disappointed.

4. Chances are you will get rained on when you leave your house, even when the weather is clear; everybody dries their laundry out their windows in the tall crammed buildings.

5. The most amazing view in Granada is from the tallest viewpoint 'Mirador de San Cristobal' even though a lot of tourist websites and information folders claim that 'Mirador de San Nicolas' is the best. I think this has to do with all the restaurants and shops located near San Nicolas and inaccessibility of San Cristobal… It is really hard to find so be prepared to ask for directions. When walking up there, remember to notice the stairs: The steps have interesting art. Also, the nice 'church' on top of the hill is not a church but a youth prison…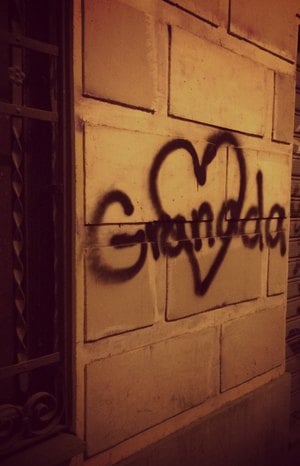 6. If you add a slice of orange to a 'Tinto de Verano' (red wine – lemon soda) you are allowed to call it 'Sangria' and charge double the price (in the cheaper tapas bars).

7. Street-art is widely spread and suits the city very well. The most outstanding and common graffiti image is that of a gigantic penis, covering walls and large surfaces all over Granada. Each depiction of this art-piece has it's own special feature such as a punk haircut, big blue eyes or a rubber duck.

8. If you go to the viewpoint 'Mirador de San Nicolas' there is a 98% chance you will stumble upon a stoned out Swedish dude dressed in green. I swear he never leaves that square.

9. Among the many interesting street artists the 'free poem guy' is one out of the ordinary. You will find him in the evenings on 'Paseo del Tristes' typing on his rusty typewriter next to piles of free poems. Draw one and decide the price yourself. A great souvenir!

10. Granada means pomegranate. Notice how each street pole in the city is decorated with metal pomegranate. Old ladies sell these fresh fruits in the streets too and they're delicious although I still haven't figured out how to eat them gracefully with my bare hands.
Just Take A Look At Famous Song By Pharrell Williams – "HAPPY" On Granada City, SPAIN:

[youtube width="800″ height="500″]https://www.youtube.com/watch?v=_dmIFhm77D0[/youtube]

Are We Missed Something??
What do you think of this story? We want to hear from you! Share your comments below.
H/T : sweetdistance.com
[divider scroll_text="Back To Top"]