Japan's Eshima Ohashi Bridge Could Give Most Confident Driver Nightmares. Japan's crazy 'rollercoaster bridge' forces drivers down a terrifying descent Eshima Ohashi Bridge. The Eshima Ohashi bridge in Japan the third largest of its kind in the world twists and turns for over a mile long. The concrete road bridge spans cross Lake Nakaumi and links the cities of Matsue and Sakaiminato. The incredible slopes a gradient of 6.1 percent makes it look more like a rollercoaster than a bridge.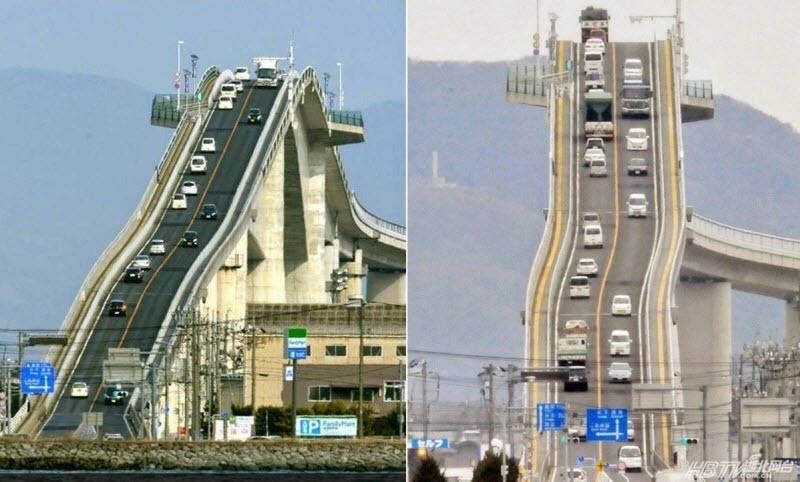 The Eshima Ohashi Bridge is a two-lane concrete road bridge that links the city of Matsue in Shimane Prefecture to Sakaiminato in Tottori Prefecture, in Japan. At a total length of 1.7 km, of which the bridge part is 1.44 km long, and a width of 11.3 meters, it is the largest rigid frame bridge in Japan and the third largest in the world.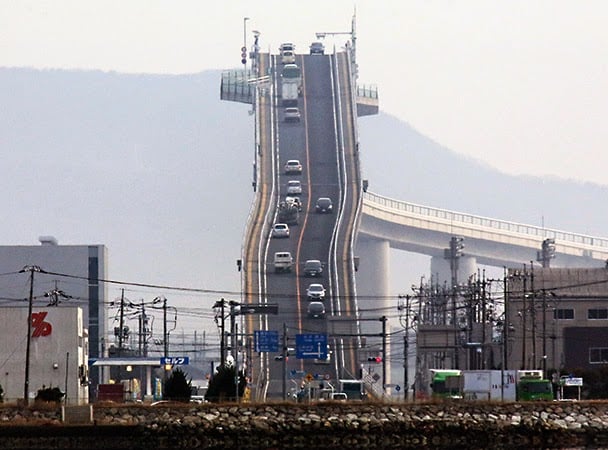 This incredible structure appears to have an extraordinarily steep incline on both sides, making it look more like a roller coaster that you can enjoy from the seat of your car.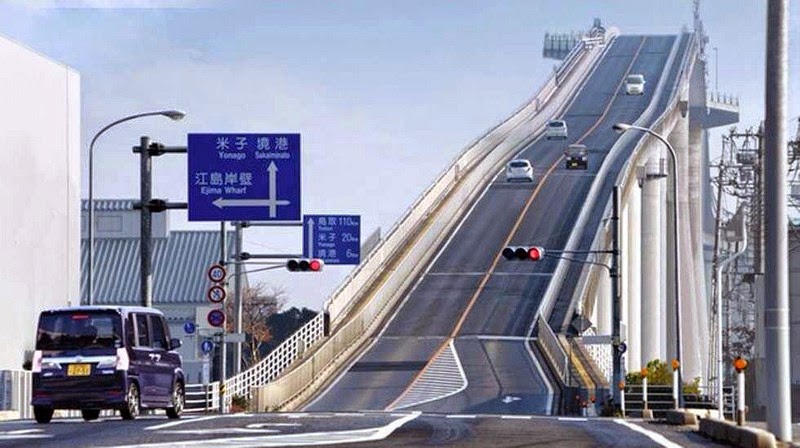 In recent months, the bridge has received unusual attention since it was used in a commercial for Daihatsu Motor Co.'s Tanto minivan. The commercial shows the bridge from an angle that exaggerates the slope of the bridge's approach. Perspective compression by a telephoto lens makes the viewer believe that the bridge is extraordinarily steep.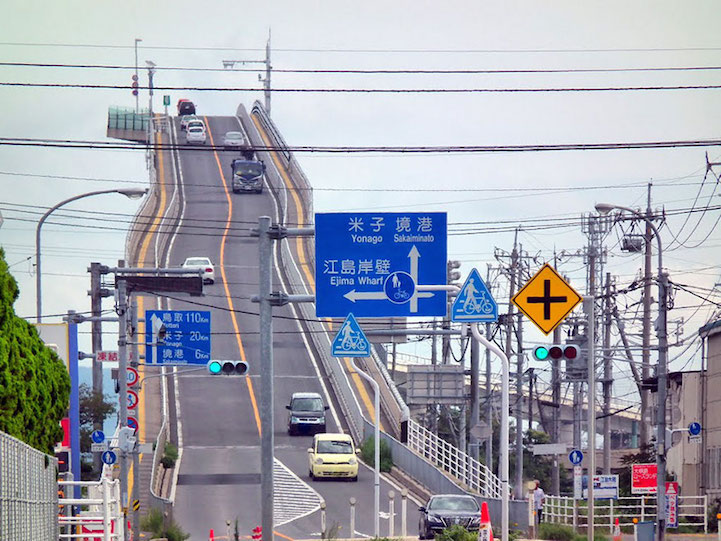 Daihatsu Motor wants you to believe that the bridge is frighteningly steep because it wants to show off its car's strength. Actually, the bridge has a pretty comfortable gradient of 6.1% on Shimane Prefecture side and 5.1% on Tottori Prefecture side, nothing an average car can't handle. Some websites report that driving over the bridge is "like a roller-coaster ride" which is all media hyperbole.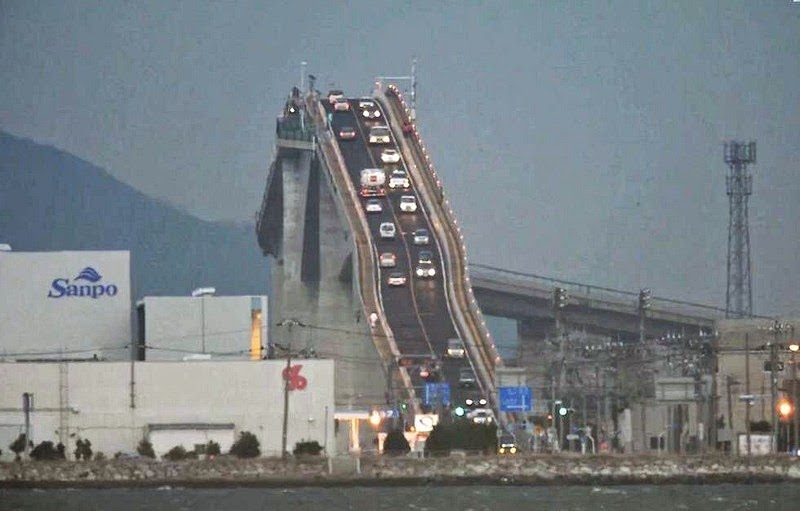 Exaggerated slope of the Eshima Ohashi Bridge.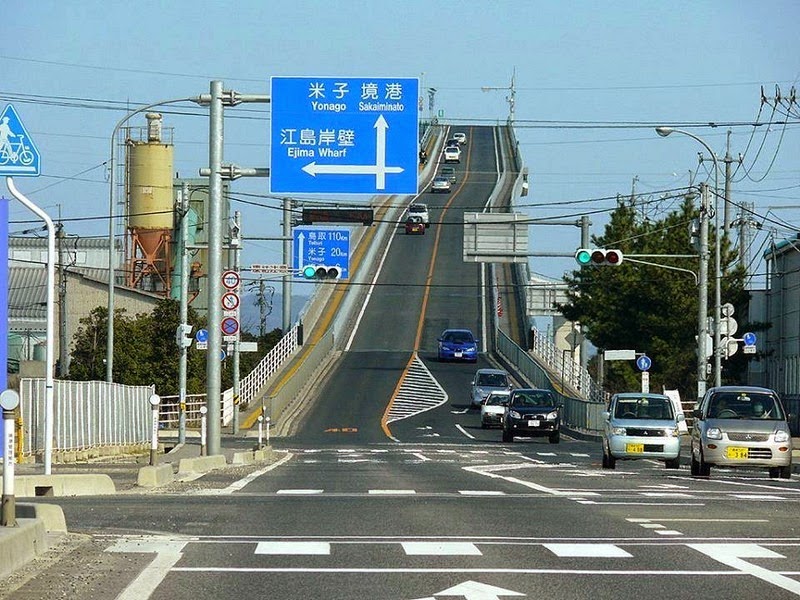 Screengrab from the commercial that shows the Eshima Ohashi Bridge.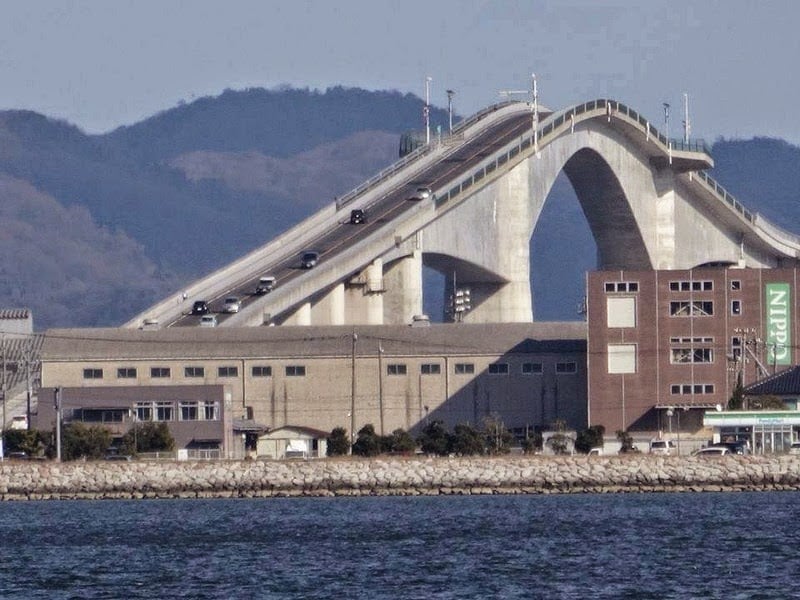 The true slope of Eshima Ohashi Bridge can only be seen from the sides.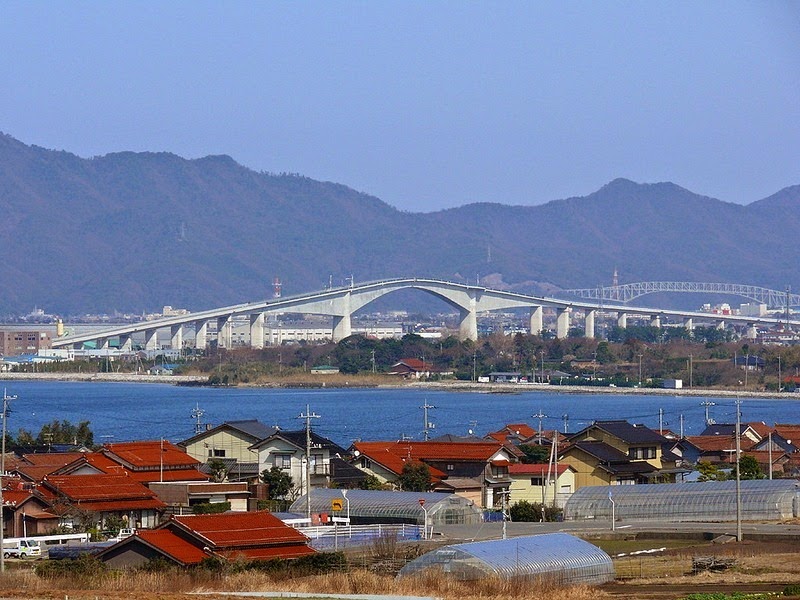 Watch YouTube Video Of commercial by Daihatsu Motor Co.

[youtube height="500″ width="800″]https://www.youtube.com/watch?v=-grBtAeUUi8[/youtube]
If you like this post, Then please, share it in different social media. Help our site to spread out.
See Also:
Kuandinsky Bridge | World's Deadliest & Scariest Vehicle Bridge In Russia

[divider scroll_text="Back To Top"]