Online retailers are waking up to the fact that getting right is the key to succeeding in India. While they can do little about the potholed roads and local government restrictions, the ventures are investing and innovating in areas that they can make a difference in. With most of the growth coming from beyond tier one cities, this has become all the more important. Also, if the $2.3 billion (Rs 13,700 crore) sector is to grow to the projected $38 billion (Rs 2.28 lakh crore) in five years, it is vital for online retailers to get their logistics issues sorted out quickly.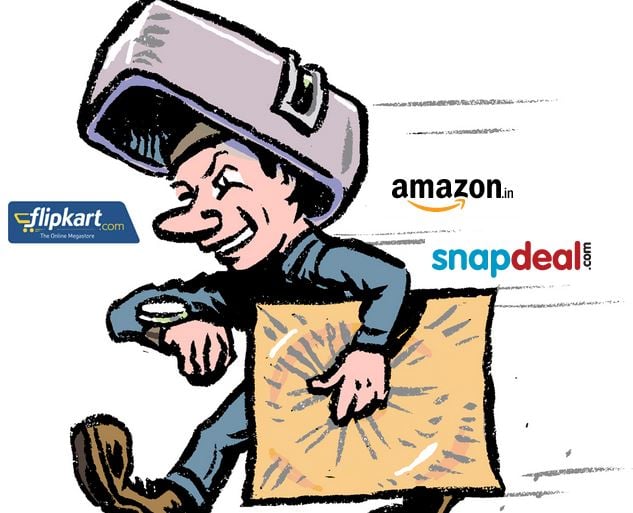 "One of the issues many ecommerce companies face is that in order to sustain a significant growth momentum, they need to go beyond tier-I markets…For that, the delivery network has to significantly expand without compromising on the customer service levels and expectations," said Manish Saigal, managing director at advisory firm Alvarez & Marsal.
Setting up a distributed chain of warehouses, using technology to determine where to expand to and training delivery staff to handle more customer service responsibilities are just some of the steps these firms have taken.
Take online marketplace Snapdeal, for instance. The company completely relies on thirdparty logistics firms for picking up from its 30,000 sellers scattered across the country. However, there was a problem.
"All courier companies will pick up from one location and ship to multiple locations. But not all will pick up from multiple locations," said Kunal Bahl, CEO of Delhi-based Snapdeal, which is targeting sales of $1 billion (Rs 5,990 crore) this fiscal.
The firm began setting up fulfilment centres, or warehouses, across the country a few months ago. In May, it launched Snapdeal Plus under which sellers can stock their products for an additional fee at the 40 fulfilment centres in 15 cities. This service allows the company to reduce shipping time to almost two hours in many centres.
This is a model that Amazon.in has followed since its launch in a year ago. "Our fulfilment centres play a pivotal role in our network," said Amit Agarwal, vice president and country manager at Amazon India.
Apart from the main warehouses at Mumbai and Bangalore, Amazon also has a network of about 20 delivery centres in these cities and in Delhi and Chennai to ensure speedy deliveries. Flipkart too is following suit. The company, which is rapidly scaling up its next-day delivery promise to 50 cities and offers same-day delivery in 10 cities, has seven warehouses and is increasing that count.
Also, its in-house logistics arm eKart allowed it to quickly provide value-added services like next-day delivery and the recently launched scheduled delivery.
"Having eKart is an advantage. We have the agility to roll out these services. But now some of the third-party firms have reached the same level and we will start using them for these services soon," said Rahul Chari, vice president of supply chain engineering at Flipkart that crossed $1 billion (Rs 5,990 crore) in sales last fiscal.
The courier companies have also spotted the opportunity. "Most courier and express delivery companies have set up ecommerce fulfillment divisions and are changing processes and IT to respond to the changing needs of the online retailers," said Alvarez & Marsal's Saigal. E-tailers and logistics firms are working closely to plan expansion of capacity and pincode reach according to the demand forecasting done by the former.
We are integrating our systems with that of partners so we can deal with issues like offloads and sudden weather disturbances in real time and communicate delays to immediately," said Flipkart's Chari.
For most e-tailers the delivery boy is doubling up as a customer service executive increasing their reliance on logistics partners who employ them. While delivery boys were already taking care of cash-on-delivery and returns, companies now want them to do more. Flipkart's Chari said the firm wants to expand their productexchange facility where the delivery boy carries the exchange when picking up the product the customer is returning and instantly verifying the value of the product through techenabled mobile devices.
While the firm's delivery team handles installation of large items like refrigerators, it wants the teams to start using their hand-held devices to answer further customer queries or even connect them to the call centre.
The entry of specialist service providers like Delhivery and Ecom Express has helped firms experiment with niche customer service initiatives.
"We want to offer all the value-added services that our clients want," said TA Krishnan, chief executive of one-year-old Ecomm Express, which operates in 60 cities and intends to expand to 700 locations in two years. Delhivery, which also provides value-added services and even fulfilment centres for stocking, is targeting revenue of Rs 144 crore this fiscal.
For offering such value-added services, logistics firms are investing in manpower. "We are constantly training our manpower to be skilled in IT as well as techniques for delivery optimisation in a short period of time," said Sanjiv Kathuria CEO of DTDC's logistics arm DotZot. Ecommerce accounts for 7% of DTDC's business.
While logistics firms take care of transport, the almost complete dependence on commercial airlines is worrying. Snapdeal moves 95% of its orders by air.
"Cost (of air shipment) is much higher compared to surface movement and capacity is a concern as the ecommerce volumes grow," said Saigal. Companies are talking to airlines to operate cargo-only flights in the night, said a person who works for a logistics provider. For larger items, like air-conditioners and refrigerators that do not need to be delivered in a day firms are increasingly using road and rail transport.
To ease both transport and last-mile issues especially to remote corners of the country, e-tailers are hoping the government run Post, which has a network covering all pincodes in the country, will step in. Already Flipkart, Snapdeal and Amazon have partnered with India Post to some extent though none of the companies wished to comment on how well the partnership is working.
"I think if the government and India Post takes ecommerce very seriously that could help us a lot," said Snapdeal's Bahl. "It is very hard for a private player to match up to the strengths and manpower that India Post has and replicate that network. I think they are keen as well."
[divider scroll_text="Back To Top"]