We all had that happy-hearted teacher who went all out to make our days at middle school fun and informative in a way children can truly appreciate. Verónica Duque is that teacher. Recently, the 43-year-old decided to engage her students on a higher level and gave a class on anatomy in a full-body suit that mapped out the human body in great detail.
Currently, Verónica teaches the third grade and is constantly looking for ideas on how to make the lessons more interesting.
Verónica is into teaching for 15 years now. She teaches natural and social science, art, as well as English and Spanish. She was surfing the internet when an ad of an AliExpress swimsuit popped up. Knowing how hard it is for kids this young to visualize the disposition of internal organs, she thought it was worth it giving it a try.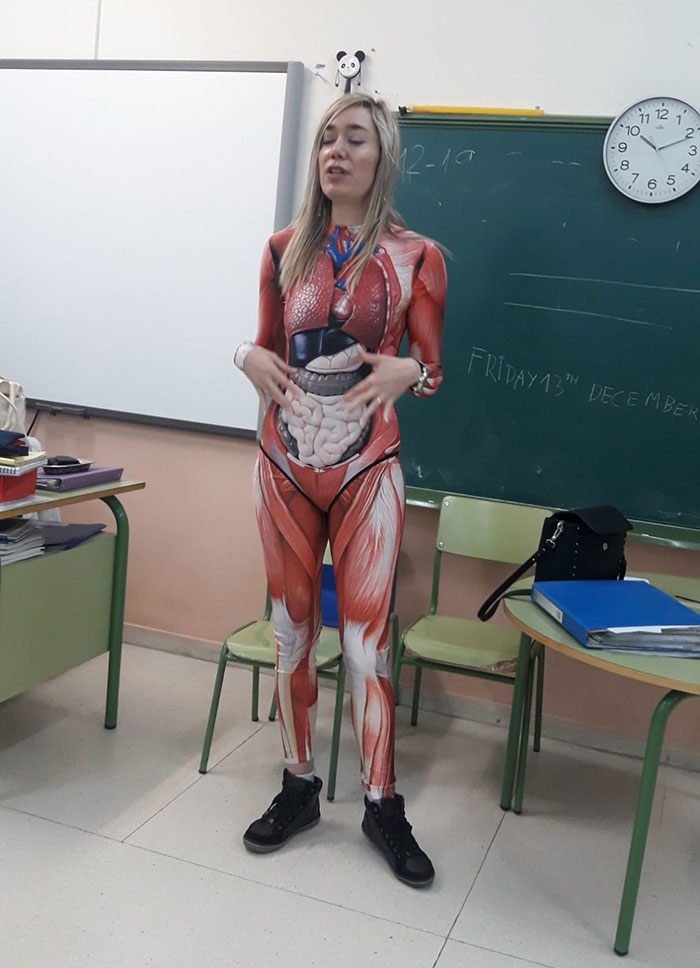 Explaining the human body with cardboard diagrams or textbook pictures can be a daunting task. Kids often mix up the body parts and their locations. However, a dedicated third-grade teacher, Verónica Duque, wasn't going to have her kids pointing at the kidneys when asked to spot the liver.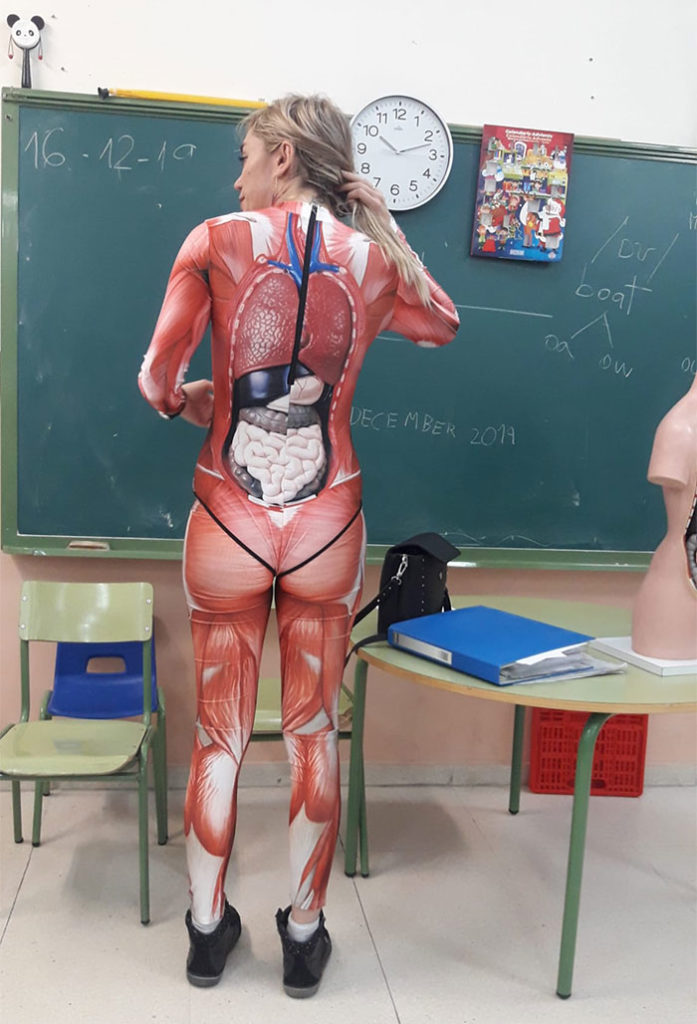 She came to her classroom wearing a full-body suit that mapped out all of the body parts in glaring detail to teach her kids the human anatomy. The 43-year-old came across the suit online and had an instant light-bulb moment.
As expected, the kids went crazy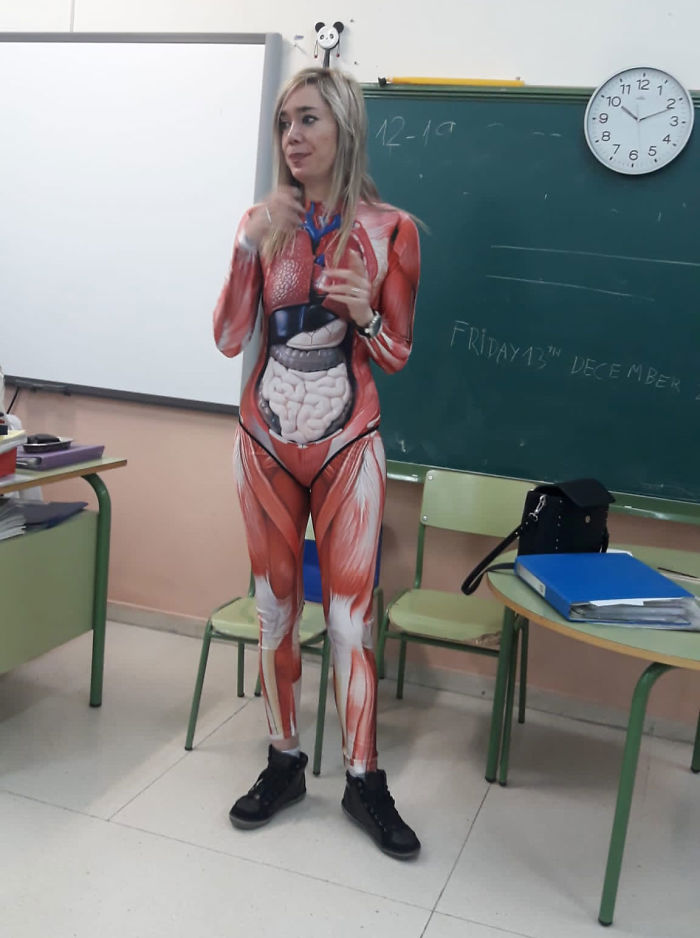 The photos were shared on Twitter by Verónica's husband, Michael, who lives in the North of Spain. The proud husband just had to show everyone how creative and inspiring some teachers can be.
He captioned it: "Very proud of this volcano of ideas that I am lucky to have as a woman. Today she explained the human body."
The photo has since gone viral all over social media and news stations. On Twitter, it has garnered 69K likes, 14K retweets, and 1.7K comments. Several people on Twitter thought Verónica looked just like Slim Goodbody, a fictional costumed character created and performed by John Burstein. He wears a one-piece suit depicting the various body systems in their accurate locations to teach children on Discovery Education.
Verónica says she's always thinking of ways to be creative with her teaching since children enjoy visual aids more than written text or spoken words.
"I decided long ago to use disguises for history lessons," she said. "I'm also using cardboard crowns for my students to learn grammatical categories such as nouns, adjectives, and verbs. Different grammar kingdoms, so to say."
"I'd like society to stop considering teachers to be lazy bureaucratic public servants. We're certainly not" Verónica Said
Teachers aren't merely educational figureheads who sit in classrooms and grade students. They are conduits of wisdom and channels of priceless knowledge. To be a teacher is to be part of one of the noblest and honorable professions in the world.
Looking at Verónica in her suit, quite a few internet commenters mentioned Slim Goodbody.
Slim Goodbody is a costumed character created by John Burstein, and has been championing children's health for over forty years. Currently, his productions are watched by millions of children on Discovery Education. His live show shows tour theaters around the US, reaching thousands of children every year. Also, Slim published fifty children's books, and his work has been honored with awards from Parent's Choice, the Corporation for Public Broadcasting, the President's Council on Physical Fitness and Sports, and the World Health Organization.