In Previous part, we looked at Kjeragbolten. Today, we adventure a little further to Preikestolen, Preacher's Pulpit or Pulpit Rock. When I think of Norway, two things come to mind: the mystifying beauty of its fjords and its exorbitant prices. The most well known fjord is Lysefjord, an extremely popular day-trip from Stavanger, the third largest city in the country. Lysefjord lays claim to one of the region's biggest draws: the massive cliff of Preikestolen.
Norway is a peaceful country and besides some weird social outcasts near the train stations, you are not likely to get into any kind of trouble. Norwegians are no less friendly than other folks. They tend to keep to themselves but if you approach them they are warm and friendly. I couchsurfed and had very warm and welcoming hosts.
Preikestolen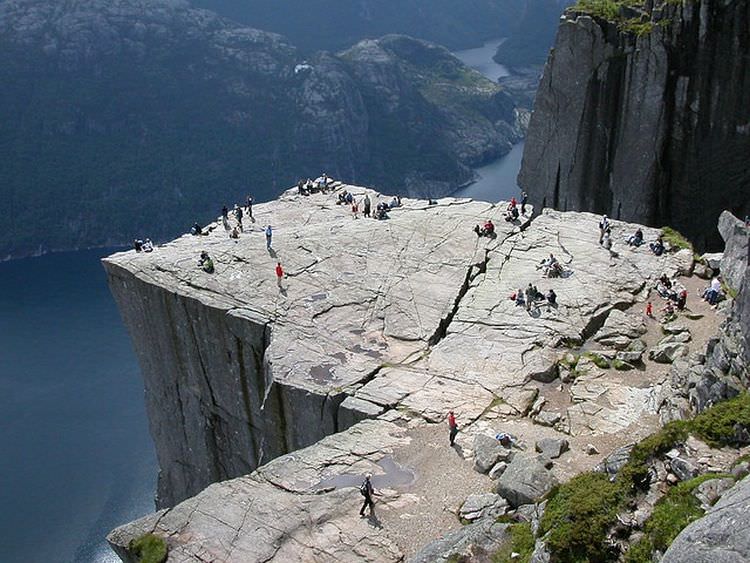 Preikestolen or Prekestolen, also known by the English translations of Preacher's Pulpit or Pulpit Rock, is a massive cliff 604 meters above Lysefjorden, opposite the Kjerag plateau. The top of the cliff is approximately 25 by 25 meters square and almost flat, and is a famous tourist attraction in Norway. The hike to Preikestolen takes about 2-3 hours and is quite steep at places.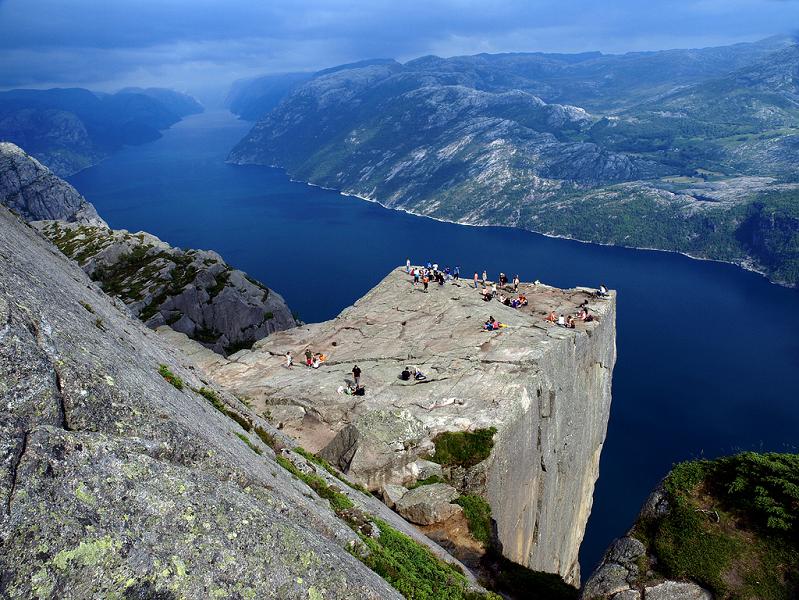 Every year about 200,000 tourists make the climb to sit in awe atop this majestic cliff. There are no guardrails so you can go right up to death's doorstep and prove your manhood by peering over the edge. In reality, even the beefiest of beefcakes crawl to the edge on all fours their first time.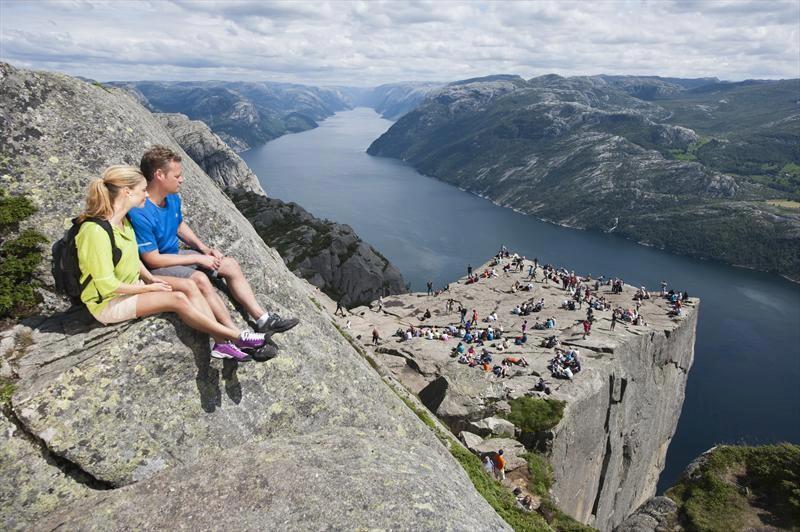 The hike to the top takes about two hours from the parking facility, which itself, is located an hour from Stavanger by ferry and car. While not a difficult hike, it does get steep in some places. The most common delay is not exhaustion, but rather the traffic on the trail stemming from the sheer number of tourists. It's gotten so bad, in fact, that a project was started in April to improve the path. It is estimated to be finished in early 2014.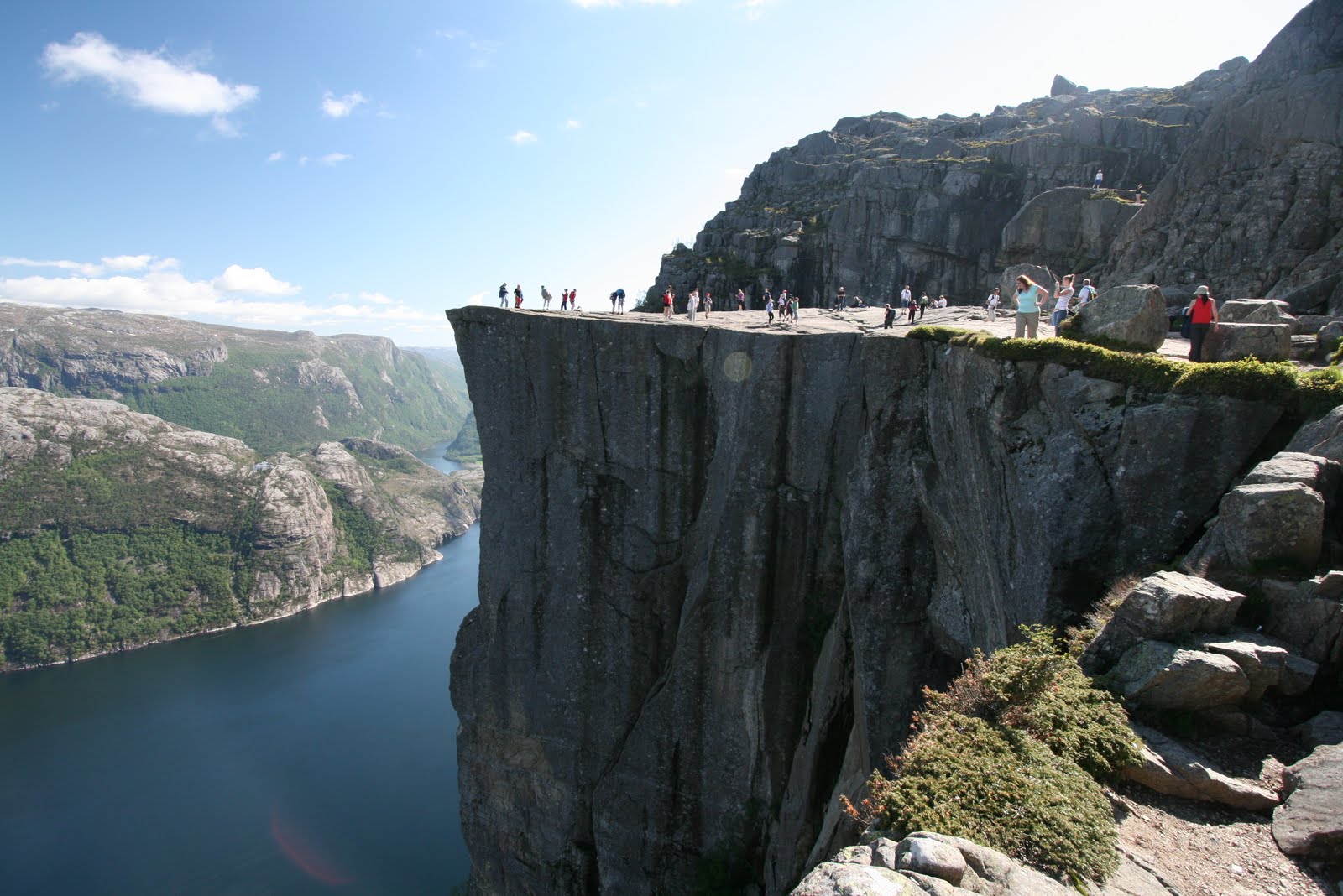 Norwegians have a mentality when it comes to natural attractions that nothing should ever be closed. In keeping with that philosophy, Preikestolen is open even in the dead of winter, but it is highly advised not to attempt a climb during these months due to the snow and ice. The best season to experience this natural wonder is April to October.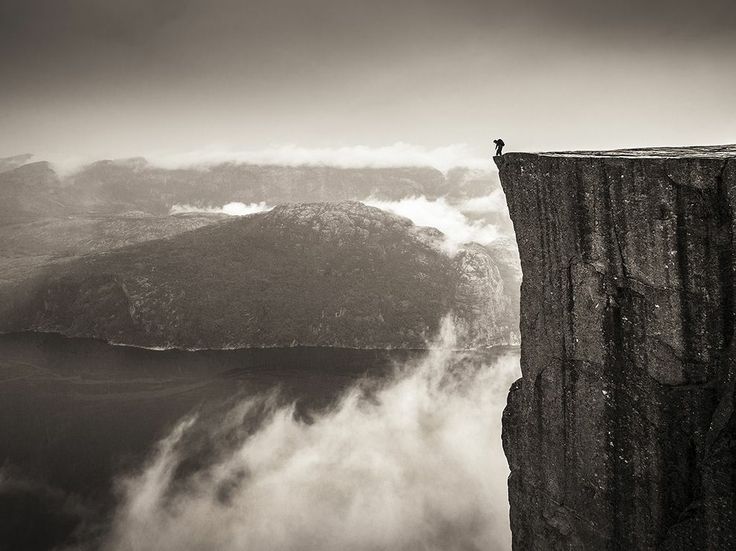 Despite not having any safety rails on the edges, there had never been a reported death (not counting a few suicides over the years) at Preikestolen until just earlier this month, when a Spanish tourist fell over the edge marking the first casualty. Norwegian authorities have decided, however, to keep the plateau devoid of barriers so as to not harm the natural splendor of the spot. But don't let this month's tragedy deter you from visiting this magnificent lookout in western Norway! As long as you're careful, there is no reason to fear an untimely death!
Watch YouTube Video of Pulpit Rock (Preikestolen), Norway in HD
Hiking to Preikestolen ("The Pulpit Rock")
The hike to the plateau will take about two hours. Your starting point will be the area around the mountain lodge Preikestolen Fjellstue, which offers accommodation and meals to the weary traveller. This area also has public toilets, ample parking, a kiosk, and other facilities available.
In recent years a team of skilled stonemasons and sherpas from Nepal have done an impressive job of improving the path to Preikestolen. Steps have been built in the roughest areas, and a rocky trail has been made to keep the impact on the environment localized and to a minimum. As a result, the hike can be undertaken by most people with no significant disabilities.
From Preikestolen Fjellstue the hike is 3,8 kilometres each way, with a difference in altitude of 330 metres.
Wear good shoes or hiking boots, as the trail may be wet and muddy in places.
Hiking to Preikestolen is free of charge. In fact, in the Norwegian countryside you can pretty much go where you please – but please be careful and considerate.
Click Here For Hiking Heaven Cliffs in Norway: Kjeragbolten Boulder
Click Here For Incredible Photo Of Hiking Heaven Cliffs in Norway: Trolltunga