Women FIFA World Cup 2015 edition was completed successfully & U.S. won the largest and most competitive Women's World Cup in history. This was one of the biggest women competition in sports with FIFA Promising a full fledged broadcasting programe enabling all the countries to show matches from the world cup live on free to air channels. The final match of the Women's World Cup between the United States and Japan last summer was the most-watched soccer game ever in the United States. Female footballers are already headlining as appearances in world renowned sports magazines. covers and what not. Who are the hottest female footballers? Football is called the beautiful game. What we have here are women who are highly talented on the field. Today we take a look at some of the hottest female footballers in no particular order.
1. Jonelle Filigno (Canada)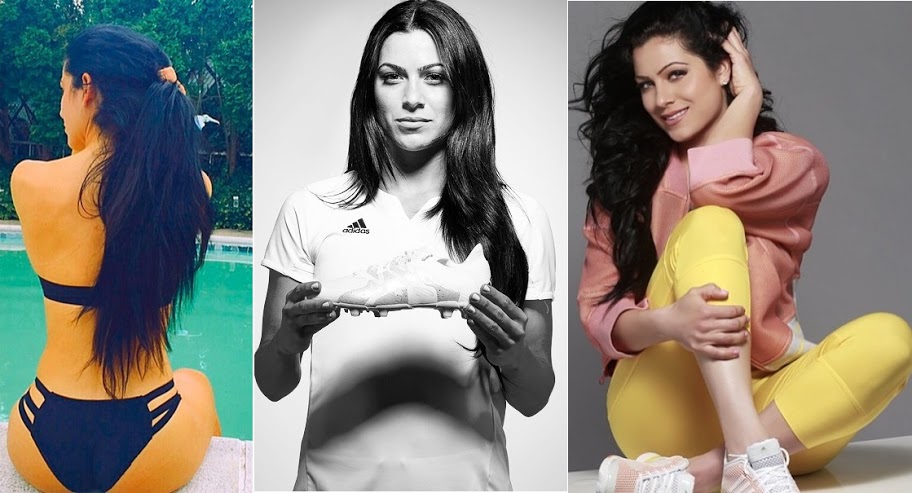 One of the hottest women footballer which caught my eye during 2015 women world cup was Canadian Jonelle Filigno, she is a pretty good player and got a hot body which she is not afraid to show.
2. ANOUK HOOGENDIJK (Netherlands)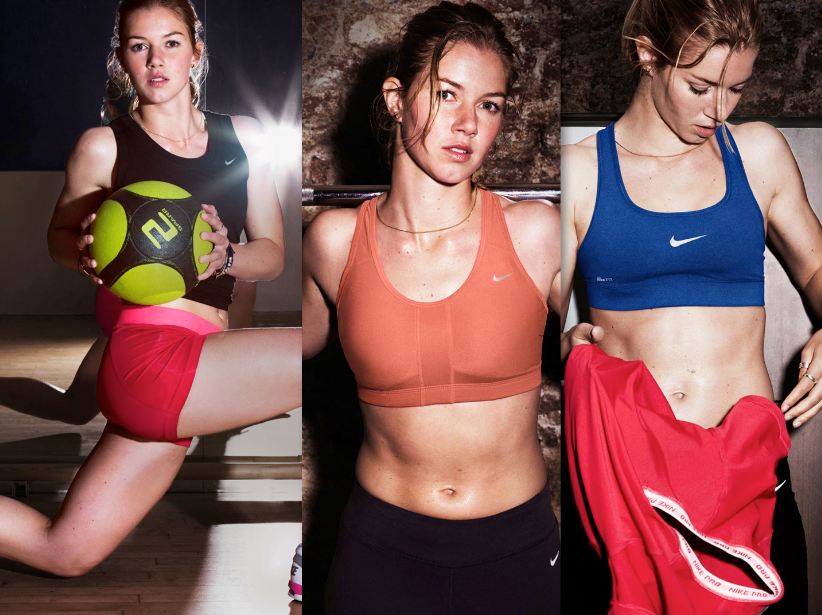 Anouk Hoodgendijk is a dutch national team player and she also represent Ajax women club in her native country. She is one of the hottest female footballers around. Already have 100 caps for Holland and will be leading the dutch national team who is playing their very first Women World Cup.
3. LAUREN SESSELMANN (Canada)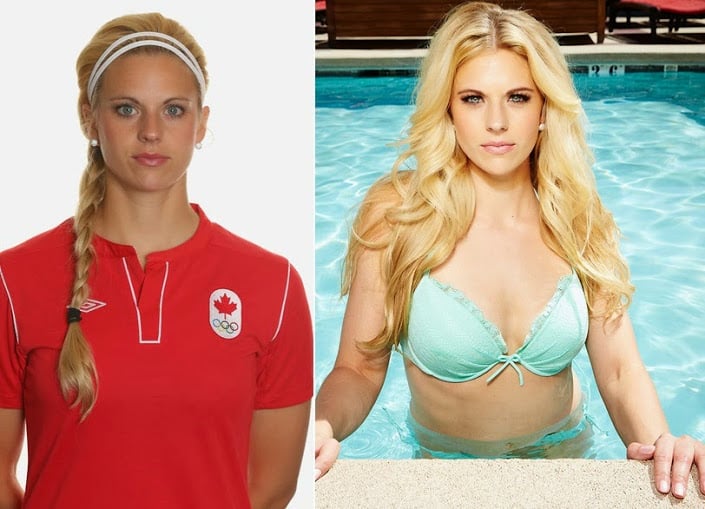 A 31 year old veteran of for Canadian national football team but might miss out from the 2015 World Cup squad. She has played around 40 international for canada.
4. KASOVARE ASLLANI (Sweden)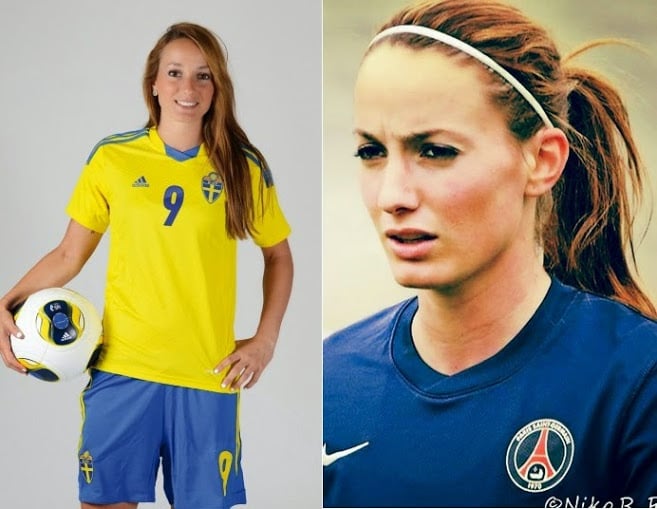 25 year old Sweden national player, Asllani also plays for french club PSG women team. She will be hoping to make some impact in the upcoming world cup.
5. JULIA SIMIC (Germany)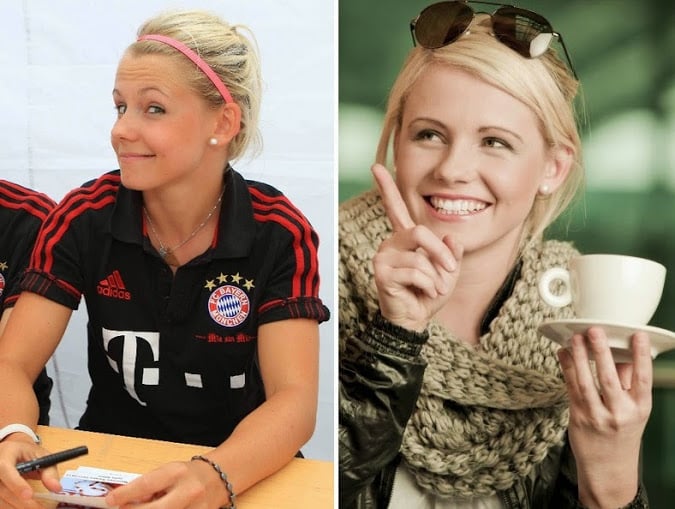 25 year old Simic recently signed for Wolfsburn after making more than 100 appearances for Bayern Munich women team in Germany while she might make her international dubut for German in the upcoming 2015 world cup.
6. TONI DUGGAN (England)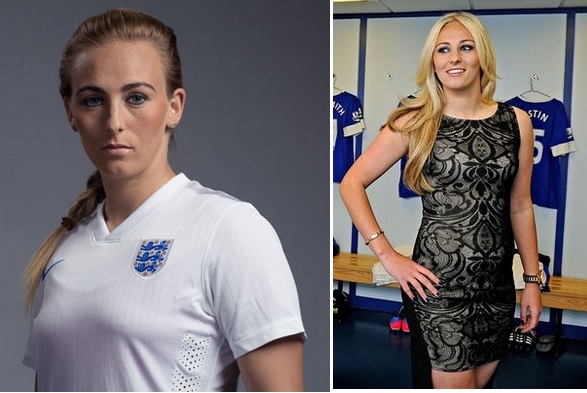 A fairly new comer to women footballer, Toni Duggan is a Manchester City women team forward and represent english national team as well.
7. ALEX MORGAN (USA)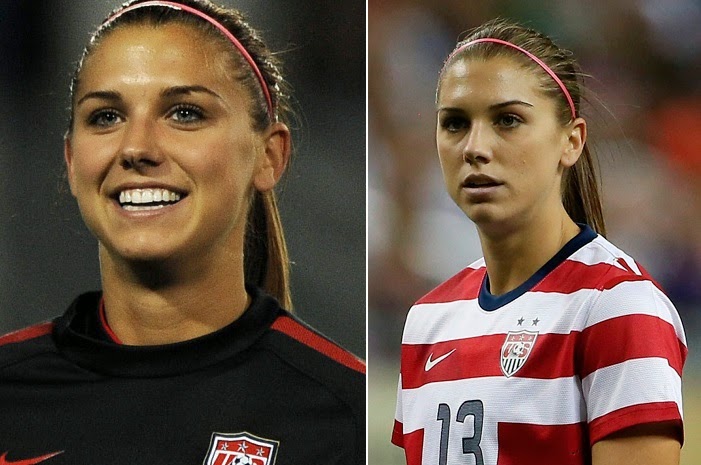 Morgan is fast becoming the face of Women football, she has been part of USA women team setup for best part of last 5 years and now captain of the country she has earned 85 caps for United States women team. She is widely regarded as the hottest female footballer.
8. Adriana Leon (Canada)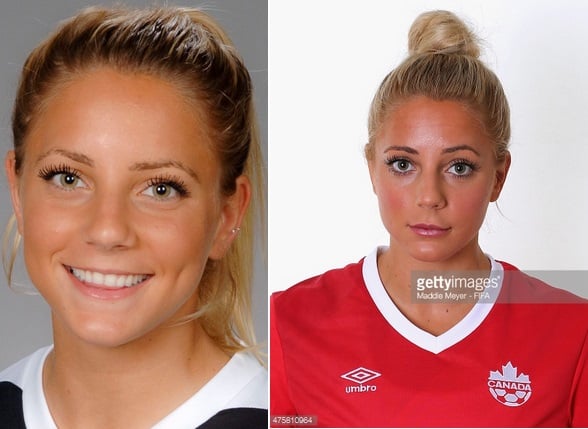 Canadian women team player Adiana Leon plays as attacking midfield or as a winger and has 5 goals to her name in around 30 odd international appearances.
9. NAYELI RANGEL (Mexico)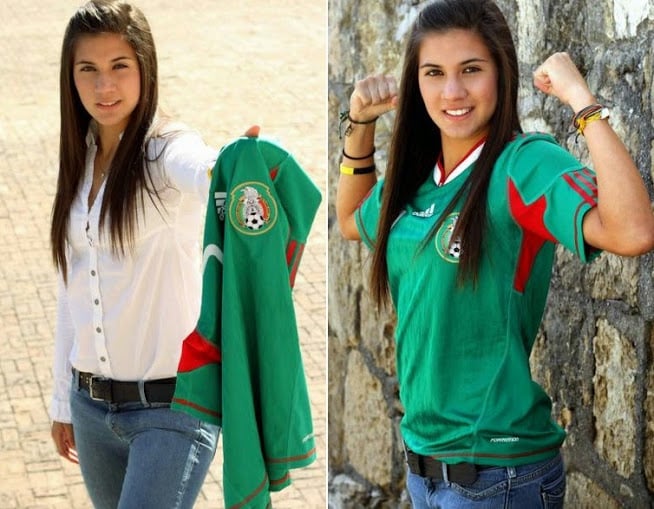 A new girl on the international scene, she is just 23 year old and will be expecting to play some part for Mexican national team in 2015 world cup. She plays for her native club in Mexico called Sky Blue FC.
10. Alexia Putellas (Spain)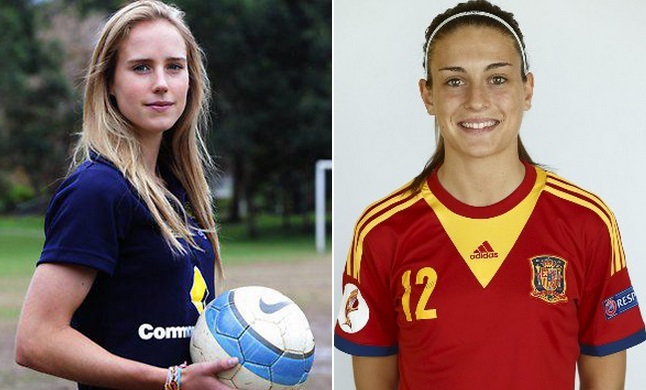 Putellas was part of Spains squad which crashed out of 2015 world cup group stages, she is a bright light in spains lineup and transfered to Barcelona last year.
11. Ellyse Perry (Australia)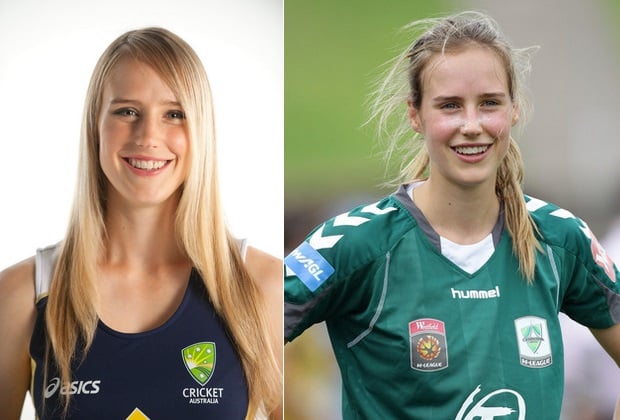 Now here you have a multi talented girls with looks to match, Ellyse Perry has represented Australian national football and cricket teams.
12. JESSICA LANDSTROM (Sweden)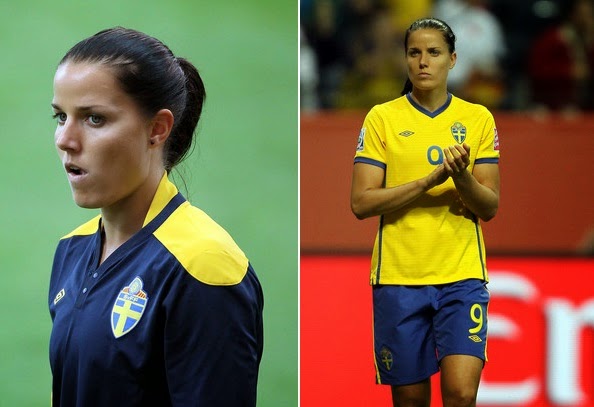 30 year old has been playing for Sweden on the international scene since 2007 world cup and will be key player for Sweden in this years world cup.
13. ERIKA DOS SANTOS (Brazil)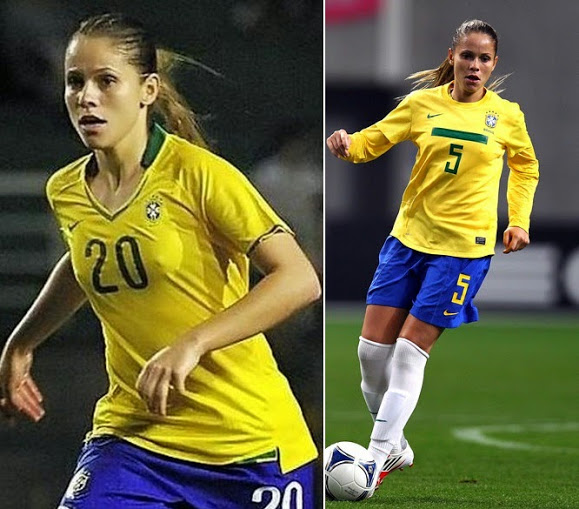 Erika is a brazilian through and through, mostly she plays as a defender but at times she can be used as a forward upfront and have quick feet. One of the hottest footballers from Brazil.
14. CORINE FRANCO (France)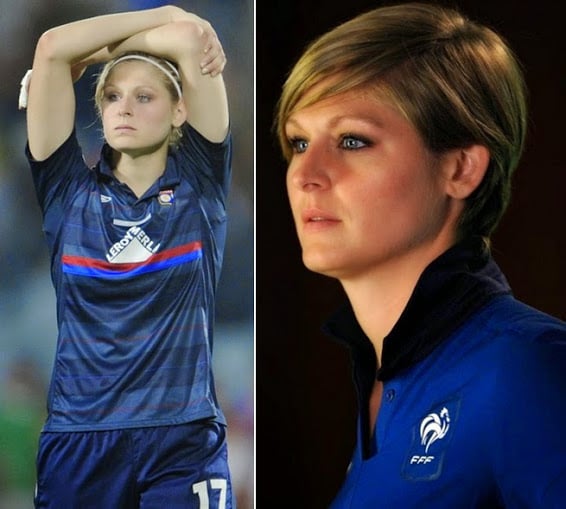 Olympic Lyon women team captain, Corine Cécile Franco is french women team legend having played nearly 90 internationals and will captain French team in 2015 world cup.
15. SYDNEY LEROUX (USA)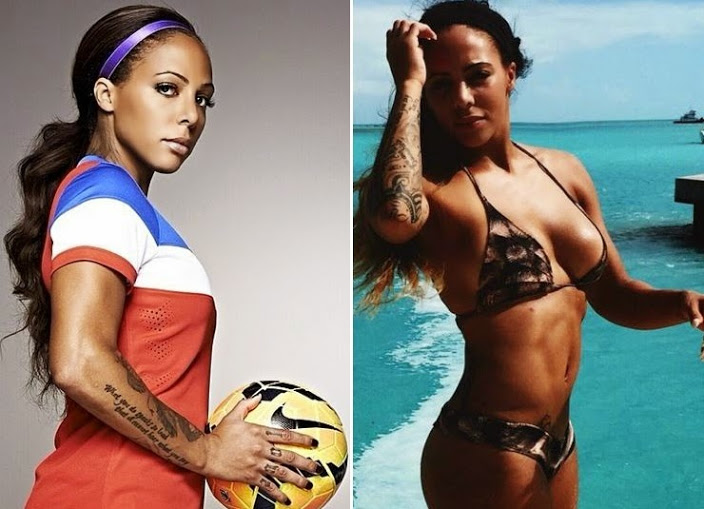 Sydney Rae Leroux Dwyer is a Canadian-born American professional soccer player and Olympic gold medalist. As a forward, she currently plays for the Western New York Flash in the National Women's Soccer League.
16. SELINA WAGNER (Germany)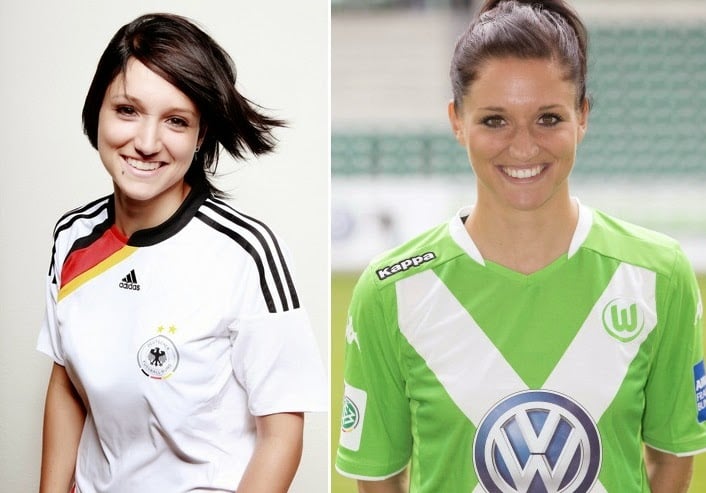 Selina Wagner is a German footballer. She plays as a midfielder for SC Freiburg in the Bundesliga.
17. HOPE SOLO (USA)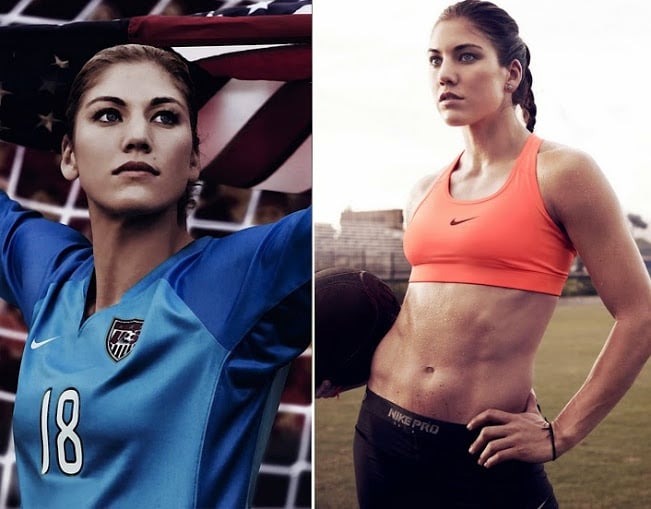 Hope Amelia Stevens, commonly known by her maiden name, Hope Solo, is an American soccer goalkeeper, a two-time Olympic gold medalist and a World Cup gold medalist.
18. LAURE BOULLEAU (France)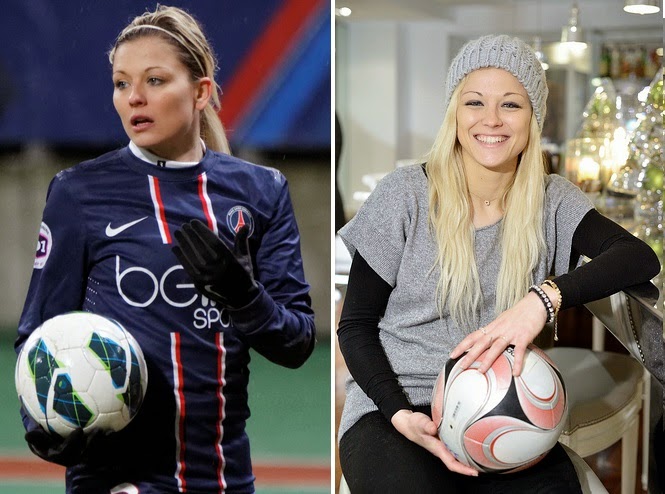 Laure Pascale Claire Boulleau is a French football player who currently plays for French club Paris Saint-Germain of the Division 1 Féminine. Boulleau primarily plays as a defender and is a member of the France women's national football team.
19. Daniela montoya (Colombia)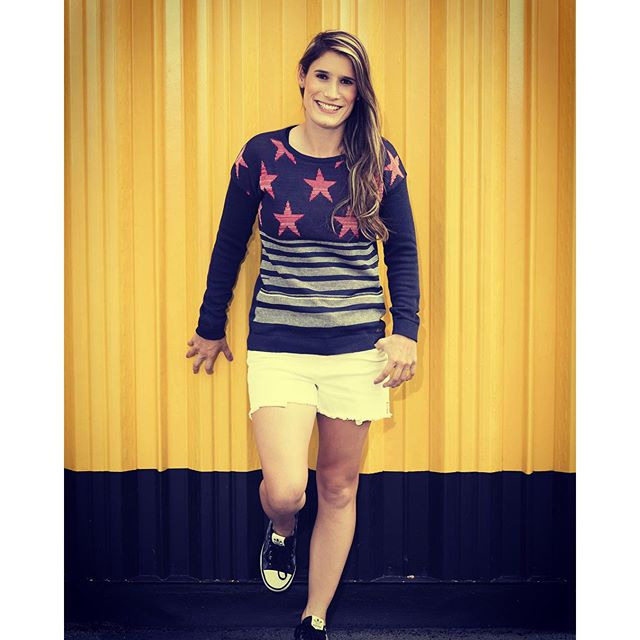 Daniela Montoya is an Colombian international footballer who plays as a midfielder. She played for Colombia at the 2015 FIFA Women's World Cup.
20. Louisa Necib (France)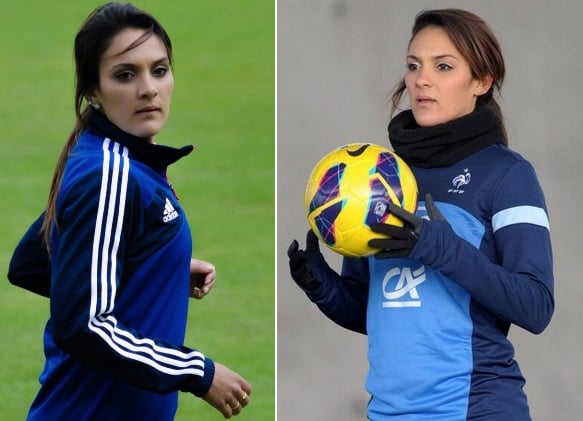 Louisa Nécib is a French women's international footballer who plays for French club Lyon in the Division 1 Féminine. She plays as a central attacking midfielder and is described as a "gifted playmaker" who "possesses superb technique"
21. NATALIE VINTI (Mexico)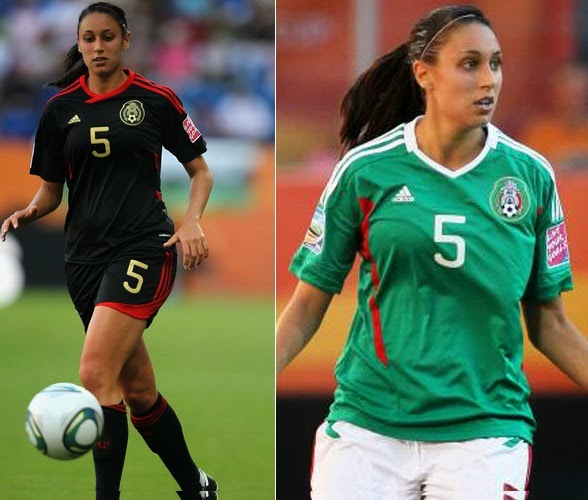 Natalie Raquel Vinti Nuño is a Mexican-American soccer player from San Diego, California. She was a defender for the University of San Diego women's soccer team and the Mexico women's national football team.
22. Kim Jung Mi (South Korea)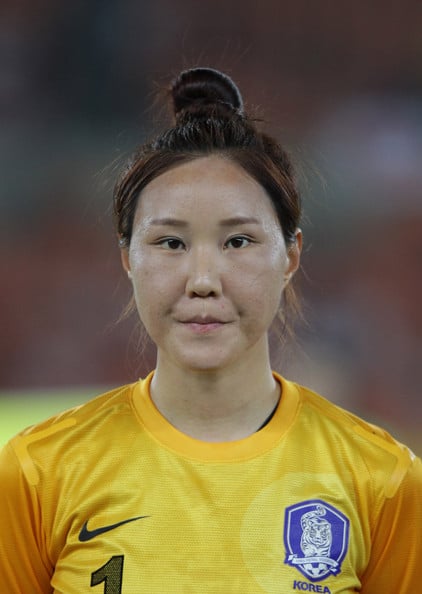 Kim Jung-mi is a South Korean soccer player for the Incheon Red Angels and the South Korean women's national soccer team. Kim participated as a goalkeeper at the 2015 FIFA Women's World Cup in Canada. Kim Jungmi wins Best Player of the Women's World Cup Round of 16 Stage.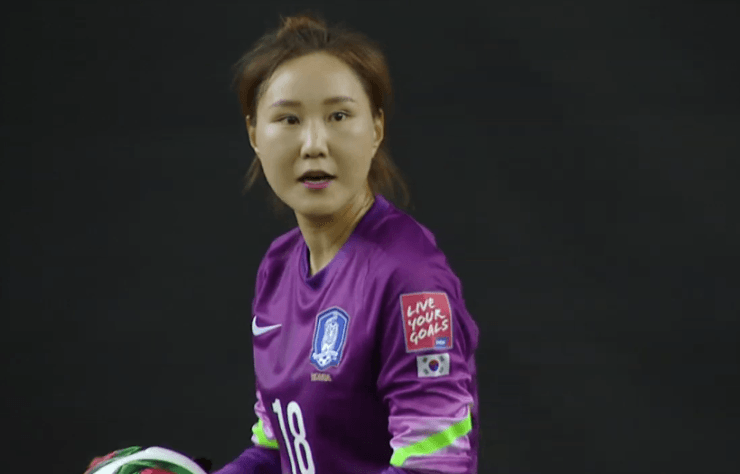 This was the second appearance at the world finals for veteran goalkeeper Kim Jungmi. South Korea's goalkeeper is wearing lipstick that matches her uniform. Kim Jung-mi is wearing pinkish purple-like lipstick during their group opener against Brazil.
23. Nahomi kawasumi (Japan)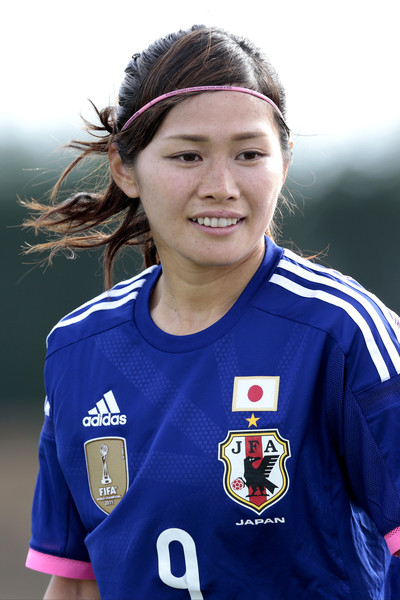 Nahomi Kawasumi is a Japanese footballer who won gold at the 2011 FIFA Women's World Cup and silver at the 2012 London Olympics.
24. Heather Mitts (USA)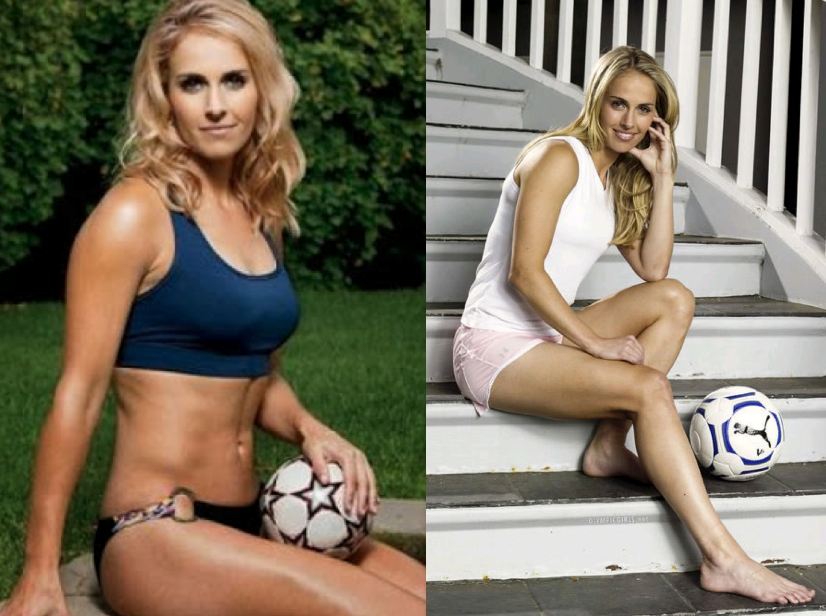 Heather Mitts is an American professional soccer defender. Mitts played professionally in the Women's Professional Soccer (WPS) league for the Philadelphia Charge, Boston Breakers, Philadelphia Independence and Atlanta Beat. She is a three-time Olympic gold medalist, and was a member of the United States women's national team
25. Kaylyn Kyle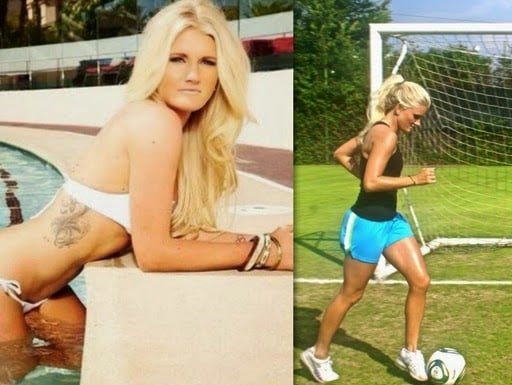 Kaylyn Kyle is a Canadian footballer who plays as a midfielder for the Boston Breakers in the National Women's Soccer League. She is also a member of Canada national women's soccer team.
If you like this post, Then please, share it in different social media. Help our site to spread out.
[divider scroll_text="Back To Top"]