They are the real life heroes of India. They are the brave sons of our motherland, who sacrificed their lives for us. But, how many of us actually know their names, who died happily to give us a peaceful future. There are innumerable such brave soldiers, who made extreme sacrifices for our motherland, India. Here are the stories of few such unsung heroes, whom every Indian should know. Let's recall and salute all the brave soldiers of India, who fought for us and even sacrificed their lives, so that we can live peacefully in our homes. Part-2 Of 10 Amazing Stories of Incredibly Brave Indian Army/ Navy/ Air Force Soldiers

Read More: 10 Amazing Stories of Incredibly Brave Indian Army Soldiers | Part-1
1. Captain Mahendra Nath Mulla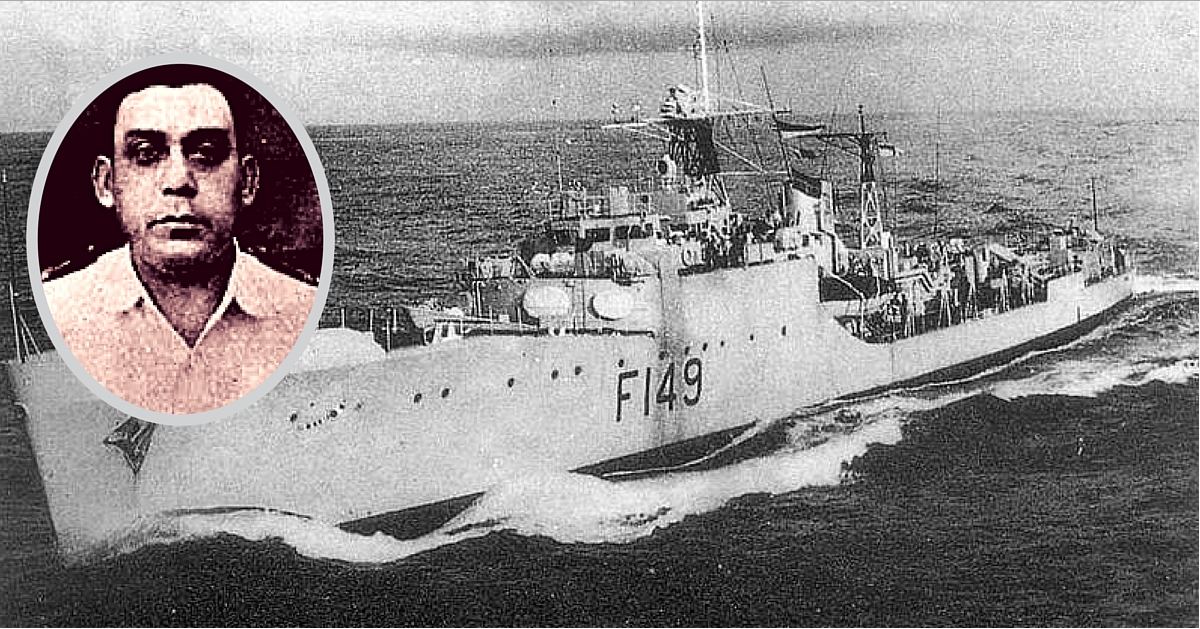 Captain Mahendra Nath Mulla was an officer of the Indian Navy and the captain of the INS Khukri, who died when his ship was sunk during the Indo-Pakistani War of 1971. Mulla gave away his own life-saving jacket to a sailor and tried to save as many lives as he could before he went down with his ship.
There were two massive explosions inside the Khukri and the ship went dark. It lost all power and began to tilt steeply to its right (Starboard) as chaos followed the order of 'abandon ship'. But in all this, Captain Mulla was apparently absolutely cool and calm as he awaited for the worst to follow; helping as many survivors to leave the ship. And when all hope was lost with many still trapped inside the sinking ship, Captain Mulla sat on his chair while hanging on to the railing and calmly lit his last a cigarette, smoking it as the ship's body cracked and its front portion stood up and went into the sea. The stunning sight of the sinking ship brought a moment of eerie silence from those shouting for help, as they watched in awe their ship going down. The Khukri sank in minutes."
2. Lt. Navdeep Singh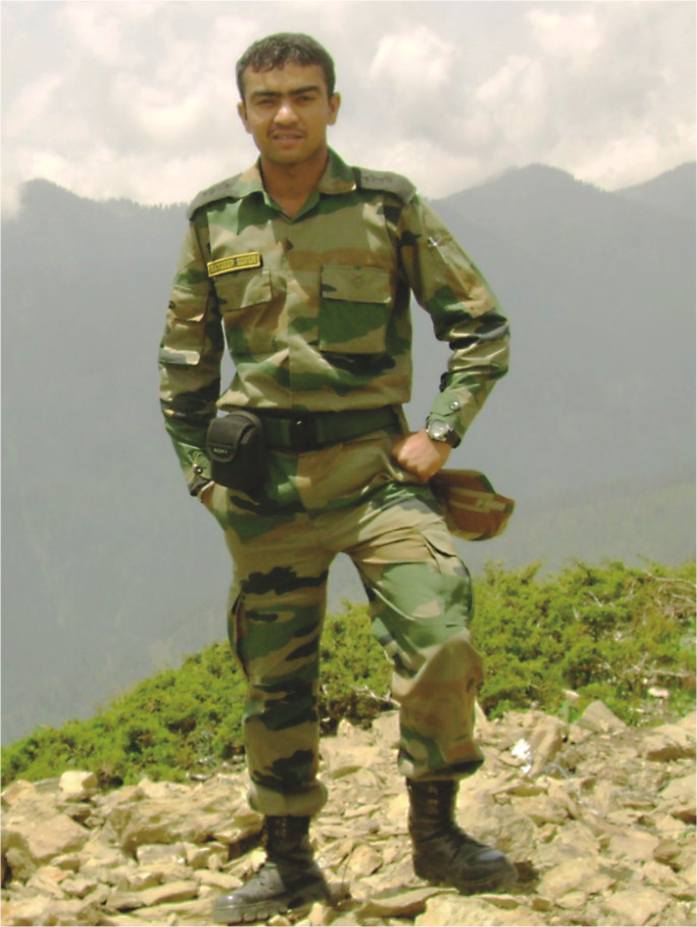 Lieutenant Navdeep Singh was a Ghatak Platoon Commander of 15 Maratha Light Infantry regiment in the Indian Army. He led an operation to ambush 17 well-trained and armed terrorists who infiltrated into Jammu and Kashmir state. He killed 4 of the terrorists and brought an injured team member to safety before succumbing to fatal injury from close range. He was posthumously conferred the highest peacetime gallantry award of India Ashoka Chakra by President of India on the 63rdRepublic Day. Lieutenant Navdeep Singh, who displayed his indomitable spirit, determination and exceptional bravery while putting down the terrorists and making the supreme sacrifice for the nation.
The story of Lieutenant Navdeep Singh:
On receiving information about the infiltration of a group of terrorists at about 0030 hours on 20 August 2011, Lieutenant Navdeep Singh gauged the likely route of the terrorists and laid an ambush at the appropriate spot. When the terrorists were spotted, the ambush was sprung by the officer himself. An exchange of intense fire ensued.
Leading from the front, the officer eliminated three terrorists at close range. On seeing another terrorist approaching their position, with utter disregard to his personal safety, the officer swiftly changed his firing position. While doing so, he got hit by a bullet on his head. He nevertheless managed to eliminate the fourth terrorist. Further, displaying utmost bravery and comradeship, he pulled an injured fellow-soldier to safety and kept firing till he became unconscious due to excessive blood loss.

3. Lieutenant Sushil Khajuria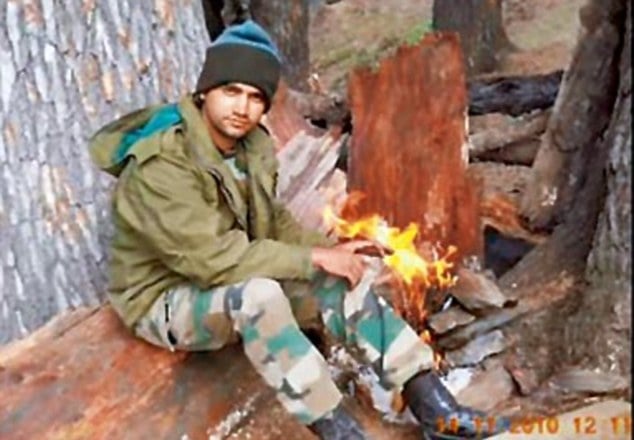 Lt Khajuria, pictured, died after taking bullets in a heroic gun battle with militants at Kupwara in Jammu and Kashmir. Sushil had breathed his last after taking bullets in a heroic gun battle with militants at Kupwara in Jammu and Kashmir on September. A Jammu boy who joined the Officer's Training Academy in Chennai, Sushil was commissioned in Army Service Corps on March 20, 2009, after completing the short service course. He was, however, attached with 18 Grenadiers on a Kashmir assignment. 18 Grenadiers is one of the most decorated units of the army.
It had won a Param Vir Chakra in the Kargil war and bagged six gallantry medals during this year's Republic Day function. Sushil was one of three officers named for Kirti Chakra. The other two officers are Captain Ashutosh Kumar of 5 Rajputana Rifles and Lieutenant Colonel Kamaldeep Singh of 13 Rajputana Rifles. Ashok Chakra was awarded posthumously to Lieutenant Navdeep Singh who also laid down his life fighting terrorists in Jammu and Kashmir.

4. Nirmaljit Singh Sekhon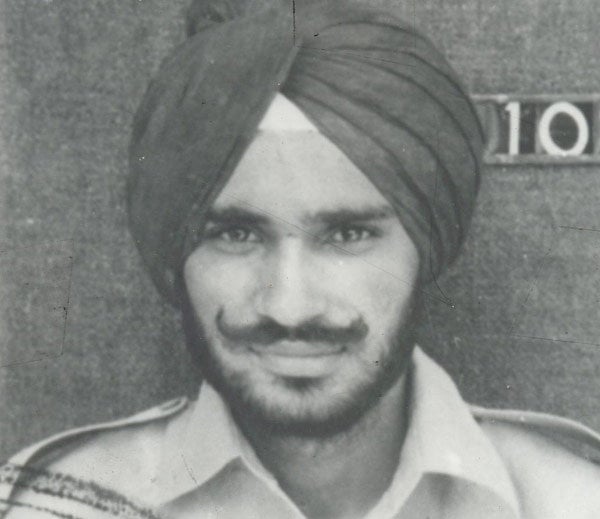 Flying Officer Nirmal Jit Singh Sekhon, PVC (17 July 1943 – 14 December 1971) was an officer of the Indian Air Force. He was posthumously awarded the Param Vir Chakra, India's highest military decoration, in recognition of his lone defence of Srinagar Air Base against a PAF air raid during the Indo-Pakistani War of 1971. Nirmal Jit Singh Sekhon is the only Indian Air Force warrior to be decorated with the Param Vir Chakra, India's highest award for gallantry.
During the 1971 war he was deployed with no. 18 squadron, 'the flying bullets' of IAF, flying the Gnat's aircraft based at Srinagar. Just two days before the war came to an end, Srinagar airfield was attacked by six Pakistan Sabre jets. As soon as the first aircraft attacked, he rolled for take-off no 2 in two gnat formation. Meanwhile the Pakistan jets kept firing. Nirmal could not take-off at once due to the cloud of dust raised by another aircraft which had just taken off.
In the ensuing battle, Sekhon hit one aircraft directly and set another ablaze. He was advised to return to the base as he was outnumbered and hit. His ejection proved futile. The wreckage of the aircraft was found in a gorge. Despite many search operations his body was never found. The pilot who shot him, Wing Commander Salim Beig, has praised him in his article. He said "The Indian pilot Flg Off Nirmal Jeet Singh Sekhon put up a brave fight and was awarded Param Veer Chakra."
Flying Officer Nirmaljit Singh Sekhon was only 28 years when he gave up his life for the country and is the only Air Force Pilot to have received Param Veer Chakra.

5. Rifleman Sanjay Kumar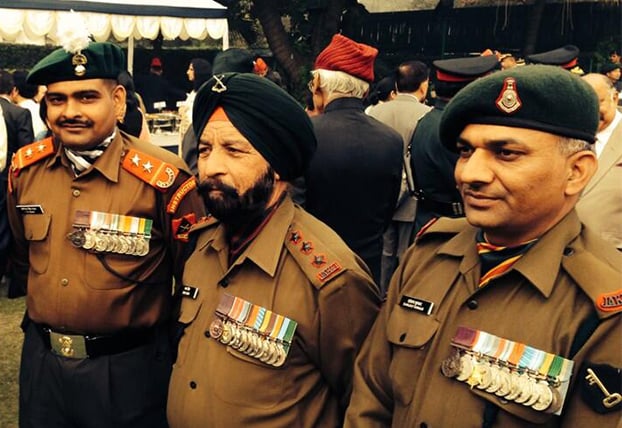 Rifleman Sanjay Kumar, 13 JAK Rifles, was the leading Scout of a team tasked tocapturing Area Flat Top on 04 July 1999 being held by Pakistani-backedmilitants. Having scaled the cliff, the team was pinned down by automachine gun fire from an enemy bunker, 150 meters away.
Rifleman Kumar, realizing the magnitude of the problem and the detrimental effect this bunker would have in the capture of Area Flat Top, displayed extraordinary courage. Without concern for personal safety, he crawled alone up the ledge, along a flank, and charged towards the enemy bunker, through a hail of automatic fire. Almost instantly, he took two bullets in his chest and forearm. Bleeding profusely from the bullet wounds, he continued the charge towards the bunker. Unhesitant, he then picked up the enemy machine gun and crept towards the second enemy bunker. Three enemy soldiers, taken completely by surprise, were killed by him on the spot. Inspired by his dare devil act, the rest of the platoon, emotionally charged, assaulted the feature and captured Area Flat Top.

6. Captain Saurabh Kalia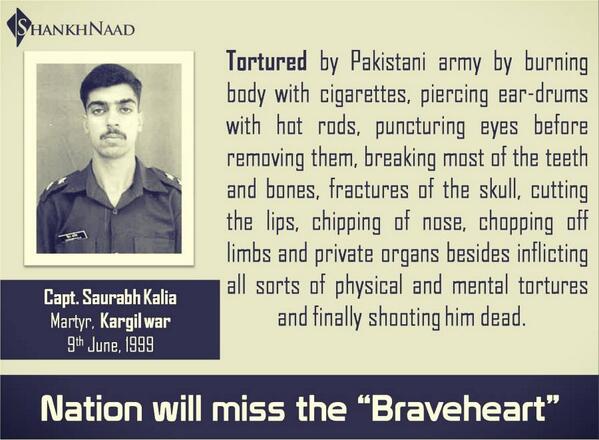 Captain Saurabh Kalia; officer of the Indian Army of 4 Jat Regiment ( Infantry) was posted in the Kargil sector in 1999. ON fateful night of 15 May 1999, Captain Saurabh and five other soldiers were patrolling mission when they were attacked by the Pakistani Rangers who had intruded into the Indian territory and eventually when the Indian soldiers were out of armour were surrounded by the Rangers and were taken as Prisoners of War and were brutally tortured for twenty-two days. Autopsy reports stated that the Pakistani had brutally tortured them by gouging their eyes, chopping off their private parts and breaking their teeth and bones, burning their bodies with cigarettes before killing them and shooting them at their temples. The dead bodies were sent back to India.

7. Yogendra Singh Yadav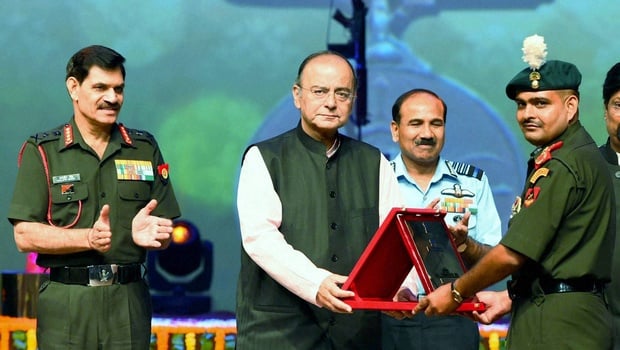 Subedar Yogendra Singh Yadav PVC is a soldier and a Junior Commissioned Officer (JCO) of the Indian army. He was awarded the highest Indian military honour, Param Vir Chakra for his actions during the Kargil War.
Grenadier Yogendra Singh Yadav of 18 Grenadiers battalion tasked to capture three strategic bunkers on Tiger Hill along with his Ghatak Commando Platoon in the early morning hours of July 4, 1999 during Kargil War.
The approach was a vertical cliff face, snowbound at 16,500 feet. Grenadier Yadav, who volunteered to lead the assault, was climbing the cliff face and fixing the ropes for further assault on the feature. Half-way up, an enemy bunker opened up machine gun fire and rocket fire. His Platoon Commander and two others fell to the heavy fire. Realizing the situation, in spite of having been hit by three bullets in his groin and shoulder, he climbed the remaining 60 feet and reached the top. He crawled up to the bunker and lobbed a grenade into the which killed four Pakistani soldiers.
By this act of his he allows the rest of the platoon in climbing up the cliff face easily. Grievously injured but with reckless disregard to personal safety, Grenadier Yadav now charged on to the second bunker Seven went up for this task only Grenadier Yoginder Singh Yadav came back with fifteen bullet injuries, two hand-grenade wounds and an arm hanging limply from tendons and skin. Wounds of the flesh which took sixteen months in hospital to heal. And conveyed the
enemies next plan of action to his Commanding officer.

8. Captain Manoj Kumar Pandey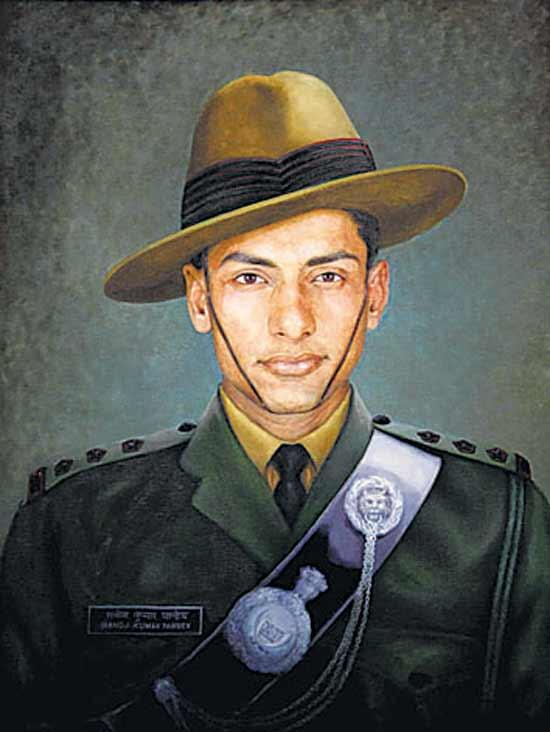 Captain Manoj Kumar Pandey is one of the best examples of exemplary courage, leadership and dedication towards the country. He is called the "Dark Knight" of Kargil. How Captain Manoj Kumar Pandey inspired a crucial reclamation that led to India's victory during the Kargil War.
Why do you want to join the Army?" "I want to win the Param Vir Chakra." That's what was asked to Capt. Manoj Kumar Pandey in his SSB interview. And he remained true to his word! Part of the 1/11 Gorkha Rifles, on June 11th, 1999 during the Kargil War, he led his men to capture the Jubar top, besides a narrow, treacherous ridge towards the backstabbing enemy, now in bunkers on the Indian land.
Pakistanis fired on Capt. Pandey's men; demonstrating great daring, he gushed ahead of his troop and hailed the enemy with bullets and a loud battle cry. Wounded by bullets on leg and shoulder, he killed two men in the first bunker in hand combat and urged his men to clear all bunkers and collapsed in the final bunker.
On July 3rd, as a part of Operation Vijay, advancing to Khalubar, he was asked to clear off the enemy positions amidst heavy shooting. Audaciously striking the first enemy position, he killed two enemies and destroyed the second position by killing two more. While clearing third, bullets thrashed his shoulder and legs. Undaunted, he continued to lead the assault on the fourth which he destroyed with a grenade and then, a shot penetrated his forehead. 'Na chhodnu,' 'Don't spare them,' were his last words. This daredevil act and motivation led to capture of Khalubar.

9. Naib Subedar Bana Singh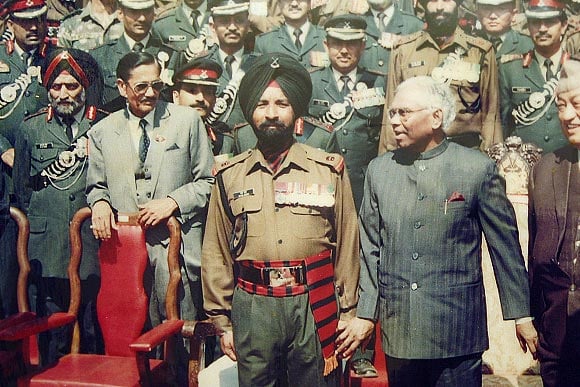 During June 1987, the 8th Jammu & Kashmir LI, was deployed in the Siachen area. The Pakistani intrusion had taken place at a height of 6500 metres, the highest peak in the Siachen Glacier area. Naib Subedar Bana Singh led his men through an extremely difficult and hazardous route. He and his men crawled and closed in on the adversary. Lobbing hand-grenades, charging with a bayonet and moving from trench to trench, he cleared the post of all intruders. For this dedicated act of his, He was awarded the Param Vir Chakra, The peak which he captured was renamed Bana Top in his honour. At the time of the Kargil War, he was the only PVC awardee who was still serving in the Army.

10. Shaitan Singh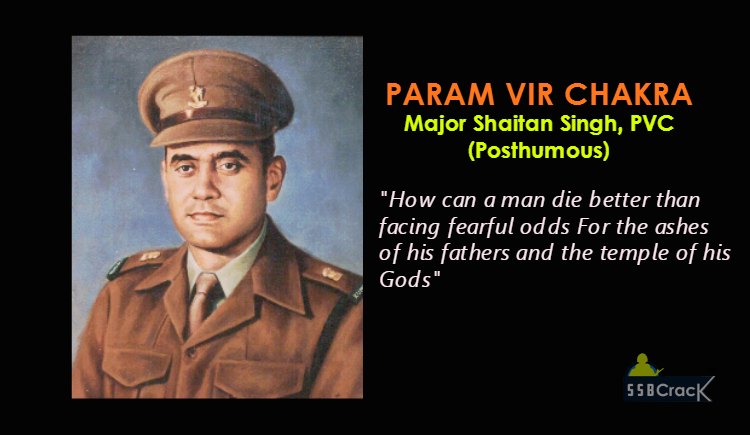 Major Shaitan Singh was commanding a company of infantry battalion deployed at a height of about 17,000 feet. The locality was isolated from the main defended sector and consisted of five defended platoon positions.
During November 1962, the Chinese subjected the company position to heavy artillery, mortar and small arms fire and attacked in overwhelming strength in successive waves. Against heavy odds, our troops beat back the enemy attack. During the action, Major Shaitan Singh dominated the scene of operations, and moved at great personal risk from one platoon post to another sustaining the morale of his hard-pressed platoon posts. While doing so, he was seriously wounded but continued to encourage and lead his men who, following his brave example fought gallantly and inflicted heavy casualties on the enemy. For every man lost by us, the enemy lost four to five . When Major Shaitan Singh fell disabled by wounds in his arms and abdomen, his men tried to evacuate him but came under heavy machine gun fire. Maj Shaitan Singh ordered his men to leave him to his fate in order to save their lives.
Major Shaitan Singh's supreme courage, leadership and exemplary devotion to duty inspired his company to fight almost to the last man. The heroic resistance put up by this gallant soldier with his company against the assault of more than one thousand Chinese, is not only a tribute to the Regiment, but also a matter of pride for soldiers, the World over. These brave soldiers fought to the last man and last round. For this historic battle Major Shaitan Singh was awarded Param Vir Chakra. Undoubtedly, the battle of Rezang La is a great feat of leadership, courage and unswerving determination in the annals of Military History. Appropriately the plaque at the memorial of Rezang La says: –
How can a man die better
than facing fearful odds
For the ashes of his fathers
and the temple of his Gods"

You all sacrificed your lives to keep us safe and United, your sacrifice will not be in vain, though you have departed from this mundane world, You still live in our minds, fore ever fore ever.
Read Also:
1. 10 Amazing Stories of Incredibly Brave Indian Army Soldiers | Part-1
2. Top 20 Best Quotes From Indian Army Soldiers | Awesome Inspirational Saying
3. Mind-Blowing War Tricks: 1965 India Pakistan War -Destroying Tanks With Water

[divider scroll_text="Back To Top"]