Mother Teresa was a Roman Catholic religious sister and missionary who dedicated her life to serve the poor. A Novel Peace Prize recipient and founder of Missionaries of Charity, she continues to inspire millions.Many times she said just a few words, but whatever she said, you can believe it was a very thoughtful saying. Here're some of "Mother Teresa" famous quotes.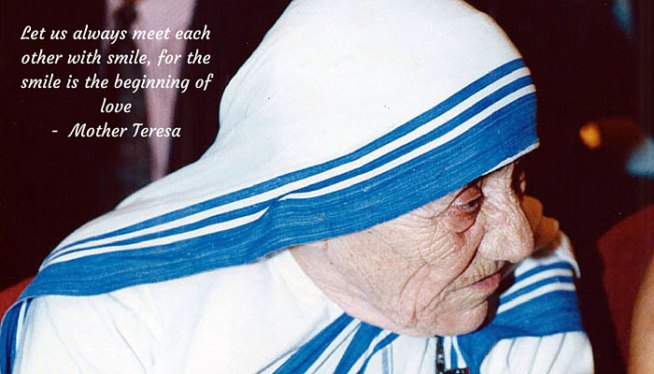 Mother Teresa founded the Missionaries of Charity,a Roman Catholic religious congregation in 1950. They run hospices and homes for people with diseases like HIV/AIDS, leprosy and tuberculosis; soup kitchens; dispensaries and mobile clinics; children's and family counselling programmes; orphanages; and schools.

"Spread the love of God through your life but only use words when necessary."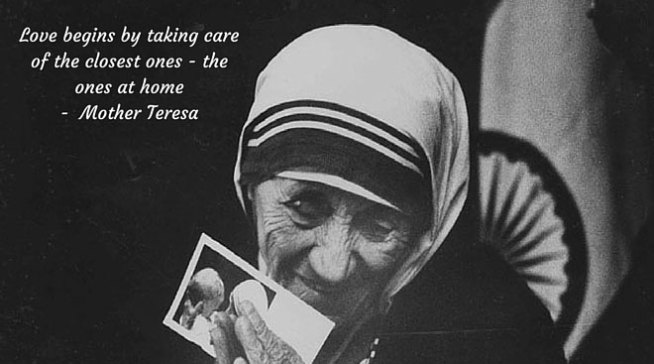 Mother Teresa was the recipient of 1979 Nobel Peace Prize.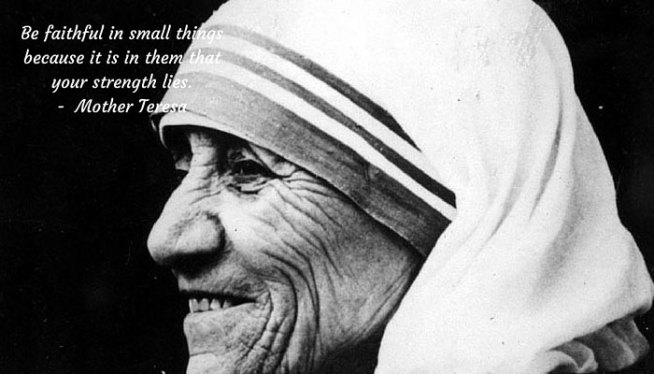 In 2003, Mother Teresa was beatified as "Blessed Teresa of Calcutta".
Mother Teresa was born as an ethnic Albanian on August 26, 1910, although she considered August 27, the day she was baptised, to be her "true birthday".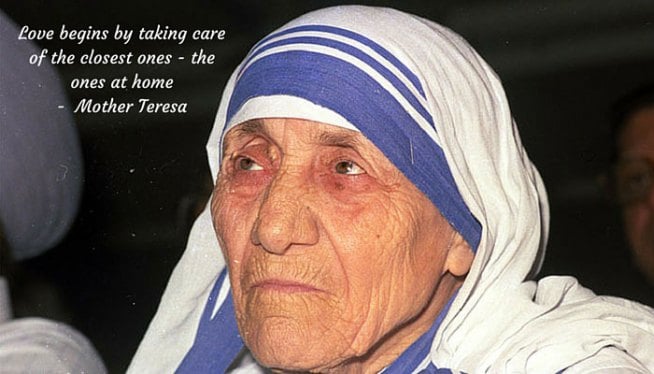 Mother Teresa was the youngest of the children of Nikollë and Dranafile Bojaxhiu (Bernai).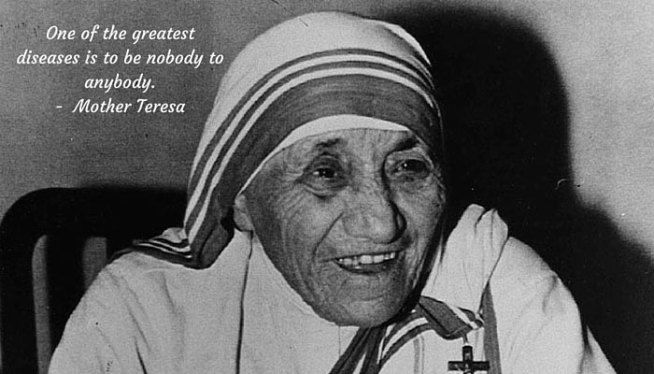 Mother Teresa left home at age 18 to join the Sisters of Loreto as a missionary. She never again saw her mother or sister.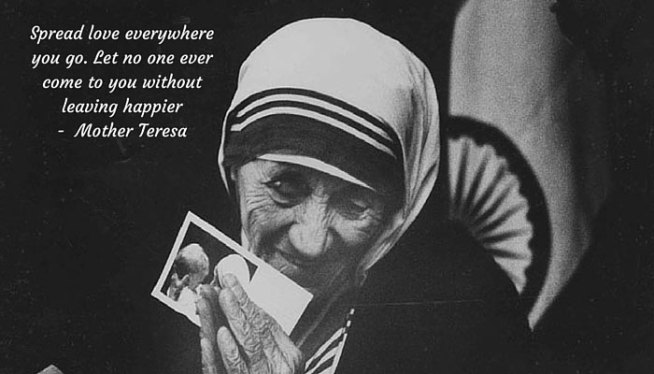 Mother Teresa arrived in India in 1929, and began her novitiate in Darjeeling, near the Himalayan mountains.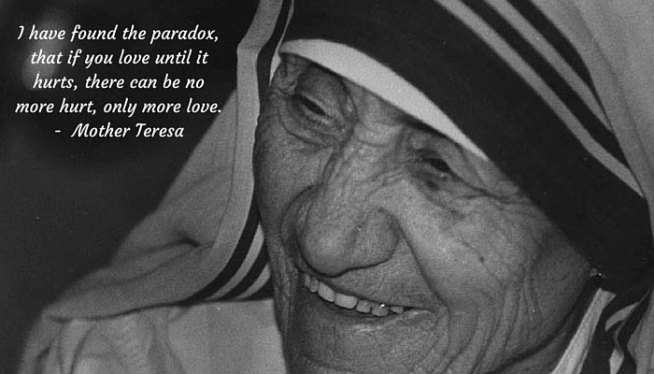 Although Teresa enjoyed teaching at the school, she was disturbed by the poverty surrounding her in Kolkata.

Mother Teresa Quotes About the Importance of a Smile:
"Peace begins with a smile.."
"Everytime you smile at someone, it is an action of love, a gift to that person, a beautiful thing."
"The person who gives with a smile is the best giver because God loves a cheerful giver."
"Let us make one point, that we meet each other with a smile, when it is difficult to smile. Smile at each other, make time for each other in your family."
"Let us always meet each other with smile, for the smile is the beginning of love."
"Smile at each other. Smile at your wife, smile at your husband, smile at your children, smile at each other- it doesn't matter who it is- and that will help to grow up in greater love for each other."

Mother Teresa Quotes About Love & Peace:
"I have found the paradox, that if you love until it hurts, there can be no more hurt, only more love."

"The hunger for love is much more difficult to remove than the hunger for bread."
"It's not how much we give but how much love we put into giving."
"At the end of life we will not be judged by how many diplomas we have received, how much money we have made, how many great things we have done. We will be judged by "I was hungry, and you gave me something to eat, I was naked and you clothed me. I was homeless, and you took me in."
"I'm a little pencil in the hand of a writing God, who is sending a love letter to the world."
"What can you do to promote world peace? Go home and love your family."
"Love to be real, it must cost—it must hurt—it must empty us of self."
"Go out into the world today and love the people you meet. Let your presence light new light in the hearts of people."

Mother Teresa Quotes About Doing:
"I alone cannot change the world, but I can cast a stone across the waters to create many ripples."
"We know only too well that what we are doing is nothing more than a drop in the ocean. But if the drop were not there, the ocean would be missing something."
"A life not lived for others is not a life."
"I can do things you cannot, you can do things I cannot; together we can do great things."
"The good you do today may be forgotten tomorrow. Do good anyway."
"We, the unwilling, led by the unknowing, are doing the impossible for the ungrateful. We have done so much, for so long, with so little, we are now qualified to do anything with nothing."
Source: indianexpress.com
[divider scroll_text="Back To Top"]