What happens when a city is unwell? It falls apart. In a beautifully treated 90 second animated spot, we see New York City falling apart as the clock strikes the hour of doom. With buildings coming down, neon signs fusing off, street signs being uprooted and even the pride of the city – The Statue of Liberty slumping its' shoulders, it's evident that the city is dying.
In a desperate attempt to revive the world's best city, citizens begin to gather items off the streets – subway signs, a clock from the Grand Central Station, neon signs, pipes, street signs, among other things. What you go on to see is that each of them is headed to the same direction with these items.
In the next few seconds, you discover that they form an assembly of these items to make what appears to be a heart. Once the central and last piece – the clock – has been fitted, it begins to pump. You then see the city being pumped back to life.
The next few lines, excellently crafted, say this:
Keep New York Alive

We can save thousands of lives by donating an important part of New York Ourselves

Sign up as an organ donor
This new campaign made by Y&R encourages New Yorkers to become organ donors on behalf of the New York Organ Donor Network.
The metaphors and symbolism used in this spot are well layered at many levels. The clock being the centre of the heart represents time. When donating an organ, you gift time to the ones in need. The city is falling apart and is pumped back to life, just as it would happen to a person breathing his/her last breath.
The campaign gets more impactful as it becomes a matter of saving the city by doing our little part in it. If there's one thing Americans are made of, it is patriotism. This uses that aspect extremely well rather keeping it at the individual level.
Watch the video here:
[youtube height="500″ width="800″]https://www.youtube.com/watch?v=8nc-lmer_TQ[/youtube]
The animated short film "Long Live New York", directed by Laurent Witz, the director behind Oscar-winning animated short Mr. Hublot, aims to ignite a movement in New York. It aims to inspire New Yorkers to step-up to help other New Yorkers, and ultimately make sure New York stays strong. #LongLiveNY.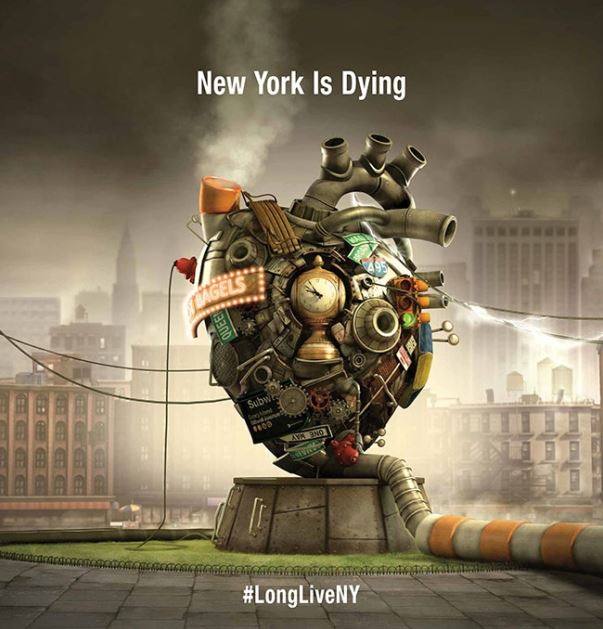 The campaign is needed because as a state New York is well behind the curve in terms of registered organ donors.
"Next-to-last place—we are ranked 49th in terms of the percentage of state residents registered as organ donors—is not good enough for New York," Glen Jacobs, executive creative director at Y&R, told Adweek. "We need to move the needle, so organ donors can save lives. Period."
Well done. And on a personal note, here's what I'd like to say – Become an organ donor. You'll be saving a life.
[divider scroll_text="Back To Top"]