If you are a true brew lover you will probably know about Oktoberfest. The world's largest beer festival opened Saturday in Munich, Germany. More than 6 million guests from around the world are expected to descend on the beer tents of Munich to celebrate the 16-day Oktoberfest extravaganza.
The first Oktoberfest was held more than 200 years ago to celebrate the wedding of the Bavarian Prince Ludwig on October 12,1810. The citizens of Munich were invited to attend the festivities held on the fields in front of the city gates to celebrate the happy royal event. Today, Oktoberfest is a global event that is celebrated all around the world.
Last year's visitors consumed almost 8 million two-pint (one-liter) mugs of beer. Aside from beer the visitors enjoy a wide variety of traditional food such as chicken, roast pork, grilled ham hock, potato or bread dumplings, cheese noodles along with such Bavarian delicacies as Obatzda (a spiced cheese-butter spread) and Weisswurst (a white sausage). Last year, the Oktoberfest guests ate around 522,000 roasted chickens, 125,000 sausages, 69,9000 pork knuckles and 118 oxen.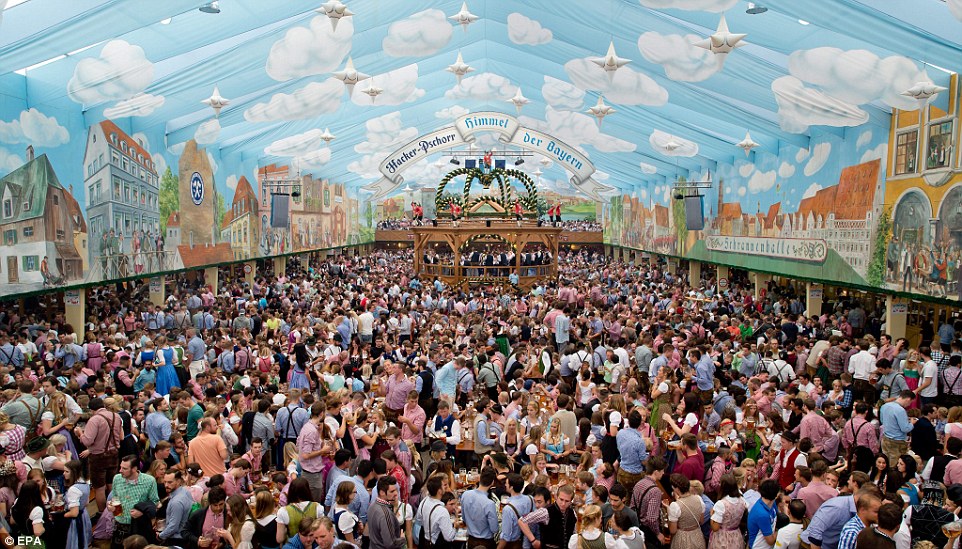 What's the history behind the Oktoberfest?

It all started with a horse race which the national guard staged for the people on 17th August 1810 to mark the wedding of the Ludwig Crown Prince of Bavaria (later King Ludwig I) to Princess Therese von Sachsen-Hildburghausen. The race was such a success that it was staged again the following year on the Theresienwiese – the meadow named in honour of the Princess. From 1870 onwards the number of stalls began to increase and in 1896 the very first beer tents were erected which sold only beer brewed in Munich – a tradition which has remained to the present day. Due to lack of space the horse races with which it all began were staged for the last time in 1936.

Here are 8 fun facts & Pictures of Germany's Oktoberfest:

1. 204 years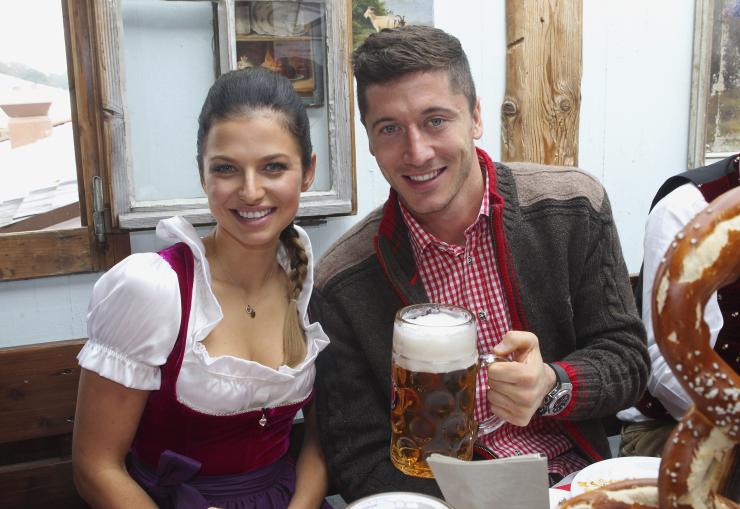 Bayern Munich's Robert Lewandowski and his wife, Anna Stachurska, attended the Oktoberfest 2014 beer festival at Kaefers Wiesenschaenke in Munich, Oct. 5, 2014. Reuters
Wish Oktoberfest 2014 a very happy 204th birthday. In 1810, the very first Oktoberfest took place in Munich, Germany to honor Bavarian Crown Prince Ludwig's marriage. Today, the 16-day beer festival is still going strong.

2. 1.8 million gallons of beer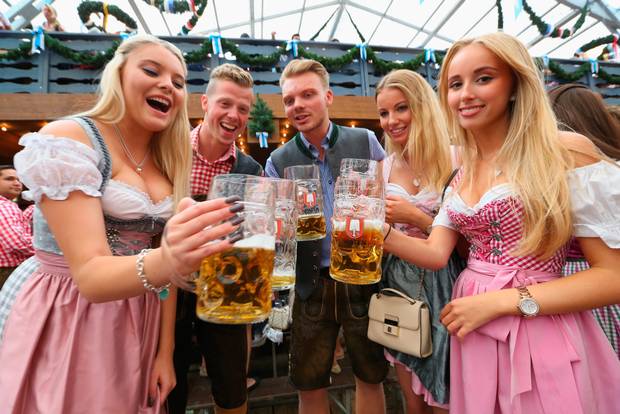 If you're wondering how much beer is consumed by the 6 million people that go to Oktoberfest each year –it's a lot. To be precise, it's 1.8 million gallons of beer. That's like filling the legendary King's Pond pool at the Four Seasons Resort Hualalai in Hawaii with brew.

3. 48,000 bakers striking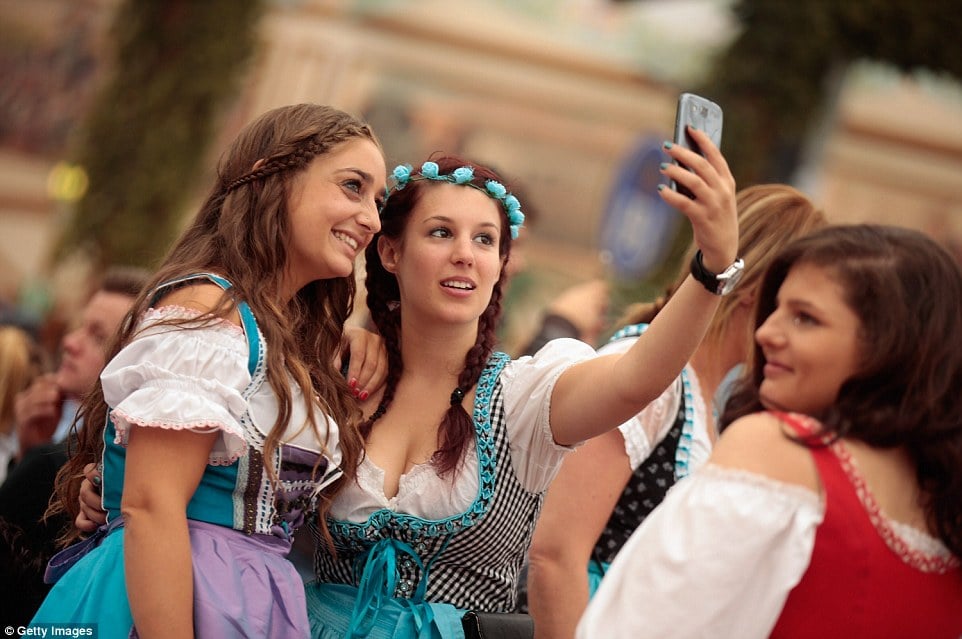 This year, 48,000 members of the baker's union threatened to strike, inciting fear of a possible pretzel shortage, or as you say in Munich, Riesnbrezn shortage. In the end, the bakers chose to respect the Oktoberfest tradition and are keeping the pretzels flowing.

4. 15 beds for hungover festival goers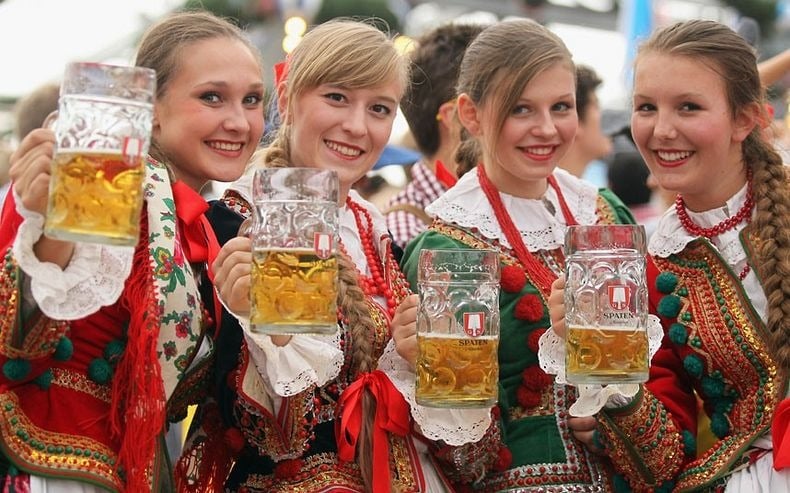 In an effort to keep festival attendees as safe, the Red Cross has set up 15 hangover beds for people, in case they need to sleep off the booze for a while. That doesn't seem like a lot for the more than 7,000 people that come to the Red Cross tent for treatment each year, but I guess it's better than none. They've also got spare pants, too, just in case you need those too.

5. 4,000 lost and found items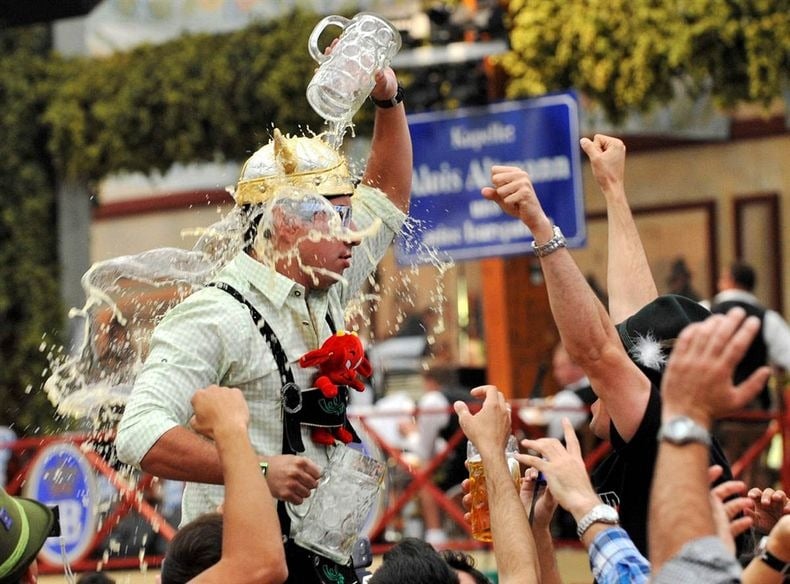 Each year, over 4,000 items end up in the Oktoberfest lost and found. The weirdest from 2013 was a set of dentures.

6. $13 per brew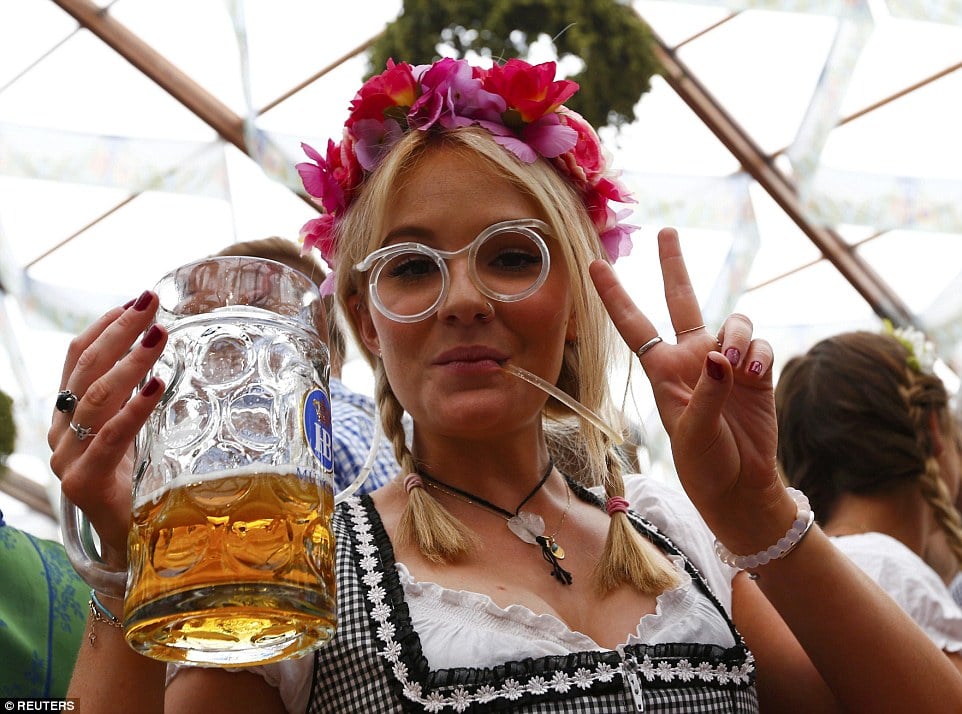 Beer prices differ in the various tents at Oktoberfest, but a traditional stein, which is slightly less than 34 ounces, will cost you about $13.

7. 10,000 in a tent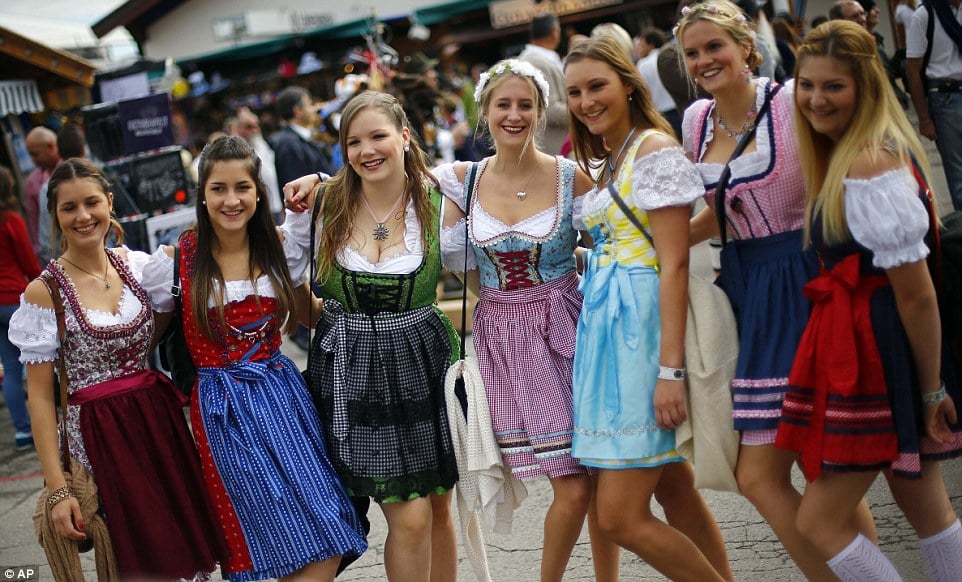 At Oktoberfest, there's a lot of standing, as there are fewer seats than there are visitors. The largest Oktoberfest beer tent of all time was the Pschorr-Brau-Rosl-tent in 1913, which held 12,000 people. Today, the Hofbrau-Festhalle is the largest tent, with 10,000 seats. But you better get there early.

8. 12 bites to soak up the beer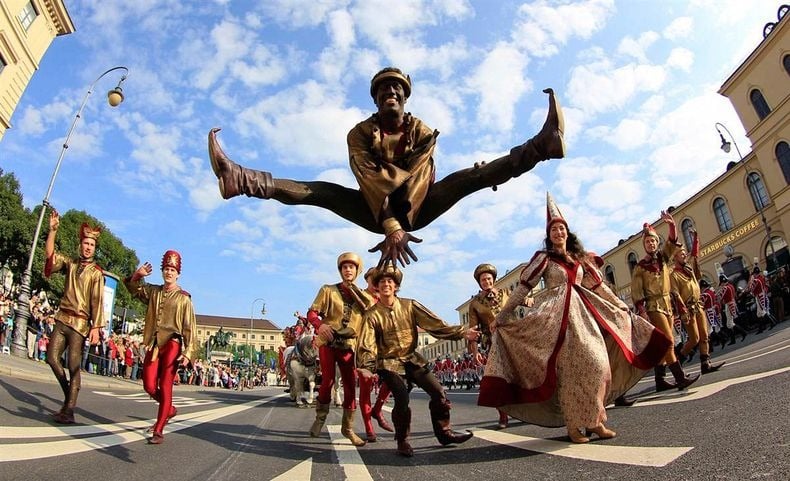 There is a variety of traditional, hearty fare to be had at Oktoberfest. Offerings include Hendl (roast chicken), Schweinsbraten (roast pork), Haxn (pork knuckle), Steckerlfisch (grilled fish on a stick), Wurstl (sausages), Brezn (pretzel), Knodeln (potato or bread dumplings), Kaasspotzn (cheese noodles), Reiberdatschi (potato pancakes), Sauerkraut or Rotkraut (pickled red cabbage), Obatzda (a fatty, spiced cheese-butter concoction), and Weisswurst (white sausage). So dig in!

High prices:

A liter of beer, which is the traditional measure at the event, will cost them more than 10 euros ($11.31), but the price is unlikely to put a brake on the high consumption of the yellow liquid that is expected from guests.
The festival is taking place this year as thousands of refugees arrive at the city's railway station amid Europe's biggest migrant influx since the Second World War. Munich authorities say that this is unlikely to affect the running of the festival.

Hey Let's Come To The Party!!!
H/T: foxnews.com
[divider scroll_text="Back To Top"]