Poteet Architects is an architectural firm based in Texas and they've created something you just have to see.



They took old shipping containers and reused them to build a small guest home. The home is fully functional and includes a full bathroom. There is also some nice outdoor living space and a garden on the roof of the home. This guest home is simple, creative and probably unlike anything you've ever seen. Who knew old shipping containers could be so useful and functional?
#1.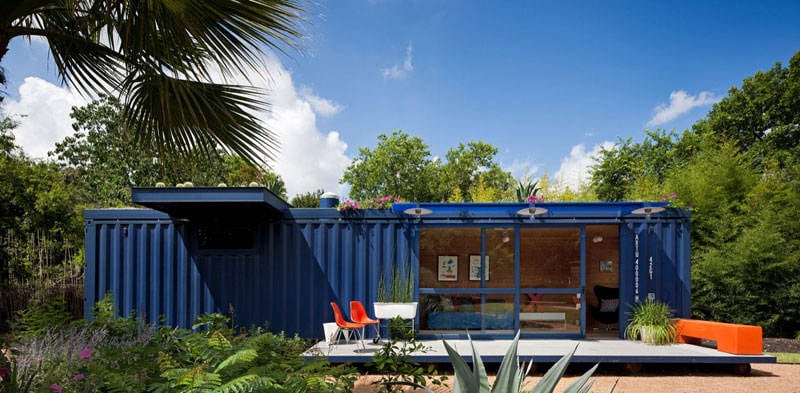 #2.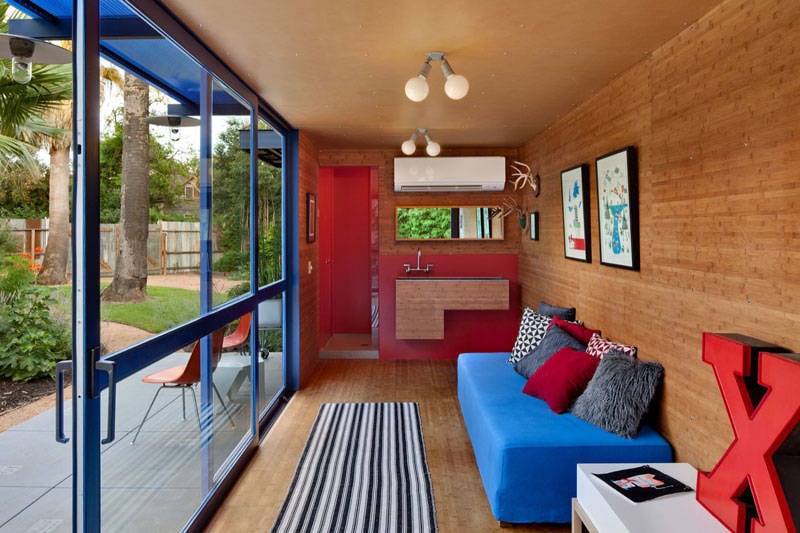 #3.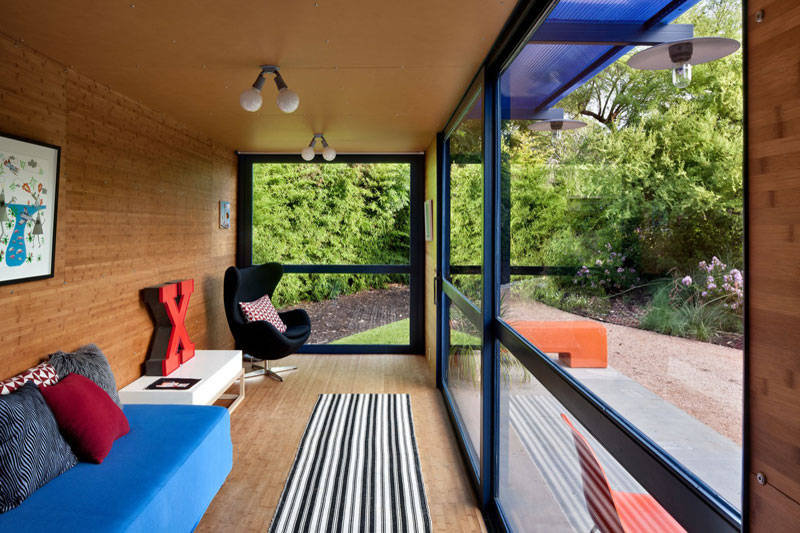 #4.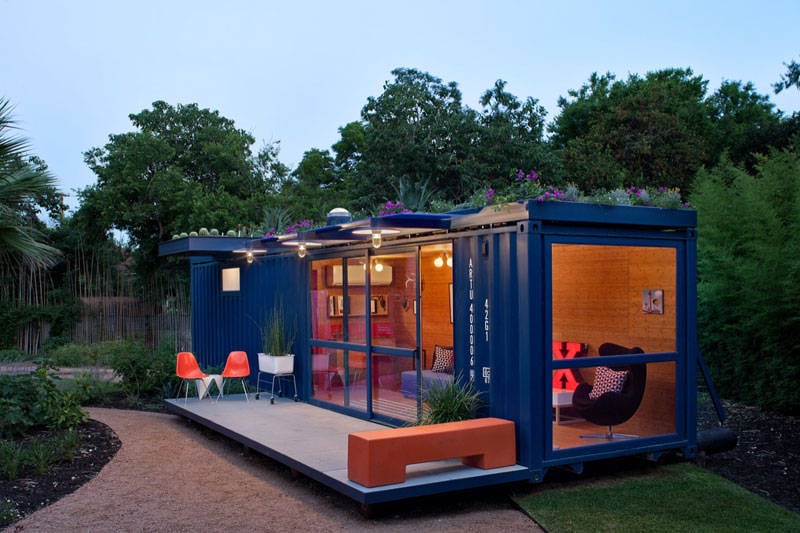 #5.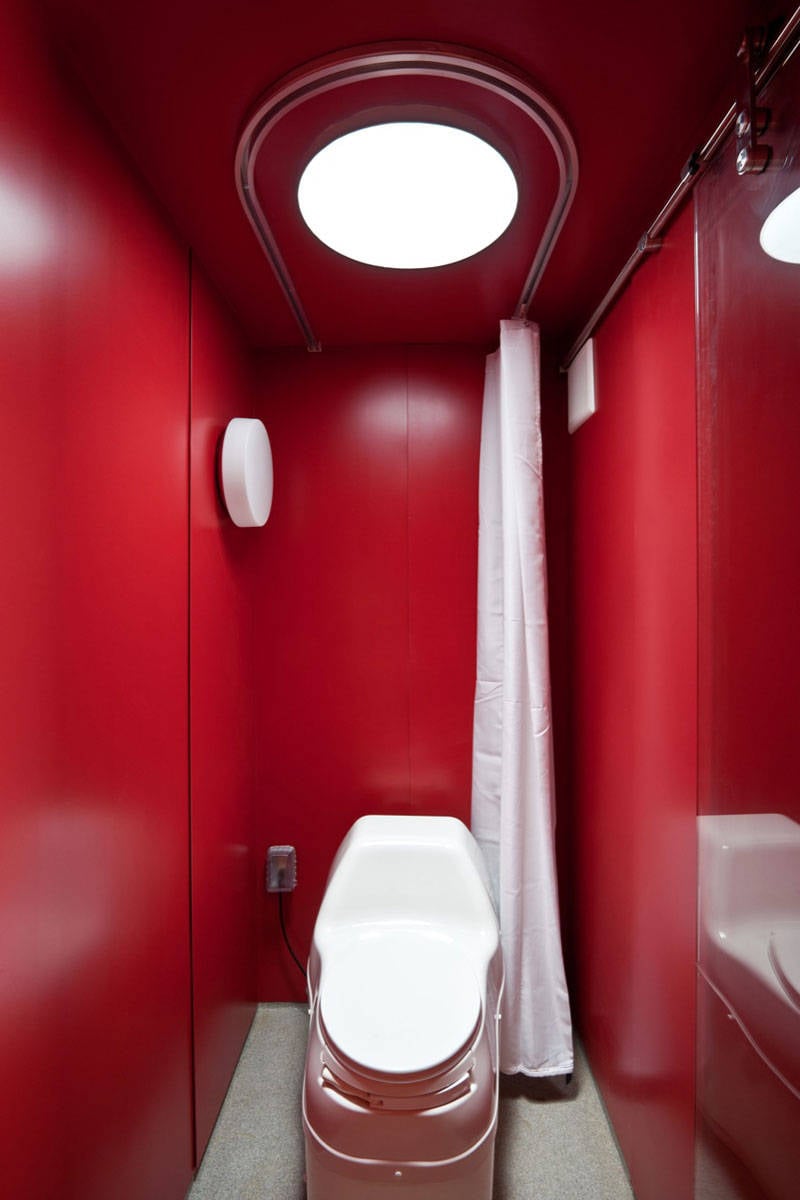 #6.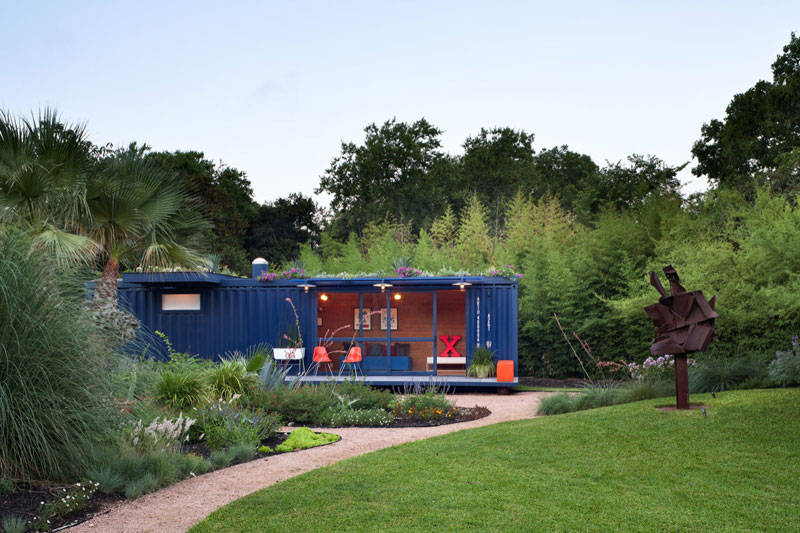 #7.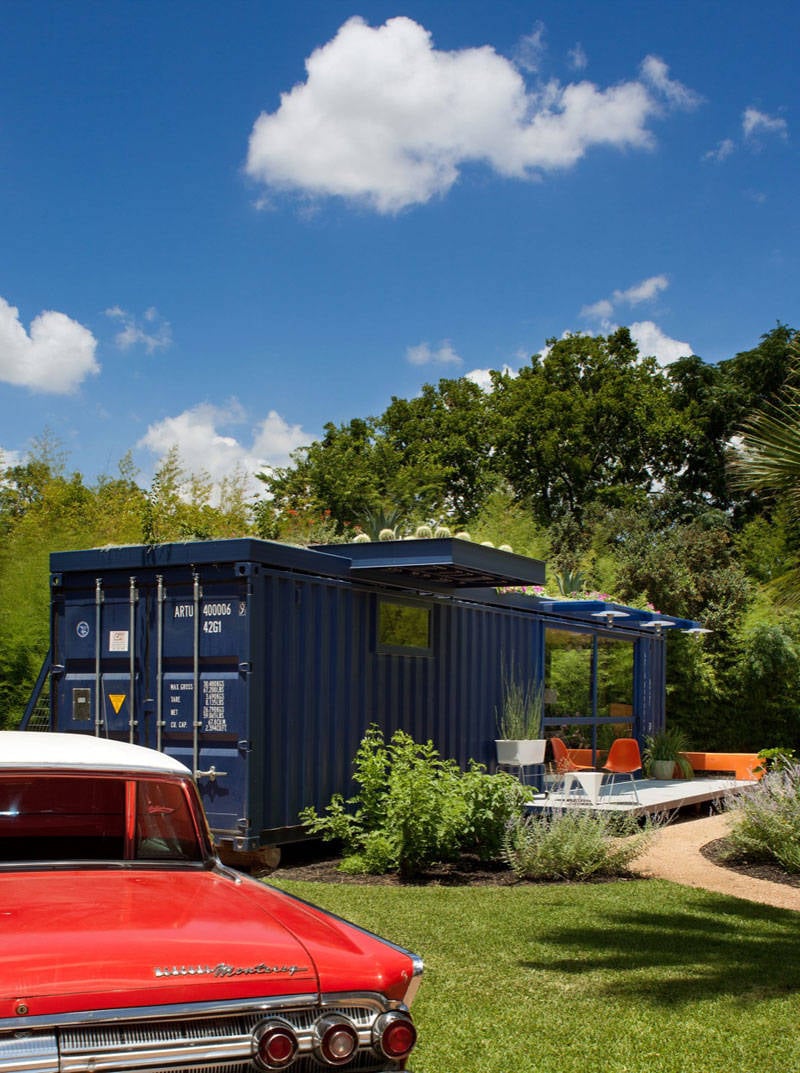 #8.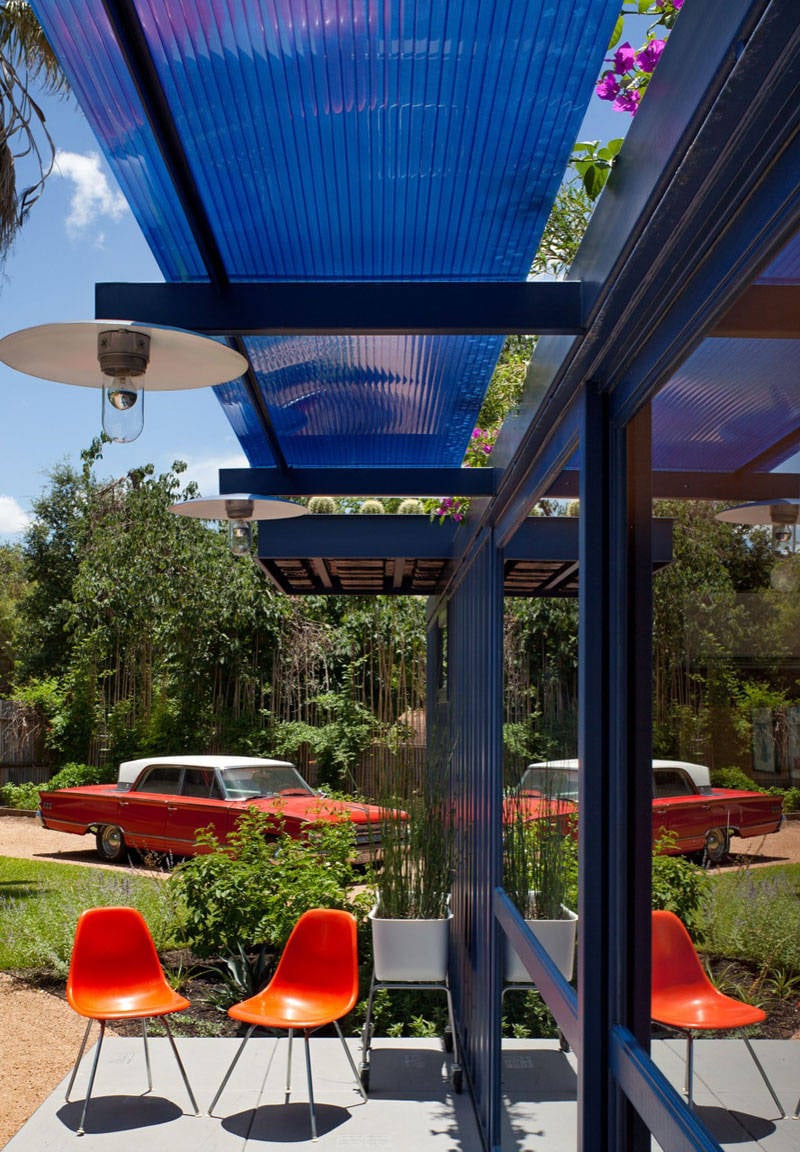 #10.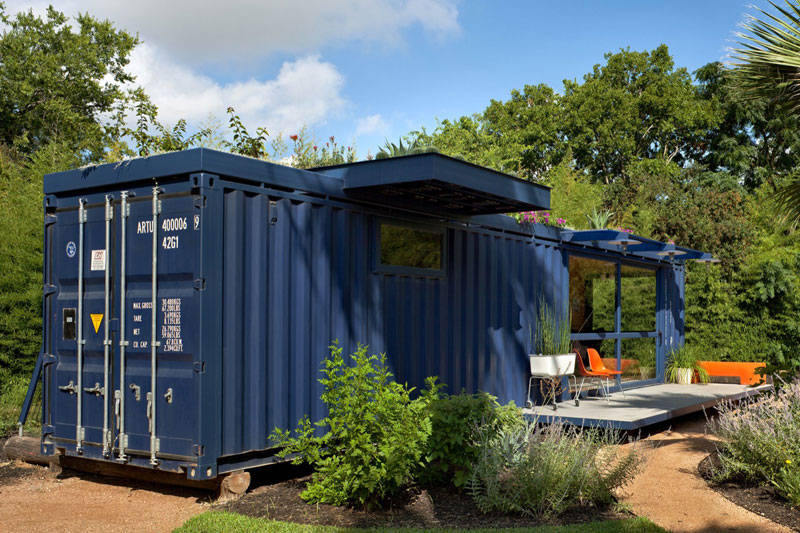 Shipping container architecture



Shipping container architecture is a form of architecture using steel intermodal containers (shipping containers) as structural element. It is also referred to as cargotecture, a portmanteau of cargo with architecture.
The use of containers as a building material has grown in popularity of the past several years due to their inherent strength, wide availability, and relatively low expense. We have also started to see people build homes with containers because they are seen as more eco-friendly than traditional building materials such as brick and cement.
Empty shipping containers are commonly used as market stalls and warehouses in the countries of the former USSR.
The biggest shopping mall or organized market in Europe is made up of alleys formed by stacked containers, on 69 hectares (170 acres) of land, between the airport and the central part of Odessa, Ukraine. Informally named "Tolchok" and officially known as the Seventh-Kilometer Market it has 16,000 vendors and employs 1,200 security guards and maintenance workers.
In Central Asia, the Dordoy Bazaar in Bishkek, Kyrgyzstan, almost entirely composed of double-stacked containers, is of comparable size. It is popular with travelers coming from Kazakhstan and Russia to take advantage of the cheap prices and plethora of knock-off designers.
In 2011, the Cashel Mall in Christchurch, New Zealand reopened in a series of shipping containers months after it had been destroyed in the earthquake that devastated the city's central business district. Starbucks Coffee has also built a store using shipping containers.
Containers are in many ways an ideal building material because they are strong, durable, stackable, cuttable, movable, modular, plentiful and relatively cheap. Architects as well as laypeople have used them to build many types of buildings such as homes, offices, apartments, schools, dormitories, artists' studios and emergency shelters; they have also been used as swimming pools. They are also used to provide temporary secure spaces on construction sites and other venues on an "as is" basis instead of building shelters.
Phillip C. Clark filed for a United States patent on November 23, 1987 described as "Method for converting one or more steel shipping containers into a habitable building at a building site and the product thereof". This patent was granted August 8, 1989 as patent 4854094. The patent documentation shows what are possibly the earliest recorded plans for constructing shipping container housing and shelters by laying out some very basic architectural concepts. Regardless, the patent may not have represented novel invention at its time of filing. Paul Sawyers previously described extensive shipping container buildings used on the set of the 1985 film Space Rage Breakout on Prison Planet.
Other examples of earlier container architecture concepts also exist such as a 1977 report entitled 'Shipping Containers as Structural Systems' investigating the feasibility of using twenty foot shipping containers as structural elements by the US military.
During the 1991 Gulf War, containers saw considerable nonstandard uses not only as makeshift shelters but also for the transportation of Iraqi prisoners of war. Holes were cut in the containers to allow for ventilation. Containers continue to be used for military shelters, often additionally fortified by adding sandbags to the side walls to protect against weapons such as rocket-propelled grenades ("RPGs").
The abundance and relative cheapness of these containers during the last decade comes from the deficit in manufactured goods coming from North America in the last two decades. These manufactured goods come to North America from Asia and, to a lesser extent, Europe, in containers that often have to be shipped back empty, or "deadhead", at considerable expense. It is often cheaper to buy new containers in Asia than to ship old ones back. Therefore, new applications are sought for the used containers that have reached their North American destination.
[divider scroll_text="Back To Top"]