THESE PEOPLE ARE PRETTY DISGUSTING, HAVING A BLAST
Forget the sexy nurses, the pirates, and devils. At the Bloco da Lama Carnival street party, swamp creature is the costume of choice. Revelers in the seaside colonial town of Paraty yesterday threw themselves into deposits of black, mineral-rich slime, emerging covered head-to-toe in the sludge. Bikinis and trunks disappeared beneath the mud, which highlights both gym-pumped pecs and beer-fed guts. Those hoping to remain pristine didn't last long at the Bloco da Lama, which translates from the Portuguese as "Mud Street Party." One woman wearing a spotless, white bikini was chased by a reveler freshly emerged from the mud who said: "She's so clean, it makes me want to hug her." Her swimsuit soon became a black bikini. "Usually when you think of Brazilian Carnival, you think of sequins and feathers—not mud," says a French tourist. "It's fun, it's original and it's exotic."
Legend has it the "bloco" was born in 1986 after local teens hiking in a nearby mangrove forest smeared themselves with mud to discourage mosquitoes and then wandered through Paraty. The party grew year after year, but revelers eventually were banned from parading in the colonial downtown after shopkeepers complained pristine white walls were stained with the hard-to-remove mud. Now revelers dance on the beach instead, getting down and dirty to competing soundtracks of Brazilian funk and house music amid cavemen chants of "uga, uga." As the afternoon wore on and the number of empty beer cans abandoned on the sand multiplied, so did the flying mud balls, hurled willy nilly by over-enthusiastic teenagers. "It's good spirited fun," says one local. "I mean, I haven't looked at myself in the mirror, I'm sure I look ridiculous. But then again, everyone does."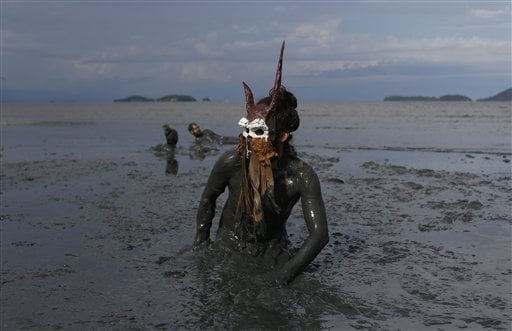 A reveler wearing a costume plays in the mud during the traditional "Bloco da Lama" or "Mud Block" carnival party, in Paraty, Brazil, Saturday, Feb. 14, 2015. Legend has it the "bloco" was born in 1986 after local teens hiking in a nearby mangrove forest smeared themselves with mud to discourage mosquitoes and then wandered through Paraty. The party grew year after year, but revelers eventually were banned from parading in the colonial downtown after shopkeepers complained pristine white walls were stained with the hard-to-remove mud. (Leo Correa)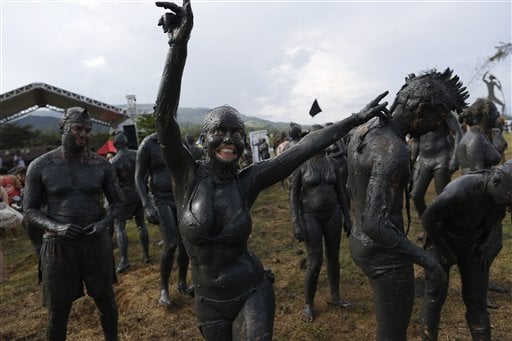 A woman, covered in mud, dances during the traditional "Bloco da Lama" or "Mud Block" carnival party, in Paraty, Brazil, Saturday, Feb. 14, 2015. (Leo Correa)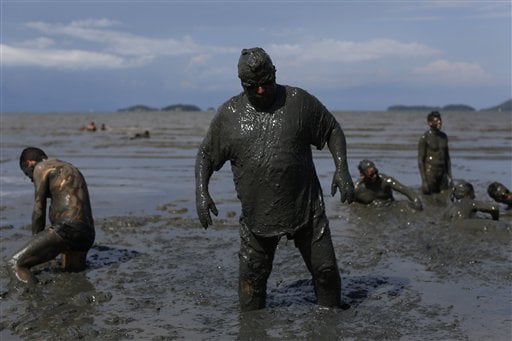 A mud covered reveler plays in the mud during the traditional "Bloco da Lama" or "Mud Block" carnival party, in Paraty, Brazil, Saturday, Feb. 14, 2015. Revelers in the seaside colonial town threw themselves into deposits of black, mineral-rich slime, emerging covered head-to-toe in the sludge. Bikinis and trunks disappeared beneath the mud, which highlights both gym-pumped pectorals and beer-fed guts. (Leo Correa)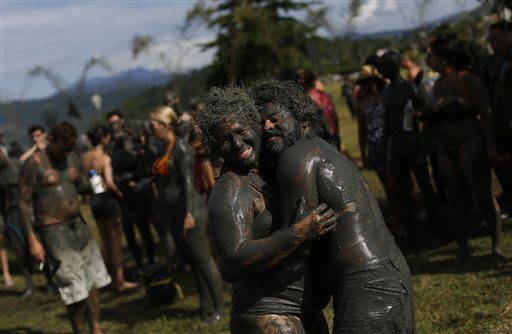 A mud covered couple dance during the traditional "Bloco da Lama" or "Mud Block" carnival party, in Paraty, Brazil, Saturday, Feb. 14, 2015. Legend has it the "bloco" was born in 1986 after local teens hiking in a nearby mangrove forest smeared themselves with mud to discourage mosquitoes and then wandered through Paraty. The party grew year after year, but revelers eventually were banned from parading in the colonial downtown after shopkeepers complained pristine white walls were stained with the hard-to-remove mud. (Leo Correa)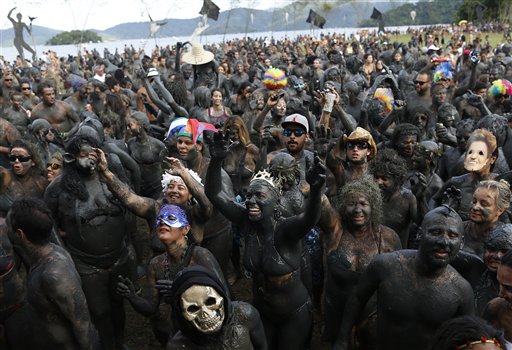 People covered in mud attend the traditional "Bloco da Lama" or "Mud Block" carnival party, in Paraty, Brazil, Saturday, Feb. 14, 2015. Legend has it the "bloco" was born in 1986 after local teens hiking in a nearby mangrove forest smeared themselves with mud to discourage mosquitoes and then wandered through Paraty. The party grew year after year, but revelers eventually were banned from parading in the colonial downtown after shopkeepers complained pristine white walls were stained with the hard-to-remove mud. (Leo Correa)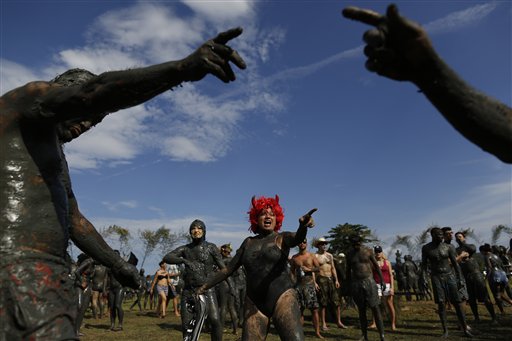 A mud covered reveler dances during the traditional "Bloco da Lama" or "Mud Block" carnival party, in Paraty, Brazil, Saturday, Feb. 14, 2015. Revelers in the seaside colonial town threw themselves into deposits of black, mineral-rich slime, emerging covered head-to-toe in the sludge. Bikinis and trunks disappeared beneath the mud, which highlights both gym-pumped pectorals and beer-fed guts. (Leo Correa)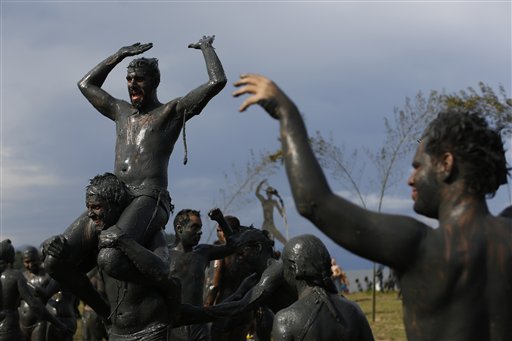 People covered in mud dance during the traditional "Bloco da Lama" or "Mud Block" carnival party, in Paraty, Brazil, Saturday, Feb. 14, 2015. Legend has it the "bloco" was born in 1986 after local teens hiking in a nearby mangrove forest smeared themselves with mud to discourage mosquitoes and then wandered through Paraty. The party grew year after year, but revelers eventually were banned from parading in the colonial downtown after shopkeepers complained pristine white walls were stained with the hard-to-remove mud. (Leo Correa)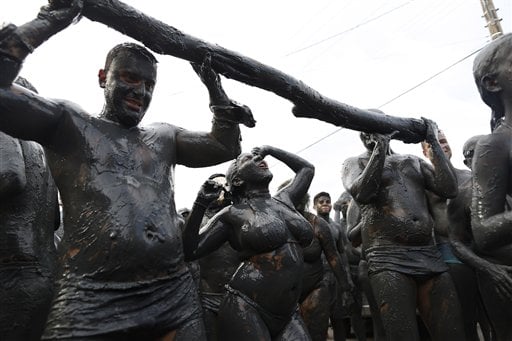 People covered in mud dance during the traditional "Bloco da Lama" or "Mud Block" carnival party, in Paraty, Brazil, Saturday, Feb. 14, 2015. Legend has it the "bloco" was born in 1986 after local teens hiking in a nearby mangrove forest smeared themselves with mud to discourage mosquitoes and then wandered through Paraty. The party grew year after year, but revelers eventually were banned from parading in the colonial downtown after shopkeepers complained pristine white walls were stained with the hard-to-remove mud. (Leo Correa)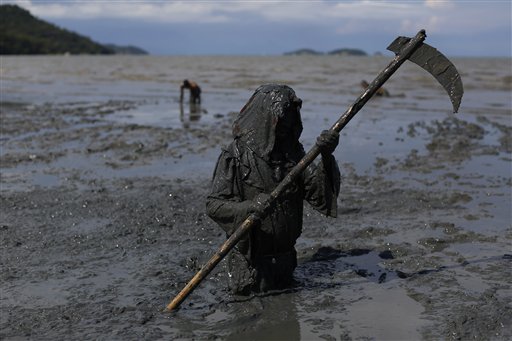 A mud covered reveler wearing a grim reaper costume enjoys the traditional "Bloco da Lama" or "Mud Block" carnival party, in Paraty, Brazil, Saturday, Feb. 14, 2015. Revelers in the seaside colonial town threw themselves into deposits of black, mineral-rich slime, emerging covered head-to-toe in the sludge. Bikinis and trunks disappeared beneath the mud, which highlights both gym-pumped pectorals and beer-fed guts. (Leo Correa)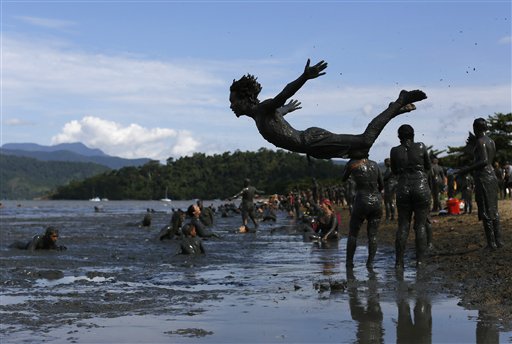 A man jumps into the mud during the traditional "Bloco da Lama" or "Mud Block" carnival party, in Paraty, Brazil, Saturday, Feb. 14, 2015. Revelers in the seaside colonial town threw themselves into deposits of black, mineral-rich slime, emerging covered head-to-toe in the sludge. Bikinis and trunks disappeared beneath the mud, which highlights both gym-pumped pectorals and beer-fed guts. (Leo Correa)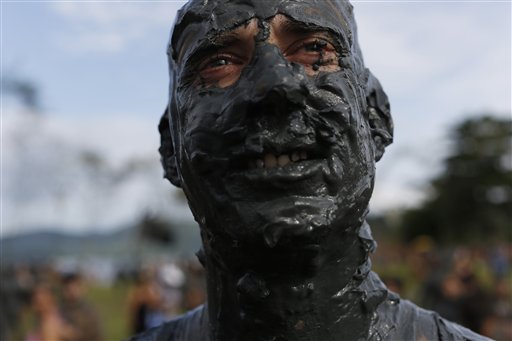 A mud covered reveler poses for the picture during the traditional "Bloco da Lama" or "Mud Block" carnival party, in Paraty, Brazil, Saturday, Feb. 14, 2015. Legend has it the "bloco" was born in 1986 after local teens hiking in a nearby mangrove forest smeared themselves with mud to discourage mosquitoes and then wandered through Paraty. The party grew year after year, but revelers eventually were banned from parading in the colonial downtown after shopkeepers complained pristine white walls were stained with the hard-to-remove mud. (Leo Correa)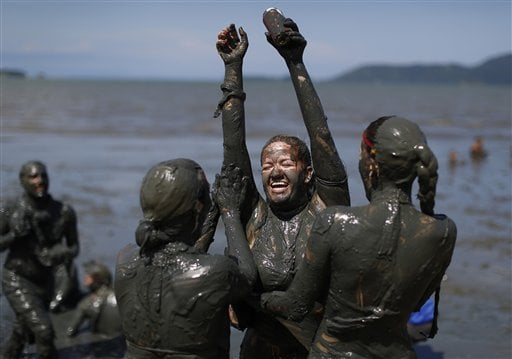 Revelers cover a freind in mud during the traditional "Bloco da Lama" or "Mud Block" carnival party, in Paraty, Brazil, Saturday, Feb. 14, 2015. Revelers in the seaside colonial town threw themselves into deposits of black, mineral-rich slime, emerging covered head-to-toe in the sludge. Bikinis and trunks disappeared beneath the mud, which highlights both gym-pumped pectorals and beer-fed guts. (Leo Correa)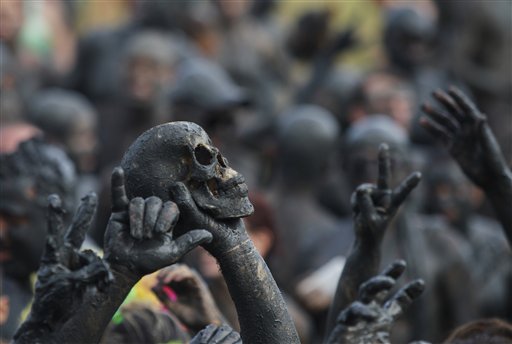 A man holds up a skull during the traditional "Bloco da Lama" or "Mud Block" carnival party, in Paraty, Brazil, Saturday, Feb. 14, 2015. Legend has it the "bloco" was born in 1986 after local teens hiking in a nearby mangrove forest smeared themselves with mud to discourage mosquitoes and then wandered through Paraty. The party grew year after year, but revelers eventually were banned from parading in the colonial downtown after shopkeepers complained pristine white walls were stained with the hard-to-remove mud. (Leo Correa)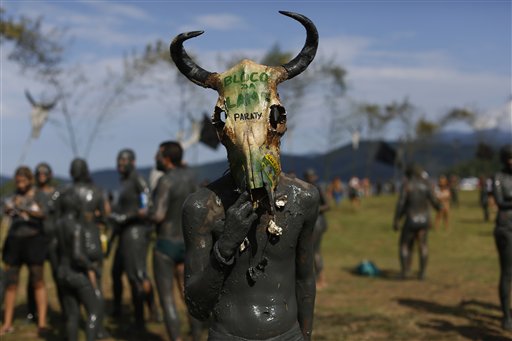 A mud covered reveler wearing a cow's skull as a mask poses for a photo during the traditional "Bloco da Lama" or "Mud Block" carnival party, in Paraty, Brazil, Saturday, Feb. 14, 2015. Revelers in the seaside colonial town threw themselves into deposits of black, mineral-rich slime, emerging covered head-to-toe in the sludge. Bikinis and trunks disappeared beneath the mud, which highlights both gym-pumped pectorals and beer-fed guts. (Leo Correa)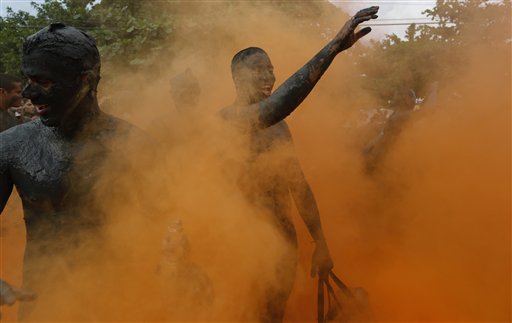 People covered in mud walk amid orange smoke during the traditional "Bloco da Lama" or "Mud Block" carnival party, in Paraty, Brazil, Saturday, Feb. 14, 2015. Legend has it the "bloco" was born in 1986 after local teens hiking in a nearby mangrove forest smeared themselves with mud to discourage mosquitoes and then wandered through Paraty. The party grew year after year, but revelers eventually were banned from parading in the colonial downtown after shopkeepers complained pristine white walls were stained with the hard-to-remove mud. Leo Correa)
[divider scroll_text="Back To Top"]