Harsha Bhogle is an Indian cricket commentator and journalist. He was born in a Marathi speaking family in Hyderabad. Bhogle has recently become a freelance TV presenter. We keep hearing great comments from Harsha while watching a match. He is one of the most respected commentator today and people love him for his witty and educated comments. In this content called journalist Harsha Bhogle biography, find out about his early life, career and personal life.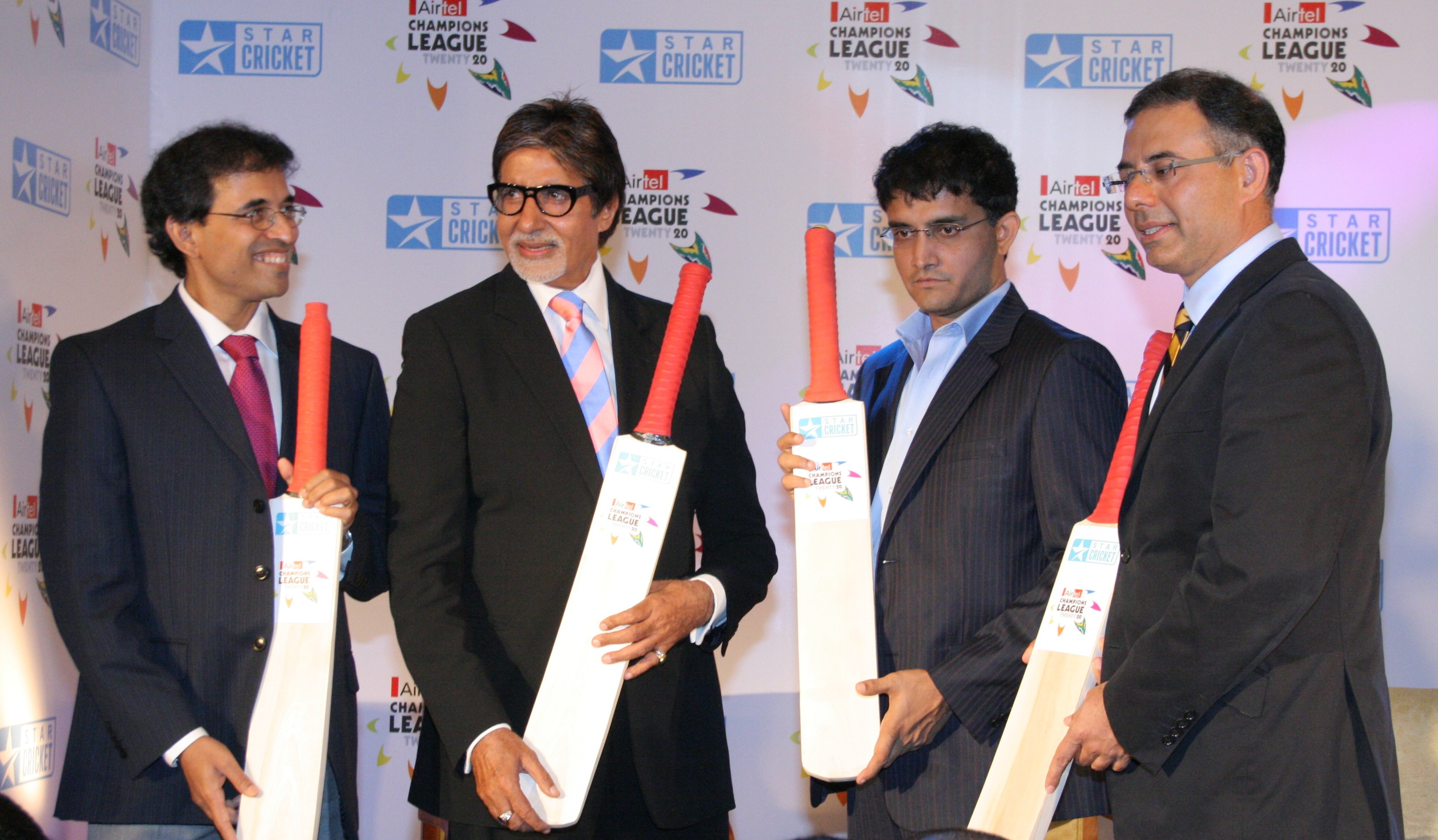 Harsha Bhogle Profile & Career :
Harsha started work at the age of 19. He worked at the All India Radio, also wrote columns for 2 newspapers a day. One, morning newspaper and other an evening one. As he recalls, he did a lot of hardwork in his early days to establish himself, caring less about the money. When India went to play in Australia in the 90s, Harsha contacted the Australian Broadcasting Corp. for a commentary stint and ABC said "we won't pay you". Technically, you are paid by your national broadcaster. Harsha decided to go anyway. Just for the love of the game and his profession, knowing that there's no money in it. Harsha is a man of great work ethic. In a profound way, he always says, take care of the runs and the dollars will follow. :)
Indeed Harsha Bhogle is the wittiest and the most spontaeneous commentator ever. Here are top 20 Harsha Bhogle quotes which will make you believe how witty he is, collected from quora.com :

1. Harsha Bhogle on Pakistani Misbah ul Haq after shoaib akhtar and his countrymen criticized him:
Harsha Bhogle: "I find this criticism of misbah very strange, its like a family of ten complaining that the sole breadwinner is not doing enough"
Harsha Bhogle: "Misbah is rated far higher outside Pakistan than within. Afridi is rated far higher in Pakistan than outside!"
2. In SA vs SL quarter final match at Sydney in ICC world cup 2015:
Imran Tahir takes a catch of Lahiru Thirimanne off his own bowling and as always, goes for a marathon run!!
Harsha Bhogle: "Well, Imran Tahir just won a gold medal!! He would have been in the stands if the match had been played in New Zealand"
3. IPL. 14th May 2014
Harsha Bhogle's reaction on seeing the fair play Rankings:
Harsha Bhogle: "Rajasthan Royals at no 4. Last season they just saw Rahul Dravid and gave them 10 points straight away"





4. Off the field at IIMA, as a guest lecturer:
Student – What was your CGPA @ IIMA?
Harsha – (pauses for a while) I learnt this very early in my childhood, "Remember the good, forget the bad." (blushes)
5. This happened in the semi final of the Cricket world cup 2015 between India and Australia.
Harsha Bhogle: "Its a kind of situation where a player like Virender Sehwag comes handy. He would say why should I hit the ball in gap between the fielders. I would hit the ball in the gap above their heads. Its a much larger gap."
6 . Another one in same match.
Dhoni had brought in Ravindra Jadeja into the attack and Harsha Bhogle about his hair cut,
Harsha Bhogle: "It seems Jadeja was having a haircut and realised just after it started it wasn't good and left midway"
7. In IPL.
Chris Gayle was batting and he was demolishing the opposition. Every other ball had to be brought back from the fence and at that moment Harsha said,
Harsha Bhogle: "6 and 4 seems to have become the new Binary Code for this man."
8. Once when Sachin and Dhoni were playing at the end of the innings,
Dhoni was blasting his way through. Hitting bowlers to all ends and then Sachin got the strike and caressed one for a boundary and Bhogle commented –
Harsha Bhogle: "We have a surgeon at one end and a butcher at the other"
9. In a Test match against England in India, when Cook hit a boundary after scoring 1 off 52 balls, Harsha said –
Harsha Bhogle: "80% of his runs coming from this delivery."


10. In a match against England, R Ashwin came to bat and started playing unconventional cricket shots, and Harsha said –
Harsha Bhogle: "Ashwin has just played 3 shots that no father will ever teach to his child."
11. In 2014 IPL final when wridhiman saha was finding a gap on every ball,
Harsha said "Let me tell you, there are fielders on the ground by the way"
12. Harsha's tweet on size of commentary box.
Harsha Bhogle: "Commentary boxes at Trent Bridge bit like family of 15 in a 2 room house!"
13. MI vs RCB. When MI was giving all the catches to fielders at different areas of the ground.
Harsha Bhogle: "They know where the fielders are… and they're finding them."
14. Harsha Bhogle on Sachin Tendulkar.
Harsha Bhogle: "Eruption of joy at the fall of an Indian wicket can only mean one thing"- When Sachin came out to bat during a test match in India
15. When Dravid was bowled trying to slog his teams way to a win, on his last international appearance :
Harsha Bhogle: "In a career that is marked by grace, style and beautiful batsmanship, it's a slog that's ended Rahul Dravid's career. But once again, it was what THE TEAM needed"

16. In conversation with Hayden, Harsha says this about Rajat Bhatia –
Harsha Bhogle: "He is slow, but has a slower ball on top of that. That ball is so slow that the batsman receiving it won't figure out if it was the previous ball".
17. Harsha Bhogle on Rajat Bhatia in IPL 2014. (RR vs CSK).
Rajat Bhatia bowling gently. Harsha says:
Harsha Bhogle: "Any bowler has 3 pace variations – fast,medium and slow. But Rajat Bhatia has – slow,slower and slowest! "
18. Harsha Bhogle on Narendra Hirwani with Ian Chappell.
India's 9th wicket fell, the No.11, Narendra Hirwani is walking out to bat. The commentator (Ian Chappell) asks Harsha whether Hirwani can bat. Harsha says:
Harsha Bhogle: "If you make a team with all the No.11s of all the teams, Hirwani would still come at No.11 in the line up"
19. Harsha Bhogle on Australian.
An Australian fielder drops a simple catch. To this, Harsha says:
Harsha Bhogle: "I tell you what, these are the most difficult catches to drop!"
20. During Perth Test.
Symond's appeal against Tendulkar was turned down – Harsha says
Harsha Bhogle: "Symond looks like a child whose chocolate has been taken away"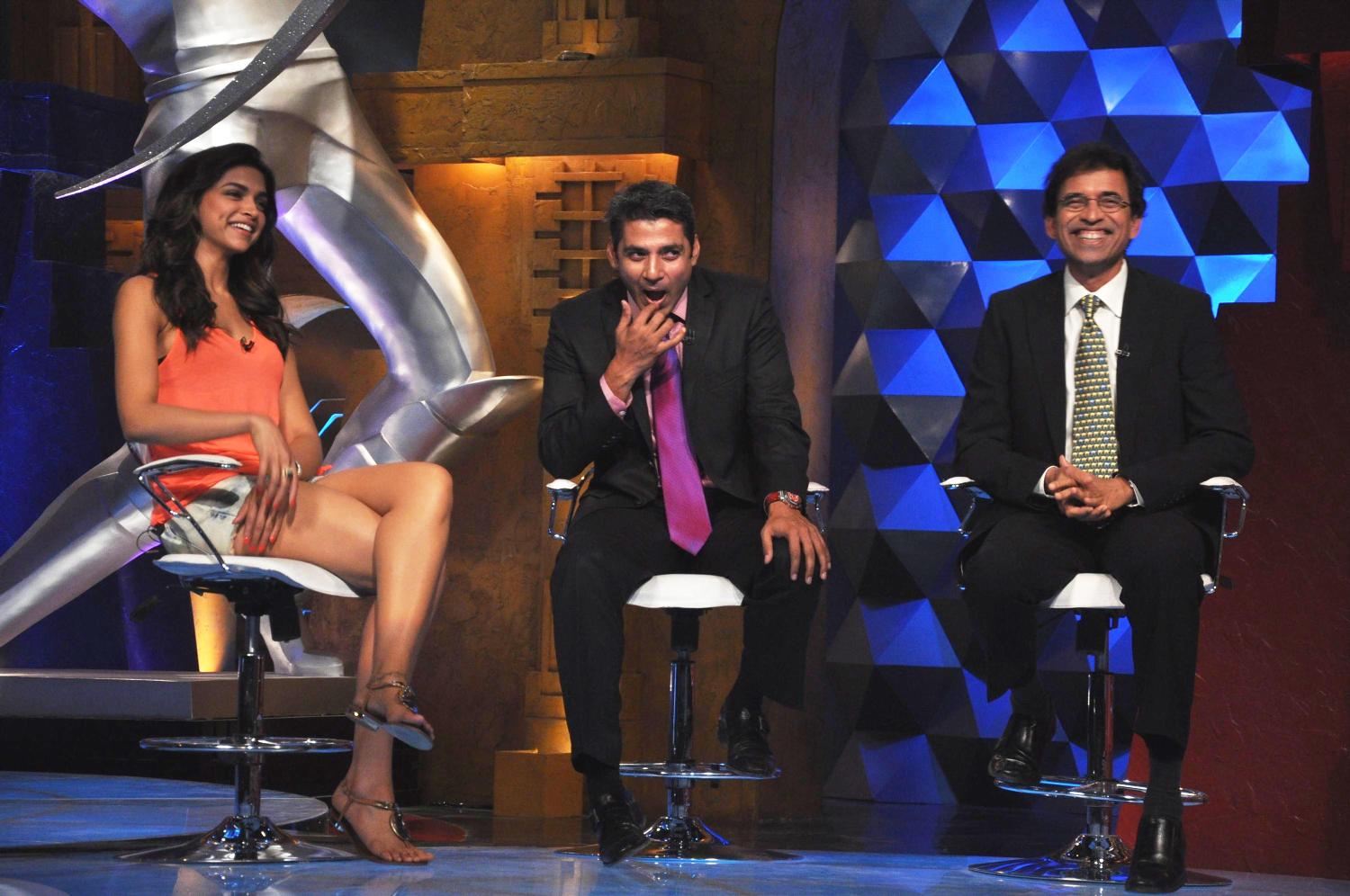 Deepika Padukone having fun in panel discussion with Ajay Jadeja Harsha Bhogle on the sets of Extraaa Innings IPL T20 at RK Studios in Mumbai
What do you think About This Story ? Are we Missed Your Fav. ? Tell us your comments below.
[divider scroll_text="Back To Top"]