A dabbawala; also spelled as dabbawalla or dabbawallah; is a person in India, most commonly in Mumbai, who is part of a delivery system that collects hot food in lunch boxes from the residences of workers in the late morning, delivers the lunches to the workplace utilizing various modes of transport, predominantly bicycles and the railway trains, and returns the empty boxes to the customer's residence that afternoon. They are also made use of by prominent meal suppliers in Mumbai where they ferry ready, cooked meals from central kitchens to the customers and back.
Passion, hard work, consistency, commitment, and accuracy are some of the prerequisites required to be successful in life. It is the same success mantra that the Mumbai Dabbawalas have been following since 1890. The system the dabbawalas have developed over the years revolves around strong teamwork and strict time-management. At 9am every morning, home-made meals are picked up in special boxes, which are loaded onto trolleys and pushed to a railway station. They then make their way by train to an unloading station. The boxes are rearranged so that those going to similar destinations, indicated by a system of coloured lettering, end up on the same trolley. The meals are then delivered—99.9999% of the time, to the right address.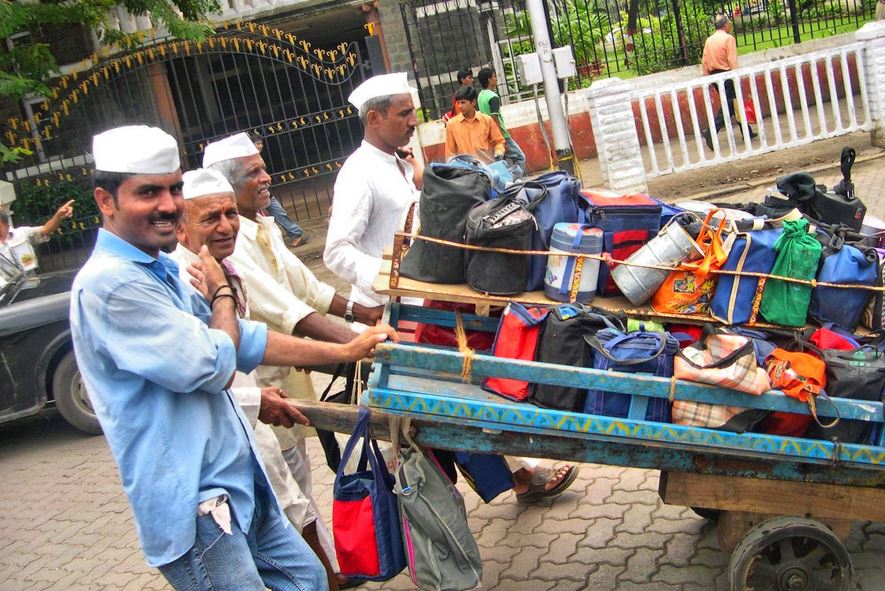 Some amazing facts about Mumbai's Dabbawalas:
Dabbawalas are not employees but each one of them is a self-employed entrepreneur. They are equal shareholders in the Dabbawalas Trust.
5000 dabbawalas cover around 70 Sq. Km in and around Mumbai and carry out 400,000 transactions everyday.
Not a single piece of paper is used during this whole process. All dabbas have different numbers, colors or other symbols (colour coding system) so the dabbawalas can remember where to deliver a specific dabba.
The more than a century old Dabbawala System has been awarded a six sigma performance rating by the Havard Business Review magazine for its astonishing service accuracy rate. Their results are spectacular: "one error in every 8 million deliveries."
The service is almost always uninterrupted, even on the days of inclement weather conditions.
From Prince Charles to Richard Branson, dabbawalas have won fans all over the world for their management skills. When Prince Charles visited them during his visit to India, he had to fit in with their schedule, since their timing was too precise to permit any flexibility.
Business schools, Universities and Corporate from all over the world invite Dabbawalas to give lecture on their Management skills.
Dabbawalas are certified to the international standard: ISO 9001 in recognition of their reliable quality management system.
This is probably the most environment-friendly enterprise, with zero percent fuel usage, using existing public transportation (trains), bicycles and handcarts to get the job done.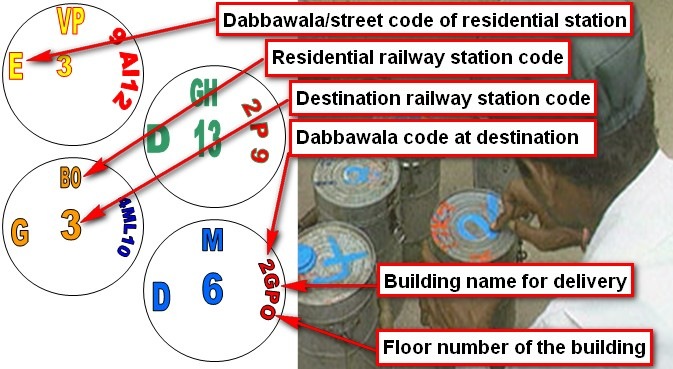 Awards / Accreditations
ISO 9001:2000 certified by the Joint Accreditation System of Australia and New Zealand
Studies and accolades
1. In 2001, Pawan G. Agrawal carried out his PhD research in " A Study & Logistics & Supply Chain Management of Dabbawala in Mumbai". He often presents his results on the efficiency of Dabbawallas in various fora.
2. In 2005, the Indian Institute of Management (Ahmedabad) featured a case study on the Mumbai Dabbawallas from a management perspective of logistics.[16]
3. In 2010, Harvard Business School added the case study The Dabbawala System: On-Time Delivery, Every Time to their compendium for its high level of service (equivalent of Six Sigma or better) with a low-cost and simple operating system.
Dabbawalla Six Sigma myth
It has been frequently asserted that dabbawalas were awarded a Six Sigma certification by Forbes magazine. This is a myth perpetuated by the news media who inferred the accreditation from the 1998 article in Forbes.
In 2007, an explanation was provided by the lead author of the article, Subrata Chakravarty in a private email correspondence to Gauri Sanjeev Pathak:
"Forbes never certified the dabbawalas as being a six-sigma organization. In fact, I never used the term at all. As you know, six-sigma is a process, not a statistic. But it is commonly associated with a statistic of 1.9 errors per billion operations, and that is what caused the confusion … . I was impressed by the efficiency and complexity of the process by which some 175,000 tiffin boxes were sorted, transported, delivered and returned each day by people who were mostly illiterate and unsophisticated. I asked the head of the organization how often they made a mistake. He said almost never, maybe once every two months. Any more than that would be unforgivable to customers. I did the math, which works out to one mistake in 8 million deliveries—or 16 million, since the tiffin carriers are returned home each day. That is the statistic I used. Apparently, at a conference in 2002, a reporter asked the president … whether the tiffinwallahs were a six-sigma organization. He said he didn't know what that was. When told about the 1.9 error-per-billion statistic, I'm told he said: "Then we are. Just ask Forbes". The reporter, obviously without having read my story, wrote that Forbes had certified the tiffinwallahs as a six-sigma organization. That phrase was picked up and repeated by other reporters in other stories and now seems to have become part of the folklore."
—Subrata Chakravarty
Watch DabbaWalas – Amazing Meal Delivery in India (Dabbawalas)
[youtube height="500″ width="800″]https://www.youtube.com/watch?v=fTkGDXRnR9I[/youtube]
Official Website Of Mumbai Dabbawala
H/T: Wikipedia

[divider scroll_text="Back To Top"]