India is a country where you can easily find Humour. All truck's in India have some quotations painted behind them, near the tail light. Some of the standard one's are

" OK TATA"

,

" Hum Do Harare Do"

,

" Mera Bharat Mahan"

However many of the owners also have very innovative ones. These people just do this to entertain and to look unique on roads.
We have interesting list of some of the innovative funny quotes & slogan that you have seen, thanks to Bhavesh Chhatbar who traveled in northern indian & collect some of the amazing & funny quotes (Mostly Hindi).
Here we Go:-
India is a popular place for truck slogans / truck quotes. People write amazing things behind their trucks. Some are wacky, some naughty, some heart-touching, some inspirational, some literal quotes. Here we present you with the 20 best truck slogans in India.
1. The first photo above has a typical Indian truck slogan that says "Samay se pehle bhagya se zyada kabhi nahi milta", which means that we never get anything before time and it will never be more than what is in our luck. It also mentions typical Indian truck lines — speed 40 kilometers per hour, use dipper at night, wait for side, all India permit, horn please, etc.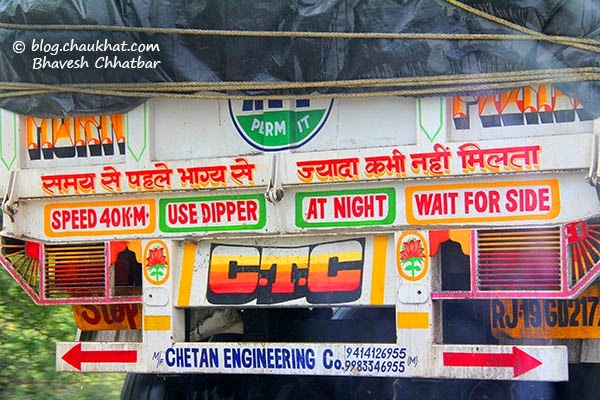 2. Funny Truck Shayari Hindi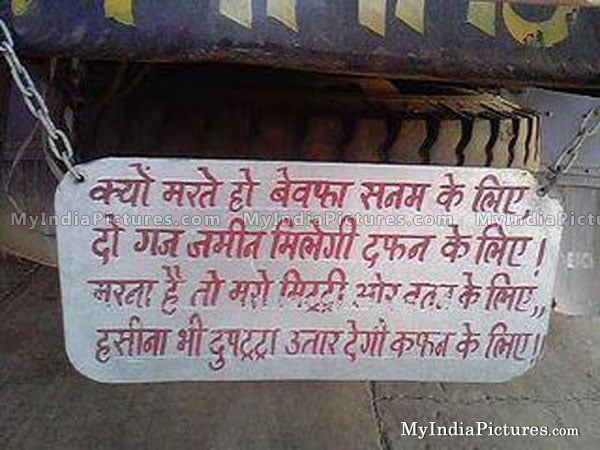 3. In the following truck slogan photo, fatta box means toolbox. The text in Hindi under the lock is "maa kaa aashirwaad" meaning "blessing of mother". The black text on the bumper rod says "Jaha ala vaha sala. Buri nazar vale tera muh kala.". I have no idea about the first sentence that says something about brother-in-law. The second sentence says "Your face is black if you have an evil eye."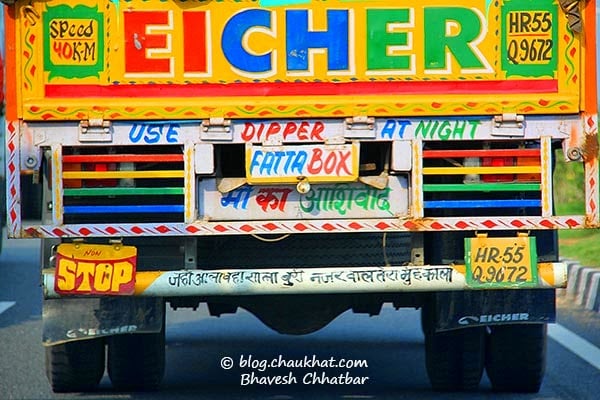 4. The following Indian truck slogan is just too much. The Hindi words "Has mat pagli pyaar ho jaaega" mean "Don't smile baby. I will fall in love with you.".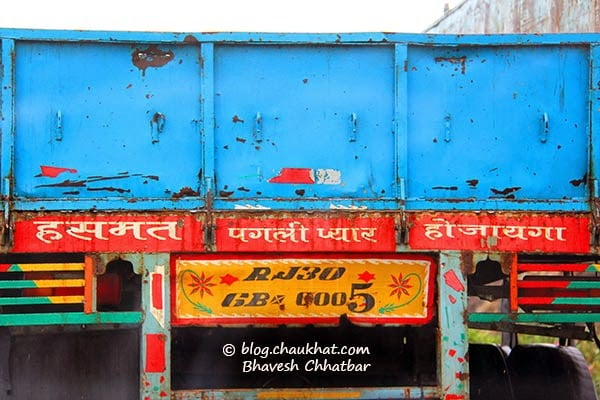 5. Just a general truck again running on the Indian roads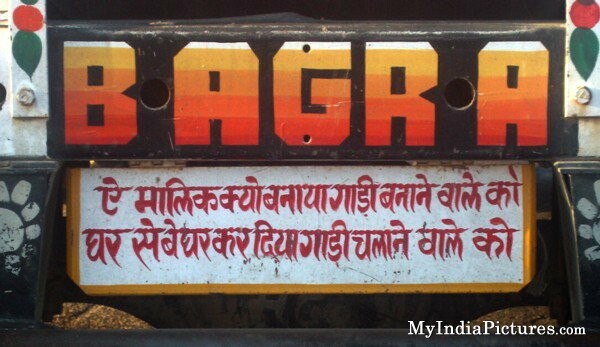 6. "Mitra nu shonk hathyaran da" in the next photo means "I am fond of weapons". Some other slogans on the truck say "Use dipper at night", "Mast baba", "Blow horn", etc.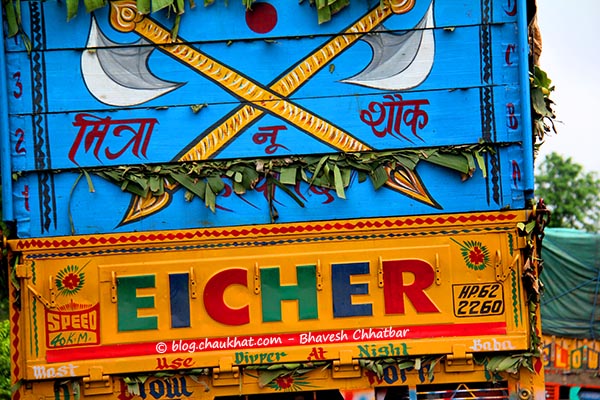 7. The unreadable blue sentence on the below truck says "Shauk nahi madam majburi hai, 1081 chalana zaruri hai." meaning "It is not my hobby madam; driving 1081 is my necessity". 1081 is the truck number.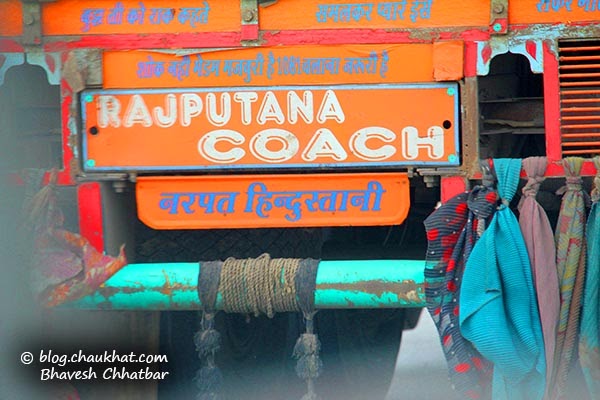 8. The next photo of truck slogans in India shows a small plate below "Bishnoi" that says "Shama dhal gai, lali chha gai. Dekho Birbal seth tumhaari gaadi aa gai". It translates, "The lamp is dimmed, the atmosphere is orangish. Look lord Birbal your truck has arrived.". The meaning probably is that it is late evening, and I, the driver, have brought your truck my lord Birbal.
There are other typical slogans on this Indian truck like "Horn please", "Speed 40 KMPH", "Wait for side", "Use dipper at night", "AIP" / "All India Permit", etc.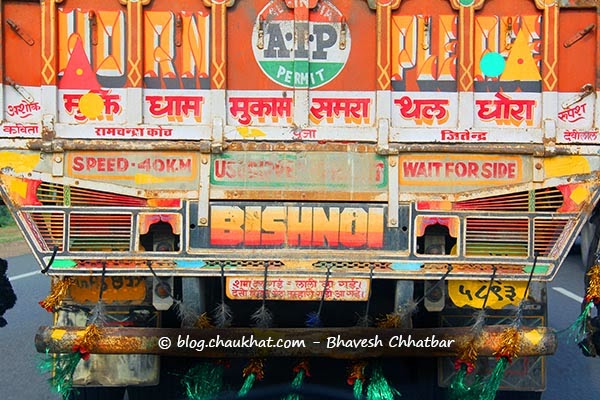 9. Perhaps the best perception of the world is written on the next truck photo — "Vishwaas vaham hai, sachchaai jooth hai.", which means, "Trust is hallucination, truth is false". It also says "Maa kaa aashirwaad" — "Blessings of mother".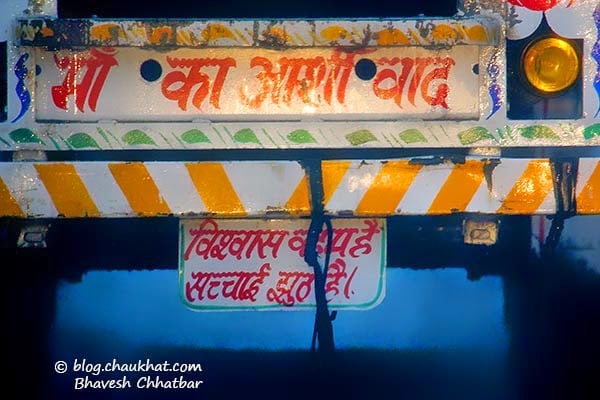 10. "Aaye din bahaar ke" slogan in pink-red color written on the next truck photo means "Spring has arrived". It also mentions the truck owner's or truck driver's name — Raju banna [see red text above the bumper rod]. The truck slogan combines some typical lines like "Blow horn", "Wait for side", etc.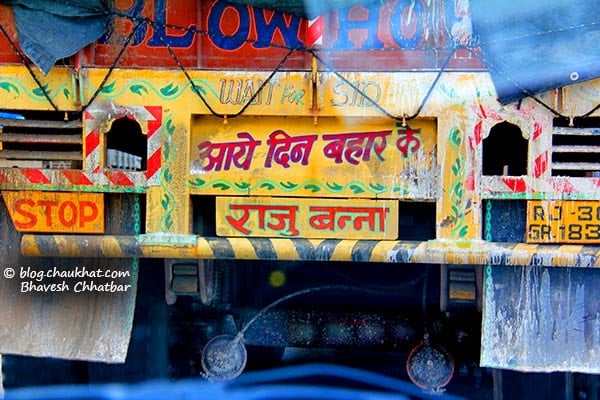 11. "Take poison, but don't believe on girls" This one is a typical truck on the Indian roads with typical slogans / quotes / text like "Blow horn", "Use dipper at night", "OK", etc.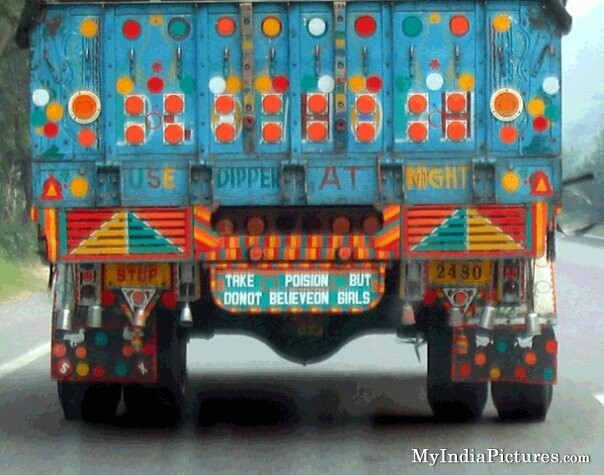 12. This one is just another truck on the Indian roads. "Humari chalti hain Logon ki jalti hain…Buri nazar wale nasbandi karaaley"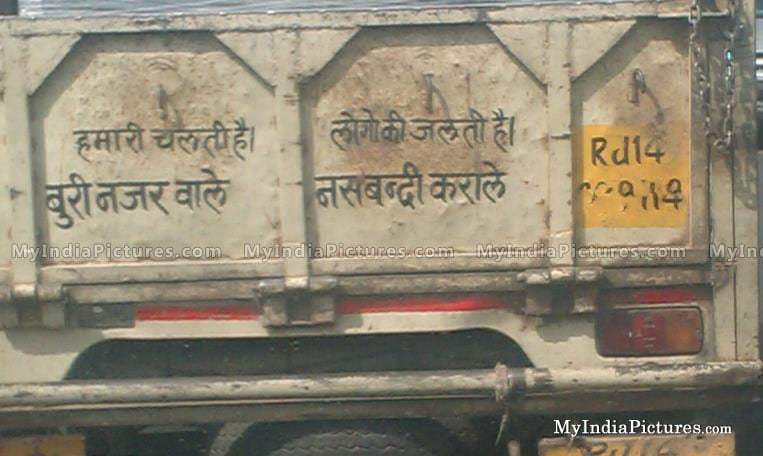 13. The red text above the bumper in the next Indian truck slogan photo is "Maa kaa aashirwad". Oh you guessed the meaning right — "Blessings of mother".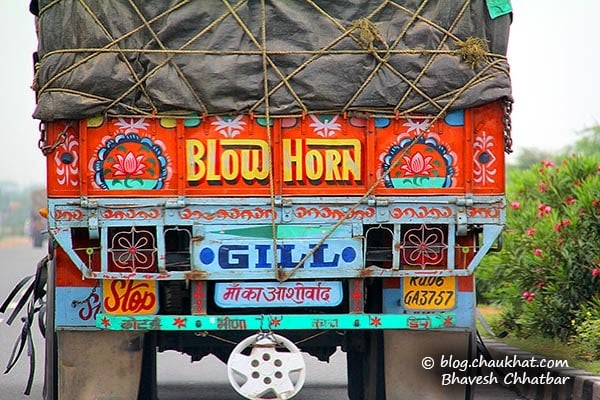 14. "Buri nazar wale tera muh kala" meaning "Your face is black if you have an evil eye". The text above that is mostly wiped off is "Soch kar socho saath kyaa jaaega". The meaning is "Give a thought to the thought, what you will take along when you will die"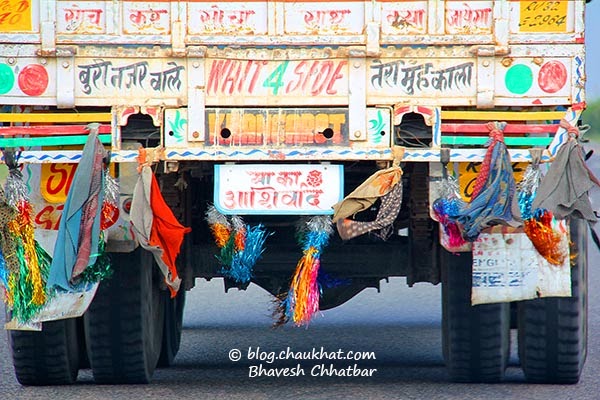 15. "Dum hai to cross kar, varna bardash kar" – Overtake me if you have the balls, or else tolerate being stuck behind my ass.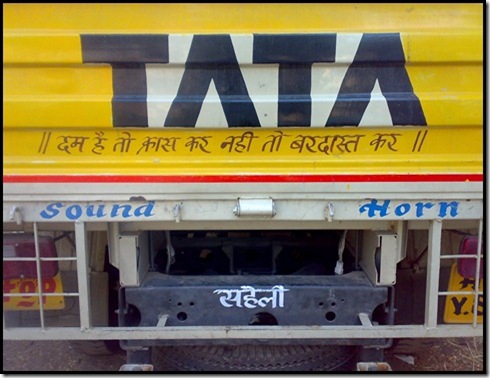 16. "Iraq ka pani, aur kitna piyegi raani ?" – How much more fuel (you are) going to drink, (dear) vehicle?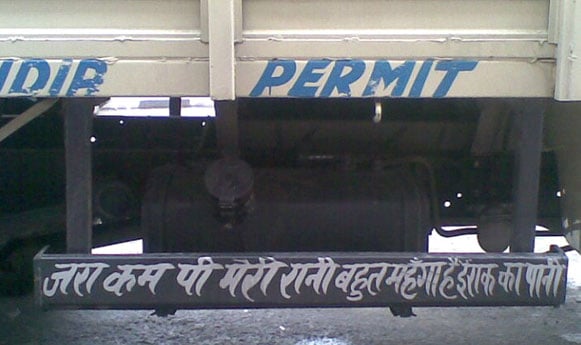 17. "Buri nazar wale, tere bacche jiye, bade hokar, desi sharab piye" – You, the one with ill thoughts, may your children live, and drink cheap country liquor when they get old.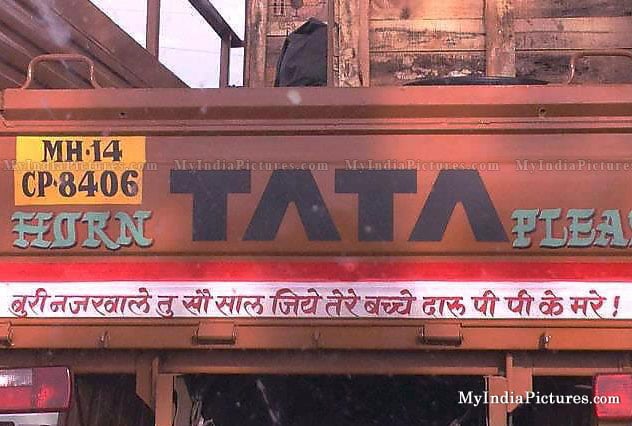 18. "Use Diaper at Night"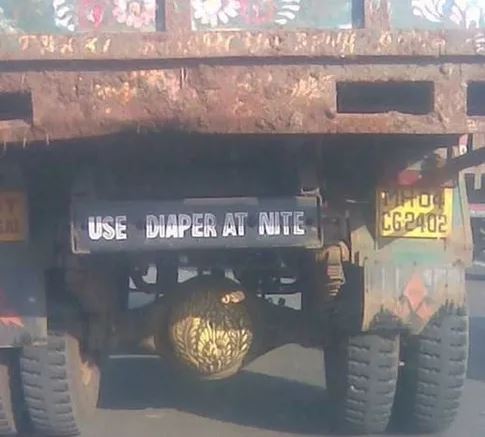 19. "Sonia gandhi tera mooh kala"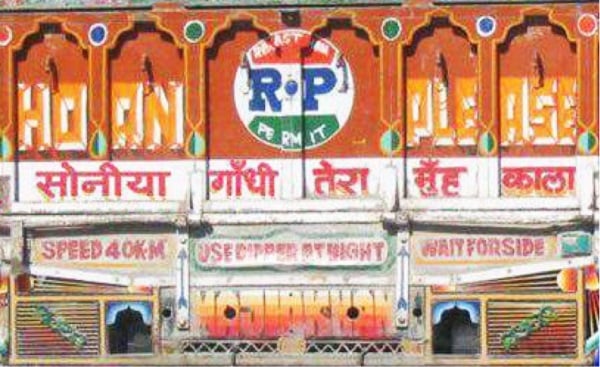 20. "Main bada hokar bada truck banoonga" – When I grow up, I will be a big truck.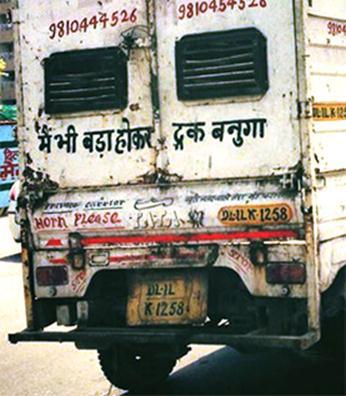 Some Other most interesting I've seen are:
"Condom tab tab, youn sambandh jab jab" – Use condoms in case of sexual relations
"Mera bharat mahaan, 100 mein se 99 beimaan" – My India is great, 99 out of every 100 people are dishonest
"Bach kar overtake kar, lage na kahin teri gaadi ko nazar" – Overtake carefully, you wouldn't want your car's exploits to attract bad attention
"Latak Mat Tapak Jayega, Jaldi Machayega toh Upar Jayega" – Don't hang you will die, if you are in a hurry you will go up (heaven) soon.
"Amiro ki zindagi, biscuit or cake par, driver ki zindagi, clutch or break per" – The rich feed on biscuits and cake, while the drivers feed on clutch and brake.

There have been many more actually, but these were the ones I remembered instantly. I'm sure the thousands of trucks in India have more quirky and even funnier lines written on them.
Also Read:
1. Crazy Chicken Bus Of Guatemala | Weird Transport Of Central America
2. Horn Please: The Colorful Band Of Indian Truck Drivers

What do you think About This Story ? Share your comments below.