Interior designer Reyhaneh Jabbari killed Moreteza Abdolai Sarbandi after Jabbari was called to do some for work and was allegedly assaulted by Sarbandi. Now his 26-year-old son, who has the power to grant clemency, says he will only do so if she exposes her 'true intentions' and reveals who he says was the second man present at the scene.
SHE wrote it knowing she would soon be hanged for a crime she had always denied committing, but Reyhaneh Jabbari, a young Iranian accused of killing a man trying to rape her, expressed no bitterness in her last will and testament.
"I don't want to rot in the soil," she wrote, adding her last wish was for her organs to be donated, anonymously, to "someone who needs them". She told Sholeh Pakravan, her mother, not to wear black: "I wish I could have hugged you until I died."
A university-educated interior designer, Ms Jabbari, 26, was executed at dawn on Saturday, in spite of an international campaign for clemency by human rights groups as well as the UN and the US Department of State.
She had spent five years on death row for the killing of Morteza Abdolali Sarbandi, a former intelligence official who had lured her to an empty house in 2007, when she was 19, on the pretext that he wanted her ideas about decorating his office.
Ms Jabbari believed that if she had not defended herself by stabbing her attacker in the back with a penknife, the ordeal would have ended with her murder.
"My body would have been thrown in some corner of the city," she wrote in the will delivered to her mother this year in a voice message.
"And after a few days, the police would have taken you to the coroner's office to identify my body and there you would also have learnt that I had been raped as well."
She continued: "The murderer would have never been found since we don't have their wealth and their power."
Ms Jabbari was allowed to say goodbye to her mother on Friday in a last, one-hour meeting, before being hanged in the prison.
At least she was spared the indignity of being strung from a crane in the street under the horrified gaze of sobbing relatives, the usual method of execution in Iran, which dispatches more of its citizens each year than any country except China.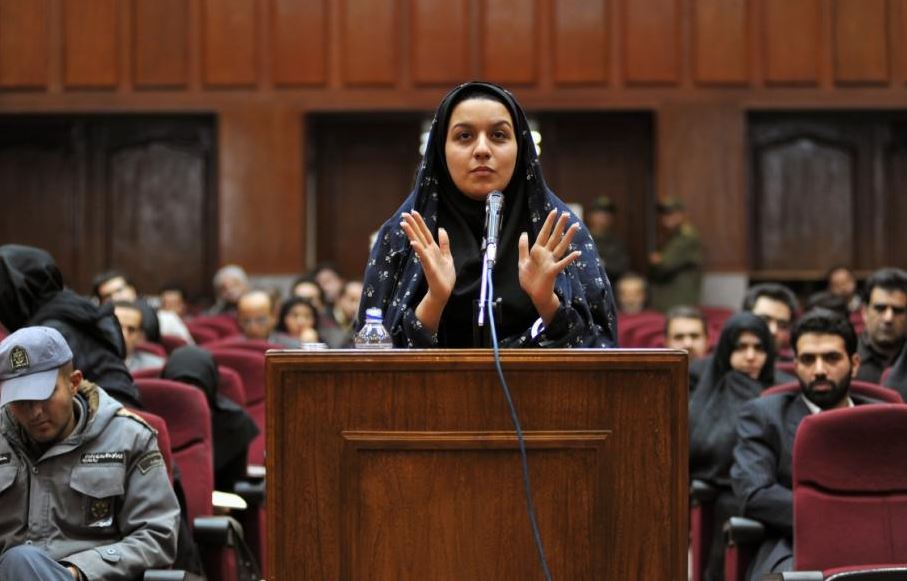 With his smiling visage and Twitter use, Iranian President Hasan Rowhani may suggest a softer touch — it was reported over the weekend that he had "tried" to get Ms Jabbari's sentence commuted — but executions have risen since he took office last year.
According to official figures, the death sentence was carried out on 369 prisoners last year. Amnesty International estimates the figure is closer to 700; and according to the International Campaign for Human Rights in Iran, 400 were executed in the first half of this year alone.
Two gay men were publicly hanged in August for consensual sodomy. Farzaneh Moradi, a young bride convicted of killing her husband, was hanged in March; and the country seems less tolerant than ever of even the mildest sins against orthodoxy.
Unveiled Iranians seen dancing in a YouTube video were subjected to a lashing. A British-Iranian woman was charged with "propaganda against the Iranian regime" for attending a male volleyball match.
In Iran, a murder victim's family has the final say on whether the prisoner is executed as the country's legal system recognises the koranic principle of restitution through the payment of "blood money". In one case earlier this year, a woman slapped her son's killer as he was standing on the gallows with the noose around his neck.
She then pardoned him — such mercy put a stop to 358 executions last year. In Ms Jabbari's case, though, the family refused to forgive, claiming she was lying.
She admitted stabbing Sarbandi, a former official in Iran's intelligence ministry, once in the back, in self-defence, but claimed that another man had killed him.
The medical examiner's report found a glass of juice at the scene contained a tranquilliser with which Ms Jabbari claimed to have been drugged.
Amnesty complained that the evidence was never properly investigated. Ahmed Shaheed, the UN special rapporteur for human rights, accused Iranian detectives of using torture to extract a confession from Ms Jabbari, who was kept in solitary confinement for two months without access to a lawyer after her arrest.
The execution had been postponed in April after a plea from the UN: an international petition for clemency had gathered 200,000 signatures.
It was a slap in the face to the US, which had called on Iran to "re-examine the evidence" in a statement at the end of last month.
"Serious concerns remain about the integrity of the legal case … including reports of confessions made under severe duress," the State Department said.
Ms Pakravan, Jabbari's mother, said she had been told on Tuesday that the execution was imminent and she would have to collect her daughter's body from the prison.
"I cannot believe that these bitter and difficult hours are real," she wrote on Facebook. "After seven years of pain and suffering, is this how my dear child comes to her end?"
Her daughter told her mother in her will that she did not want a grave "for you to come and mourn me there and suffer". She added: "Please don't cry. I love you."
Source: The Sunday Times
[divider scroll_text="Back To Top"]