Pakistan's football team are set to tour India for a two-match series, as the two nations resume their rivalry after a nine-year hiatus.



One would have to go all the way back to 2005 for the last time India and Pakistan faced each other for a football match. The long wait is finally over as the Pakistan Football Federation (PFF) announced Wednesday that they have succeeded in organizing a series with India. Pakistan will visit India to play matches on August 17 and 20.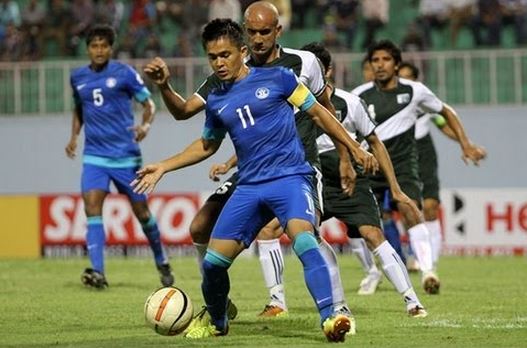 Both matches will be played in Bangalore, India.
"We have been making all-out efforts to revive football ties with India and hope that these matches will prove to be a landmark in the sports relations of the two countries," said PFF secretary Ahmed Yar Khan Lodhi.
Both Pakistan and India had agreed to play one another in 2011 in England until the matches were cancelled. Sponsors pulled out at the last minute.
Similarly in 2013, a three-way series between India, Bangladesh and Pakistan was cancelled due to a lack of funds.
"Pakistan will also be playing a series against Bahrain from August 22 to 30 there, which shows that the PFF is doing its best for the game and to give exposure to the players," Lodhi said.
While this obstacle has finally been passed, another one still stands in the way: resources.
"We are still using equipment that was used 100 years ago. Now the game of football has become very fast and in order to keep [up the] pace with it, we need money," added Lodhi.
International games like this lead to exposure. Exposure leads to advertisements and sponsorships, all of which brings in money. The matches in August will go a long way in helping the culture of football in both India and Pakistan.

Share If You Like It!!
H/T – rantsports.com
Credit: Rohit Ghosh
[divider scroll_text="Back To Top"]