The La Brea Tar Pits are a group of tar pits in urban Los Angeles, around which Hancock Park was formed. The pits are one of the world's best and most important sources of Ice Age fossils.
Tar pits form when crude oil seeps to the surface through fissures in the Earth's crust, and when the light fraction of the oil evaporates it leaves behind the heavy tar or asphalt, in sticky pools. The La Brea tar pits have been seeping for tens of thousands of years, and has been traditionally used by local native Americans as glue and as waterproof caulking for baskets and canoes. But for the animals, these tar pits meant death. Over many centuries, hundreds of animals have fallen into the pits, become trapped and lost their lives, but the sticky gooey mass has preserved their bones. Many of these animals are now extinct, so the bones and fossils recovered from the La Brea tar pits are priceless today.
Asphalt or tar is thick and at many times the surface of the pits would be covered with layers of water, dust, or leaves. Animals mistaking it to be solid ground would wander in, become trapped, and eventually die. Predators would enter to eat the trapped animals and also succumb to it. As the bones of the dead animals sink into the asphalt, it soaks into them. The lighter fractions of petroleum evaporate away leaving a more solid substance, which encases the bones.
The bones occasionally found in the tar were first thought to be those of unlucky cattle. It was not until 1901 that the first scientific excavation of the pits were carried out. The pits have, till now, yielded entire skeleton of large mammals such as mammoths and saber-tooth cats. Over the hundred years of digging, some 5.5 million bones were recovered representing more than 600 species of animals and plants – the richest cache of Ice Age fossils. Also recovered are ancient wood and plant remnants, rodent bones, insects, mollusks, dust, seeds, leaves, and even pollen grains. The oldest known material extracted from the La Brea seeps has been dated to 38,000 years old.
Examples of some of these fossils are on display in the George C Page Museum, right next door to the tar pits themselves.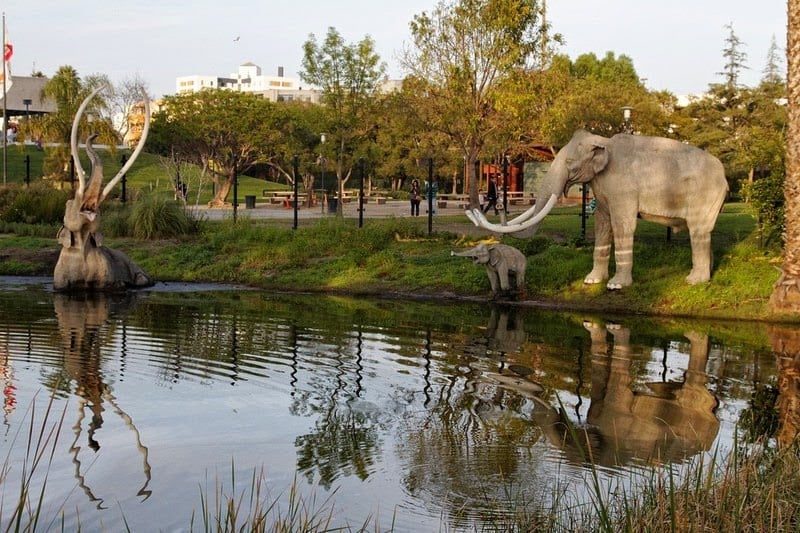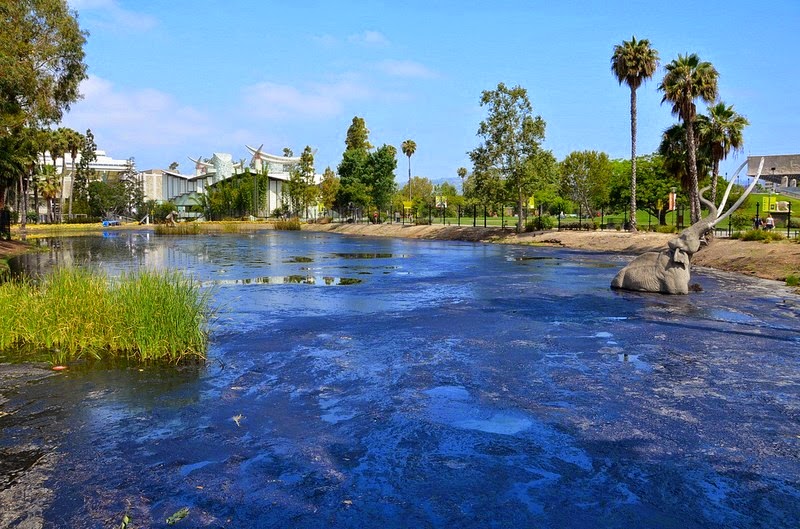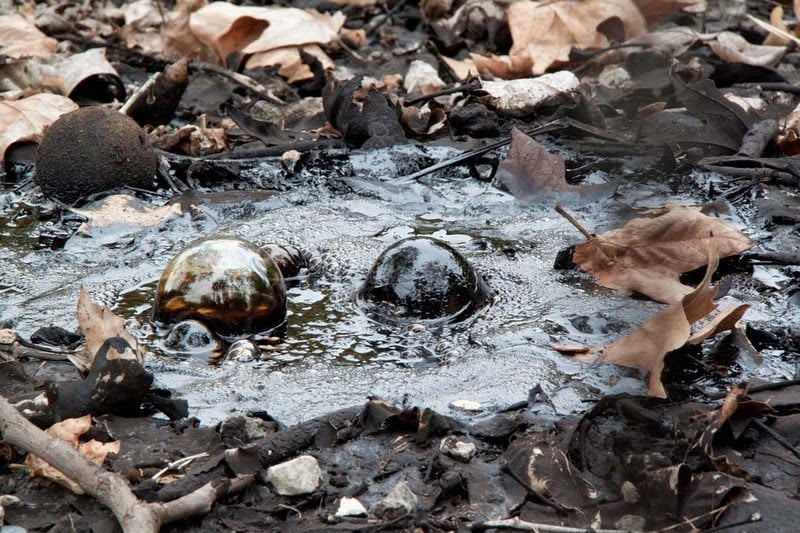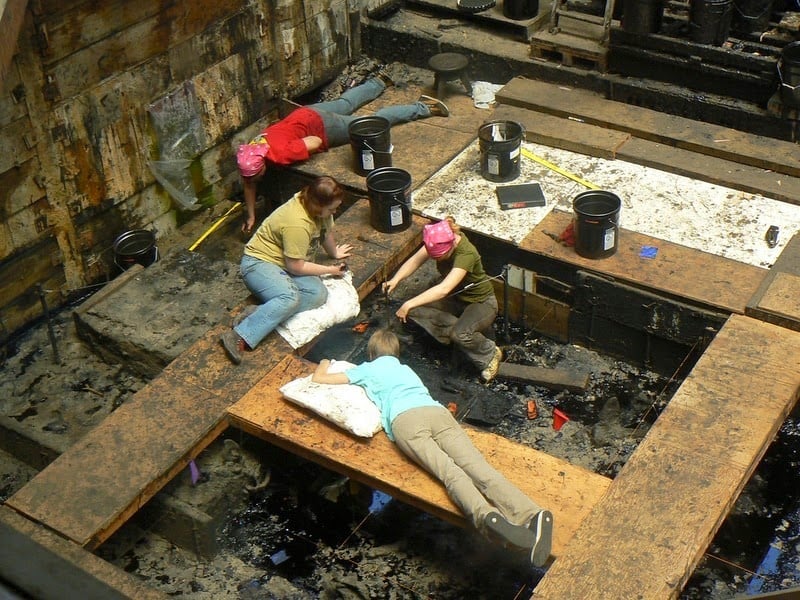 On-going excavation at La Brea Tar Pits. Photo credit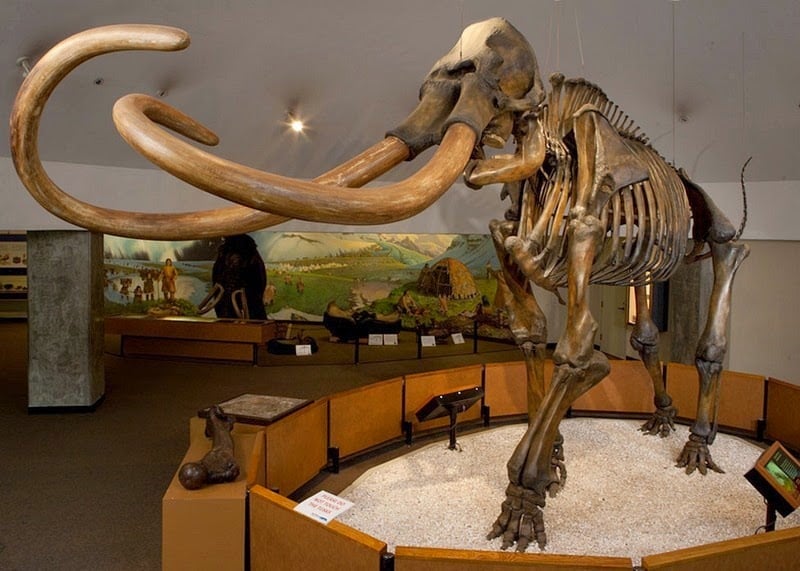 Skeleton of a mammoth at the George C Page Museum. Photo credit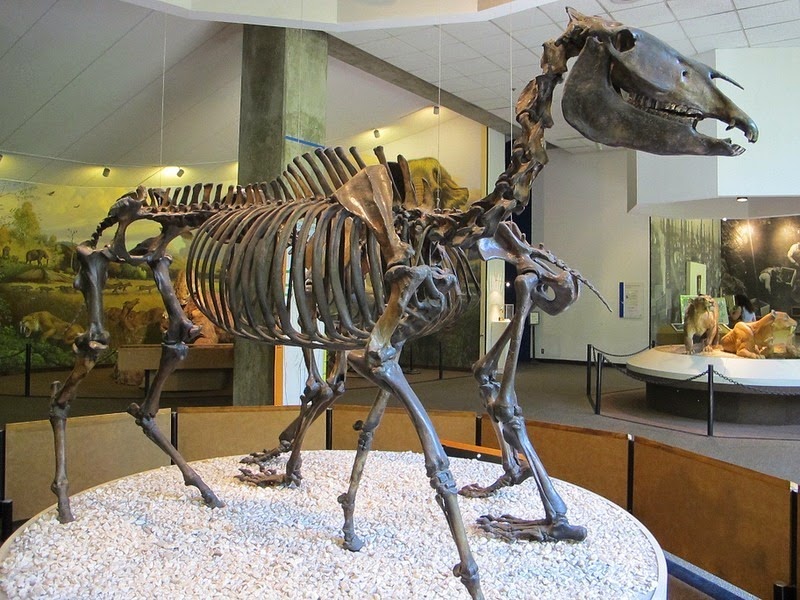 Skeleton of an ancient horse the George C Page Museum. Photo credit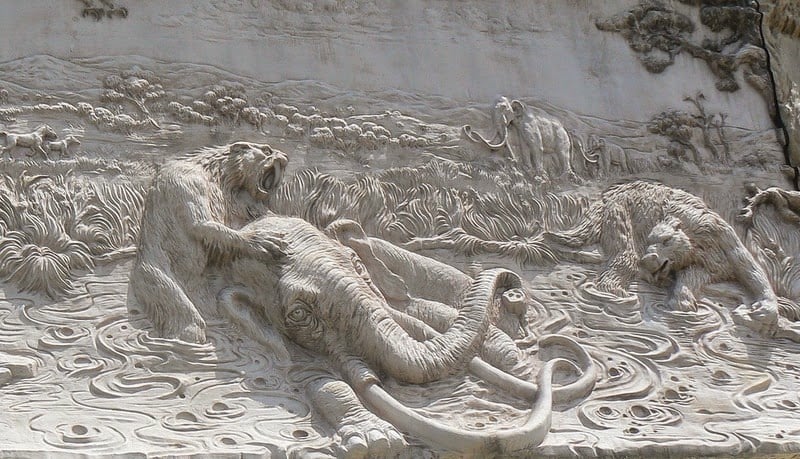 A detail from the frieze above the front entrance to the Page Museum at the La Brea Tar Pits. Photo credit
---
Address, Ticket, Timing & Parking Details of Page Museum at the La Brea Tar Pits:

Address
5801 Wilshire Blvd.
Los Angeles, CA 90036
(213) 763-3499
Hours:
Open 9:30 am to 5 pm every day of the year, with four exceptions.
It will be closed on:
Independence Day (July 4)
Thanksgiving Day (fourth Thursday of November)
Christmas Day (December 25)
New Year's Day (January 1)
Prices:
Admission Only
Members: Free – Join Now!
Children 2 and under, CA EBT cardholders with I.D., CA teachers with I.D., and active or retired military with I.D.: Free
Children 3-12: $5
Youths 13-17, Seniors 62+, and college students with I.D.: $9
Adults: $12
Ice Age Package
Members: Free
Children 2 and under: Free
CA EBT cardholders with I.D., CA teachers with I.D., and active or retired military with I.D.: $3
Children 3-12: $8
Youths 13-17, Seniors 62+, and college students with I.D.: $12
Adults: $15
Free general admission on the first Tuesday of every month, except July and August.
Parking:
$10 flat rate
The Museum's parking lot is located at the corner of Curson Ave. and 6th St., directly behind the museum (enter from the western side of Curson Ave).
Important note about parking:
If you choose street parking, please read all parking signs carefully, as restrictions apply. Most importantly, DO NOT PARK ALONG WILSHIRE BOULEVARD between the hours of 7-9 am and 4-7 pm (Monday – Friday), or your car will be ticketed and towed. This applies even if you are parked at a meter.
Accessibility:
Wheelchairs are available for rent on a first-come, first-served basis and can be checked out at the Main Entrance by depositing a driver's license or other form of valid identification. All exhibits and theaters within the Museum building are accessible for wheelchairs. Wheelchairs may enter through the Main Entrance, located on the South side of the building; follow the suggested route through the pedestrian gate adjacent to the handicapped spaces in the parking lot.
Sources: Wikipedia | University of Berkeley
[divider scroll_text="Back To Top"]