The Metéora is one of the largest and most important complexes of Eastern Orthodox monasteries in Greece, second only to Mount Athos The six monasteries are built on natural sandstone rock pillars, at the northwestern edge of the Plain of Thessaly near the Pineios river and Pindus Mountains, in central Greece. The nearest town is Kalambaka. Greek Monasteries Built in Impossible Places. Eastern Orthodox monastery listed as a UNESCO World Heritage site. The bizarre 20 Fascinating Facts, Photos & Videos About the Meteora Monasteries in Greece.
1. The Metéora (Greek for "suspended in the air" or "in the heavens above") is a group of six monasteries and one of the largest and most important complexes of Eastern Orthodox monasteries in Greece. The six monasteries, built on natural sandstone rock pillars, are one of the most powerful examples of the architectural transformation of a site into a place of retreat, meditation and prayer.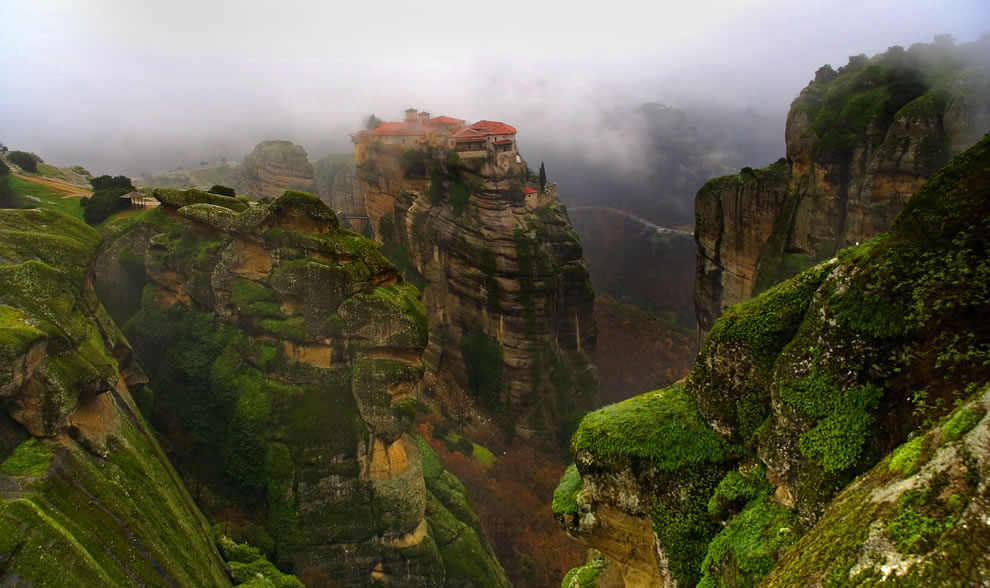 Meteora – Between Heaven & Earth.
2. The monasteries are built on rock pinnacles of deltaic origin, known as Meteora, which rise starkly over 400 m above the Peneas valley and the small town of Kalambaka on the Thessalian plain. During the fearsome time of political instability in 14th century the monasteries were systematically built on top of the inaccessible peaks. They continued to flourish until the 17th century. Today, only four monasteries – Aghios Stephanos, Aghia Trias, Varlaam and Meteoron – still house religious communities.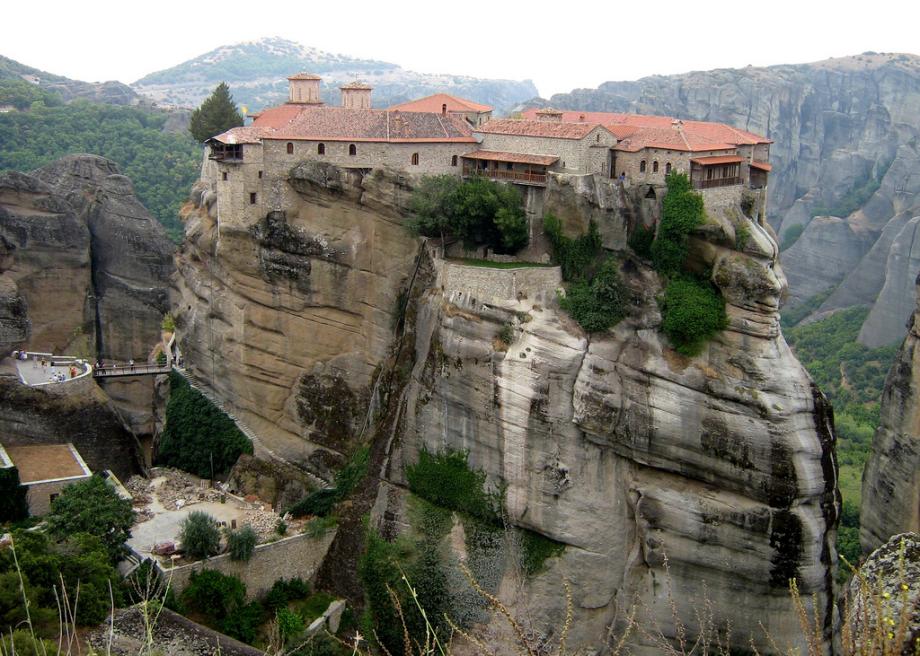 3.  Access to the monasteries was originally and deliberately difficult, requiring either long ladders lashed together or large nets used to haul up both goods and people. This required quite a leap of faith – the ropes were replaced, so the story goes, only "when the Lord let them break".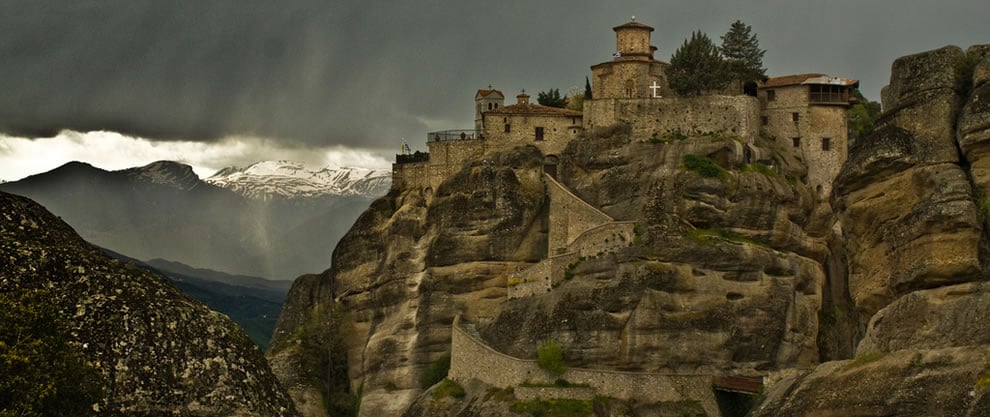 4. Meteora is the second most important site in Greece. The Acropolis is first! It's a UNESCO World Heritage Site under two categories – nature and art. It's one of only a few UNESCO sites in the world that qualifies for more than one category.
5. In its peak there were 24 active monasteries in Meteora. Now there are 6. There are now only 20 monks and 4 nuns remaining. This is largely due to the increase in tourism, which is less than ideal for a monastic lifestyle. You can book your tour to Meteora here.
6. Monks came to Meteora in the 14th century searching for a safe place. As a result, the only way to access the monasteries was by rock climbing, or being carried up in a basket.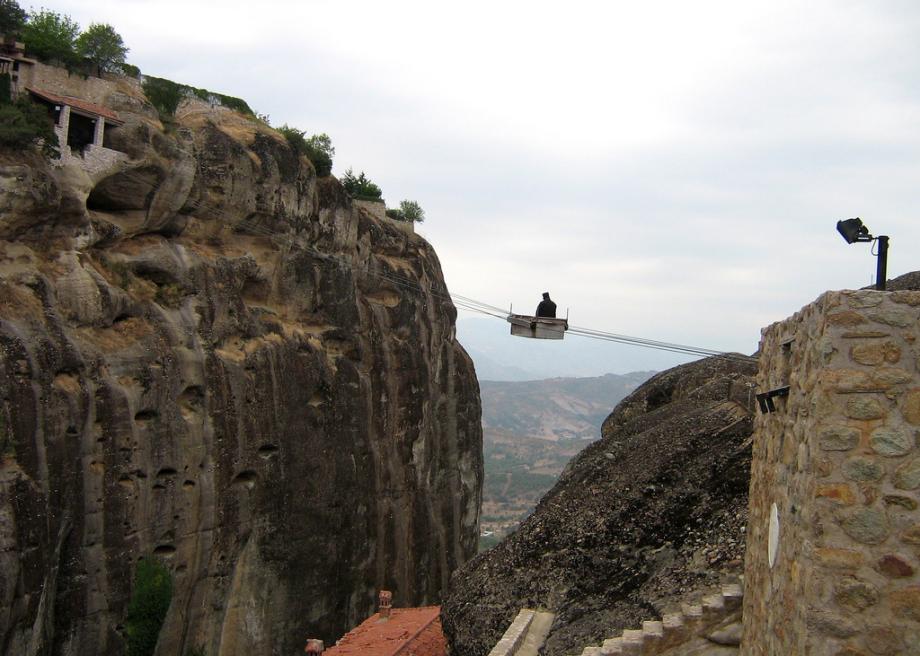 The monks' preferred mode of travel to the Great Meteoron Monastery.
7. Staircases weren't added to the Meteora monasteries until the 1920s. In the 1920s there was an improvement in the arrangements. Steps were cut into the rock, making the complex accessible via a bridge from the nearby plateau.
8. Meteora is the second largest monastic community in Greece. The first is Mount Athos. Meteora monasteries were built to keep intruders out.
9. A typical day for the monks and nuns involves waking at 4:00 am, 3 hours of praying – both in private and in church, then carrying out assigned duties.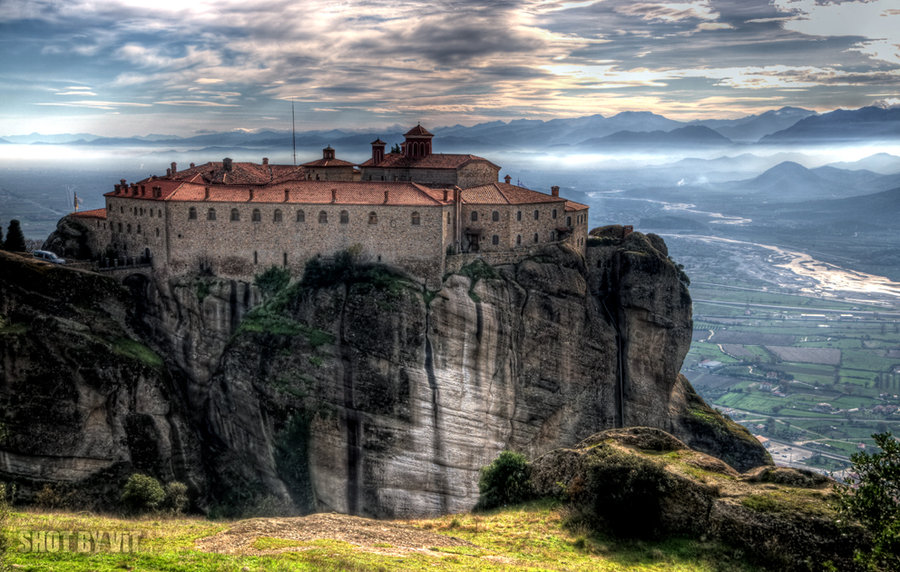 10. If you get lost in Meteora, you can find your direction by looking at which direction the altar is facing. It always faces east to meet the rising light.
11. Everyone is welcome to attend the religious services, but if you're not Greek orthodox, you can only attend in the pre-temple and will not be able to take part in communion.
12. There are two types of monasteries in Meteora –  communal and living as a hermit. Which would you prefer? The communal ones all seem to have cats, so that would be my choice!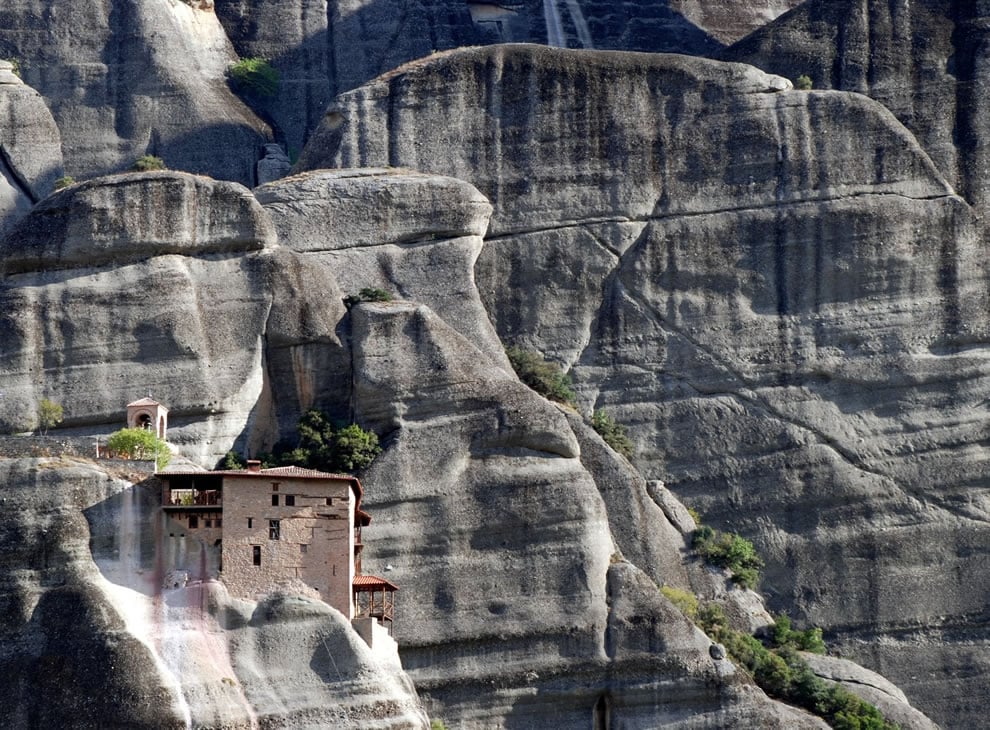 13. There are 41 hermitage spots in Meteora, but they are difficult to impossible to find on  your own as there are no signs. I highly recommend going with one of the fantastic guides from Visit Meteora. You can book one of their tours here. Pictured above is one of the long abandoned hermit caves on the Rock Forest Hike!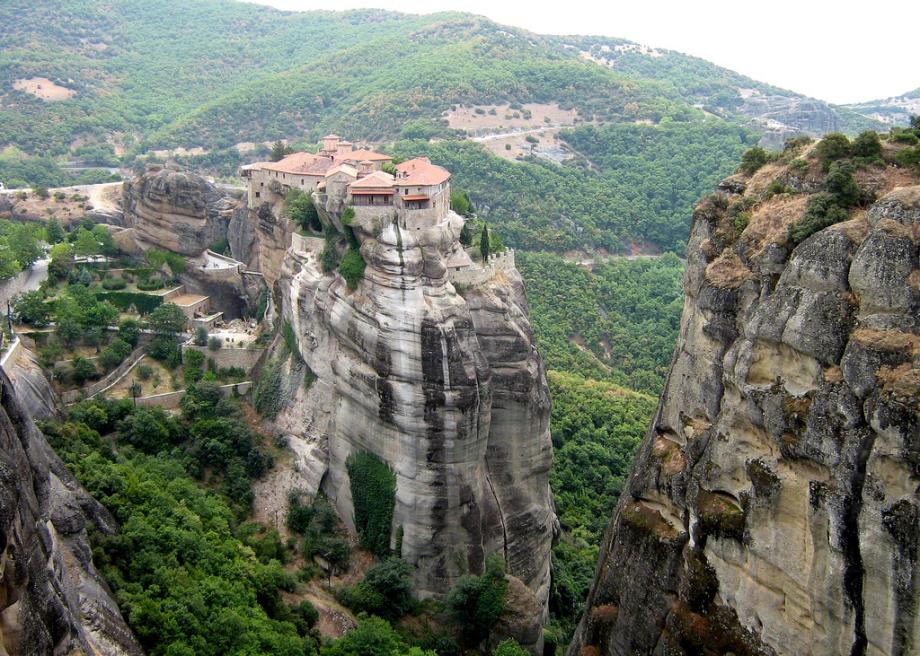 Meteora – Between Heaven & Earth.
14. There was even a monk jail, where each monk had his own separate "cell". You can see what a monk jail looks like here.
15. St. George is the most famous hermitage site in Meteora. According to Visit Meteora…. In the 17th century, a local Muslim landowner cut some trees from the sacred forest that was dedicated to Saint George. The Saint then caused the paralysis of that man's hand, but he was cured after he offered to the Saint his wife's veil, a most valuable gift according to the Muslim religion.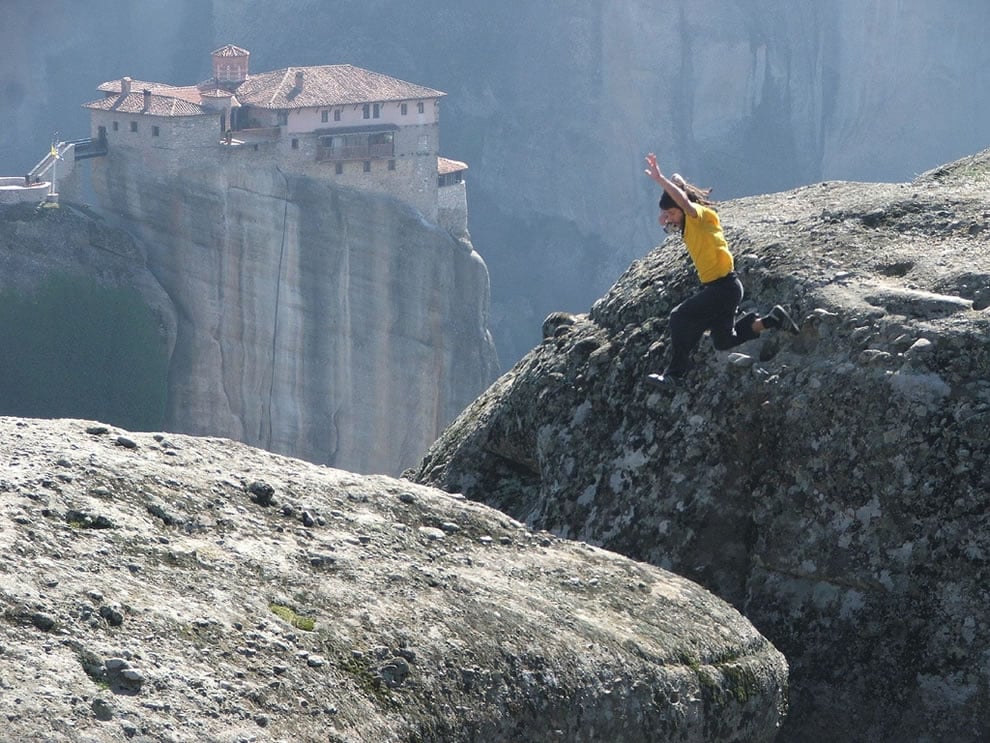 Meteora – jumping from one high clifftop to another. Maybe the monks were into extreme sports?
16. Women were not allowed in the the monasteries until the 1920s – and that was only because local village women helped put out a fire. Queen Marie of Romania was the first official woman visitor in 1921.
17. Meteora is a land of legends! One of my favourites happened in the 15th century. The monks were at service, and when they came back a family had moved into their monastery. Its believed that the monks were unable to recapture it because it was a large family with lots of boys and weapons. The family remained in the monastery for 87 years! Finally, the monks were able to take it back, but nobody knows how. There was no law and order back then!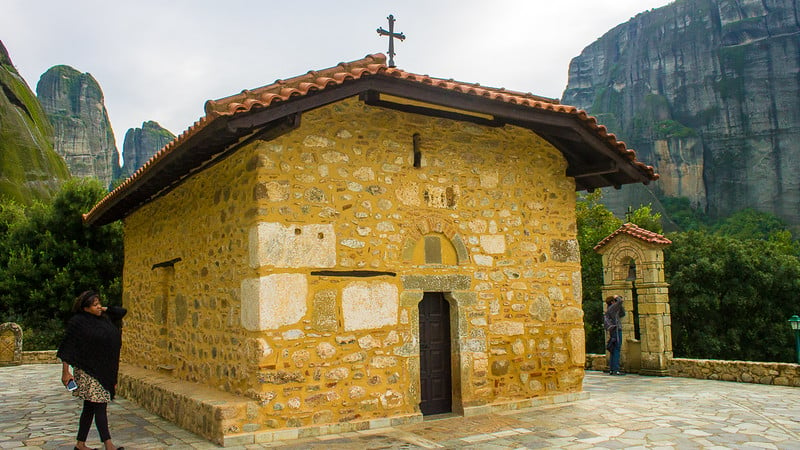 18. Meteora appeared in the James Bond film, For Your Eyes Only. Look familar? there are 64 bolted climbing routes in Meteora Greece
19. Meteora has a 35km long hiking trail network, that include great views of hermitages. I LOVED my hiking tour to Holy Spirit Mountain (pictured above), which also included a visit to a monk jail. There are no signs, so you really do need to go with a guide, but you'll also want to. Storytelling is alive and well in Meteora. Also be sure to check out this video of Hiking in Meteora by my friends Dave and Deb, from The Planet D.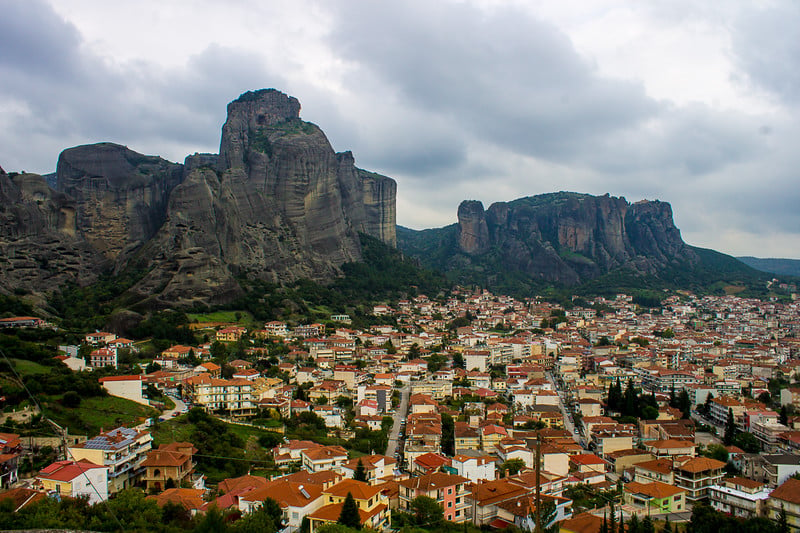 20. Many visitors think a half day is enough to visit Meteora. They couldn't be more wrong. I know, because that's exactly what Id on my first visit to Meteora. Yes, the monasteries are incredible, but so are the hermitages and those you can only visit on foot. Give yourself 3-4 days in Meteora to really let the legends come alive!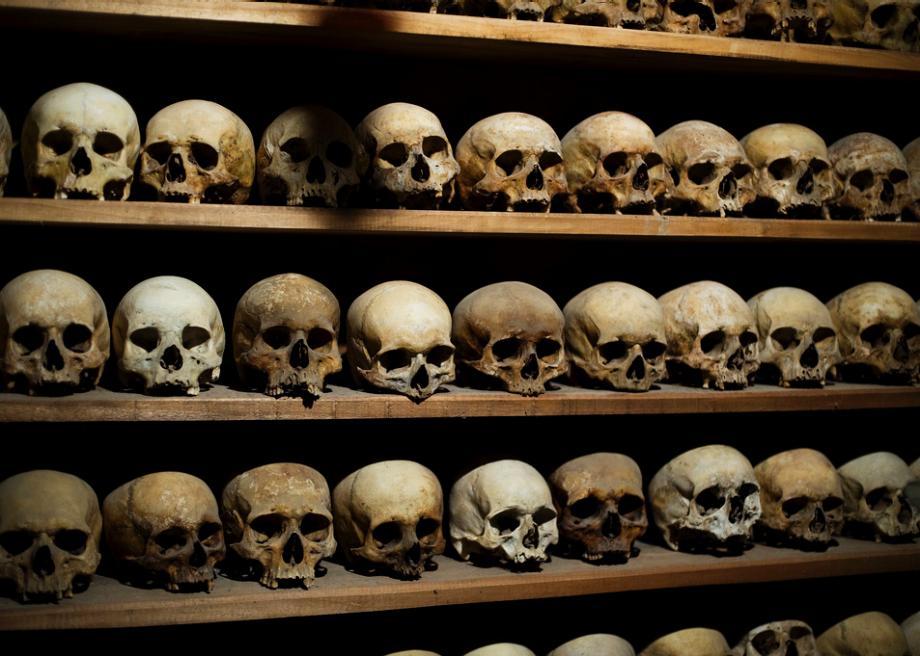 Former residents of the Great Meteoron Monastery.
Meteora Greece Video In HD Quality
Meteora From The Air Video
H/T: Wikipedia & monkeysandmountains.com