Most expensive cars like Bugatti, Rolls-Royce Sweptail, Mercedes or may be Koenigsegg & many more vrooming on the roads, globally. Just the names of these cars is enough to catch your attention. Some of us may be ready to sell other property to buy these most expensive, but luxury cars.
There's something to be said about the presence and power expensive cars demand. We've put together this collection of the "21 most expensive cars in the world". I am too passionate about driving and dream of owning at least one luxury car. I know, prices of these cars, little costly or I must say more than "little" costly, but its time to treat ourselves.
If you could only choose one to have for a day, which one would you choose? All is yours, have a look and feel of these luxury, expensive cars.
These are the 21 most luxury, expensive cars in the world.
21. Rolls-Royce Serenity Phantom
Price: $1.1 million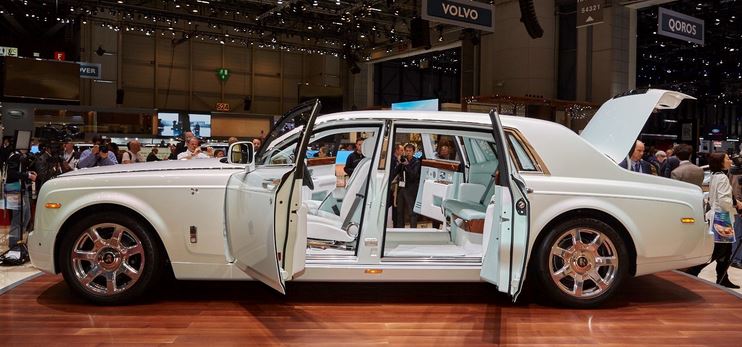 The Rolls-Royce Serenity Phantom was first launched in the Rolls-Royce Motor Cars at Geneva. The interior of this car is inspired by the Japanese design that made of handwoven silk fabric. It is very similar to the Maybach concept that posed as one of the most luxurious sedan cars.
This car embodies tranquility and offers a sanctuary of reflection. Its interior features a delicate hand-painted blossom motif, echoing the blossom trees from the Far East. This car was not made for its speed or power; rather, it is designed for a comfort, tranquil, and luxury ride.
As for its exterior, its Bespoke Mother of Pearl paint is the most expensive one-off paint ever developed by Rolls-Royce. It requires three layers coating to create the pearl effect and then hand-polished for over 12 hours. The design of Serenity Phantom is truly innovative, modern, and tranquil.
20. McLaren P1
Price: $1.15 million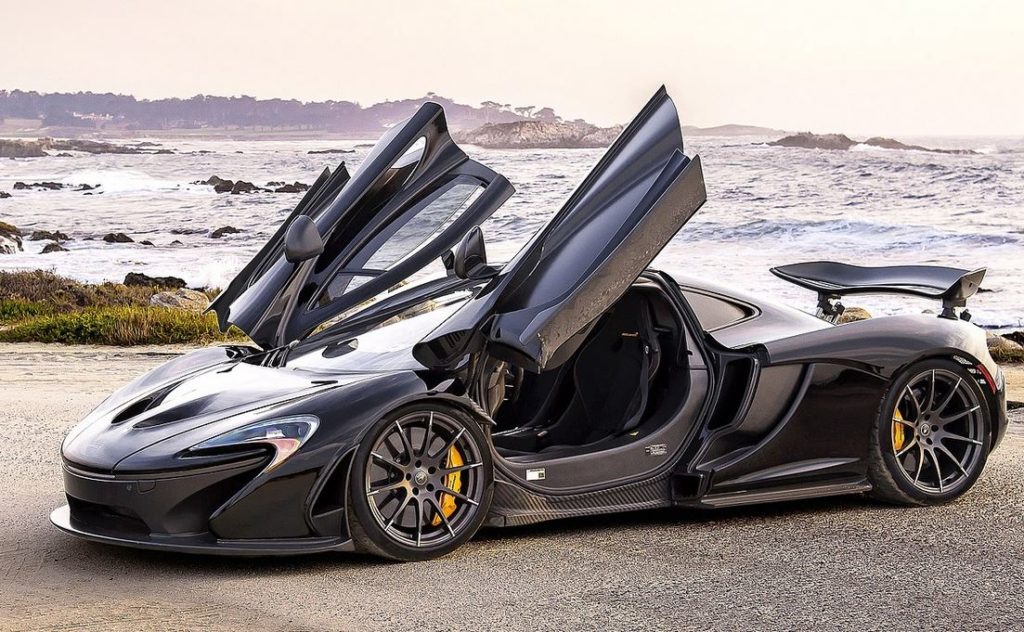 Kicking off our list of the 22 most expensive cars in the world is the McLaren P1. Following the footsteps of the iconic McLaren F1, this limited edition hybrid supercar was released in October 2013 by British manufacturer McLaren Automotive.
Interestingly, 34% of all cars were purchased by owners in the United States, followed closely by 26% in Europe. All 375 cars sold out within one month of release!
19. Ferrari LaFerrari
Price: $1.4 million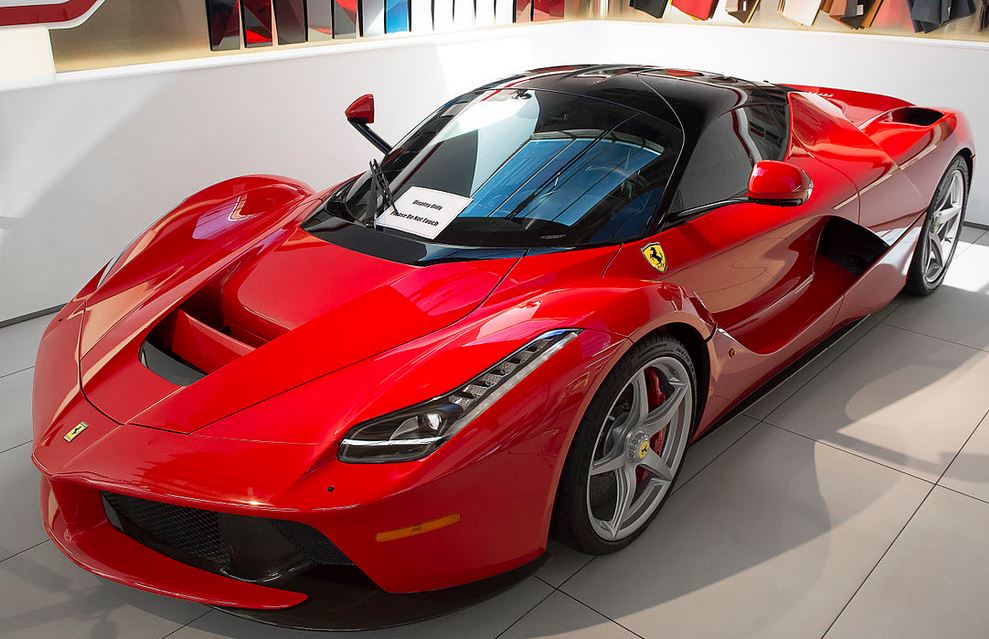 The first Ferrari on our list is the Ferrari LaFerrari, or Ferrari "The Ferrari" after translation. Obviously a powerful head turner, this limited production hybrid sports car was one of Ferrari's most ambitious projects.
According to Ferrari, the goal with this car was to push all the pre-existing boundaries of technology in a road car. It's a stunna that's for sure!
18. Zenvo TS1 GT
Price: $1.9 million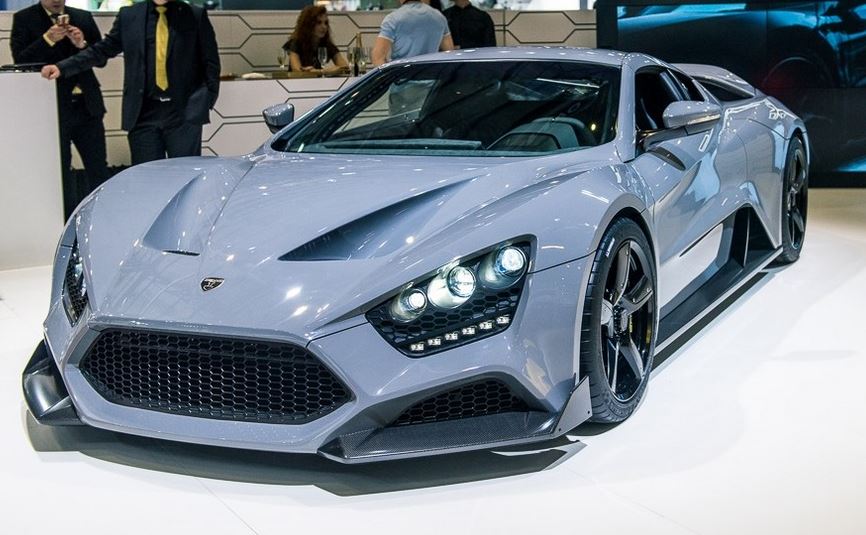 Built by Danish Automotive, the Zenvo TS1 GT is a limited edition production sports car. First unveiled at the 2016 Geneva Motor Show, the company only plan to release 5 cars per year to maintain exclusivity.
Sharing a similar body shape and chassis with its predecessor, the ST1, the Zenvo TS1 has an upgraded interior and a 5.8-litre twin-supercharged V8 engine.
17. Koenigsegg One
Price: $2 million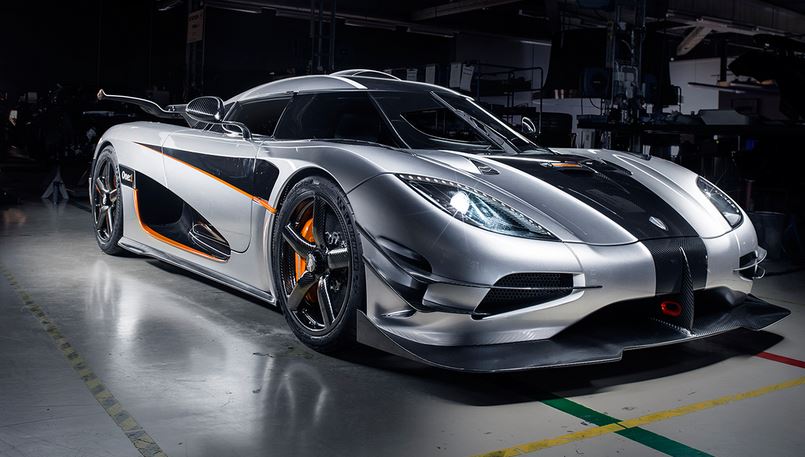 Deemed as the "Worlds first Mega Car" by Koenigsegg themselves, the Koenigsegg One has a 5.0-litre V8 twin-turbo engine and generates 940 horsepower. The car was introduced in 2014 and was one of the most exclusive production car programs ever envisaged in the car industry.
Another expensive sports car from Koenigsegg, but well worth its place in our list of most expensive cars in the world.
16. Lamborghini Sesto Elemento
Price: $2.2 million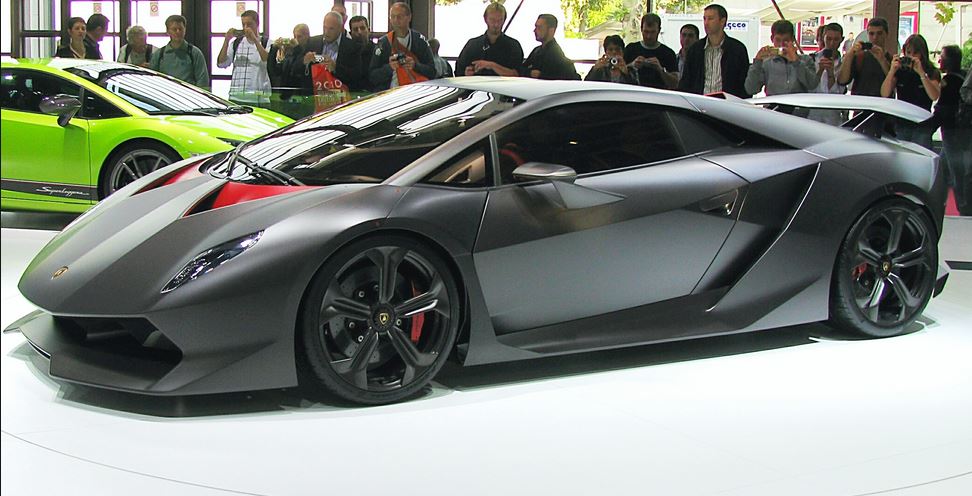 Lamborghini said that this car will redefine the future of super sports cars. Making its debut at the 2010 Paris Motor Show, the Sesto Elemento is a lightweight track-only car, that's name references the atomic number of carbon, in recognition of the car's widespread use of carbon fibre.
The Sesto Elemento is equipped with a 6-speed semi-automatic transmission and a 5.2-litre V10 engine. Top speed, 210 mph!!
15. Ferrari LaFerrari Aperta
Price: $2.4 million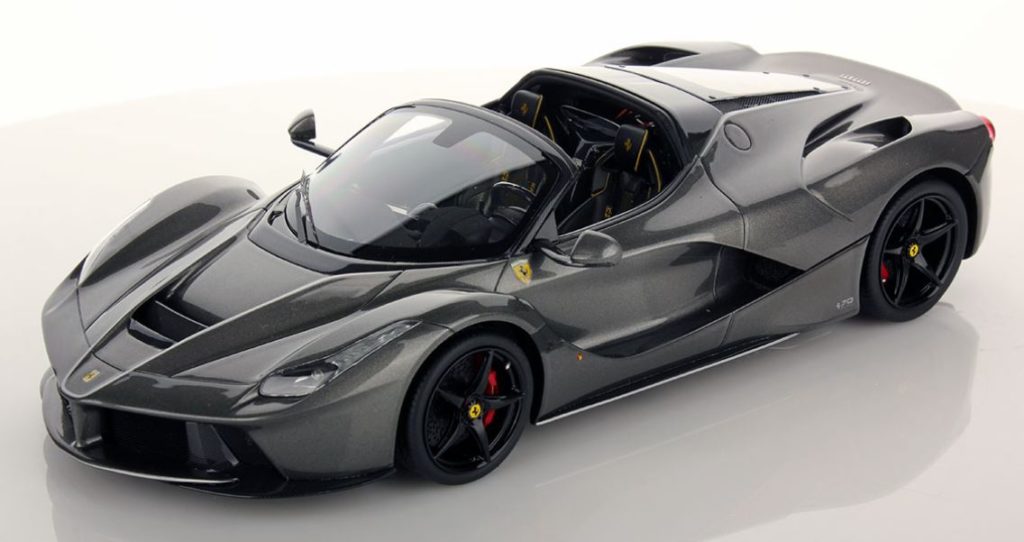 Showed for the first time in Paris Motor Show 2016, Ferrari LaFerrari Open-Top is the open-top edition of the celebrated 2013 LaFerrari, the car that took the heritage of Ferrari Enzo.
It's no surprise to see another Ferrari on the list, they've always made some of the world's most expensive cars. In fact, this time it's the Ferrari LaFerrari Aperta, a beefed up version of its predecessor, released to celebrate Ferrari's 70th year in business. If you like the LaFerrari, then you're going to love this open-top hypercar, as it's more or less the same car but on steroids! According to Ferrari, all units were already pre-sold to an exclusive list of customers via invitation.
14. Mercedes-AMG One
Price: $2.5 million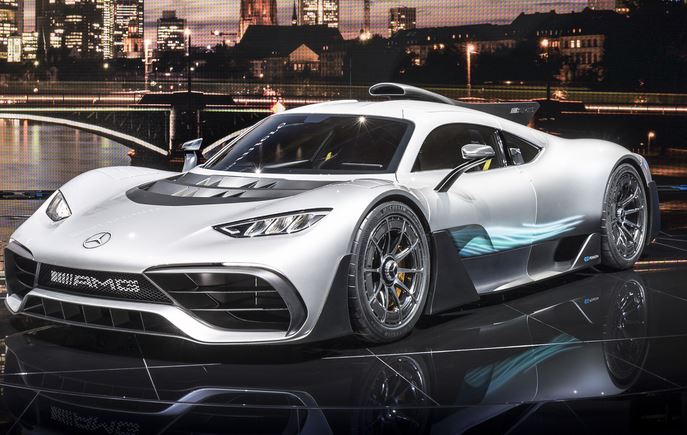 To celebrate their 50th birthday, the guys at Mercedes Benz AMG decided to make one hell of a hybrid sports car. Unveiled at the 2017 International Motor Show in Germany, the AMG One sold out of all 275 units and will not manufacture any more to preserve exclusivity.
Selling out so quickly might have something to do with Lewis Hamilton helping to develop the car, or it's 1.6-litre turbocharged 90-degree V6 engine that produces a top speed of 217 mph!
13. La Ferrari FXX K
Price: $2.7 million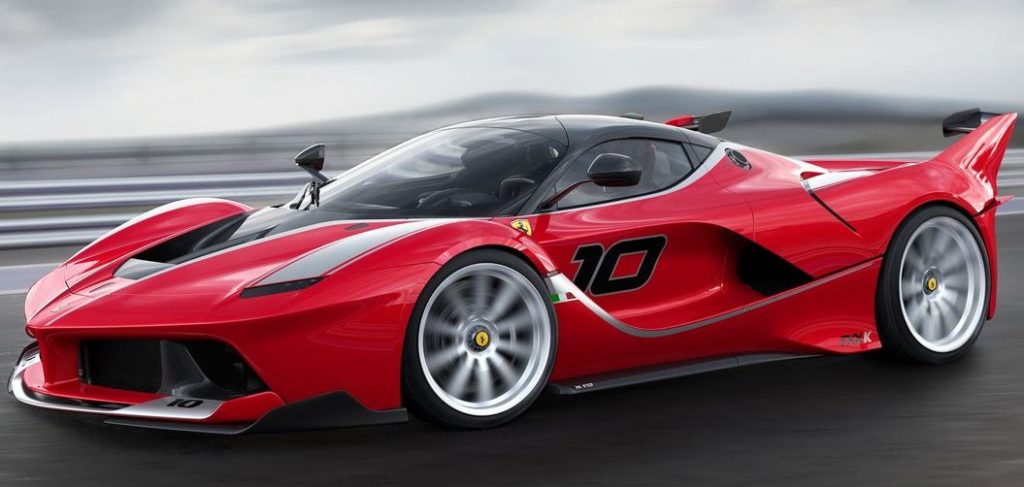 Designed by Marco Fainello, Flavio Manzoni and architect Evan Rodriguez, the FXX K is based on the road-legal LaFerrari. The FXX K is Ferrari's research and development vehicle, the K refers to the kinetic energy recovery system (KERS) which is used to maximize performance.
A total of 40 cars were produced between 2015 – 2017 and are being held and maintained by Ferrari, available for their owners to use on track days. Top speed… 217 mph!
12. Bugatti Chiron
Price: $2.7 million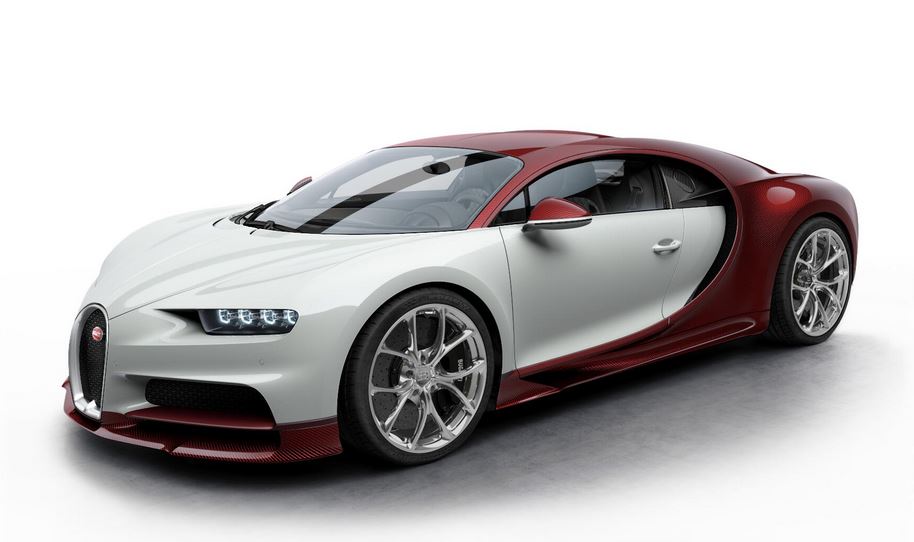 The Bugatti Chiron is a mid-engine supercar manufactured by Bugatti Automobiles S.A.S.
First unveiled at the Geneva motor show in 2016, buyers were required to put down a $200,000 deposit. The first 200 units sold out before the first delivery of the car.
The Chirons speed is electronically limited to 261 mph, or 233–236 mph without the key.
However, its speculated that its actual top speed could be as much as 281 mph!
11. Pagani Huayra BC
Price: $2.8 million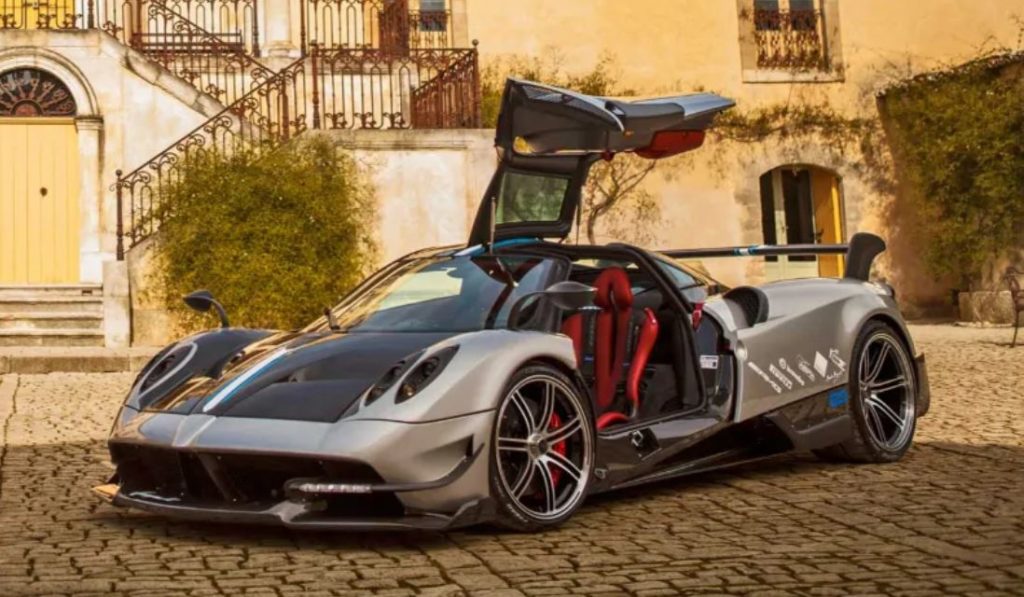 One of the most expensive cars ever designed, the Pagani Huayra BC is truly an epic automotive accomplishment.
Inspired by the Zonda R, and featuring sideways opening doors, Pagani has also increased the power, revised the chassis and brakes, and included a new 7-speed transverse gearbox.
It gets its name from one of Pagani's original investors, Benny Caiola, who was also the first Pagani customer and friend of the founder.
With a 6.0-litre twin-turbo V12 engine, it's easy to see how this supercar is able to get up to speeds of 261 mph!
10. Ferrari Sergio Pininfarina
Price: $3 Million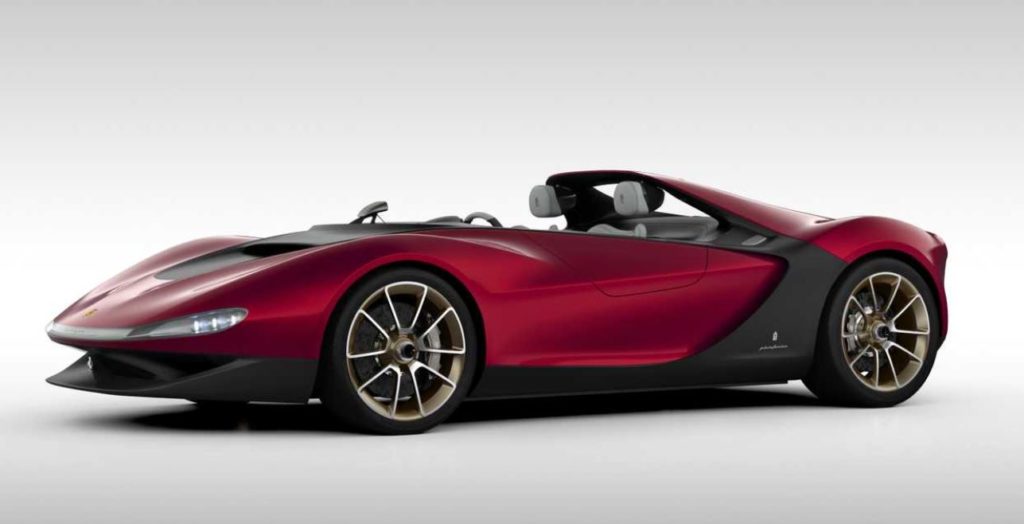 Probably one of the prettiest cars on this list, the Ferrari Sergio Pininfarina costs a hearty $3 million. Ferrari built just six examples of the car in 2015 and sold them to a half-dozen hand-picked customers. Based on the 458, the Ferrari Sergio produced 562 horsepower (419 kilowatts) thanks to a 4.5-liter V8.
9. Aston Martin Valkyrie
Price: $3.2 Million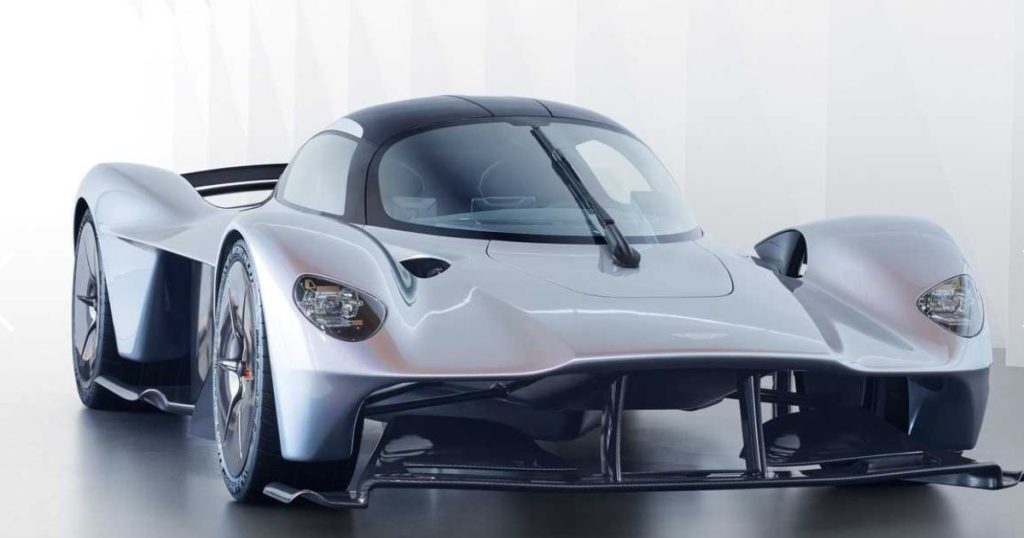 Aston Martin's new hybrid hypercar hasn't even hit the market yet, but already the $3.2 million Valkyrie has sold out. For what it's worth, Aston Martin hasn't officially released pricing. Estimates suggest the hypercar could go for anywhere between $2.6 and $3.9 million – but $3.2 million seems to be the magic number. Whatever the case, this machine is impressive. Its Cosworth-sourced 6.5-liter V12 produces 1,160 horsepower (865 kilowatts) and 664 pound-feet (900 Newton-meters) of torque, meaning its top speed should be well over 200 miles per hour (321 kilometers per hour). The company will build just 150 examples of the standard Valkyrie, with a limited 25-run AMR model arriving later.
8. Bugatti Chiron Sport
Price: $3.3 Million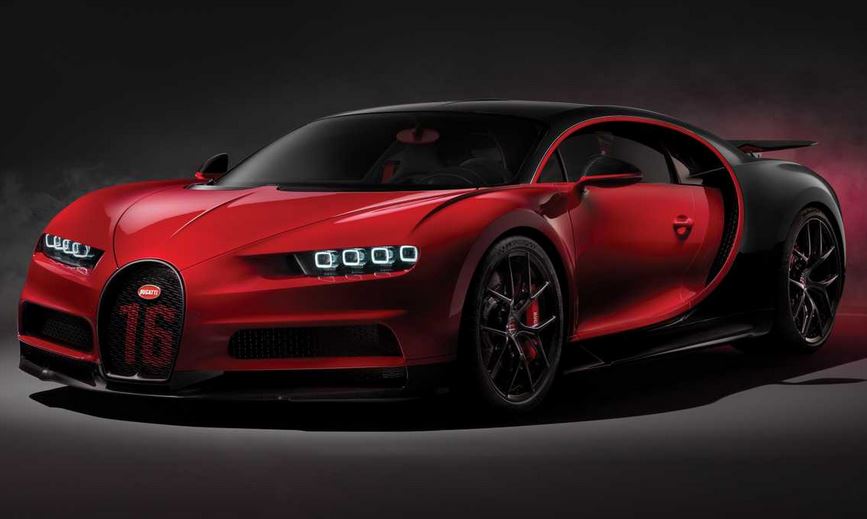 At $3.3 million ($3.26 million, to be exact), the Bugatti Chiron Sport one-ups its sibling with a more impressive price tag. Unveiled this time last year at the Geneva Motor Show, the Chiron Sport is mechanically identical to the standard Chiron, with the same quad-turbocharged W16 engine producing 1,479 horsepower (1,103 kilowatts), but it's lighter by 40 pounds (18 kilograms) thanks to all that extra carbon fiber, and stiffer, too. While the regular Chiron excels in straight line speed, the added dynamics and reduced weight make this Chiron a Bugatti for the track.
7. Bugatti Veyron Vivere By Mansory
Price: $3.4 Million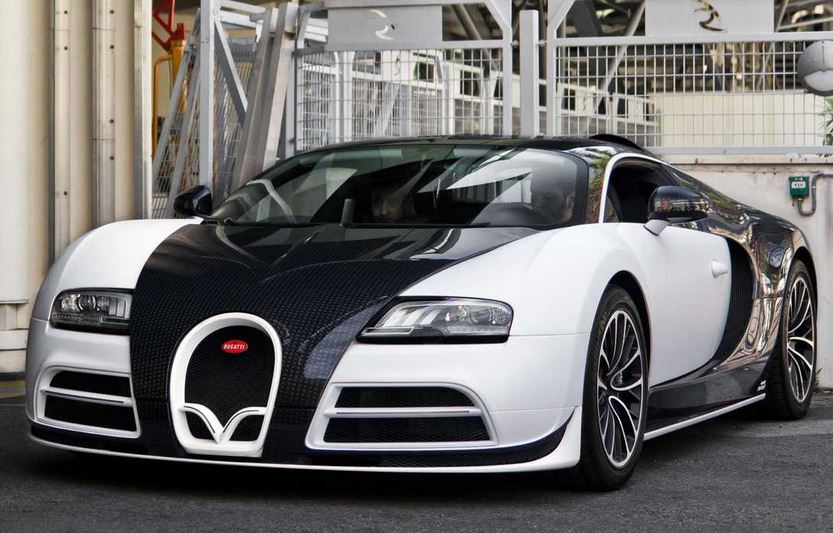 This Veyron gets an asterisk because technically it wasn't produced by Bugatti. The Veyron Vivere was a limited edition build by tuners Mansory. Either way, it's ridiculous, and its estimated $3.4 million price tag puts it well within the realm of one of the most expensive cars ever. The company built just two examples, each with an outrageous carbon-fiber accented exterior, a black and white leather-and-carbon cabin, and a 1,200-horsepower (894-kilowatt) Veyron engine underneath. Top speed is a blistering 254 miles per hour (408 kilometers per hour).
6. W Motors Lykan Hypersport
Price: $3.4 Million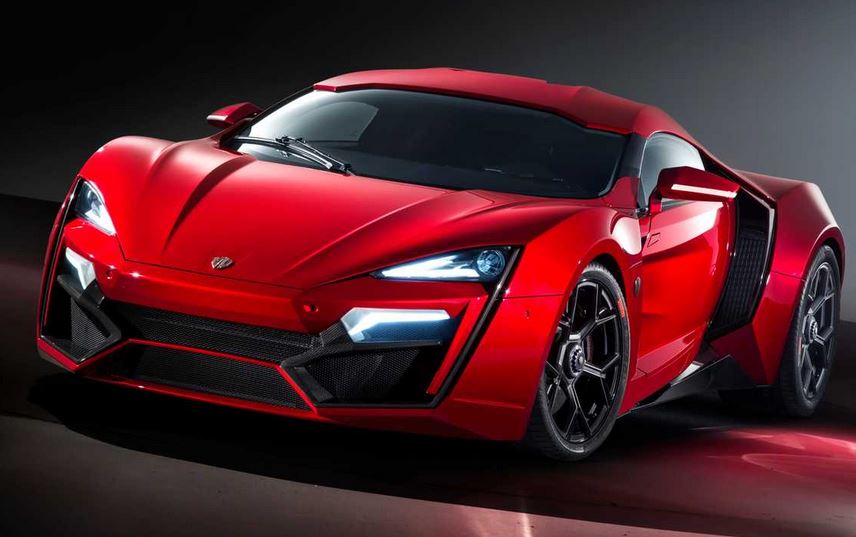 Dubai-based W Motors shocked the world with its edgy Lykan Hypersport supercar in 2013. With titanium LED headlights housing 420 15-carat diamonds and a holographic display in the center console, it's no surprise it was the third most expensive car ever when new. It falls to number six on our list here, but it's still a wild hypercar with a powerful heart; the twin-turbocharged 3.7-liter six-cylinder engine underhood produces 780 horsepower (581 kilowatts) and 708 (960 Newton-meters) of torque.
5. Lamborghini Veneno
Price: $4.5 Million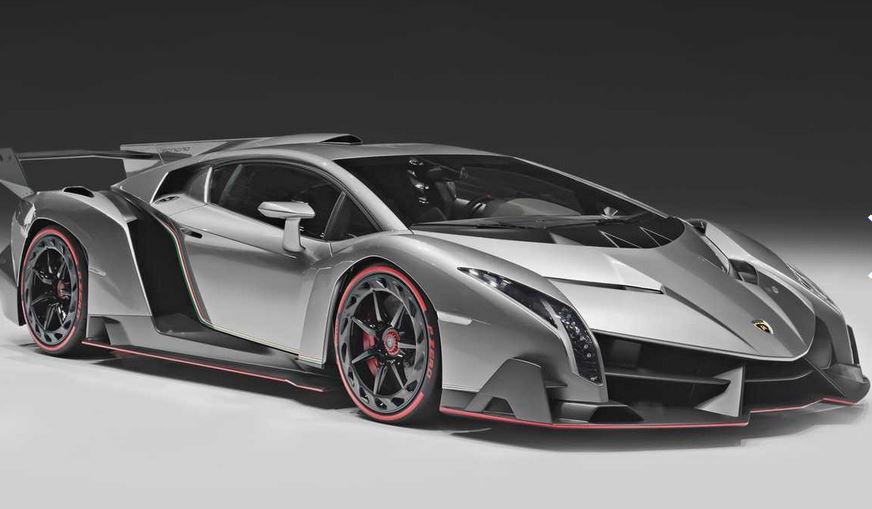 Lamborghini built just 14 examples of the Aventador-based Veneno between 2014 and 2015. Each one cost around $4.5 million, depending on how it was spec'd, and was available in both convertible and coupe configurations. Underhood Lamborghini fitted a more-powerful iteration of the Aventador's 6.5-liter V12, now producing 740 horsepower (552 kilowatts) and 509 pound-feet (609 Newton-meters) of torque, which gave it the ability to sprint to 60 miles per hour (96 kilometers per hour) in a blistering 2.9 seconds. To date, it's the most expensive new Lamborghini ever.
4. Koenigsegg CCXR Trevita
Price: $4.8 Million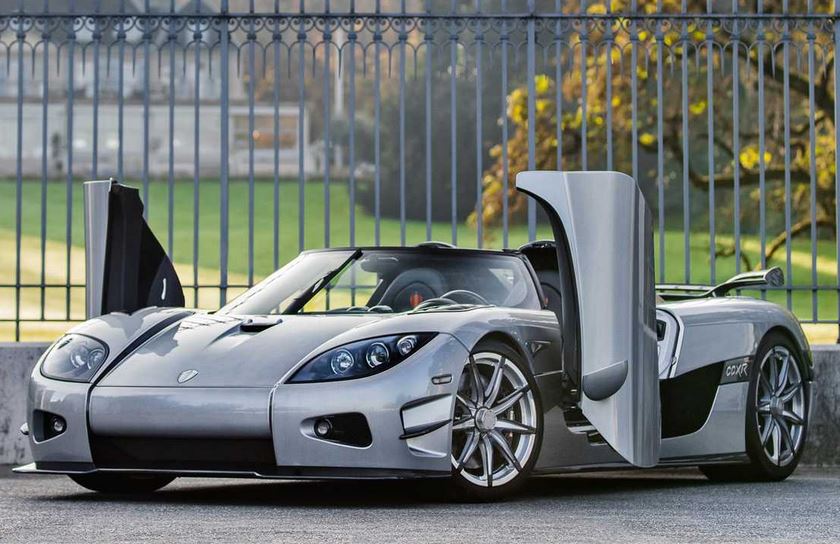 Koenigsegg introduced it's "most affordable" model, the Jesko, this year in Geneva. But the diamond-coated, $4.8-million CCXR Trevita sits on the opposite end of the Koenigsegg price spectrum. Finished in a proprietary Diamond Weave finish exterior (essentially carbon fiber covered in diamonds), the Koenigsegg is motivated by a twin-turbocharged 4.8-liter V8 with 1,004 horsepower and 797 pound-feet of torque. The company built just three examples before discontinuing the CCX for good.
3. Mercedes-Maybach Exelero
Price: $8 Million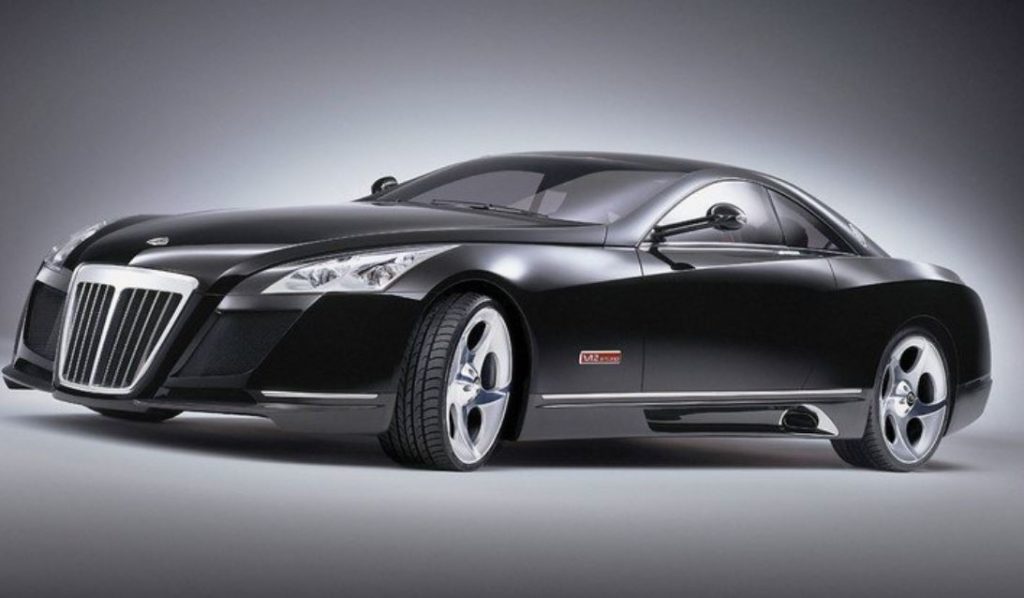 Like many others before it, the Mercedes-Benz Maybach Exelero is a one-off. Commissioned by Fulda, a German subsidiary of Goodyear, to test its new tires, the Exlero debuted in 2004. Mercedes built the Exelero on the bones of a Maybach, and gave it the same twin-turbo V12 engine producing 690 horsepower (510 kilowatts) and 752 pound-feet (1,020 Newton-meters) of torque. Top speed is listed at 218 miles per hour (350 kilometers per hour) and adjusted for inflation, the Exelero would cost more than $10 million in today's money.
2. Rolls-Royce Sweptail
Price: $12.8 Million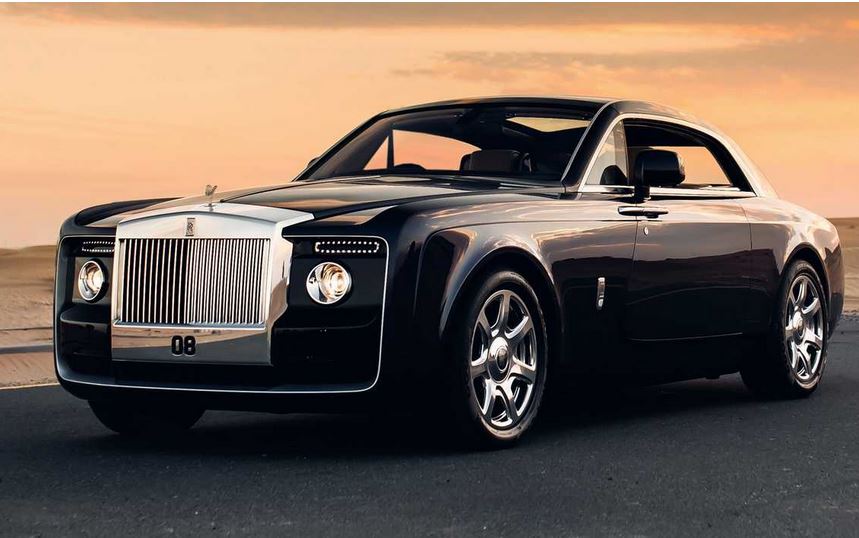 So Technically the Rolls-Royce Sweptail claimed the title "world's most expensive car" in 2017. Problem is, Rolls-Royce didn't officially confirm that number, meaning the next car on our list takes home the title. But at an estimated $12.8 million, the one-off Sweptail out-priced the next-most-expensive vehicle by a jaw-dropping $5 million (if reports are true). The Rolls-Royce Sweptail took more than four years to develop before its debut at the 2017 Concorso d'Eleganza Villa d'Este.
1. Bugatti La Voiture Noire
Price: $12.5 Million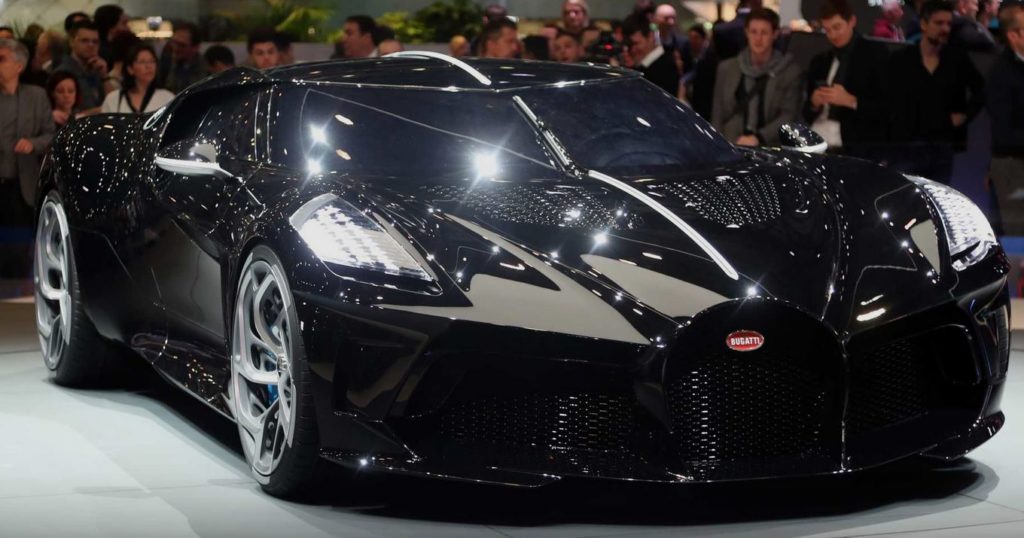 With a price tag of $12.5 million and a selling price of $18.7 million after taxes, the one-off Bugatti La Voiture Noire is officially most expensive new car ever. And understandably, a modern interpretation of Jean Bugatti's personal Type 57 SC Atlantic, the La Voiture Noire uses the same quad-turbo 8.0-liter W16 engine as the Chiron, producing 1,479 horsepower (1,102 kilowatts) and 1,600 Newton-meters (1,180 pound-feet) of torque. It has six – that's right, six exhaust tips, radical new wheels, an aggressive, bespoke fascia, and a gigantic light-up badge out back that spells out the name of the brand. Of course, this one-of-one Bugatti already has a home.
Hope you like the article "Most expensive & luxury cars vrooming on roads globally". Share this article with every car lover in your group.
You may also like reading: