There are several temples in India where Ravana is worshipped and associated with Lord Shiva at some places. Temples related with Ravana in India are Ravana Mandir Bisrakh, Koteshwar Temple Gujarat, Vidisha Ravangram Temple and Murudeshwara Temple has Ravana Statue, Koneswaram temple of Sri Lanka is one of the most famous Ravana temple in the world.The Most Powerful Negative Character In Hindu Mythology.
While most Hindus end their Dussehra celebrations by burning the effigy of Ravana to symbolise the victory of good over evil, the 10-headed demon king of Hindu mythology is worshipped in Different places of india itself.

1. Ravan Mandir Bisrakh – Delhi NCR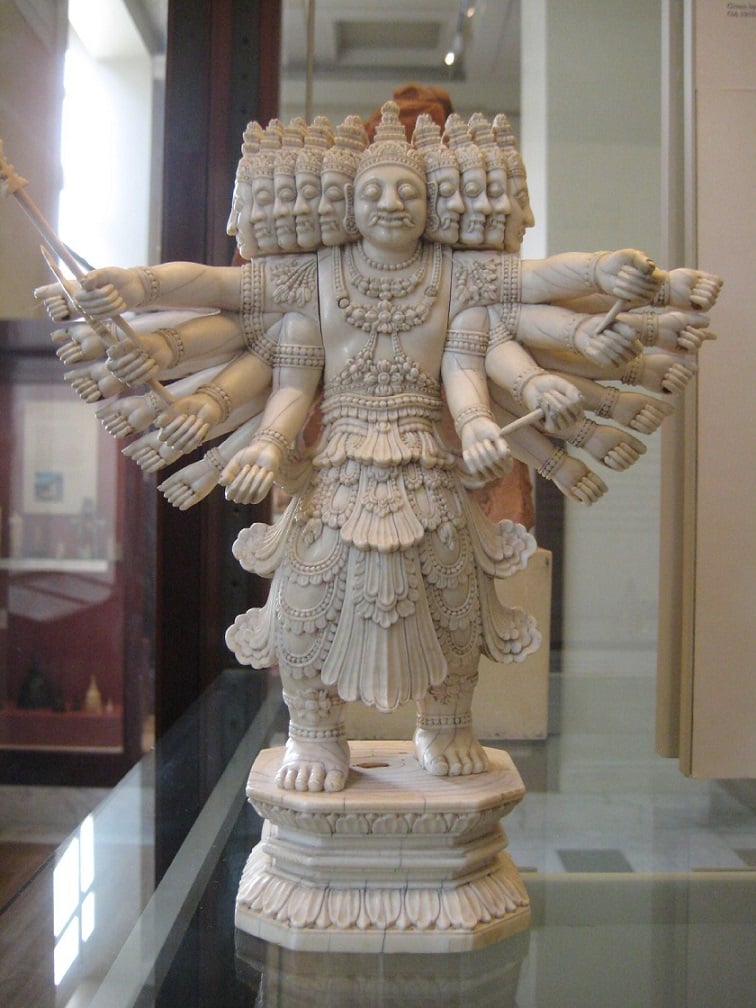 Bisrakh village is situated in Greater Noida of Uttar Pradesh and believed to be birthplace of the king Ravana. A new temple dedicated to Ravana is under construction with a 42 feet Shiva Linga and a 5.5 feet statue of Ravana. In the sleepy village of Bisrakh in Greater Noida, believed to be the birthplace of demon king Ravana, there is a tradition of observing mourning for the "Maha Brahman" on Dussehra. But on Friday, it was limited to a small group, comprising the aged and the religious. Bisrakh does not host Ramlila or Ravan dahan on Dussehra, the day Ravana was killed by Ram.
The village of Bisrakh has 882 households and lies in heavily urbanised Gautam Budhha Nagar district of Uttar Pradesh. The village derives its name from Vishrava, Ravana's father, who is believed to have built a temple here to house a Shiv Ling that he came across in a forest grove.

2. Dashanan Ravana Temple – Kanpur – Uttar Pradesh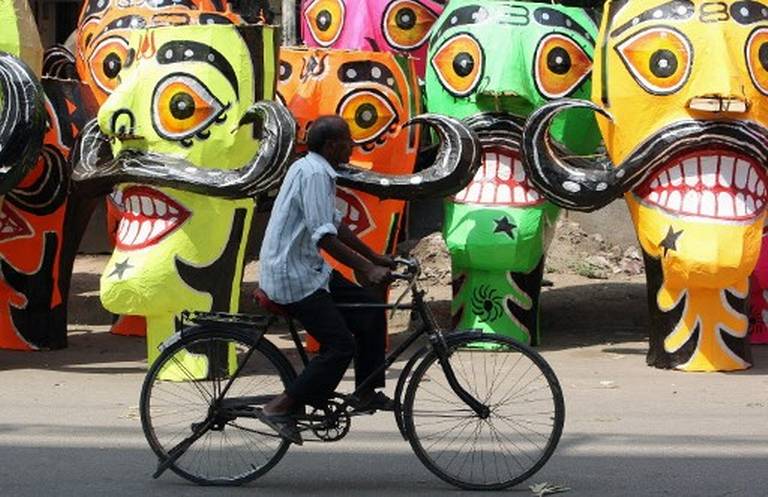 On the occasion of Dussehra thousand of people worship Ravana at the Dashanan temple in Kanpur for the annual ritual. The temple is built adjacent to Lord Shiva temple in Shivala area of the city. This Ravana Temple opens only once in a year on Dussehra festival when people, who view him as a highly learned individual who had knowledge of all Hindu scriptures, visit this temple to pay their homage.
This temples foundation stone was laid in 1868 and a few years later, an idol of Ravana was consecrated here. Hariom Tiwari, the temple priest explained that Ravana was a brave, intelligent and a good King of Dravidian Gaud tribe. This is the only temple of its kind in north India.

3. Jodhpur Ravan Mandir – Rajasthan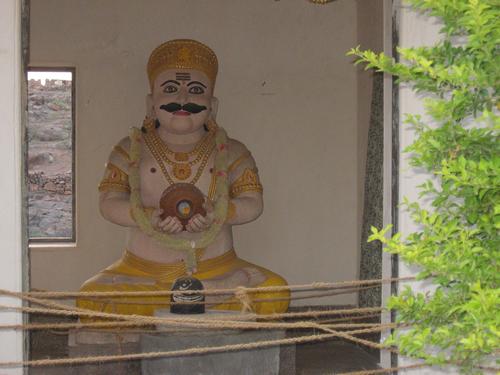 Maudgil Brahmins in Jodhpur are descendents of Ravana and building a temple dedicated to the demon king in Jodhpur. The temple premise will house a Ravana temple having idols of Ravana. The town is considered to be Mandodari, Ravana's wife's native place. It is believed that Mandodari hailed from Mandore, which was the ancient capital of Jodhpur. An umbrella named 'Chavri' still stands there. The Ravana temple is being built in Mahadev Amarnath and Navgrah temple premises in city's Chandpole area, where idols of Ravana's main deities, Shiva and Devi Kharanna stand.
He said about 200 families, believed to be descendents of Ravana and from Mudgal Gotra, still live in Jodhpur. About 110 families stay in Jodhpur town and 70 other families live in nearby Phalodi. Kamlesh said Ravana is highly respected and revered in the region and the temple is likely to be completed in six months. Some of the descendents of the demon king also migrated to Gujarat's Jamanagar, Bhuj and Kutch areas, he claimed.

4. Ravangram Ravana Temple – Madhya Pradesh
The people of Ravangram village worship Ravana and here lies an ancient 10 feet idol of Ravana in a reclining position which is worshiped by all the devotees. When temples across the nation will resonate with prayers to lord Ram Monday, a small temple to Ravana in Vidisha district's Ravangram village will echo with the prayer, "Ravana Baba Namah".
The temple has an ancient idol of Ravana in a reclining position believed to have been constructed between the ninth and 14th century. The villagers believe it would be a bad omen to have the 10-foot idol stand erect and say that whenever this was done, some unexpected incident had occurred in the district. In the village, the demon king has been worshipped as a symbol of prosperity for over 600 years by Kanyakubja Brahmins, a Brahmin sub-sect to which Ravana was believed to have belonged.

5. Ravana Rundi – Madhya Pradesh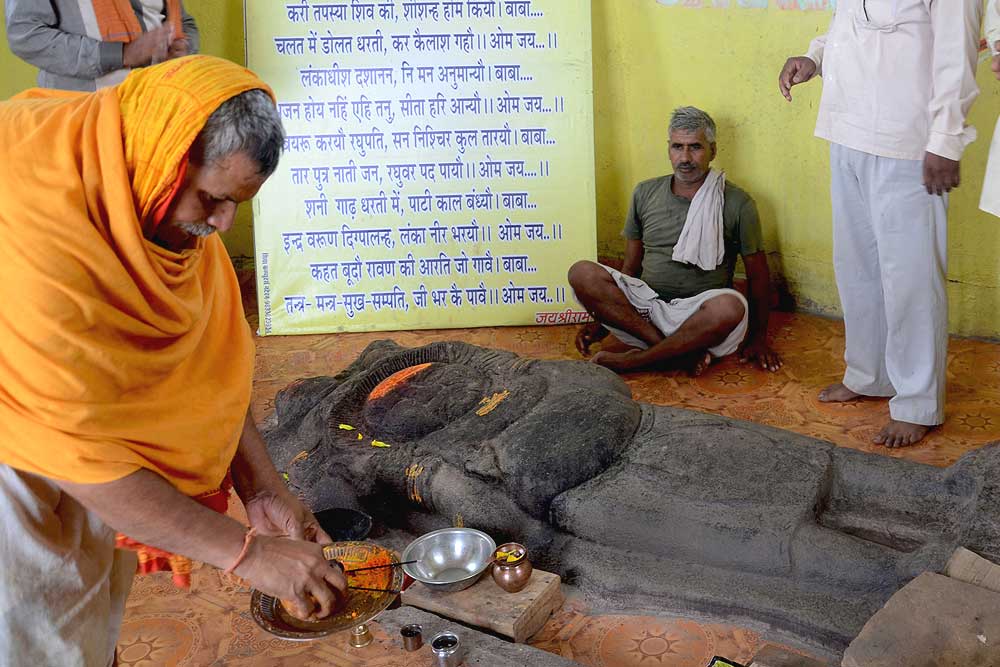 Ravana is also worshiped in Ravana Rundi in Mandsaur district and Shajapur district's Bhadkhedi. In Mandsaur town, members belonging to the Namdeo Vaishnav Samaj, a Hindu sect, who worship the demon king on Dussehra, believe Ravana's wife Mandodari belonged to the town and they regard him as a son-in-law. A 35-foot high 10-headed Ravana statue was installed in 2005 at Ravana Rundi in the Khanpur area of Mandsaur. A 25-foot high lime and brick ancient idol of Ravana existed there till 1982. It developed cracks due to lightning and was ultimately destroyed.
The idol is worshipped every year and women in the area remain behind the veil on Dussehra since they regard Ravana as their son-in-law, while men make offerings at his statue if their wishes came true. Ravana and his son Meghnad are similarly worshipped at Bhadkhedi village in Shajapur district of western Madhya Pradesh.

6. Kakinada Ravana Temple – Andhra Pradesh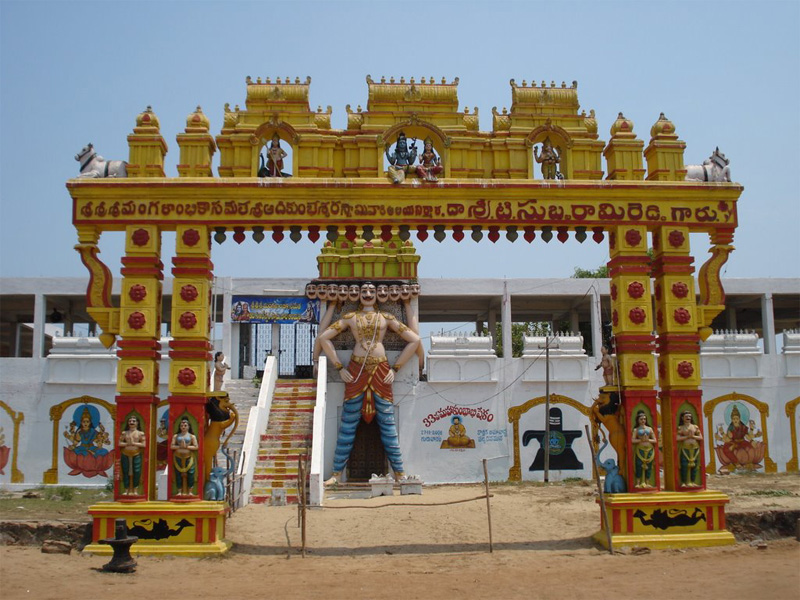 Kakinada is a city in Andhra Pradesh and the only place in the Andhra Pradesh where Ravana was worshipped. The images of Ravana are seen associated with Lord Shiva near by huge Shivalinga in Kakinada.
Kakinada, is perhaps one of the rarest cities of the nation which has a temple of RAVANA. Located very close to the sea beach there is well maintained and hugely constructed temple of Ravana is located in heart of the city. The temple gate has a huge construction of RAVANA, with his ten heads present. This is one of the unique sites which should not be missed while visting the place. Idols of Lord Shiva, is also placed inside the temple. The view of the water stretch and silence of the temple attracts tourists to a great deal.

7. Baidyanath Temple – Himachal Pradesh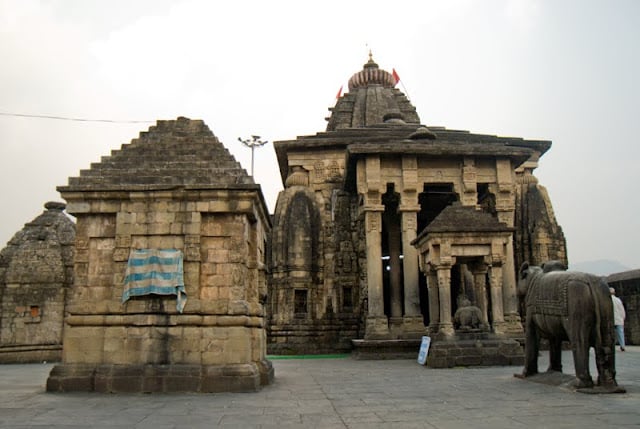 The residents of Baijnath town, some 60 km from the district headquarters town of Kangra, believe that by not participating in Dussehra, they are paying respect to the devotion of Ravana towards Lord Shiva, the Hindu god of destruction.
During the festival across the country, the effigy of mythological demon king Ravana is consigned to flames as a symbol of victory of good over evil. Baijnath (4,311 feet) is a small town located amidst the scenic Dhauladhar mountain range of the Himalayas. It's famous for Lord Shiva temple that was built in the 13th century.
According to mythology, Ravana was the grandson of the creator of the universe, Brahma, son of the sage Vishrava and younger brother of Kubera, the deity of wealth. He is also believed to have been a scholar, connoisseur of arts and a devout follower of Shiva.
He is regarded as a scholar and people worshipping him believe burning the learned king, who knew all the Vedas (ancient Hindu scriptures) and was a devotee of lord Shiva, is not justified.
What do you think About Ravana? Share your comments below.

[divider scroll_text="Back To Top"]