While Portland, Oregon, to the south really promotes its weirder side, Seattle doesn't always, most often viewed as a tech and industry hub with an outdoorsy side. But it's a fact. Seattle is a little bit quirky. Case and point, Seattle has some pretty quirky attractions, chief among them perhaps the Seattle Gum Wall.
Chewing gum litter is a major problem in western countries. According to a study conducted in 2005, Americans chew, on average, 160-180 pieces or about 800 grams of gum per person, per year. The resulting waste probably adds up to more than 250,000 tons annually. A large share of the waste ends up on the streets, on walls and on sidewalks pounded smooth by the feet of pedestrians, costing millions of dollars a year on clean up. Any loose piece probably ends up on somebody's shoes. But for all the annoyances it causes, gum can also inspire art, thanks to its malleability, stickiness and its wide color palette. Checkout theses gum covered walls that constitute some of the grossest attraction in the U.S.
Bubblegum Alley in San Luis Obispo, California
Located in downtown San Luis Obispo, California, this 15-foot high and 70-foot long alley is lined with chewed gum left by passers-by. With gum on either side of the alley, the total length of the gum covered wall is 20 meters.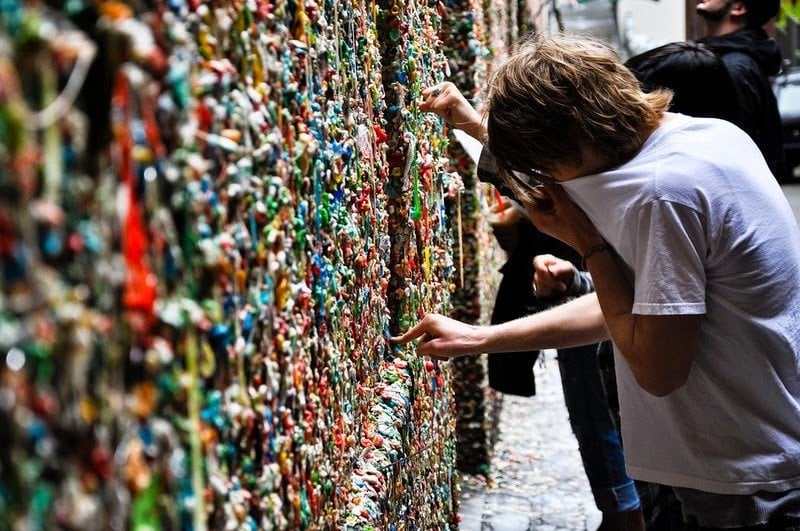 The history of who actually started this gum fiesta is a little sketchy. Some historians believe that the tradition of the Alley started after WWII as a high school prank by the graduating students of San Luis Obispo High School. A possible rivalry between students of San Luis Obispo High School and Cal Poly, as to who can stick more gum, escalated resulting in the creation of Bubblegum Alley. By 1970s, Bubblegum Alley was already a popular attraction among locals. Following complaints from shop owners, the alley underwent not once but two full cleanings in the '70s, but in vain.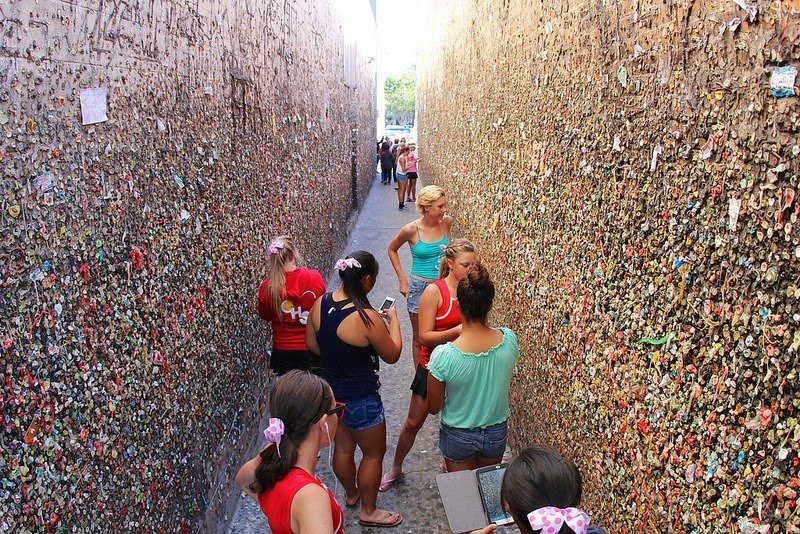 The wall is not a random collection of gooey gums, some people in San Luis Obispo consider the wall a form of art. One can see an array of shapes, words and designs – there are faces and flowers, fraternity and sorority letters, and "I love SLO" spelled out in different colors and sizes. A closer glance at the gum-infested wall will expose an abundance of objects, such as pennies and dimes, sticking out of the wall as eyes for gum faces. There are gum wrappers placed strategically to add to the designs, and occasionally someone will hang a condom from the wall in hopes to disgust passers-by, but mostly the alley is appropriate for all ages and encourages everyone's creative contributions.
Gum Wall in Seattle
The Market Theater Gum Wall is located in downtown Seattle, in Post Alley under Pike Place Market. Similar to Bubblegum Alley in San Luis Obispo, California, the Market Theater Gum Wall is covered in a thick layer of chewing gum. The tradition began around 1993 when patrons waiting in line to enter the theatre stuck gum to the wall and placed coins in the gum blobs. Eventually, the coins disappeared and the gum remained. As the wall grew, a variety of miniature self-contained artworks, names and symbols appeared in the gum.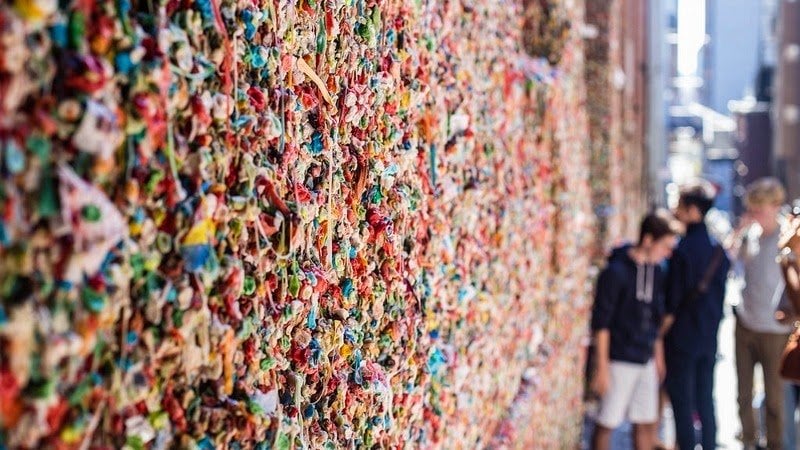 Weird Facts About Seattle's Gum Wall
Fact #1: It's been gummy for more than 20 years.
The Seattle Gum Wall has been gathering gum since the early 1990s. The tradition began when people waiting for shows at nearby Unexpected Productions would stick gum to the wall and coins to the gum (you won't see a lot of coins on the wall these days, just gum). Theater workers tried to keep the wall clean, but it didn't work. The gum stuck—literally.
Fact #2: It's not very clean.
Up until November 2015, the gum wall had never been cleaned, meaning there was more than 20 years of gum stuck to the brick facade. Yes, it was (and is!) a bit gross. Before that point, there were spots in the wall where the gum was several inches thick! Ewwww.
Fact #3: It's about 50 feet long!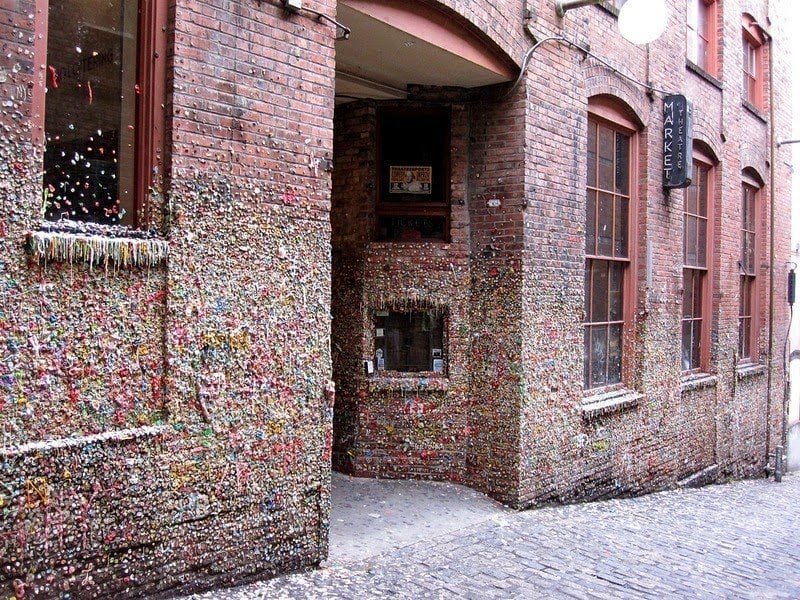 You might envision that the gum wall is just a small strip of wall next to a theater entrance. Think again. Gum is stuck to the walls along an alley for more than 50 feet. While most of the gum is within the average person's arm reach, some can be impressively high up on the wall.
Fact #4: It did get cleaned one time (but just the once).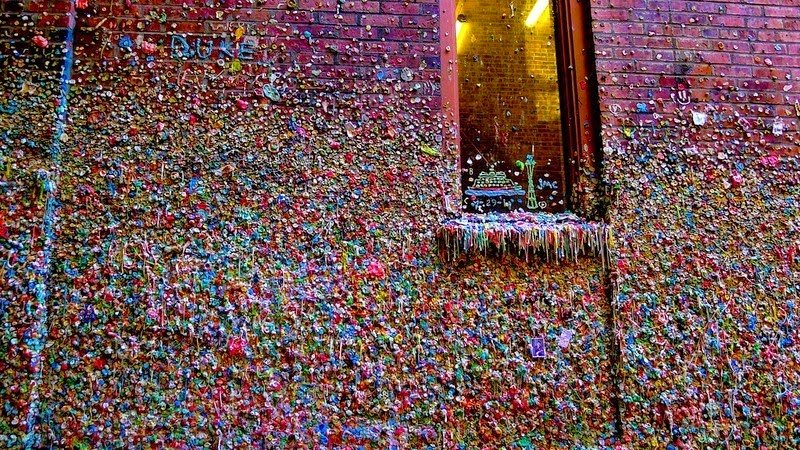 In 2015, the wall got stripped all the way down to its original brick and steam cleaned to help preserve the brick underneath. The work took 130 hours and 2,350 pounds of gum old and new were scraped away. However, once the cleaning was done, visitors quickly began adding gum to the wall again. If you visit today, you might never guess the wall was cleaned at all. It's as gummy and icky as ever. No one can
Fact #5: It's really gross.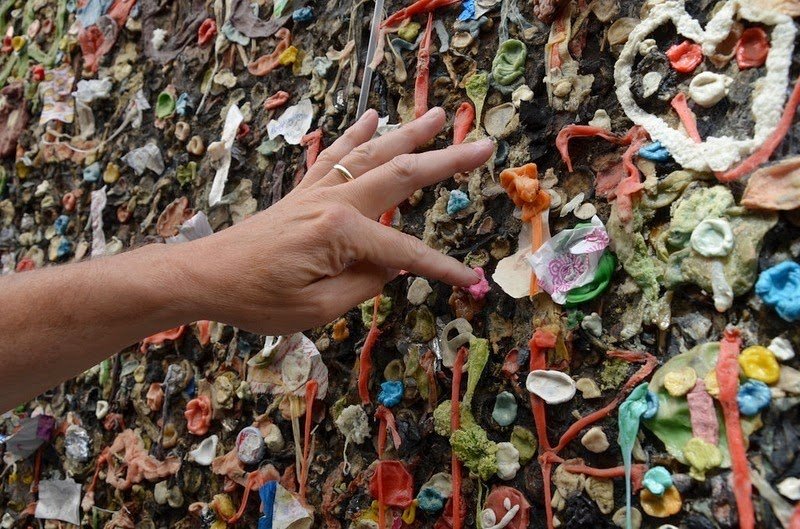 The Seattle Gum Wall made a list of the top five germiest tourist attractions in 2009, second only to the Blarney Stone, which actually involves putting your lips onto a surface. People don't generally put anything other than their fingertips on the Seattle Gum Wall, and if you see anyone kissing this wall, advise them to stop!
Fact #6: You can make a gum design.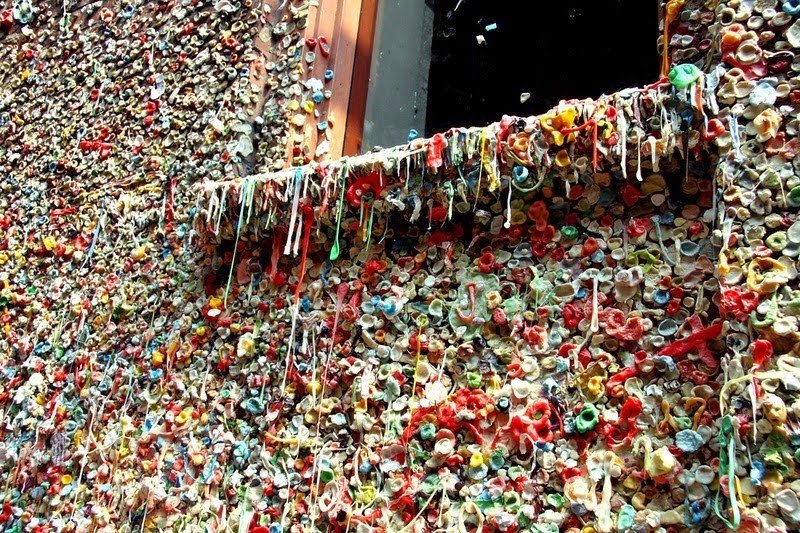 While many people opt to stick a wad of chewed gum to the wall, other folks get pretty creative with their contributions. You'll see plenty of designs in the gum—people spelling their names in gum, peace signs, hearts, stars and other designs. If you're looking for a good photo op, look for one of these designs as it's not every day you see a gum-constructed peace sign.
Fact #7: It's just one of several weird attractions in Seattle.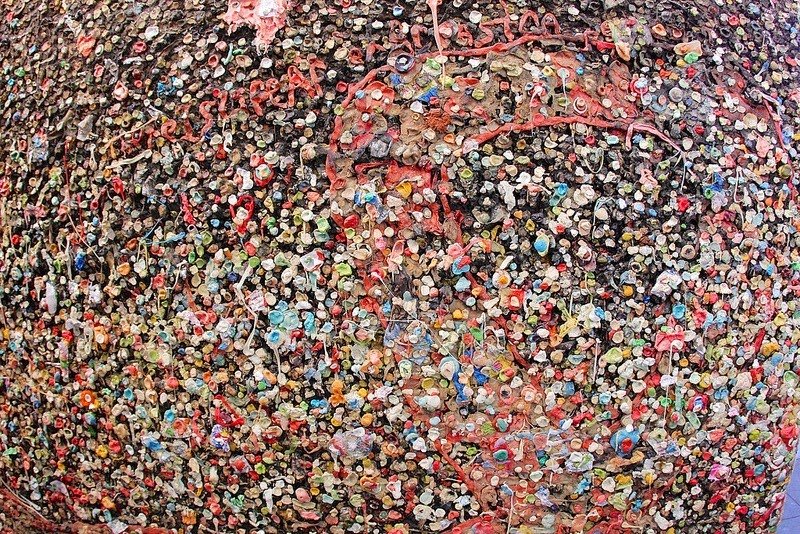 The gum wall is one of a handful of weird attractions in Seattle, but it's probably the grossest. If the wall of gum just isn't enough for you, also consider a visit to the Fremont Troll, the Fremont Rocket or the actual communist statue of Lenin (all in Fremont).
Fact #8: It's not the only gum wall in America.
You might think that the Seattle Gum Wall is the only gum wall, but you'd be wrong. There are a couple of others. Bubblegum Alley in San Luis Obispo is the other gum wall that most people may have heard of, but there's also a gum wall in Greenville, Ohio.
Fact #9: You can join in the fun. Bring your gum!
If the gum wall moves you to contribute, you're completely free to bring some gum along and leave your mark. You just might also want to bring along some hand sanitizer if you do.
Seattle Washington Gum Wall Address:
1428 Post Alley, Seattle, WA 98101, USA
Opened: 1993
Visiting Hours:
Monday – Open 24 hours
Tuesday – Open 24 hours
Wednesday – Open 24 hours
Thursday – Open 24 hours
Friday – Open 24 hours
Saturday – Open 24 hours
Sunday – Open 24 hours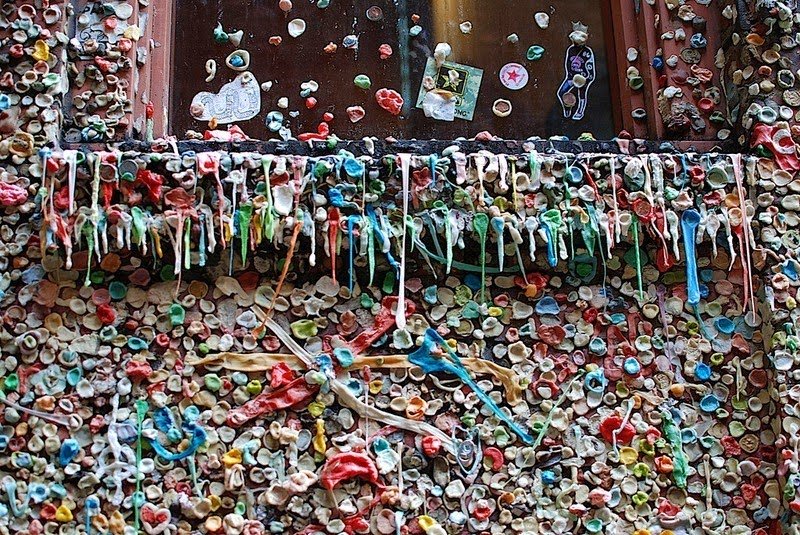 Gum Wall in Greenville, Ohio
The third gum wall is located in Greenville, Ohio. It forms the outer wall of Maid Rite Sandwich Shop, a drive-in restaurant serving, according to patrons, some of the tastiest sandwiches in Greenville. The entire exterior of the shop is covered with blobs of sticky mess, right up to the drive-in window. This appetite-killing display, however, doesn't seem to keep sandwich-lovers away.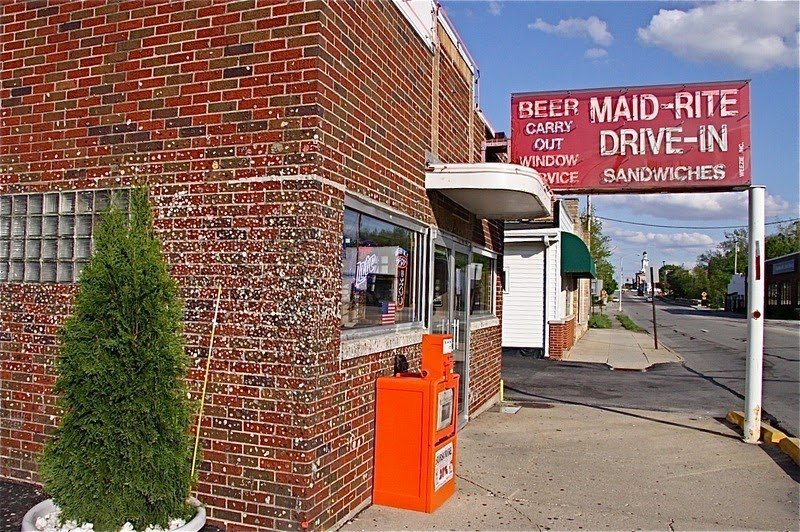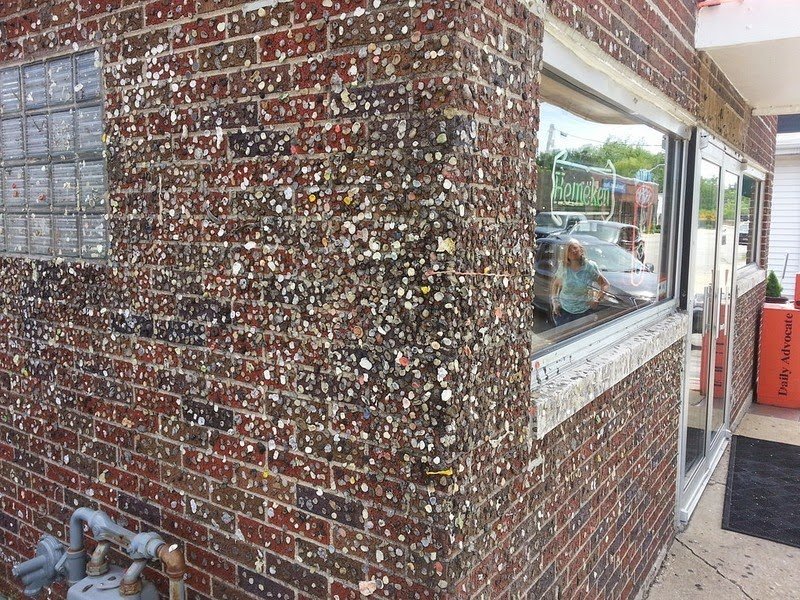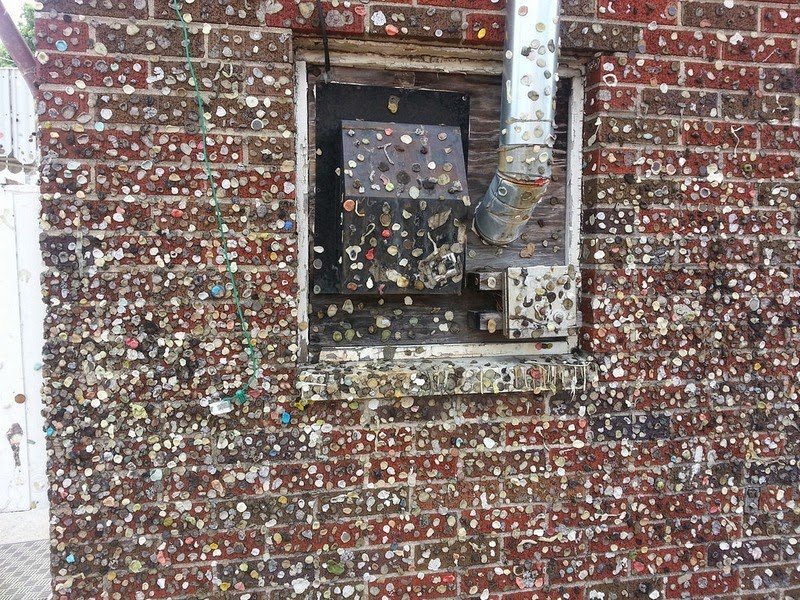 Seattle's Wall Of Gum
2,000 lbs of gum removed from famous 'gum wall'