India's largest e-Commerce firm Flipkart today said it has raised USD 1 billion (over Rs 6,000 crore) in fresh funding from a group of investors, the largest so far in the fiercely competitive online shopping segment in the country. The company did not disclose its new holding pattern. The sources said, however, that with this round of fund raising, Flipkart is valued at about USD 7 billion (around Rs 42,000 crore). Co-led by existing investors Tiger Global Management and Naspers, Singapore's sovereign wealth fund, GIC, Accel Partners, DST Global, ICONIQ Capital, Morgan Stanley Investment Management and Sofina also participated in this latest financing round.
The capital infusion is reckoned to be the biggest fund-raising ever for an Indian e-commerce company.
In what must be the biggest jump in valuations in the shortest span of time, Flipkart, according to industry watchers, is now valued at anywhere between $5 billion and $6 billion, twice the estimated $2.5-3 billion in May, when it picked up $210 million.
Flipkart, according to industry watchers, is now valued at anywhere between $5 billion and $6 billion.





For perspective, till the joint venture came apart, Bharti-Walmart had invested Rs 2,500 crore to set up 200 front-end stores and 20 cash-and-carry outlets; Walmart's turnover from its cash-and-carry piece is close to Rs 3,000 crore.
Flipkart co-founders Sachin Bansal and Binny Bansal want Flipkart to be the country's first internet company to be valued at $100 billion — in comparison, the Tata Group's market capitalisation as of July 28 is $138 billion.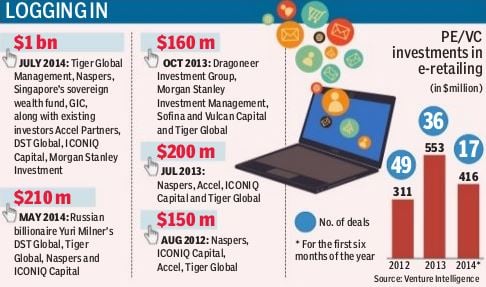 Thanks to a generous set of sponsors, the Bangalore-based company has so far mopped up close to $1.7 billion as it battles Amazon and Snapdeal for the top slot in a market estimated at around $3 billion.
The funds backing the e-retailers aren't just generous, they're patient too — profitability is not top of mind for Flipkart's founders although the e-retailer has been in business for seven years now and is understood to be in the red.
"We have 22 million registered users today and the way we see it, when we're at 100 million customers, that day we will be profitable," Sachin Bansal told FE. Bansal said he didn't know whether it would take three years or eight to get there, adding that the firm would think of profitability once it had delivered a product in one of three Indian homes.
Read Also: Flipkart Funding- Bar Raised | Fresh $ 200 million infused
The focus, according to Bansal, is the growth of the customer base, the experience they get and the number of sellers. Flipkart says its gross merchandise value (GMV) crossed $1 billion in March 2014.
Flipkart has been on a fund-raising spree for some time now, having raised $210 million in May, a week after it acquired online fashion retailer Myntra, from a group of investors led by DST Global and comprising existing stakeholders like Tiger Global, Naspers and ICONIQ Capital. Singapore's sovereign wealth fund, GIC, along with existing investors Accel Partners, DST Global, ICONIQ Capital, Morgan Stanley Investment Management and Sofina also participated in this latest round of funding.
Flipkart has 22 million registered users and handles 5 million shipments a month.According to the company, by 2020 India will have more than half a billion mobile internet users and its focus on mobile and technology puts the company in a unique position to take advantage of this massive opportunity.
"This new funding will enable us to step up our investments for innovations in products and technologies, setting us up to become the mobile e-commerce company of the future. This funding will help us further accelerate momentum and build our presence to become a technology powerhouse," said co-founder and COO Binny Bansal.
"The reason Flipkart would need funds is because they are scaling up at a very rapid pace. We have roughly 150 million people online, while only 10-15 million transact online. So there is a plenty of headroom for growth. They need to reach out to them. For that, they need a lot of cash," said, Rutvik Doshi, an investor with Inventus Capital Partners.
While the golden run continues for Flipkart, its rivals have been struggling to match its pace. Flipkart's nearest Indian competitor Snapdeal.com had raised $134 million in February, followed by another $100 million in May. However, total funds raised by Snapdeal stands at around $400 million, about one-fourth that of Flipkart.
On the latest round of funding-raising by Flipkart, Pragya Singh, associate vice-president (retail), Technopak, said, "The series A funding for e-commerce has dried up and the leader of the pack is attracting most of the funding. Flipkart has now achieved a level of maturity and it is getting to a scale and gaining market share where it needs to invest in technology, delivery and fulfilment."
However the company said it is not looking at initial public offering (IPO) immediately. "We are not thinking about an IPO at all. We have not settled into a business model that can be taken public," said Sachin Bansal, adding that the company is trying to tap the rural markets.
The fund-raising frenzy among top Indian e-tailers may be an outcome of global giant Amazon's foray into India last June. Amazon has been gradually expanding its reach over the Indian market. The e-commerce major, which has been restricted to being an online marketplace for third-party sellers as mandated by Indian FDI norms, has doubled its warehouse space.
[divider scroll_text="Back To Top"]