What is UAN?
The Employees' Provident Fund Organisation has decided to allot a Universal Account Number (UAN) to all members of the Organisation. To start with, UAN has been already provided to members presently contributing to the fund. Employers can now download the list of UAN numbers and provide it to their employees by accessing the "UAN download list" in the Employer UAN Portal. This will facilitate online submission of transfer claims by members with an objective to make the transfer transparent, efficient and comfortable for employees. So to summarize You need UAN for quick and easy online transfer of EPF.
Universal Account number or PF number portability has been implemented by the organization. But do you know the status of your UAN—whether it has been allocated or not ? Your employer must give you the universal account number as soon as it gets from the EPFO. You can go and ask to the employer for your UAN. But before going to HR department, please do check the UAN status online from the EPFO portal.
Steps To Check The Status Of UAN
Step #1- Visit The Portal Of Universal Account Number
There are separate links for employees and employers
EPFO  Members/employees can reach the portal through this link – http://uanmembers.epfoservices.in/.
While employers have to go through another link – https://employerclaims.epfoservices.in/
You may contact Universal Account Number (UAN) helpdesk at toll free no. 1800118005 from 09:15 AM to 05:45 PM on all seven days for any query relating to UAN / KYC Services.
Step #2 – Click on Know your UAN link
Click on the link "Know your UAN" Status as shown below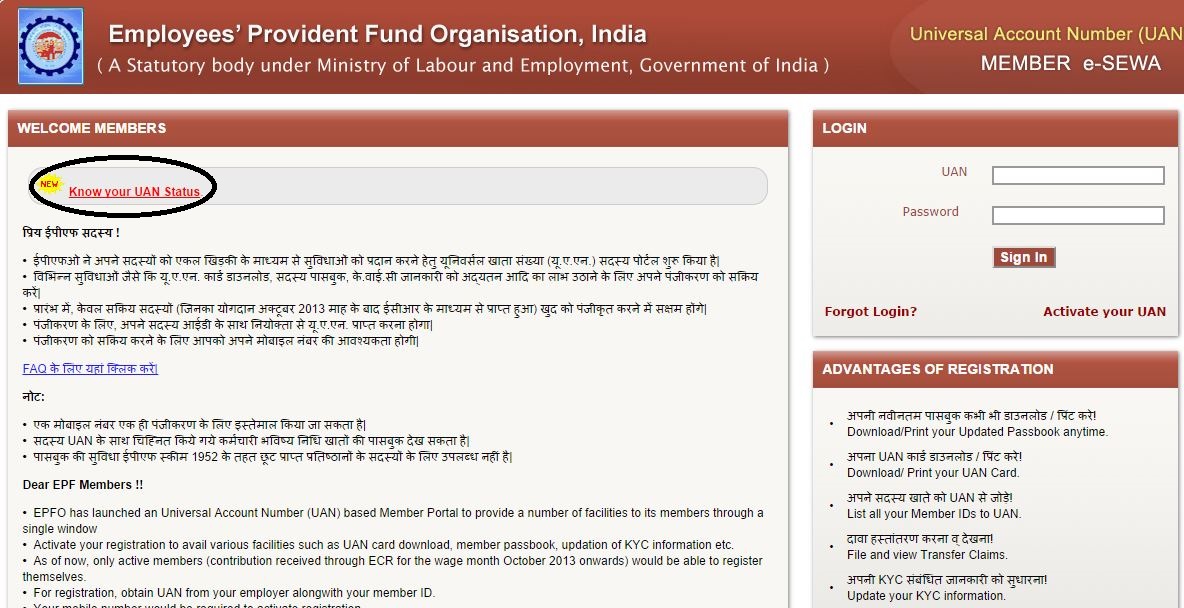 Step #3 – Give Your PF Details
On the  next page titled "Check UAN Status", Please fill your PF number. This is the most important part and you should fill your PF number properly. The PF number is usually mentioned on your salary slip.
Choose the state where your office is registered. Take care you may be working in different states. If you are confused,  try to get an idea from the first two letters of  PF numbers. The first two letters are for the state, such as HR for Haryana, DS for Delhi and UP for Uttar Pradesh.
Choose the PF office region. States may have the several regions. Delhi has 3 and Uttar Pradesh  has 9 PF regions. You can trace the region from the next 3 letters of PF number.
After choosing the state and region the two columns of PF numbers will be filled automatically. Verify it with your PF number.
Now Please fill the organization number. Every employee in your organization has the  same number. It would be the first group of digits in your PF number. It can go up to 7 digits.
In the fourth text box you need to fill the extension. In most of the cases this remains 000. It can even be one word letter like "X".Also, It may not be in your PF number.  You can leave it blank if its not there.
Now please fill your PF number. This is the number which is unique to you in your office. It can be of maximum 7 digits.
Step #4 –  Status Of Your Universal Account Number 
Your UAN allocation status will be shown as mentioned below.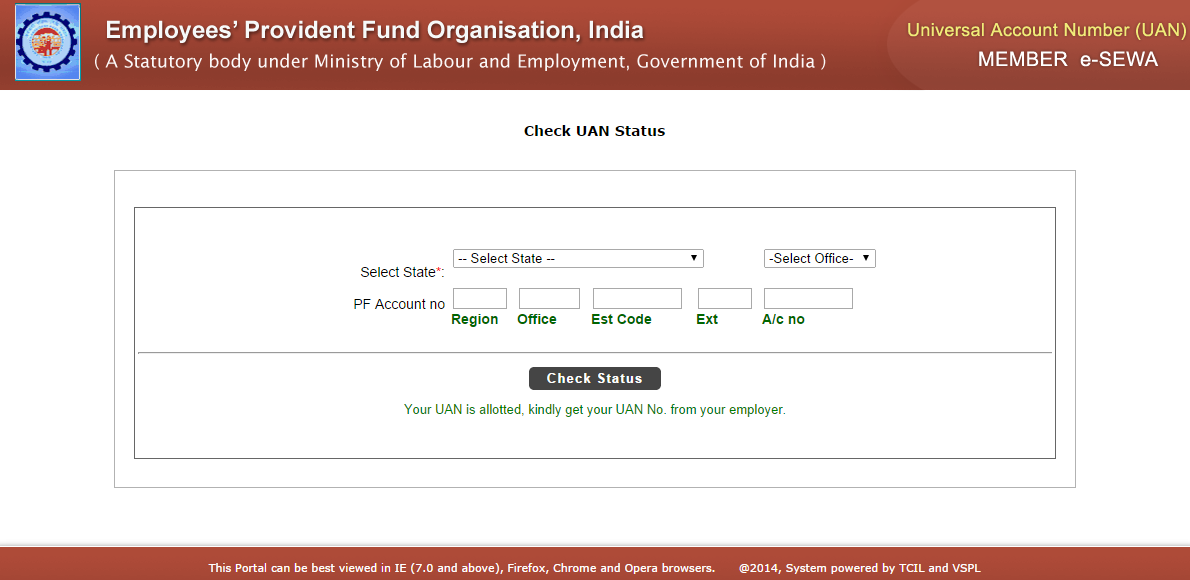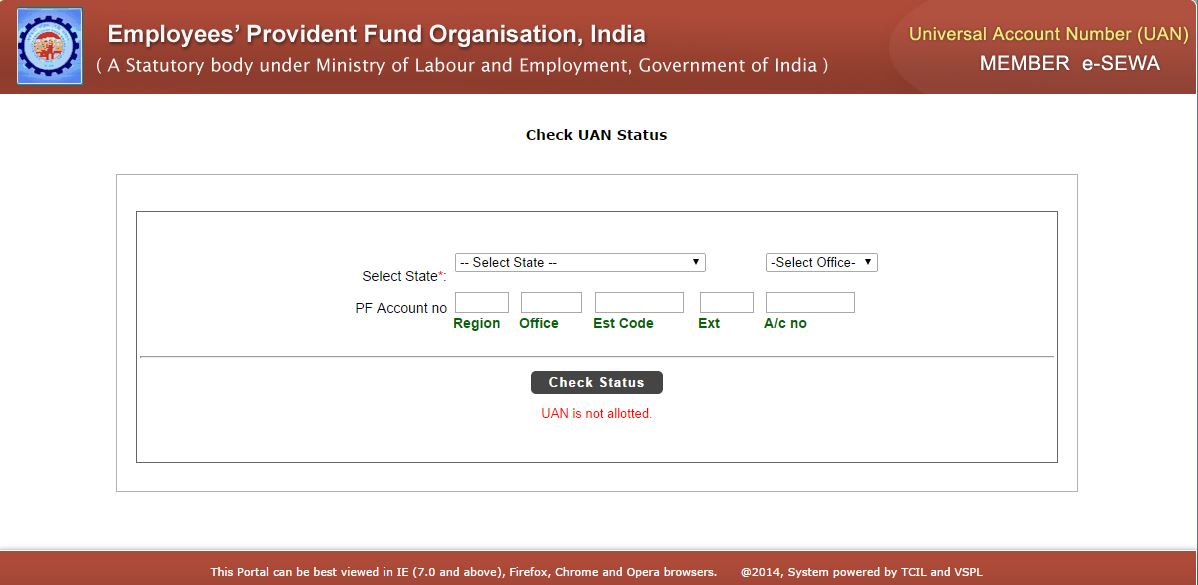 Is not it easy? So check your UAN status on the fist priority and get in touch with your HR department because after all its your hard earned money!!
Also read:Simple 10 Step UAN Activation And Registration Process
Check This Video On EPFO UAN Number Status (Provident fund Universal Account Number)
Click Here For Lost Your PAN Card ? | 10 Steps To Apply Online For Duplicate PAN
Click Here For 13 Simple Steps To Update/Change Aadhaar Card Details Online
Click Here For Income Tax Act 13A – Format Of Rental Receipt: RECEIPT OF HOUSE RENT
Click Here For Steps Of Online E-Filing Income Tax Returns From Home
[divider scroll_text="Back To Top"]