Pablo Ruiz y Picasso, also known as Pablo Picasso, was a Spanish painter, sculptor, printmaker, ceramicist, stage designer, poet and playwright who spent most of his adult life in France. Are you ready to read his full name? Pablo (or Pablito) Diego Jose Santiago Francisco de Paula Juan Nepomuceno Crispin Crispiniano de los Remedios Cipriano de la Santisima Trinidad Ruiz Blasco y Picasso Lopez.
Anyways world know him as ''Picasso''. Pablo Picasso is probably the most important figure of 20th century, in terms of art, and art movements that occurred over this period. Spanish expatriate Pablo Picasso was one of the greatest and most influential artists of the 20th century, as well as the co-creator of Cubism. In fact it is imposible to choose best 12. Because most of his works are adorable.
Here is an unofficial list of 12 most famous Pablo Picasso artworks. This is a list of the greatest pieces Pablo Picasso did in the span of his astonishing career.
12 – Boy Leading a Horse, 1905
Boy Leading a Horse is yet another masterpiece critics praise without trying to explain. Either they believe it has no meaning or that explaining it is impossible.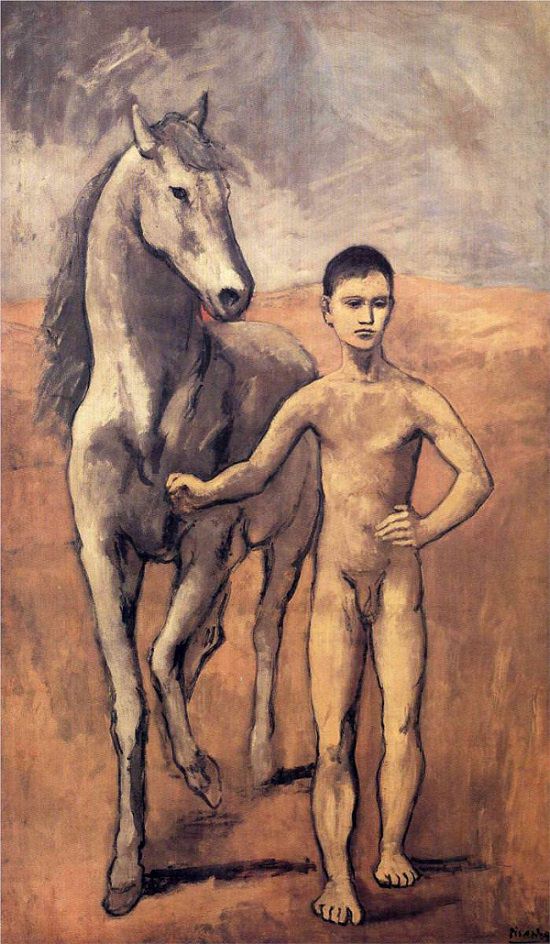 11 – Absinthe Drinker, 1901
Picasso produced this work in the autumn of 1901, during his second trip to Paris, when he was just 22 years old. The theme of man's loneliness in a cafe.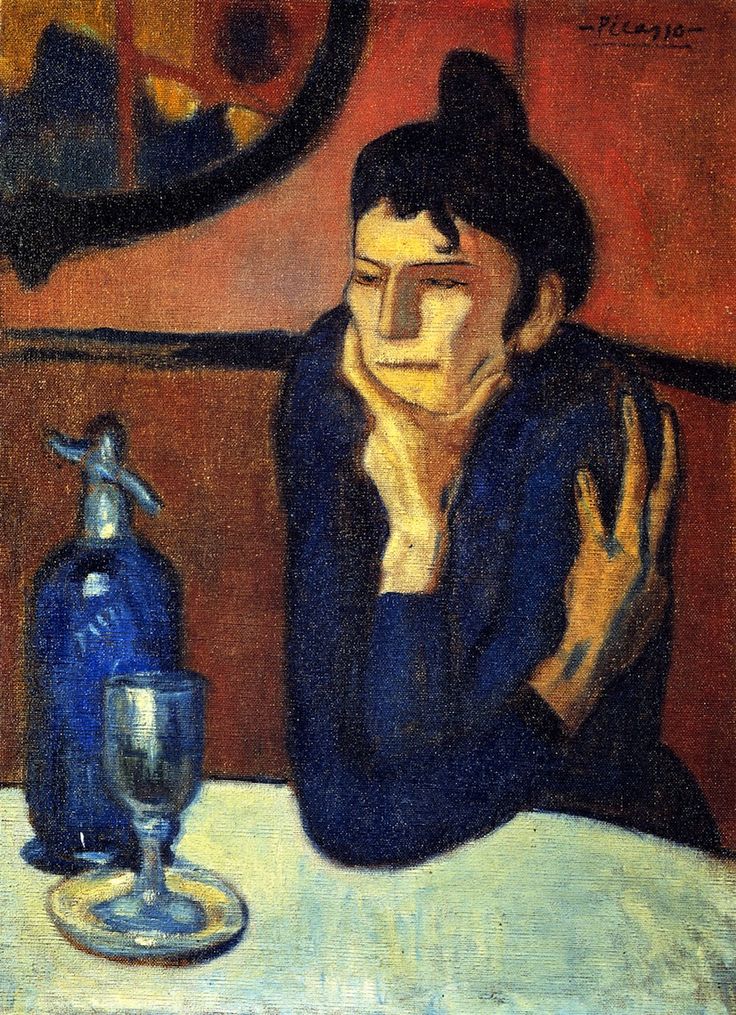 10 – Three Musicians
This artwork is in the New York Museum of Modern Art now.It is part of series painted while was with his young family in the Fontaineblueau in the summer of 1921. Three Musicians is a large painting measuring more than 2 meters wide and high.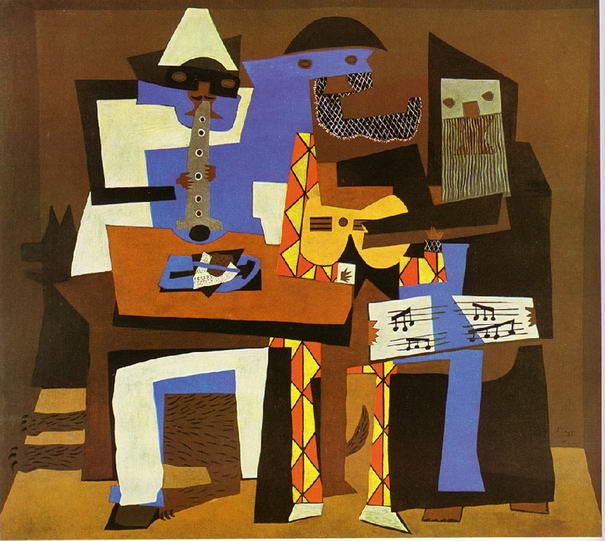 Three-Musicians-By-Pablo-Picasso
9 – Girl Before A Mirror
This painting was painted in March 1932. The young girl was named Marie Therese Walter and was painted multiple times during the 1930's by Picasso.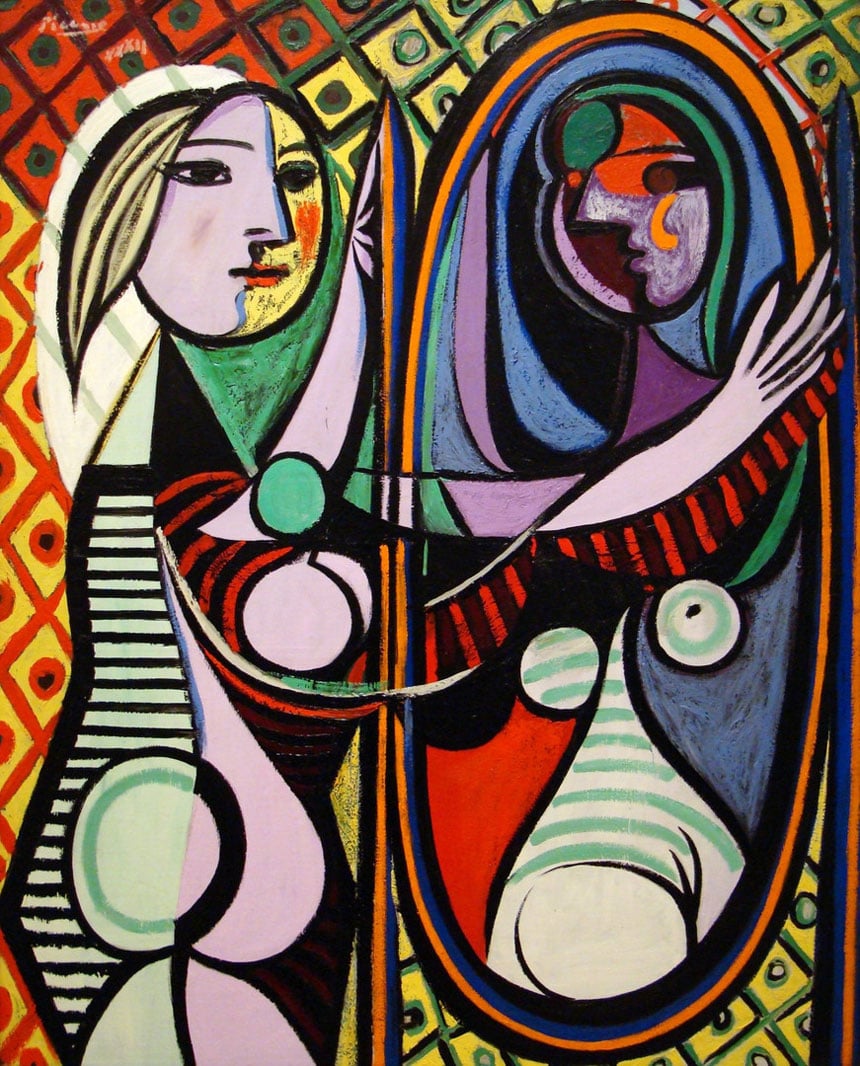 Girl Before A Mirror By Pablo Picasso
8 – The Old Guitarist
It is painted after the suicide death of Picasso's close friend, Casagemas in 1903. This work was created in Madrid, and the distorted style is reminiscent of the works of El Greco.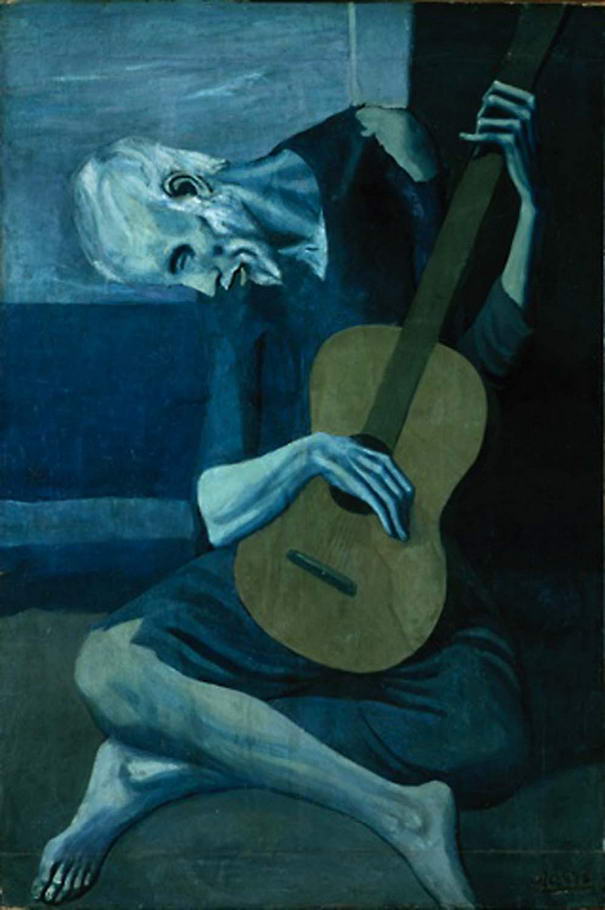 The Old Guitarist
7 – Seated Woman (Marie-Therese)
Seated Woman is painted at the start of an amazingly prolific year, in which Picasso produced many powerful creations, including Guernica (1937). Pablo Picasso again returns to his technique of red and green polarisation to add a further dimension of animation.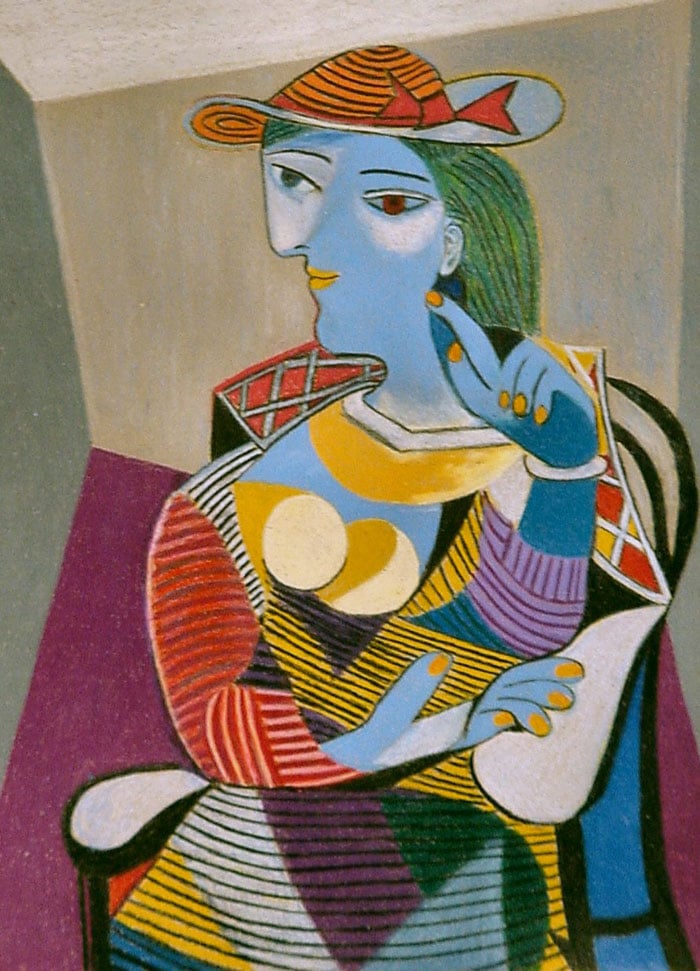 Seated Woman (Marie-Therese) By Pablo Picasso
6 – Dora Maar au Chat
Dora Maar au Chat was painted in 1941. It is one of Picasso's most valued depictions of his lover and artistic companion. The painting is also remarkable for its brilliance of colour and the complex and dense patterning of the model's dress.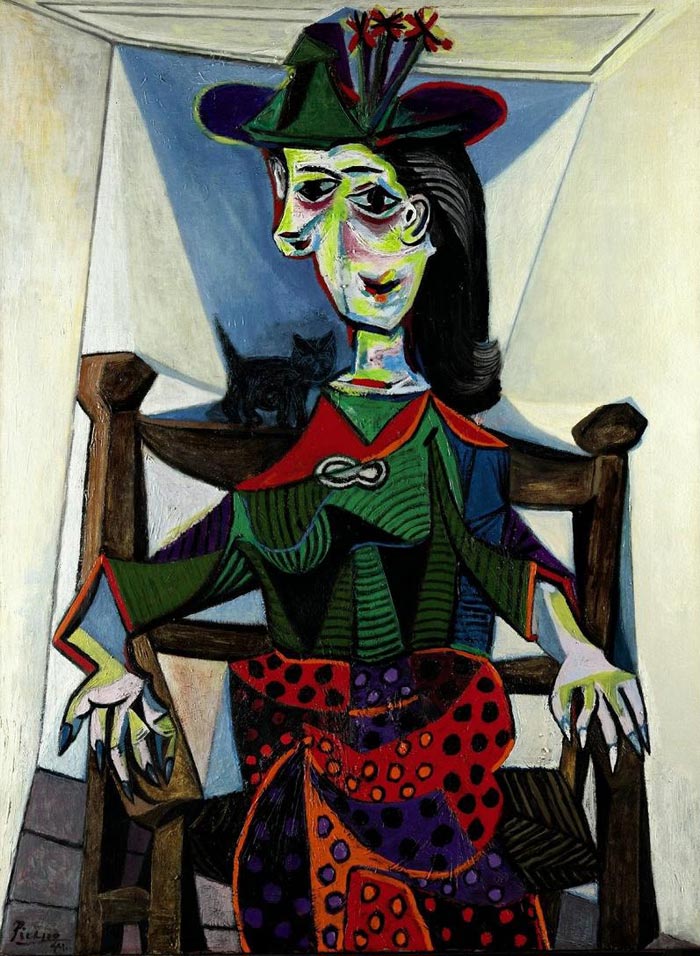 Dora Maar au Chat By Pablo Picasso – Most Famous Pablo Picasso Artworks
5 – Blue Bare Body

This masterpiece is one of the Picasso's early works. It was created in 1902 at a time when Pablo Picasso was still mourning over a friend's tragic death.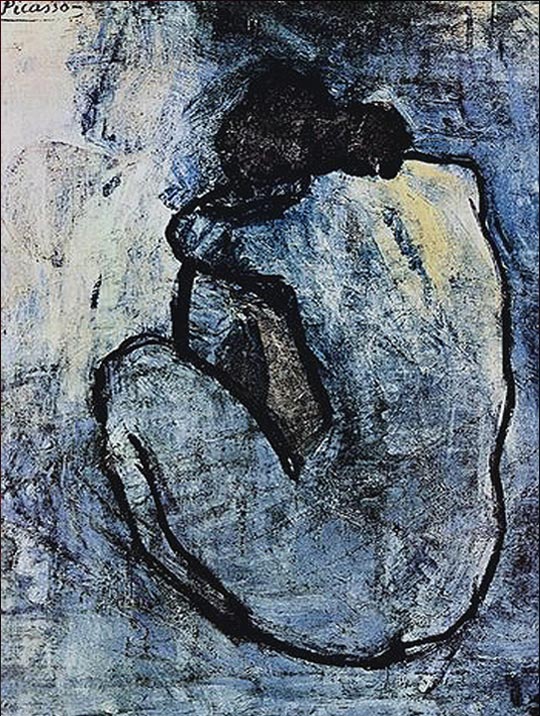 Blue N*de By Pablo Picasso
4 – Le Rêve (The Dream)
It is a 1932 oil painting. He is portraying his 24-year-old mistress Marie-Thérèse Walter in this artwork. It belongs to Pablo Picasso's period of distorted depictions, with its oversimplified outlines and contrasted colors resembling early Fauvism.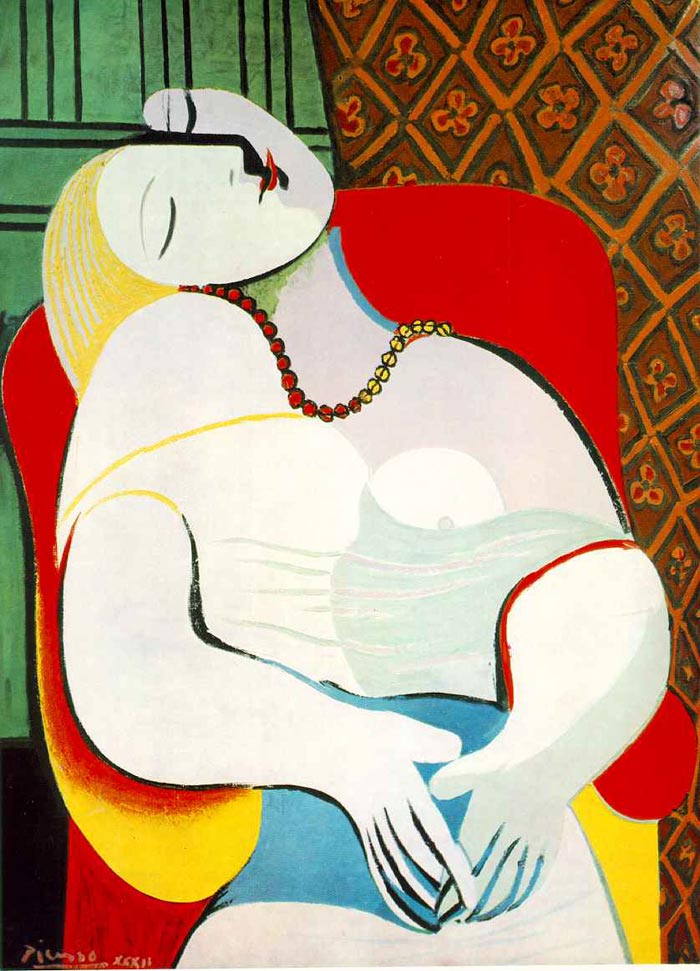 Le Rêve (The Dream) By Pablo Picasso
3 – Asleep
Model is again Marie-Therese Walter. Painted in 1932. We see her asleep, her body resting between the two powerful polarized color blocks of red and green. It is a really weird combination of beauty and ugliness, another theme that continually fascinated Picasso.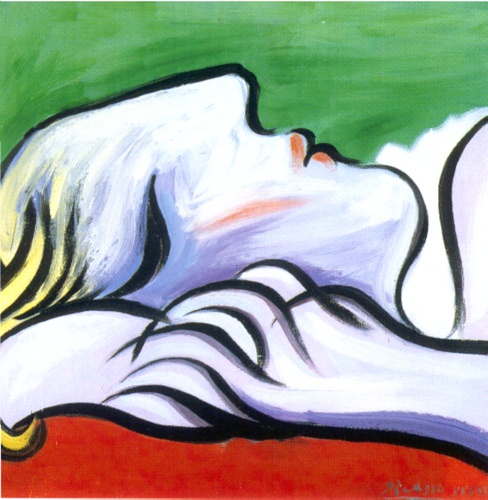 Asleep By Pablo Picasso
2 – ndre, Green Leaves and Bust
This masterpiece is created in the early months of 1932. Marie-Therese Walter is model again. The painting was sold for a price of $106.5 million which was a world record in 2010.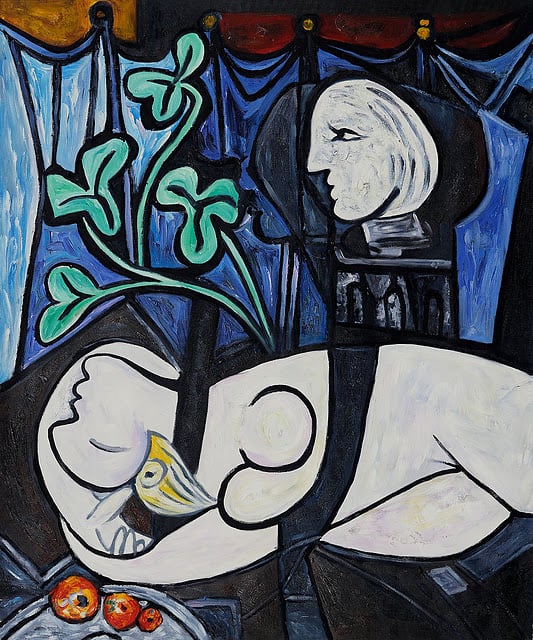 Undressed, Green Leaves and Bust By Pablo Picasso
1 – Les Demoiselles d'Avignon
This paintings was painted in 1907 and it was called the most innovative painting since the work of Giotto. he reductionism and contortion of space in the painiting was incredible, and dislocation of faces explosive.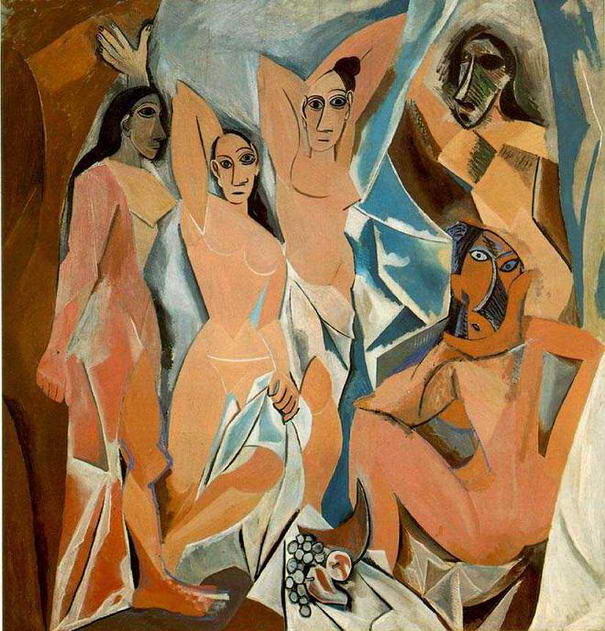 Les Demoiselles d Avignon
Now load/access your essential drawing software remotely from anywhere on any device with trending citrix xendesktop from CloudDesktopOnline available at an cheapest xendesktop cost. You can also enhance your productivity with by adding Office 365 add-on to the same xendesktop from O356CloudExperts.com.
Which is your favorite one?