Twin brothers and Brazilian artists Octavio and Gustavo Pandolfo, known together as Os Gemeos, just finished their latest project – a colossal mural covering six industrial silos on Granville Island in Vancouver, Canada. The mural, which is part of the Vancouver Biennale, depicts six vividly colored 70 foot (23 meter) tall characters. The six silos are wrapped all the way around,giving it a total area of 23,500 square feet (7,200 sq meters).
The twin brothers took almost the whole month to finish the piece – the grandest one of their career so far. These cartoonish giants are also a part of Os Gemeos' on-going "Giants" mural project, parts of which have already brought life and color to many other major cities around the world.
1.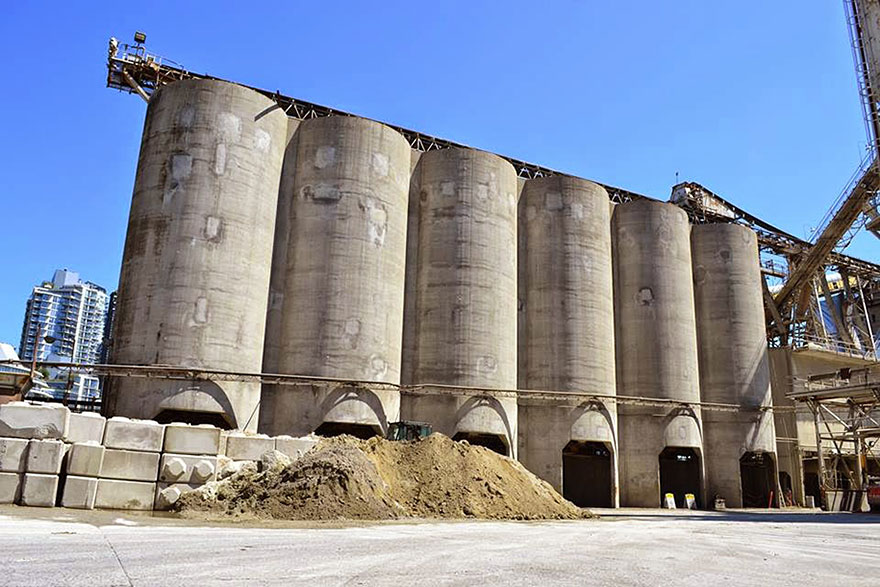 2.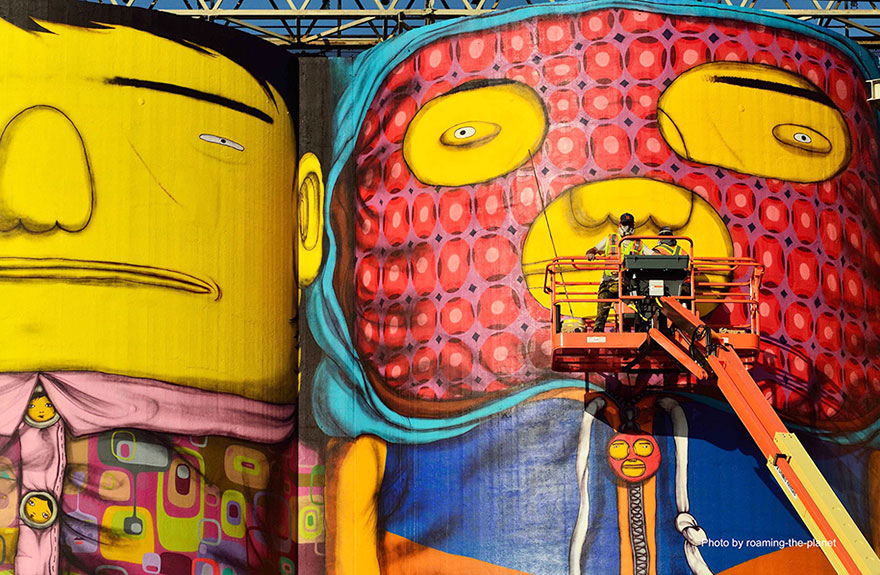 3.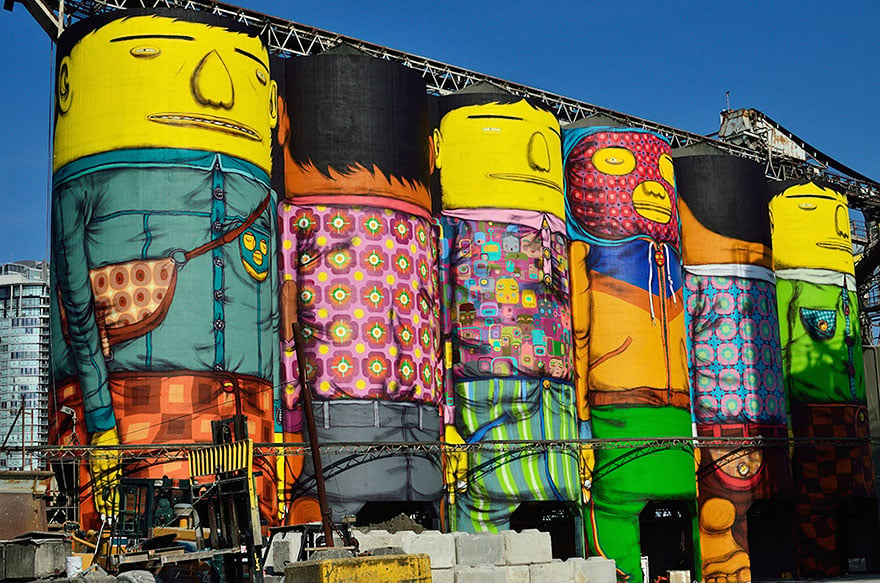 4.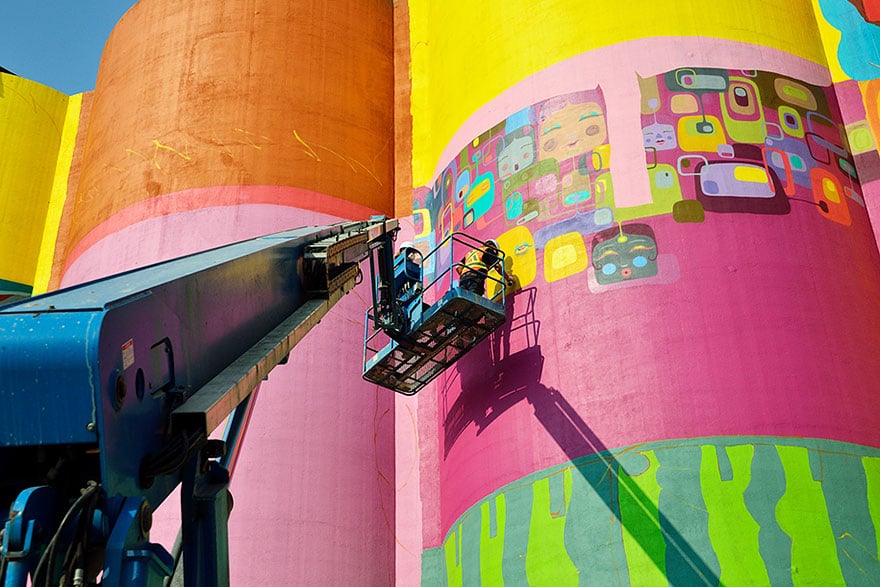 5.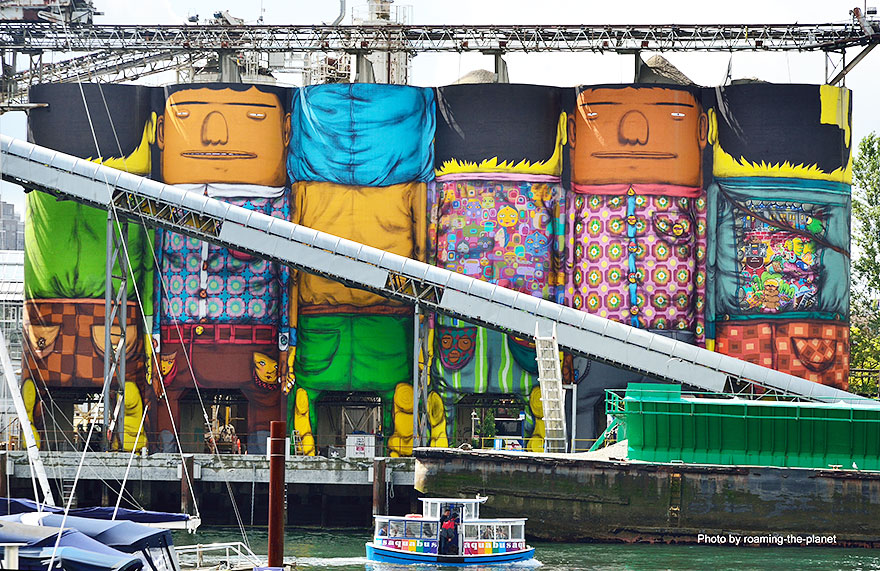 6.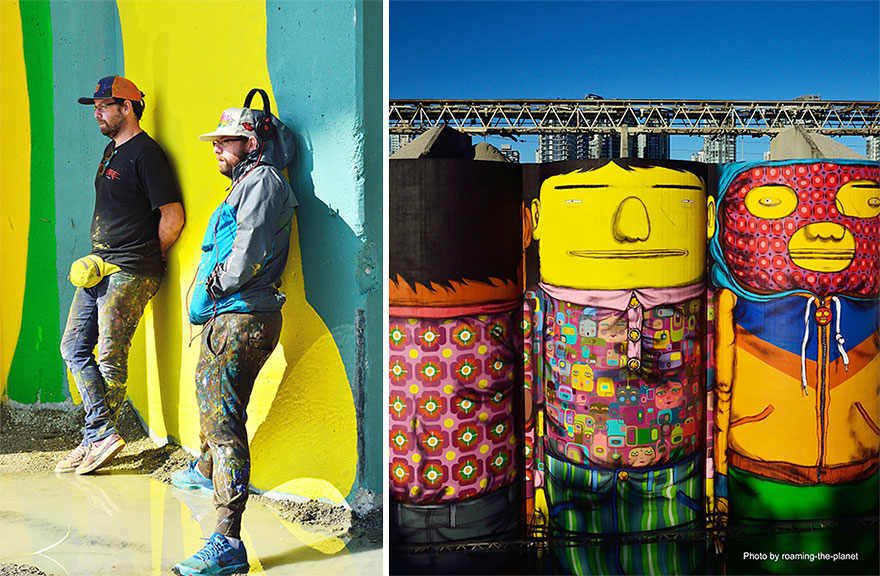 7.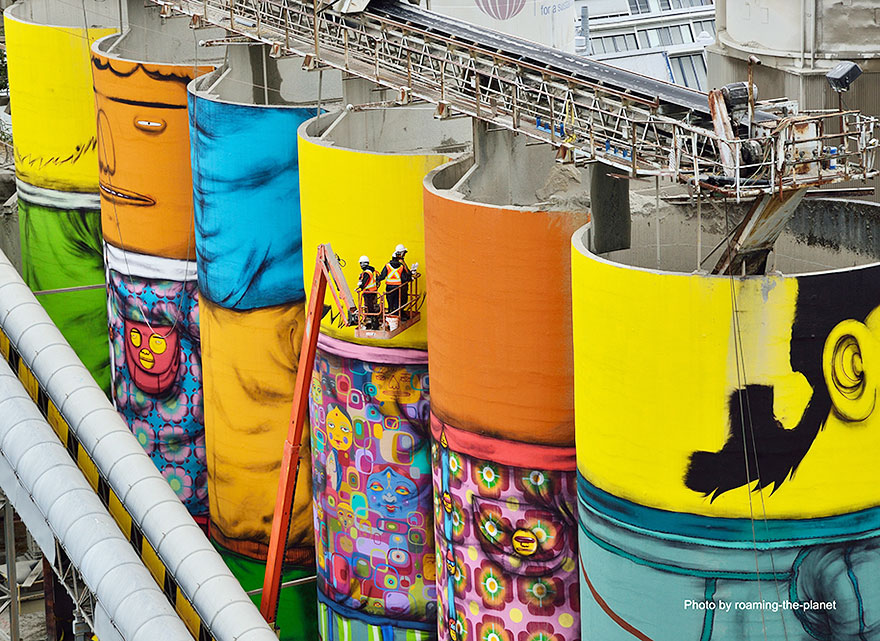 8.
9.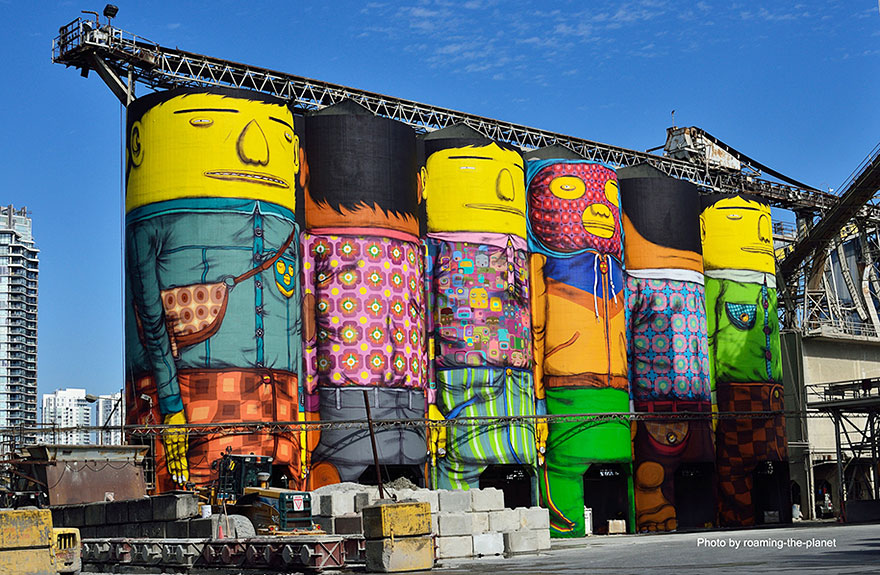 10.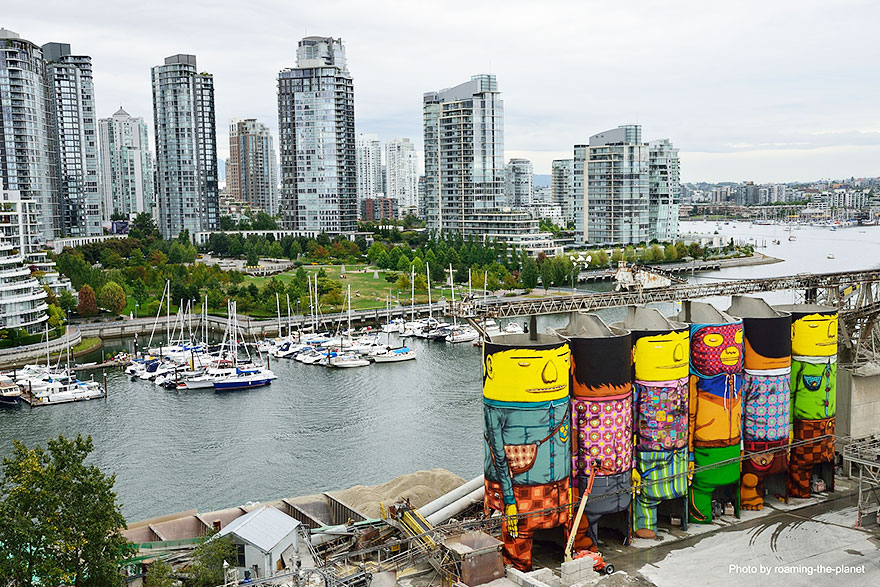 More info: osgemeos.com.br | vancouverbiennale.com | Indiegogo | Flickr (h/t:arrestedmotion, colossal)
More Information About Os Gêmeos aka Twin brothers
[Brazilian artists Octavio Pandolfo and Gustavo Pandolfo]
Who is Os Gemeos?
Os Gêmeos (Portuguese for The Twins; born 1974 in São Paulo, Brazil as Otavio and Gustavo Pandolfo) are graffiti artists and identical twin brothers. They started painting graffiti in 1987 and gradually became a main influence in the local scene, helping to define Brazil's own style. Their work often features yellow-skinned characters – taken from the yellow tinge both of the twins have in their dreams – but is otherwise diverse and ranges from tags to complicated murals. Subjects range from family portraits to commentary on São Paulo's social and political circumstances, as well as Brazilian folklore. Their graffiti style was influenced by both traditional hip hop style and the Brazilian culture
Motivation Of Os Gemeos?
Hip hop culture reached Brazil in the late eighties and appealed to a lot of the country's teenagers at the time. The twins started out as breakdancers, and got involved with the graffiti aspect later on. Of course, their first steps into the graffiti world were attempts to emulate American hip hop pieces, in early New York style. It was not until some years later that they started to consciously put Brazilian cultural elements and influences into their graffiti.
Their first significant artistic influence outside their immediate environment, and their limited access to American hip hop (Style Wars, Subway Art, Beat Street), stemmed from a chance encounter with Barry McGee (also known as Twist), who happened to be in Brazil for several months on a study abroad program through the San Francisco Art Institute in 1993. Technique and experience were shared, and McGee provided them with a lot of photographic examples from the American graffiti scene. Through Barry McGee, Os Gemeos met Allen Benedikt (founder of 12oz Prophet Magazine and also part Brazilian), who together with Caleb Neelon (also known as Sonik) became the first to interview them after a trip to Brazil in 1997 (12oz Prophet Magazine Issue 6; 1998), which became Os Gemeos' introduction to audiences outside of South America.
List Of OSGEMEOS Exhibitions
2007: Wakin Up Nights, de Pury & Luxembourg, Zurich.
2007: Still on and non the wiser, Von der Heydt-Museum, Kunsthalle Barmen, Wuppertal DE.
2008: fresh air smells funny, Kunsthalle Dominikanerkirche, Osnabrück DE.
2008: Call it what you like!, KunstCentret Silkeborg Bad DK.
2010: Pra quem mora lá, o céu é lá – Berardo Museum Collection of Modern and Contemporary Art, Lisboa
2010: Nos braos de um anjo, Galleria Patricia Armocida, Milano
2011: Street Art – meanwhile in deepest east anglia, thunderbirds were go…, Von der Heydt-Museum, Kunsthalle Barmen, Wuppertal DE.
2012: Os Gêmeos, Miss You, Prism, West Hollywood, CA
2012: Os Gêmeos, ICA – Institute of Contemporary Art Boston, Boston, MA
2014: Os Gêmeos. A Ópera Da Lua, Galeria Fortes Vilaça, São Paulo
Brazilian Dreams of Os Gemeos
[youtube height="500″ width="800″]https://www.youtube.com/watch?v=VuTi4nZv_cI[/youtube]
Brazil is famed for carrying a sense of the carnivalesque in everyday life. You can smell and taste it even if the festivities are a long way away.
The work of Os Gemeos ("The Twins") reflects this celebration as they offer audiences a vibrant taste of everyday life portrayed through a fantastic caste of characters, real and imagined.
Largely self-taught, the brothers started out by tagging the streets with the name "Os Gemeos" in their distinctive style. Later, they started to weave surreal narratives of Brazilian subconsciousness into their graffiti.
Over the years their street painting reached such high levels that officials invited them to paint Brazilian trains.
Now, they're equally at home on the street and in museum and galleries. While still tagging Os Gemeos, their work has been recognized by the Tate Modern in London, MAM in Sao Paulo, Museum Het Domein in The Netherlands and Deitch Projects in New York.
This summer Deitch Projects is showing the largest gallery exhibition of Os Gemeos to date. Called Too Far Too Close, the show fills the gallery with the dreams and fantasies of Brazil: street kids, family portraits with mermaids, bathing girls, street musicians, favelas, flying animals, clowns and the reoccurring theme of twinship.
The show invites viewers to visit the childhood of the Pandolfo brothers as well as revisit their own.
Short film "OSGEMEOS" by Ben Mor
[youtube height="500″ width="800″]https://www.youtube.com/watch?v=cZ9vQ9DBxfU[/youtube]
A short film about OSGEMEOS (The Twins) produced by Ben Mor.
Ben weaves their work into a surreal moving portrait that feels like a dream.
One 2-minute movie, but that transmits part of the essence of the world of the brothers in a vision as playful as the work itself.
H/T – boredpanda.com
[divider scroll_text="Back To Top"]