Heard of a buffalo that earns Rs 50 lakh a year from its semen? Meet Yuvraj, a buffalo of the famous Murrah breed from Haryana, India.
In the sprawling yard of a three-storey beige stucco building in a village in northern India, a large buffalo ambles around on yoga mats, his dark eyes sizing up the new visitors wearily.
"Every day somebody or the other comes to see him. He's not just another bull, he's a brand," says his proud owner, Karamveer Singh, a 47-year-old third generation farmer in Haryana state, India.
Singh lives in the village of Sunarion in a district – Kurukshetra – renowned as the place where a mythical battle was fought in India's best-known epic, the Mahabharata.
In real life, it is among the many villages in India where boundaries between city and countryside are blurring fast: prosperous farmers reside in large, well-appointed homes. Many of their children, first-generation college students, are enrolled in foreign universities.
The hard-working farmer Singh owns a herd of two dozen cows and buffaloes, runs a business and deals in property. He lives with his wife, half a dozen cars and tractors and a retinue of household servants. One of his sons is studying for an MBA in Australia; the other is studying computer science in Rajasthan.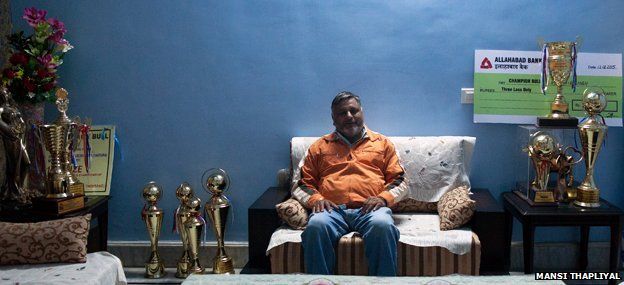 But Yuvraj, named after an Indian cricket star, is his most prized possession. He's a Murrah bull – the best of the 13 recognised buffalo breeds in India – and a cash cow if ever there was one.
Inderjeet Singh, chief of India's Central Institute for Research on Buffaloes describes Yuvraj as a "champion breeding bull".
His semen is now possibly the most expensive in India, costing up to 350 rupees ($5.65; £3.75) a dose – possibly more than 10 times the average.
Yuvraj is a handsome animal with oiled backward-curving horns, a smooth grey-black coat and a slim, bushy tail. Yuvraj is 6.5 feet and 1,600 kg, belongs to the high-yield "Murrah" breed.  He is also used to attention – and slightly disdainful of his latest admirers.
The animal can produce almost 5 ml of semen, which is diluted and sold at over Rs. 1,000 for 0.25 ml. A single ejaculation, triggered with the help of a teaser animal and collected in an artificial object, provides 500 to 600 sperm "doses", each containing 20 million sperm. The upshot is that Singh earns anything between three and five million rupees every year selling the stuff, which he stores at home in thin frozen strips, preserved at -196C in 50-litre containers of liquid nitrogen.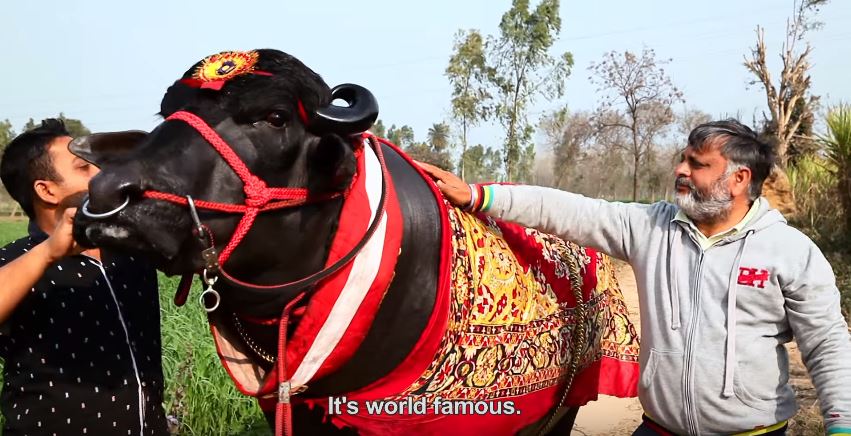 Semen traders, armed with cryogenic flasks, drive from all over India to queue up at Singh's door. "We have come to buy Yuvraj's semen for the first time," says Lalit Chowdhury, from neighbouring Uttar Pradesh state. "I saw him at an animal fair in Meerut last year and people were raving about him. I want to sell his semen to farmers all over India now."
Yuvraj produces 3.5 to 5 ml high-quality semen everyday, which is used for artificially inseminating other Murrah buffalos.
Yuvraj was in town on Friday to participate in the "Sadar" festival, a community festival of Yadavs where bulls are decorated and celebrated for their strength and vigour.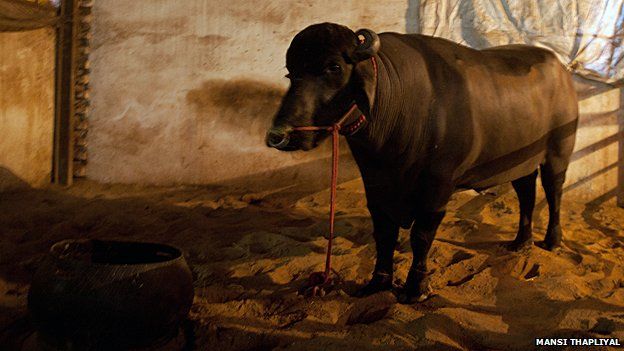 Yuvraj was brought to the city in an air-conditioned truck from Kurukshetra by Telangana Rashtra Samiti leader Haribabu Yadav. Accompanying Yuvraj was the proud owner Karamveer Singh. Singh is a rich farmer from Sunarion village in Kurukshetra district. He owns half a dozen cars and tractors and a son is pursuing MBA in Australia.
"I nurtured him (Yuvraj) like my son, that is why I refused to sell him for Rs 7 crore at a show in Meerut," said Singh, adding that he earns around Rs 50 lakh every year.
Yuvraj Bull Diet: Yuvraj is 5 feet 9 inches in height, drinks 20 litres of milk, gobbles 300 eggs, 5 kg of apples and 15 kg, 5 kg each of three types of crops and pulses, along with dry fruits everyday. Yuvraj is taken for a 5-km walk everyday and is also given a mustard oil massage twice a day.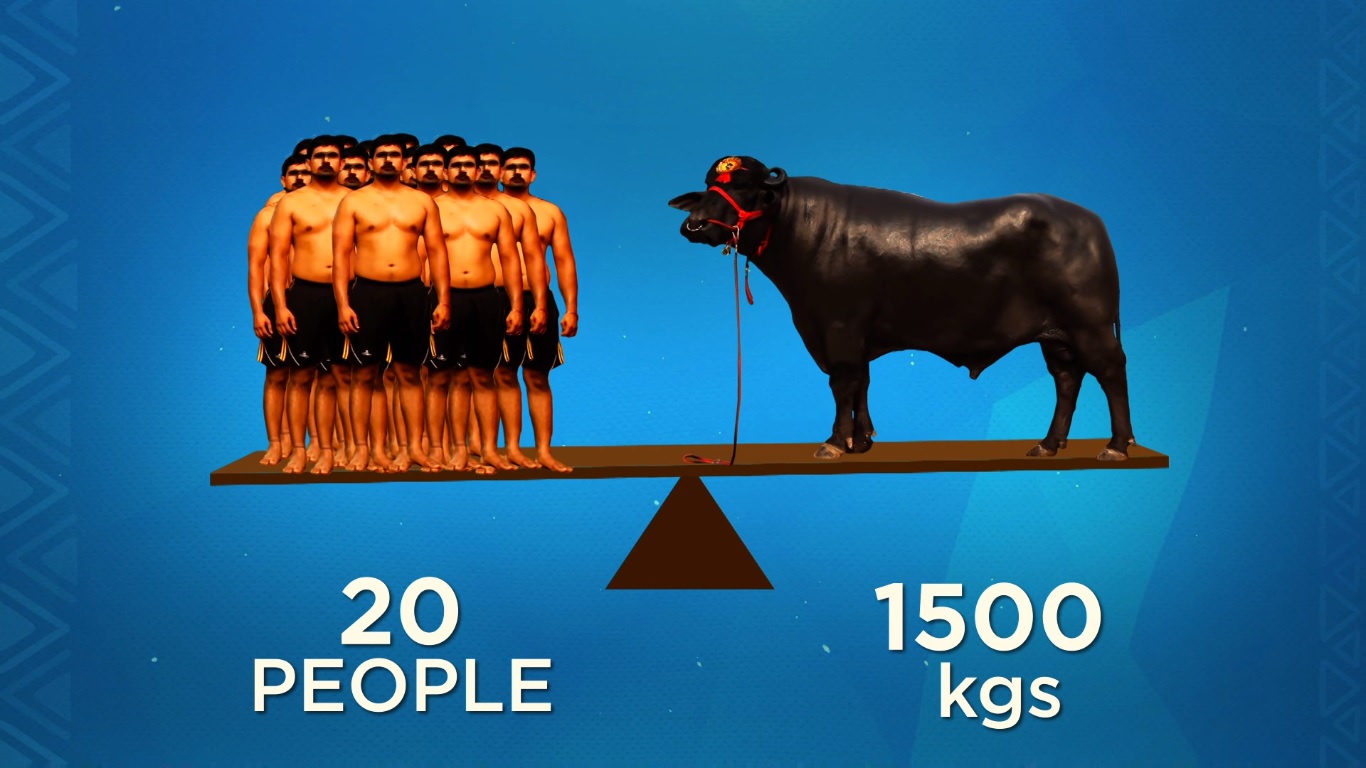 Yuvraj was brought to Hyderabad by one Haribabu Yadav for what is called a 'Sadar' festival.
Mr Yadav says he spent Rs. 5 lakh on bringing Yuvraj all the way from Kurukshetra in Haryana to Hyderabad.
India is the world's top milk producer. More than half of its milk comes from buffaloes, even though the country's 108 million buffaloes are outnumbered by its 200 million cows.
India is home to 57% of the global buffalo population. There are 13 recognised breeds in the country – experts say some of them are among the best in the world.
On the top of the pyramid are the Murrah water buffaloes, mostly found in northern and central India. There are six million of this breed in Haryana alone.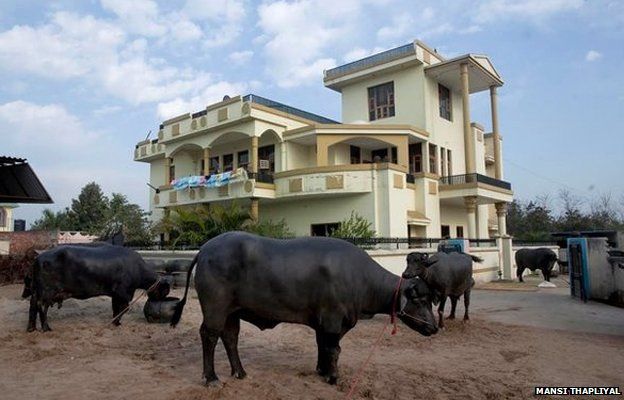 Murrah buffaloes are in particular demand for their high milk yield – an average of 7 litres per day, but some produce more than three times this amount. High-fat buffalo milk – thicker than cow's – is used for making sweets and mozzarella cheese. The male's semen also fetches a good price.
Buffaloes are also more resistant to diseases than cows in tropical countries such as India. Typically a cow suffers from infertility and udder infection after three lactation seasons over three years and is often sold off cheaply – the cow is a sacred animal for Hindus, and many states do not allow them to be slaughtered.
A buffalo, by contrast, will easily last 10-15 lactation seasons before the animal is sold to the slaughter house. No wonder then that beef – 80% of it from buffaloes – is now India's top agricultural export, beating the more famous basmati rice.
Watch India's Super Bull Yuvraj – Father of 150,000 Calves