You will love to know that famous celebs who themselves drive crazy crowd of fans are big fans of FIFA Worldcup, Here is list of Celebrities around the globe are enjoying the World Cup like the rest of us. Some of them having never been to a football match before. 
Here we take a look at some of the most famous fans.
1) Shakira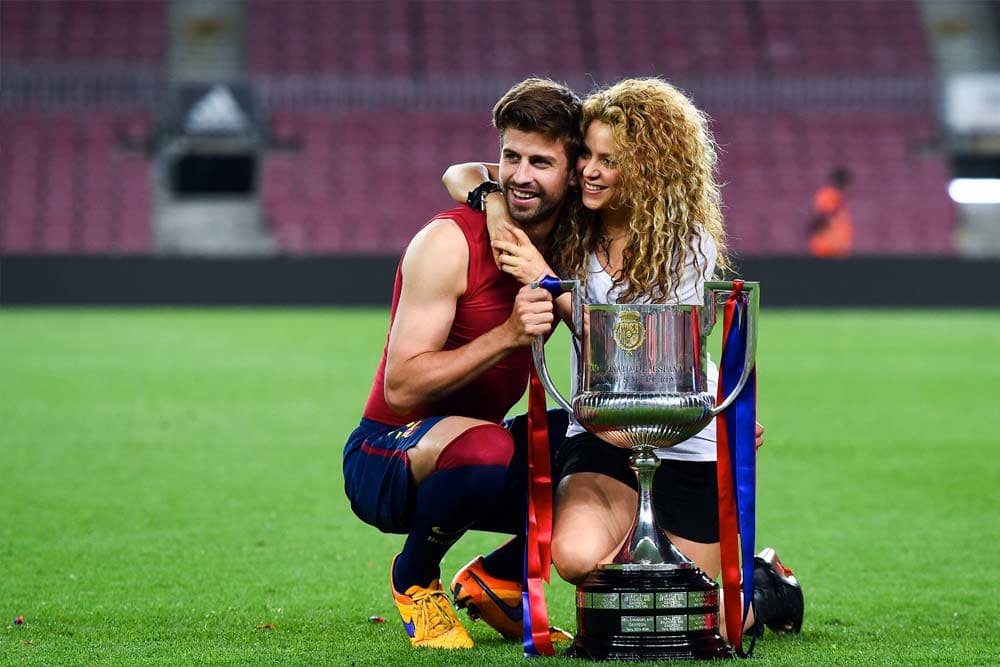 You remember that "Waka Waka" song which was the song for the 2010 FIFA World Cup in South Africa. In our list Shakira and Gerard Pique at top, Colombia by birth and a Spanish supporter by marriage (to FIFA World Cup™ winner Gerard Pique), Shakira dances to the rhythm of soccer. The two met in 2010 on the set of her music video for "Waka Waka". The two began dating shortly after and since then they have welcomed two children, Milan, 5, and Sasha, 3.
2) Rafael Nadal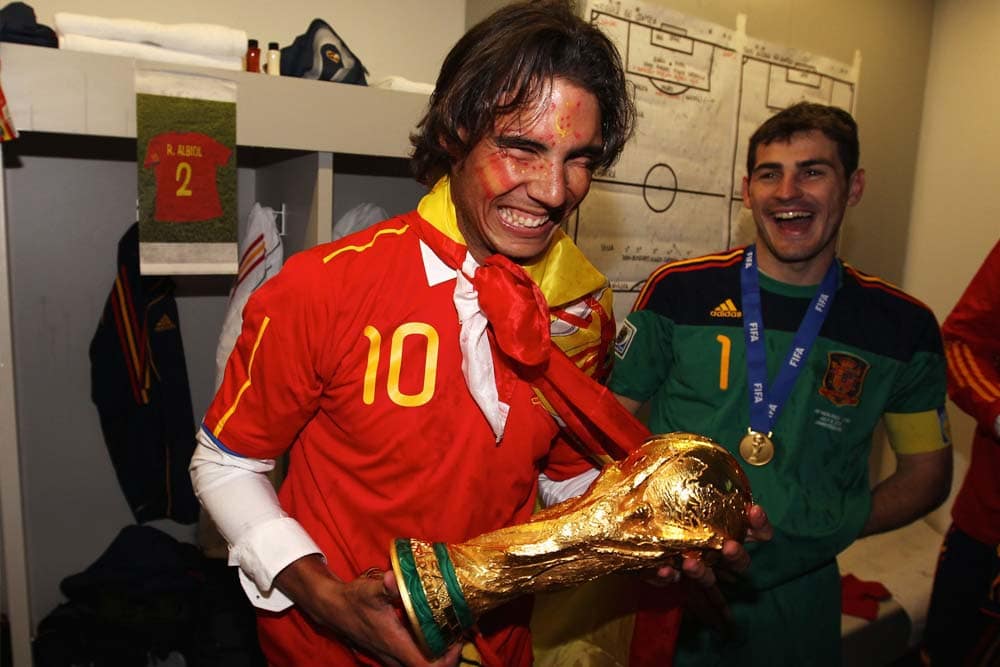 Before he was the world's best tennis player, the King of Clay almost played soccer instead. He's uncle Miguel played for the Spanish National Team, and he's a huge fan of Real Madrid. You can find Nadal in the stands or in the changing room, where he partied hard with the world champs in 2010.
Tennis ace Rafael Nadal has confessed that he cried like a little boy watching Spain defeat Netherlands in the World Cup 2010 final. For football lovers, it's not a concern. But for a sports lover like Rafael Nadal, it seems difficult to keep up with the timing of Wimbledon 2018 and the ongoing FIFA World Cup 2018. The timings have unfortunately clashed with each other and participants are finding it difficult to follow the biggest sporting event on earth when things have headed down to the quarterfinal stage.
But Nadal made sure to wrap up his third-round game at SW19 as early as possible to catch the action between England and Sweden quarter-final fixture.
3) Roger Federer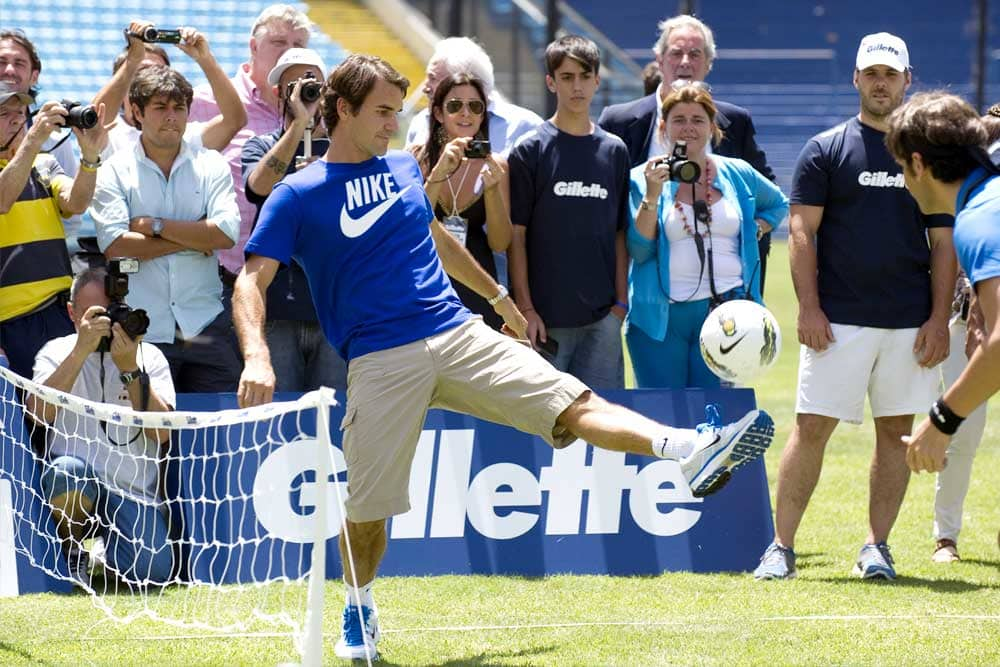 The Goat of Tennis also shares Nadal's love of soccer. Here he plays football tennis with Argentine legend Gabriel Batistuta while visiting Boca Juniors. Come June, he'll be all in on his beloved Swiss National Team.
4) Pope Francis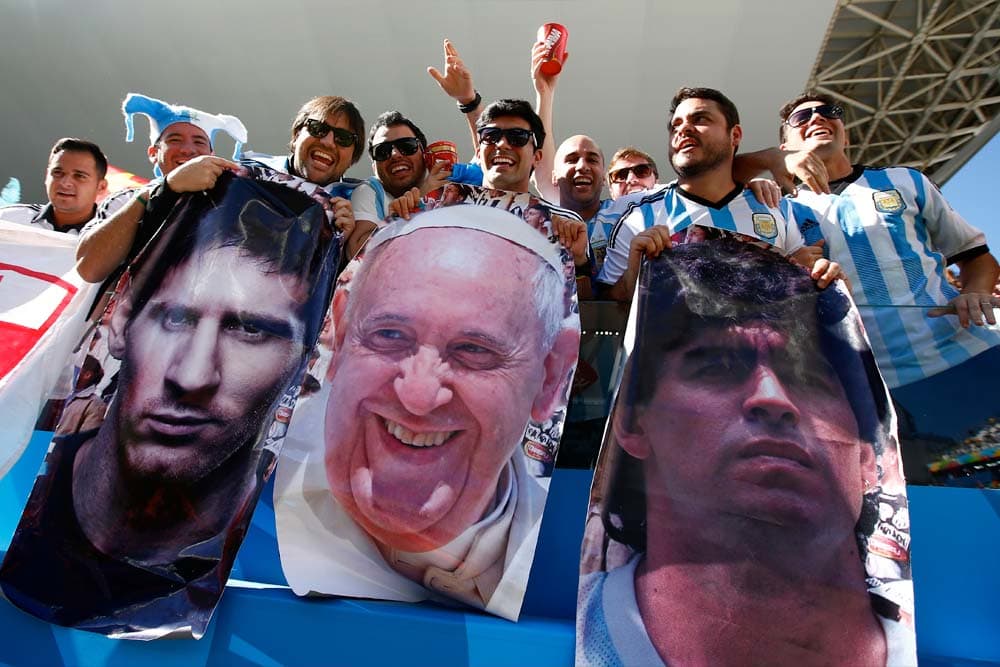 A famous fan of San Lorenzo and a former goalkeeper himself, the Pope has welcomed numerous teams to the Vatican. He'll support his native Argentina this summer, and add another divine presence to La Albiceleste along with Lionel Messi aka The Messiah.
5) Prince William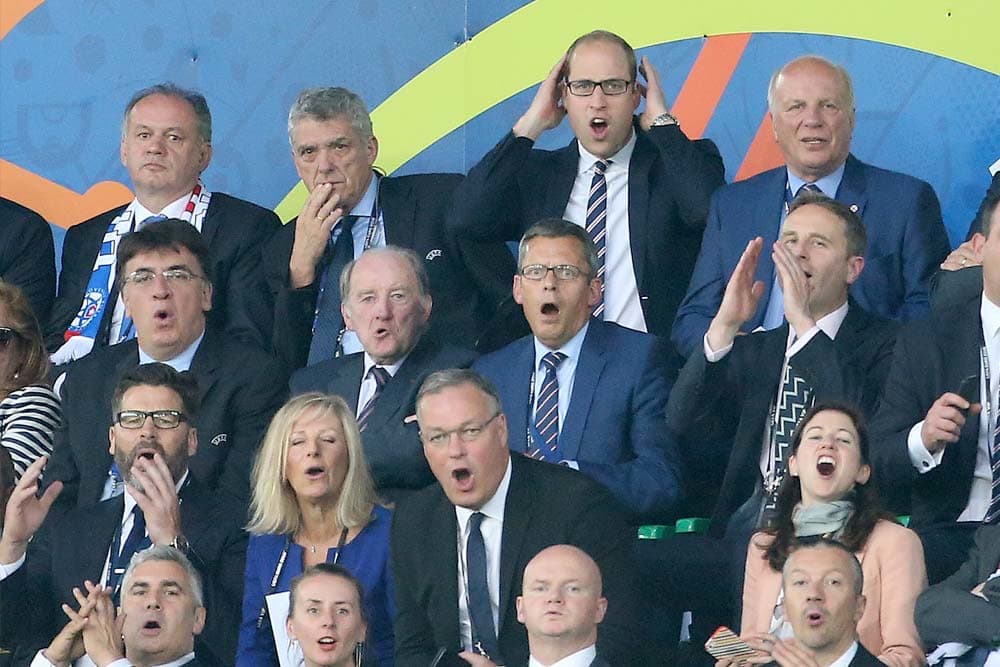 The famous captain at Eton College, Prince William is just as comfortable on a soccer pitch as he is at Buckingham Palace. He's a noted fan of Aston Villa and president of the English FA. The guy lives and breathes this stuff. Respect.
6) Abhishek Bachchan and Amitabh Bachchan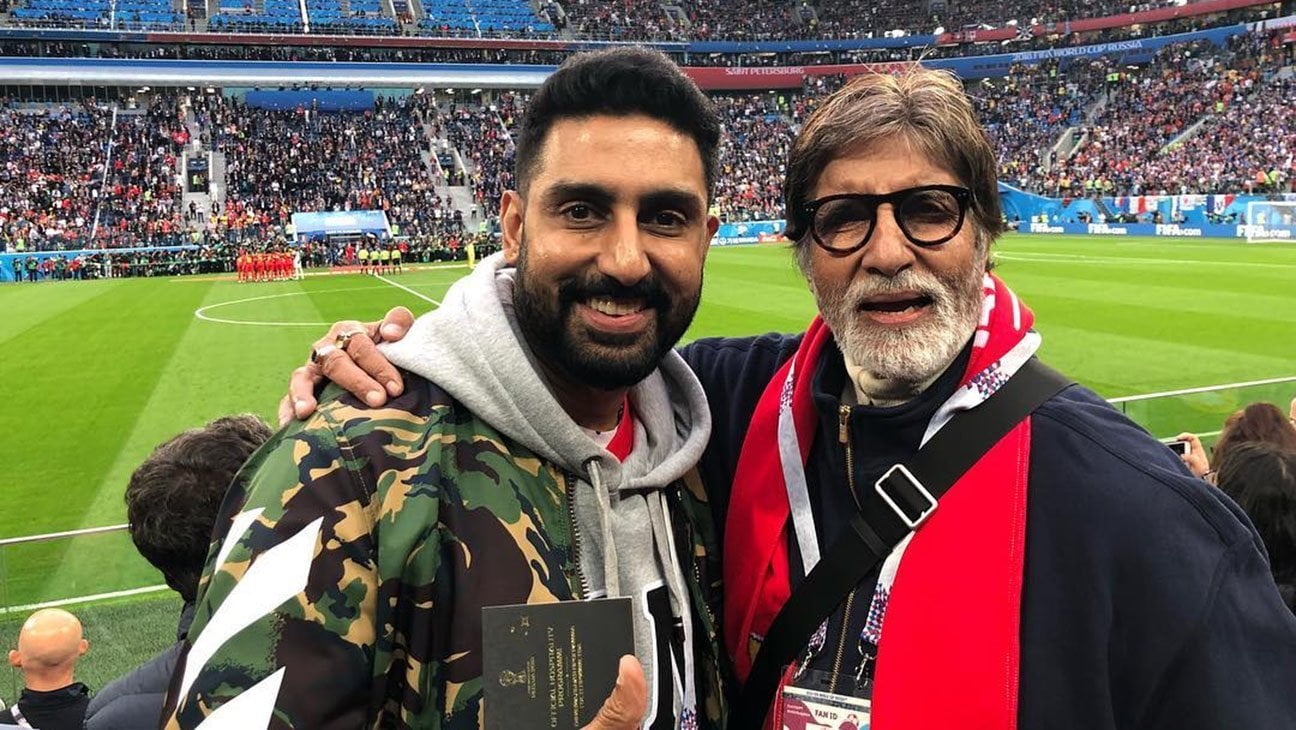 Abhishek Bachchan with his father, and fellow Bollywood star, Amitabh Bachchan, watched the first World Cup semifinal in 2018, in which France overcame Belgium 1-0. The younger Bachchan is known for such hits as Dhoom, Sarkar and Bunty Aur Babli, while Bachchan senior, hailed by French director Francois Truffaunt as a "one-man industry," is among the most influential figures in all of Indian cinema. He has won accolades for his performance in such films as Black, Mohabbatein and Piku and had a supporting role, as Meyer Wolfsheim, in Baz Luhrmann's The Great Gatsby.
7) Kobe Bryant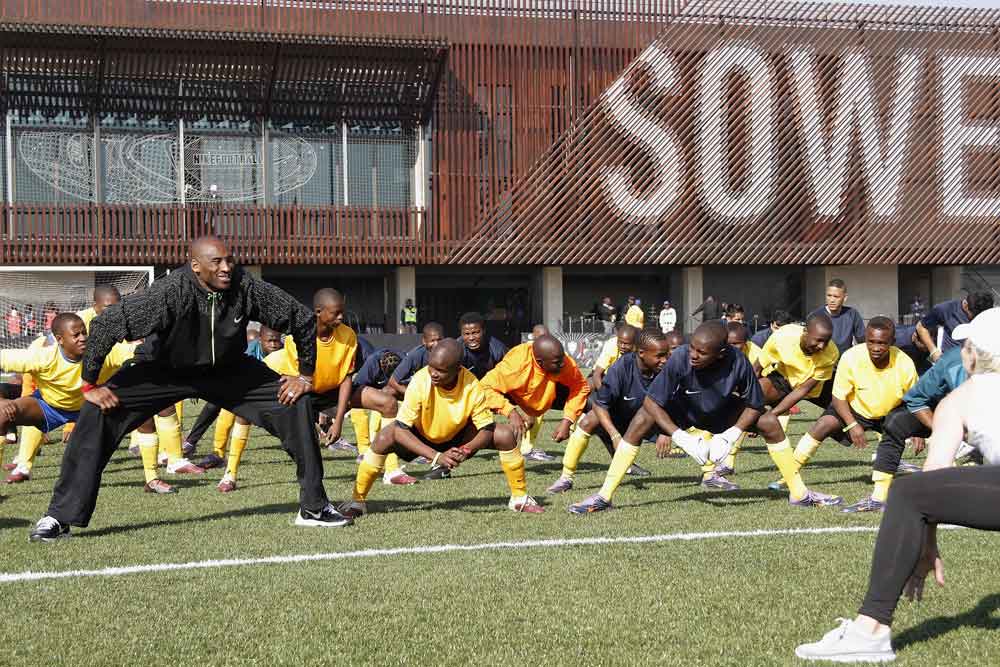 Whether it's releasing a flames Nike Mambacurial inspired by the famous Mercurial, showing up at an ECNL event in Portland or swapping jerseys with Andres Iniesta, Kobe Bryant finds his way into the soccer conversation on the reg.
We'd pay good money to see him go 5v5 with a Steve Nash-led side. Kobe grew up in Italy, so we're not quite sure who'll he'll support this summer. We just know that game respects game.
8) Gisele Bunchen, Brazil
Her husband is pretty good at American Football, but Gisele Bundchen is more into this soccer thing. The Brazilian model and actress loves her some Selecao and presented the final trophy in Brazil before the match between Germany and Argentina.
9) Rihanna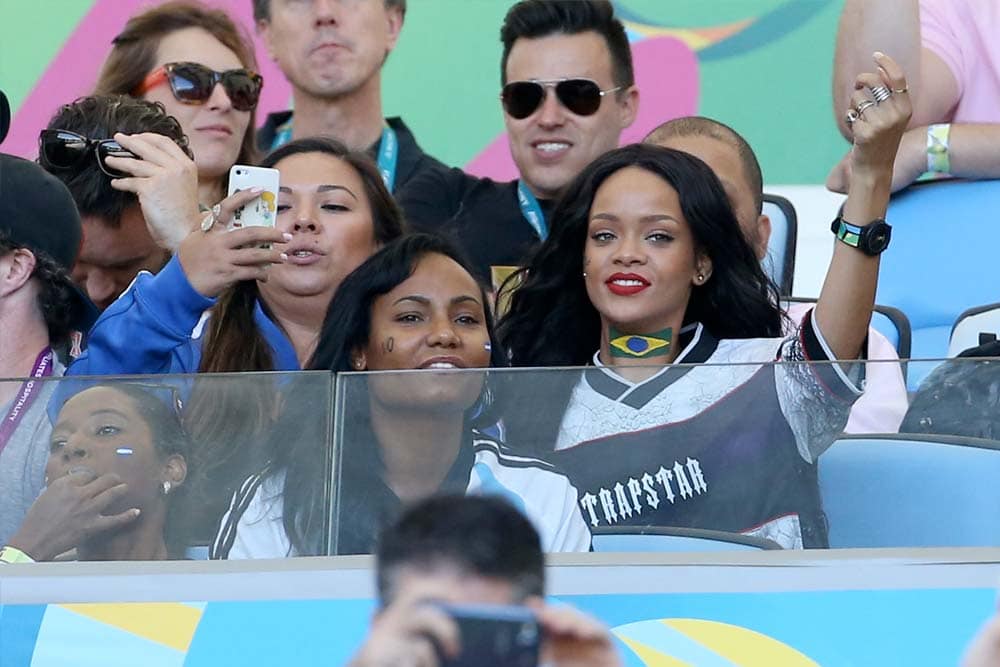 Bad Girl Ri Ri became the baddest unofficial pundit of 2014 FIFA World Cup Brazil™ when live tweeted from the stands. With her throat painted with a Brazilian flag for some matches and with her waiving Germany jerseys on others, Rihanna lived her best World Cup life, even meeting Pelé.
10) Ashton Kutcher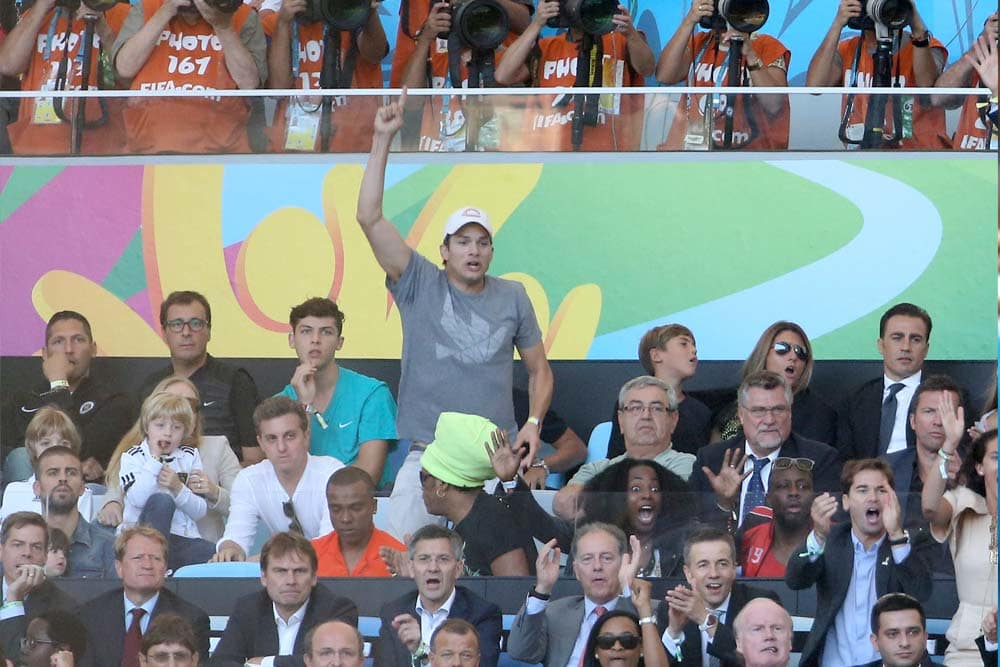 So the Chicago Fire aren't going to win the World Cup, but maybe the Chicago Bears can? That's apparently what Ashton Kutcher thought when he wore a Bears lid to the 2014 final. Anyways, props to him for taking in the big event in his own style.
11) Mick Jagger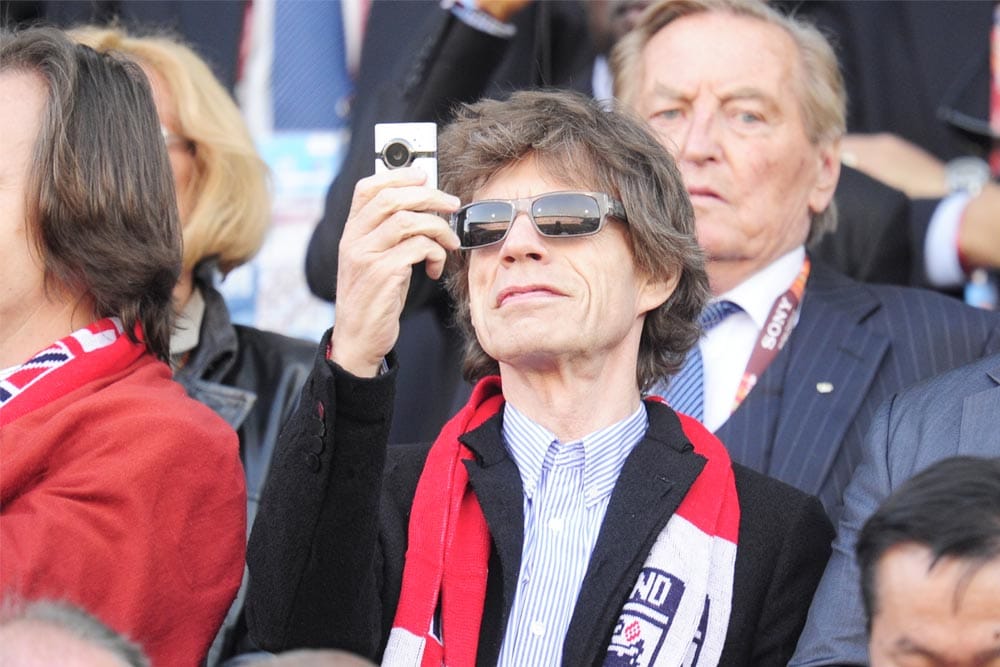 Whether it's a rolling Telstar or a Rolling Stone, Mick Jagger is there. He walks the stairways to the box seats (aka heaven) every chance he can support his Three Lions, but he hasn't had the best luck.
In fact, he's kind of infamous for seeing any side he supports falter, like in 2010 when he sat with Bill Clinton for the USMNT loss, then saw Germany shatter England, then put his son in a Brazil kit for their loss and well … it's Mick Jagger and the dude is a ledge and who cares.
12) John Travolta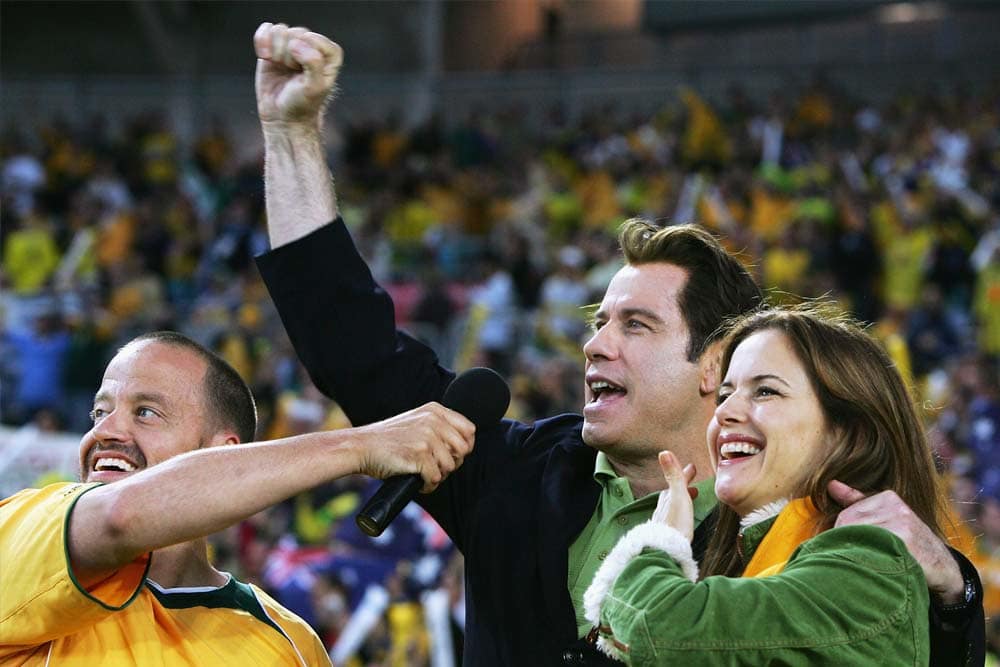 Say what you will about John Travolta, and a lot of you have, but any man who serenades the Socceroos with songs from Grease is pretty OK in our book. He was an ambassador for Qantas at the time, and we're not sure if he's really breaking down how they'll deploy Aaron Mooy in the side, but are you going to tell Vincent Vega that his credentials aren't legit?
13) David Beckham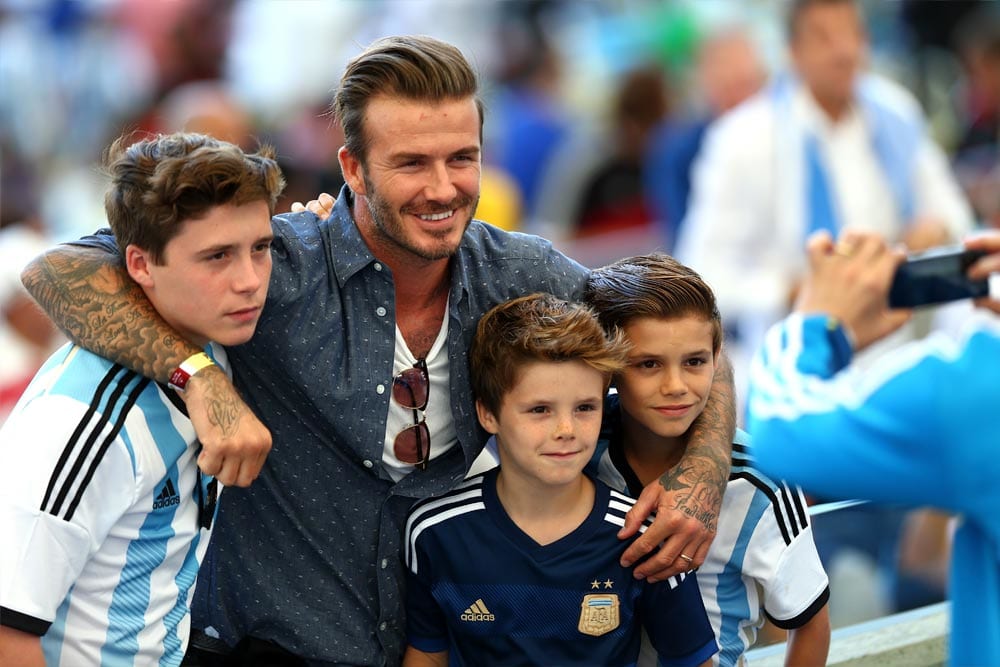 Becks is in a class of his own, both a huge player and an even bigger celebrity. He'll of course be cheering on the lads in Three Lions colors, but he'll also be supporting any and all things Three Stripes (unless it's England v Germany).
14) Will and Jaden Smith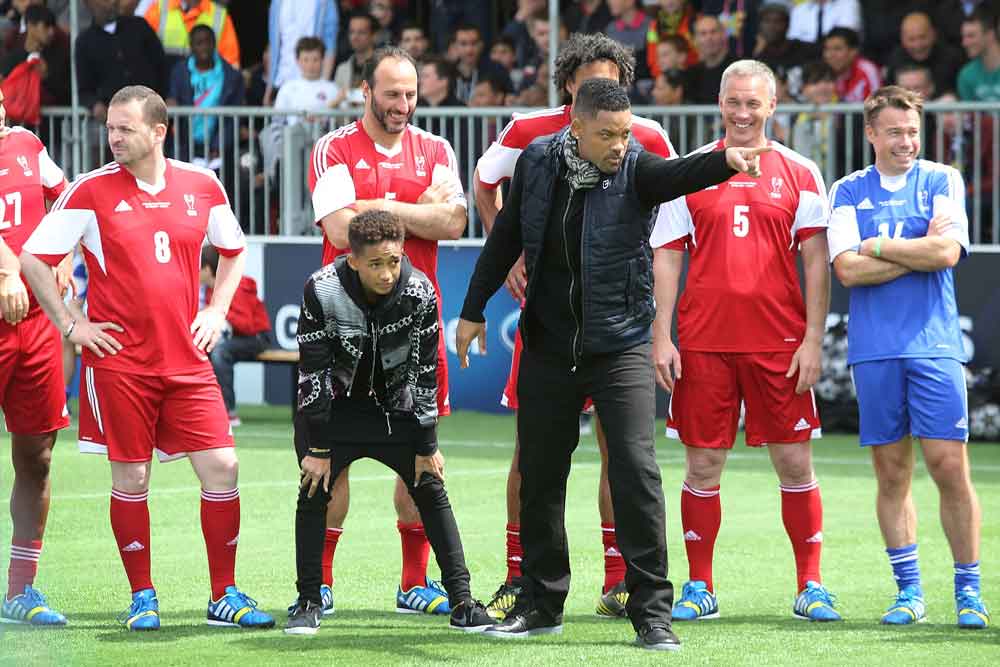 Infamously West Philadelphia born and raised, having spent most of his days on the playground, maxin', relaxin' all cool, Will Smith spent his early years shooting bball outside of the school, but he's a soccer dude now.
The Fresh Prince, who rocked a Germany kit at a movie premier some years ago, will sing the official anthem of 2018 FIFA World Cup Russia™.
15) Robbie Williams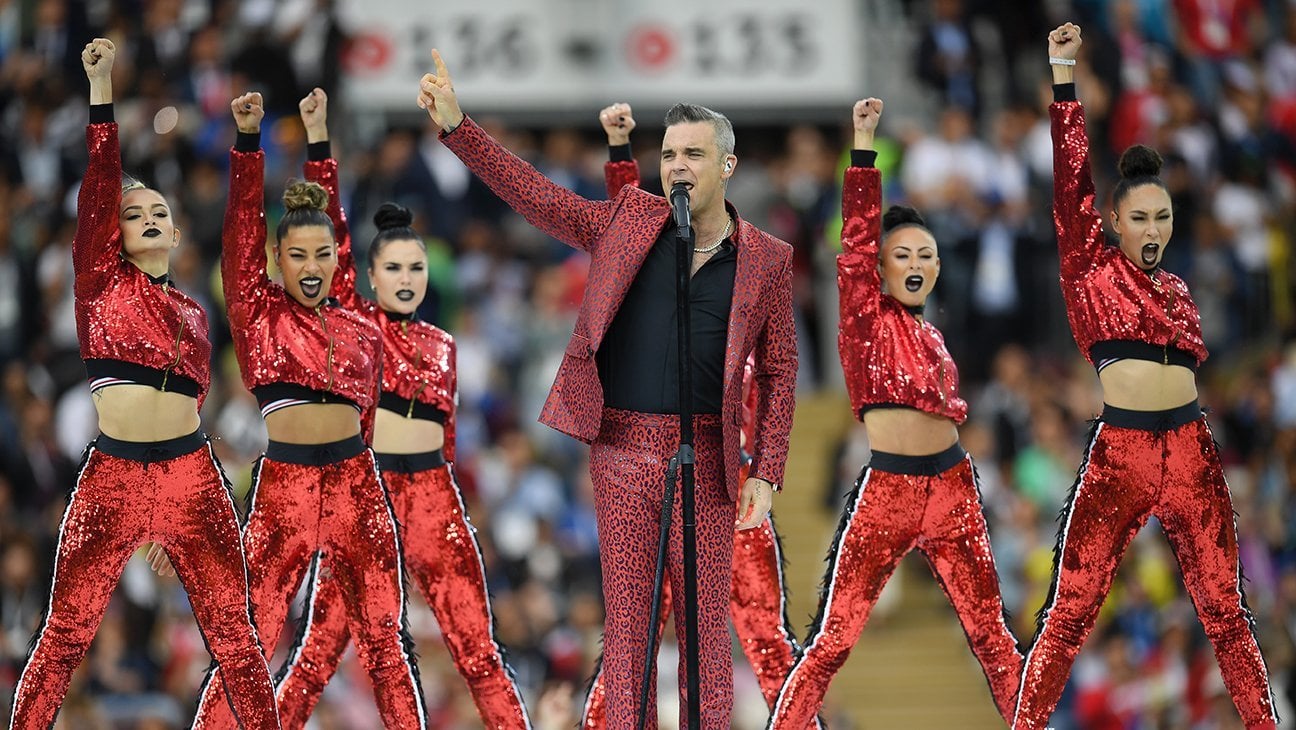 The British pop star got the World Cup off to a swinging start with his live performance at the opening ceremony in Moscow. The "Let Me Entertain You" singer caused a minor controversy when he flipped the middle finger at TV cameras during the show (leading to Fox, which was carrying the event life in the U.S., to publicly apologizes to viewers). Williams didn't explain his reason for the gesture, but the 44-year-old singer had been heavily criticized before the ceremony for accepting the invitation to perform in a country known for its laws banning homosexual "propaganda."
16)  Alessandra Ambrosio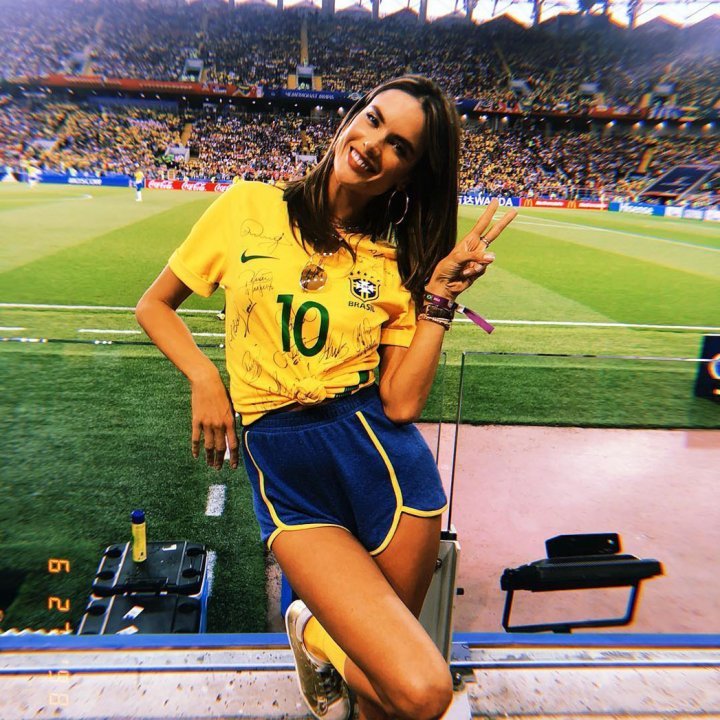 Brazilian supermodel Alessandra Ambrosio was in Russia on June 27 to cheer her native country to victory over Serbia. The Victoria's Secret model kept up her cheerleading to the end —when the tournament favorites were booted out in the quarterfinals by Belgium on July 6 in 2018.
17) Alexander Skarsgard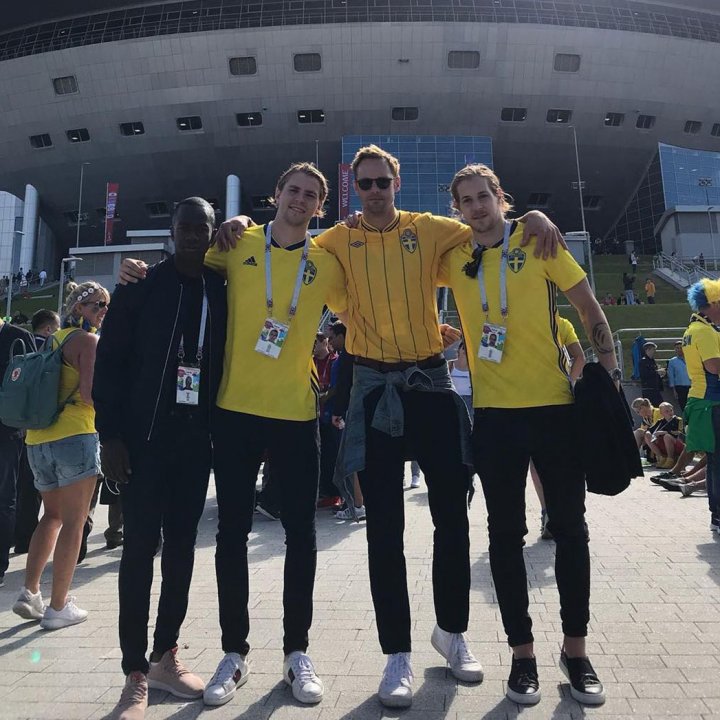 True Blood star Alexander Skarsgard came out to support his native Sweden in its World Cup battle against Switzerland in St. Petersburg on July 3, posing here in a photo posted by L.A. Kings right winger Adrian Kempe (standing to Skarsgard's left is Kempe's older brother, and fellow hockey pro. Mario Kempe). Sweden won the match, 1-0 but was knocked out of the quarterfinals by England. Skarsgard is a die-hard soccer fan. His drunken cheering at a Hammarby match secured him the role of a similarly imbibing cop in John Michael McDonagh's War on Everyone.
18) Izabel Goulart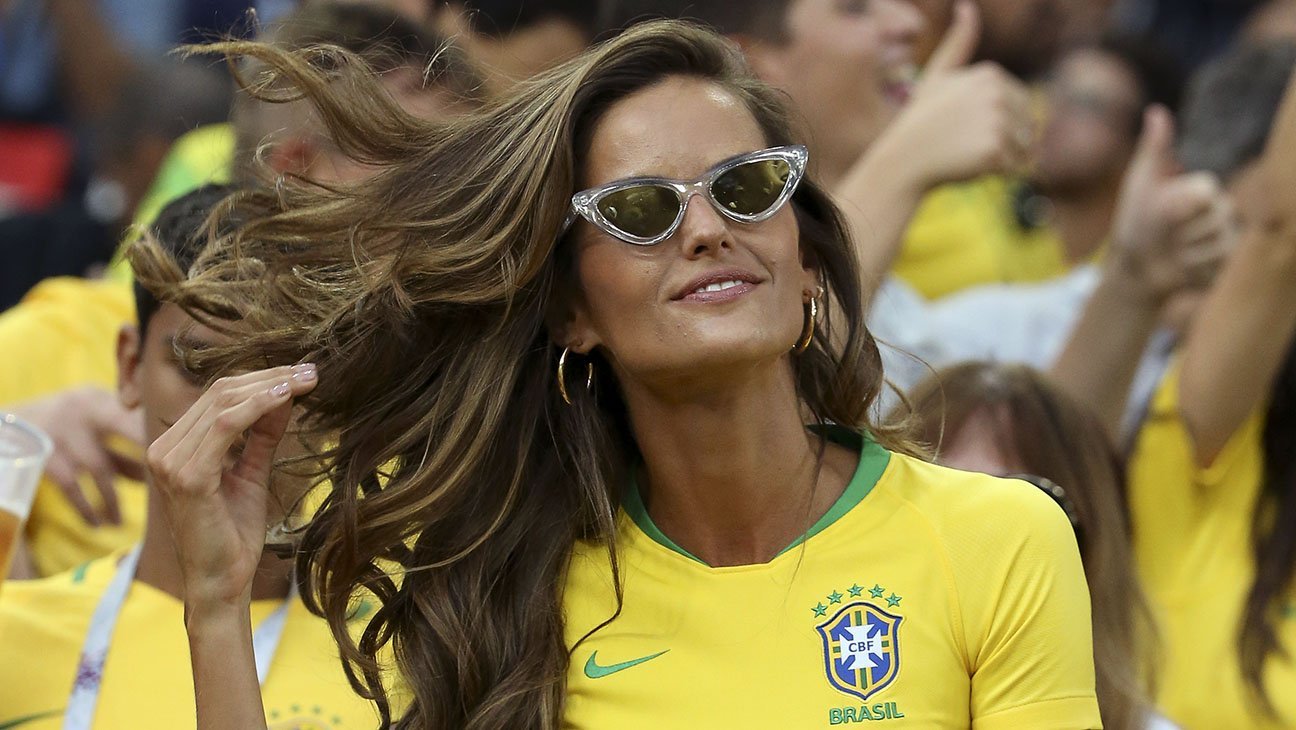 Brazilian model Izabel Goulart was waving the fan flag in support of the Seleção for their final group match against Serbia in Moscow on June 27. Brazil easily won the match 2-0, but the Victoria's Secret model was among the millions of fans stunned when the tournament favorites were knocked out by Belgium in the quarterfinals.
19)Pamela Anderson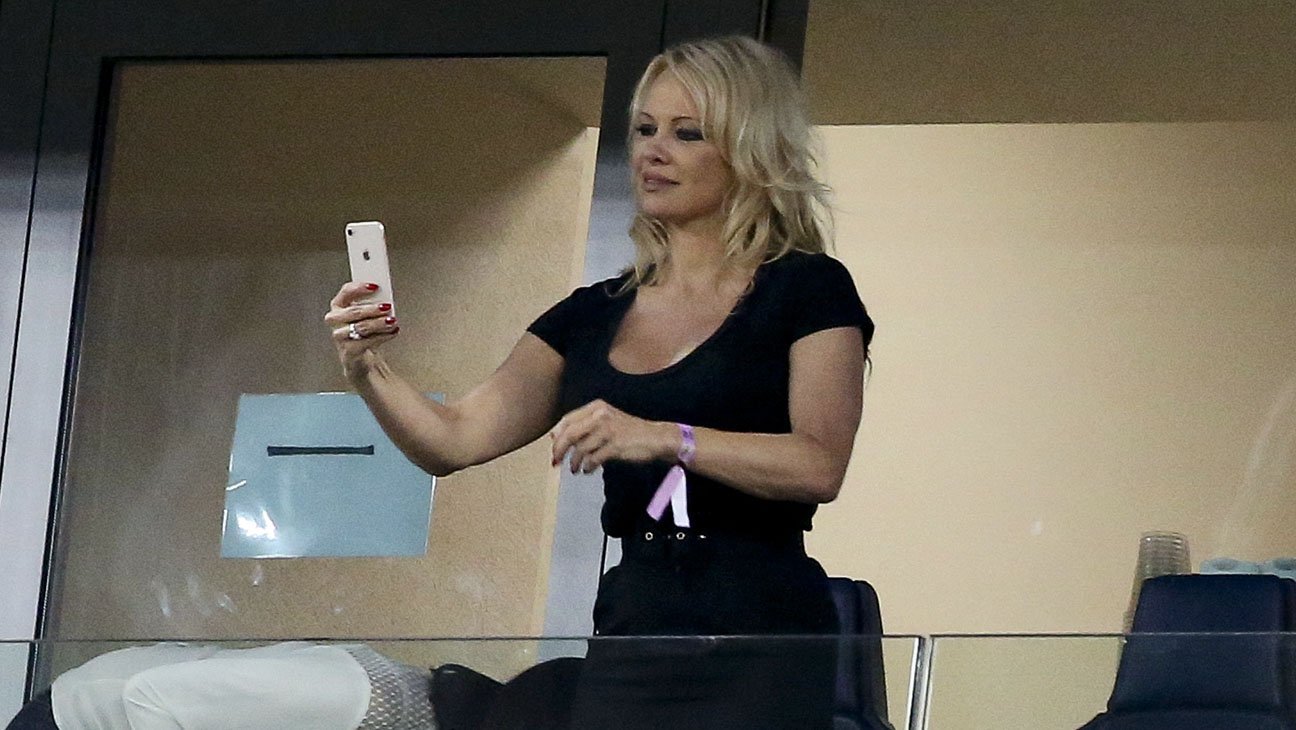 Every time Team France was on the field, the Baywatch star could be seen cheering from the VIP stands. The 51-year-old actress was in Russia to support her soccer player boyfriend Adil Rami, the 32-year-old defender for Les Bleus. But Anderson has had to share her affection for Rami with the rest of the French squad, which has taken to stroking Rami's luxurious mustache for good luck before every match.
20) Vladimir Putin
The 2018 World Cup has been a propaganda success for Russian President Vladimir Putin, with no signs of the violence or political unrest many had predicted before the tournament kicked off. Putin presented a friendly and peaceful image of the country to the world through well-placed photo opportunities at matches (like here with Russian Prime Minister Dmitri Medvedev.)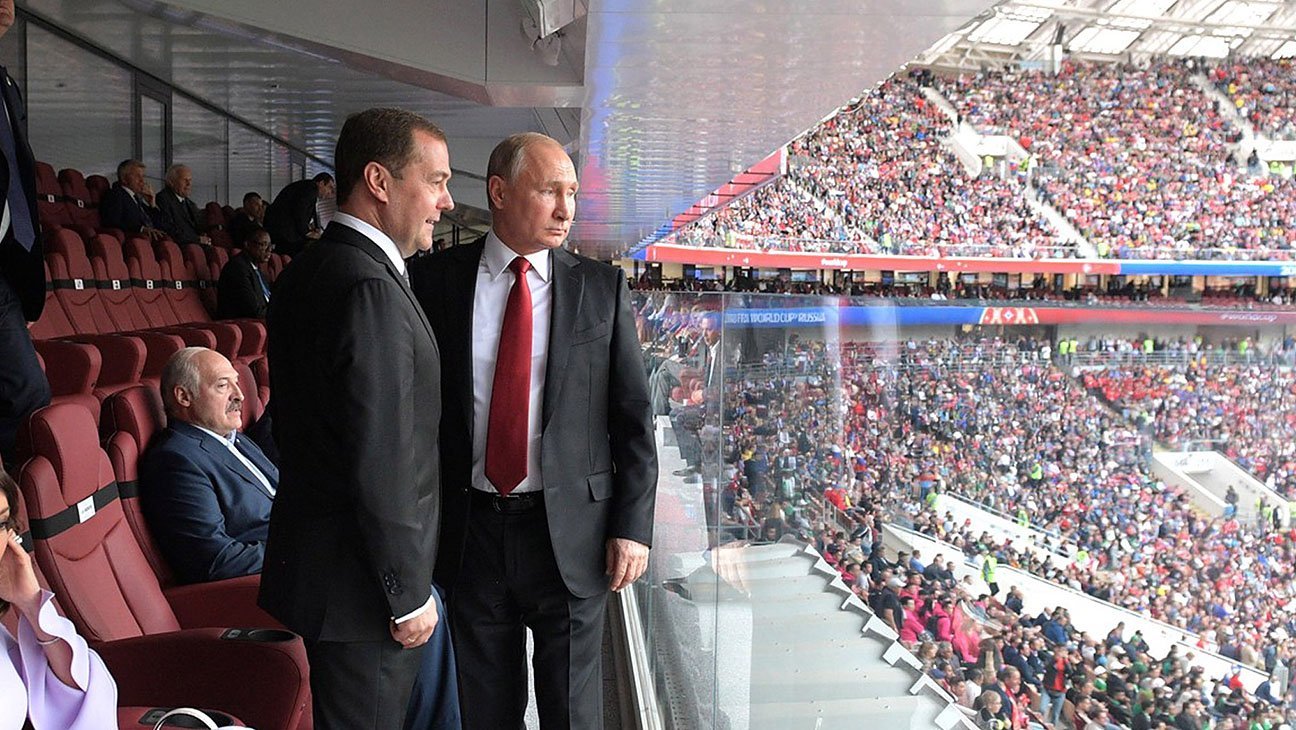 22) Emmanuel Macron
French President Emmanuel Macron has been a familiar face in Russian stadiums this World Cup, cheering on "Les Bleus" in their triumphant march to the final. The photogenic politico isn't just playing sports fan for the cameras. Macron is a an avid soccer fan and supporter of southern French club Marseille.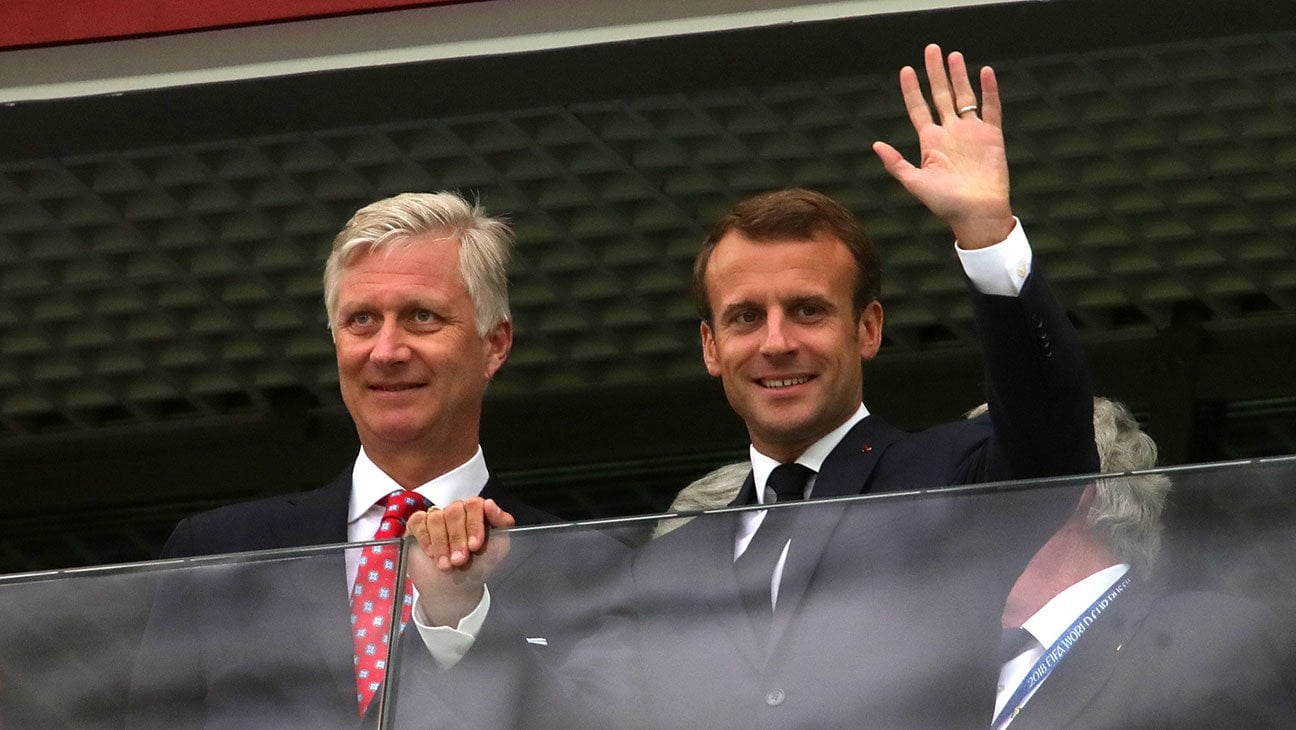 23) Irina Shayk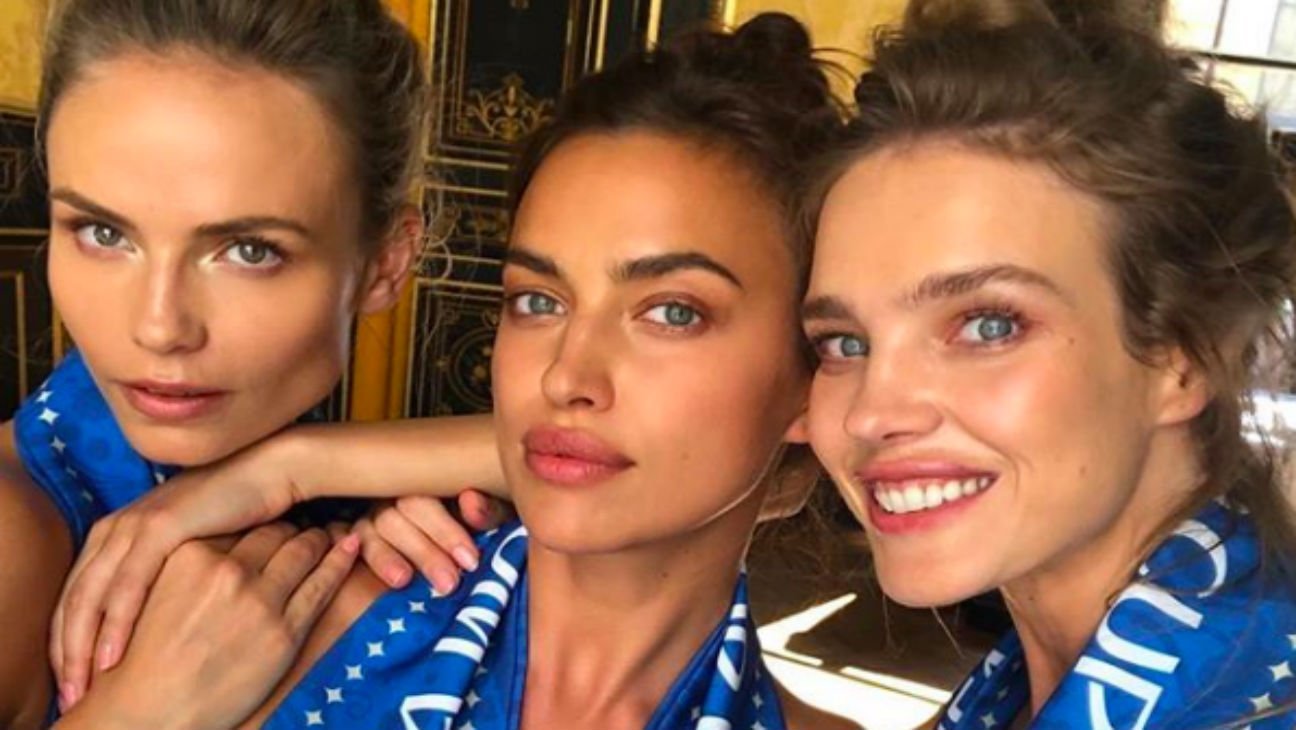 Russian supermodel Irina Shayk wears her loyalty on her chest, even when she's not wearing anything else. Shayk made it clear who she was rooting for in the World Cup by posing topless with model friends Natalia Vodianova and Natasha Poly, wearing only carefully-positioned Russian fan scarves. The extra dose of inspiration sadly didn't help the home team, which was defeated in the quarterfinals by Croatia.
24) Maluma at the 2018 World Cup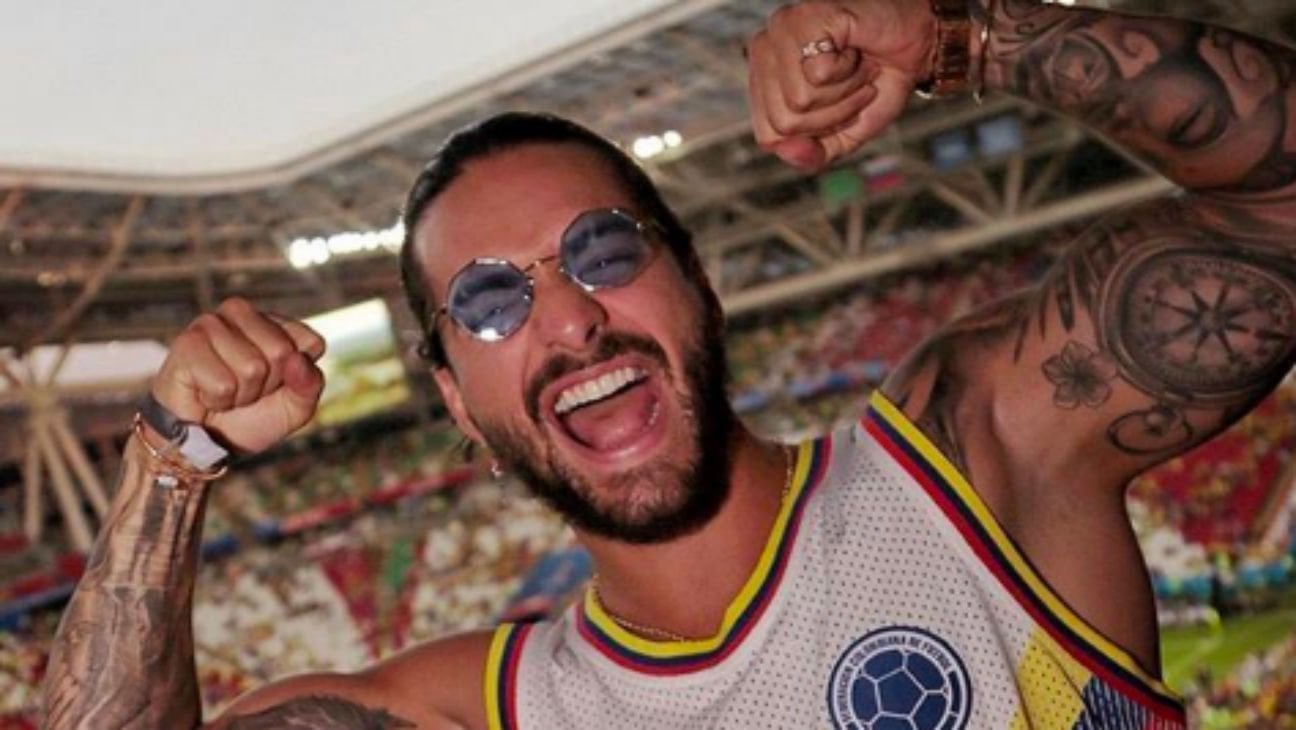 The Colombian singer, and mad soccer fan, was in Russia to watch his home country's opening match, a surprise 1-2 loss to Japan on June 19. Maluma had a professional reason for his World Cup cheerleading, as the "Felices los 4" crooner contributed to a bilingual version of Jason Derulo's World Cup anthem "Colors" for Coca-Cola. Colombia managed to make it through to the second round, but was knocked out by England in a dramatic, and for the English, cathartic, penalty shootout.
25) Will Smith, Nicky Jam, Era Istrefi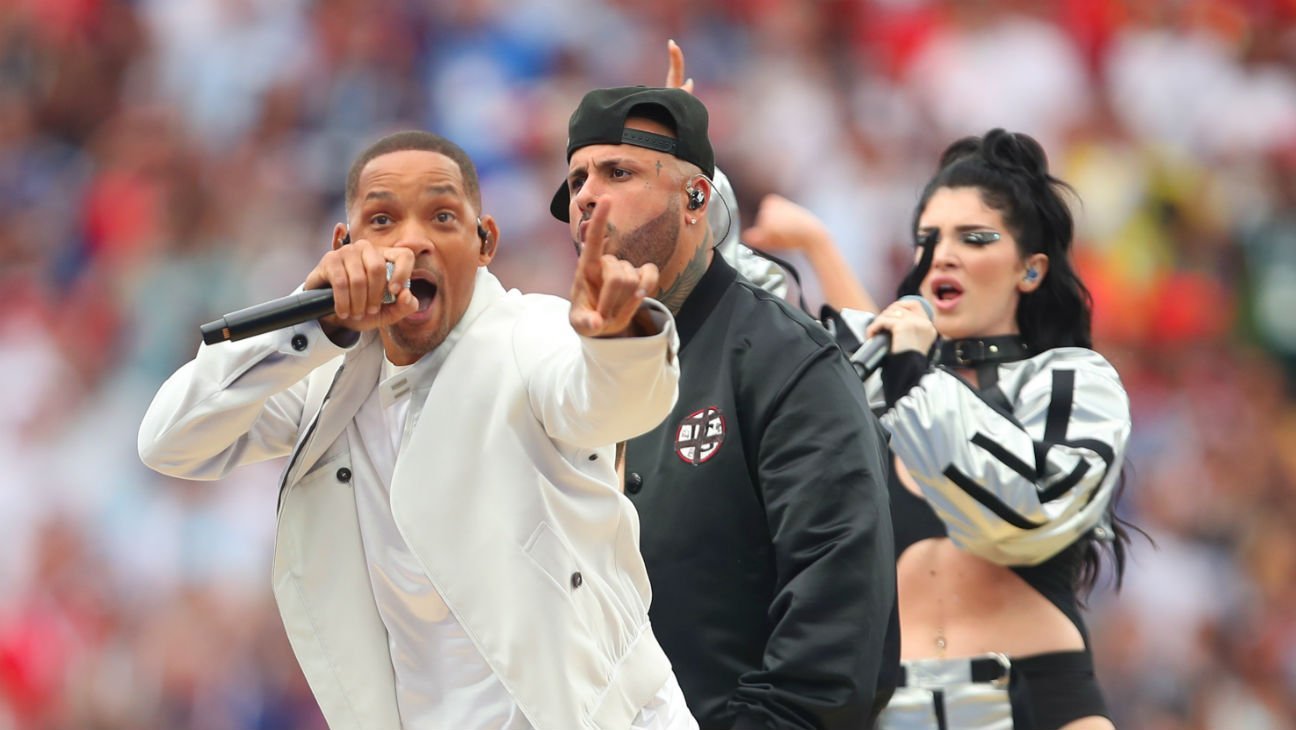 Box-office champ Will Smith closed down the World Cup with a live performance of "Live it Up," the tournament's official song, together with U.S. singer Nicky Jam and Kosovar singer and songwriter Era Istrefi. The trio performed at the closing ceremony ahead of the final match on July 15 at the Luzhniki Stadium in Moscow.
Hope you like the article, You may also like below recommended pages.
Football Stars who look similar to famous celebrities around the world