Want to be a billionaire and wondering which business school to go to? You should probably try Harvard University, at least that's what a study says. According to a study by Wealth-X, Harvard is on the top spot when it comes to the number of billionaire alumni.
According to the study, Harvard's MBA program has produced nearly three times more billionaire graduates than that of Stanford University, which emerged in second place on the list.
Here's the list: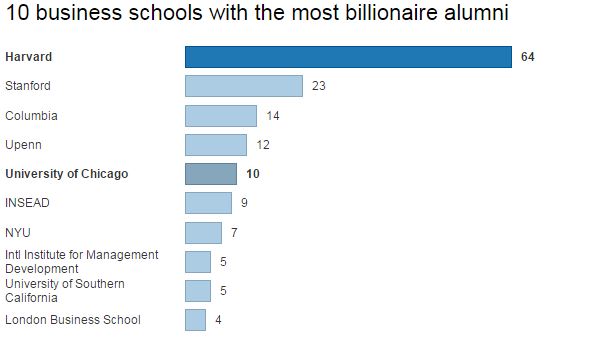 The report also noted that 21 percent of world's billionaires who have pursued tertiary-level education is armed with an MBA degree. Nearly 50 percent of these individuals obtained their MBAs from the 10 institutions on the list.
Among the 2,325 billionaires globally in 2014, 65 percent have tertiary education.
The list shows that American business schools dominate, taking seven of the top 10 spots. Only three institutions are based outside the United States: INSEAD in France, International Institute for Management Development in Switzerland, and London Business School in the United Kingdom.
Some notable billionaires who have graduated with an MBA include Philip Knight, founder and chairman of sports footwear and apparel company Nike, Inc. Knight obtained his MBA from Stanford Graduate School of Business in 1962.
David Gilbert Booth graduated from Chicago University's MBA program in 1971 and went on to establish Dimensional Fund Advisors 10 years later. An avid philanthropist, he donated $300 million to the University of Chicago's Graduate School of Business in 2008, which was subsequently renamed University of Chicago Booth School of Business.
More billionaires went to the University of Pennsylvania for their undergraduate degrees than any other college in the world
Last month, another Wealth-X study had revealed that University of Pennsylvania has produced more billionaire undergraduate alumni than any other school in the world. 25 current billionaires received their bachelor's degrees at Penn, the most of any school on Wealth-X's list. The only other colleges to produce similar numbers were Harvard University – with 22 undergrad alum billionaires – and Yale University – with 20.
[divider scroll_text="Back To Top"]