Microsoft has made official what we all pretty much expected: Its new CEO, replacing Steve Ballmer, is Satya Nadella. Nadella has spent 22 years at Microsoft, and was previously Microsoft's Executive Vice President of Cloud and Enterprise. Nadella also takes a position on Microsoft's Board of Directors.
Introducing our new CEO, Satya Nadella: http://t.co/u5IGl1N78G pic.twitter.com/akgNY5euEJ

— Microsoft (@Microsoft) February 4, 2014
Nadella is credited as a key leader in moving the company towards cloud services, around products including Bing, Xbox and Microsoft Office. His time at MS oversaw a period of huge growth for Microsoft Business Services, too, growing that segment of the business from a $1.5 billion slice of pie to a $5 billion segment in just five years' time.
Here are few things you should now about the 47-year-old tech industry veteran who is now tasked with running one of the biggest companies in the world.
[accordion]
[acc_item title="He has worked at Microsoft for more than 20 years." style="primary "]
If you believe Microsoft needs someone in the CEO role who knows the company inside and out, Nadella is a strong pick. He joined the company in 1992 from Sun Microsystems, and has served in a number of executive roles since, starting out in the Windows developer-relations group and moving on to the online services division. In recent years, he built up Microsoft's cloud computing efforts as the executive VP of its Cloud and Enterprise group.
Microsoft's first CEO was its cofounder, Bill Gates. Ballmer, the company's second CEO, had worked at the company since 1980. Nadella, with his long tenure at the company, fits the general formula.
[/acc_item]
[acc_item title="He has never run a company." style="info"]
If, however, you believe Microsoft needs someone with an outside perspective and experience as a chief executive, Nadella may be a more questionable pick. He worked as a member of the technology staff at Sun Microsystems and has held key roles at Microsoft, but never served as a CEO. Then again, the Microsoft division he runs is a $20 billion business, larger than many tech companies.
[/acc_item]
[acc_item title="His vision for the future of tech: better UI, better backends." style="warning"]
During an interview last year at the Le Web conference, Nadella offered some thoughts on tech trends he expects to see over the next decade.
"My feeling is if you look at the broad stroke of technology shifts, it seems like at least on the device side or on the client side, it's the changes in UI, or input and output, it's touch or ink or voice or gesture, that's going to be the next big revolution," he said at the time. "Then on the backend, I've always noticed that it's all about the factor of production, an improvement of utilization… What happened with virtualization was that you could get more done with less. What's happening with cloud is you can get more done with less."
When pressed about whether Microsoft could get out of its own way to grab the future, he added the following: "We wouldn't be here 30 years since our founding if we were not able to ride the new waves of technology, some more successfully than others. There's no question of that. The fact that we have the capability that allows us to go and hunt for the new concept is the key for this business and longevity."
[/acc_item]
[acc_item title="People at Microsoft like him." style="danger"]
Though he may not be particularly well-known outside the company, multiple reports note that he is well-liked and well-respected within Microsoft and within the industry at large.
[/acc_item]
[acc_item title="He is the first Microsoft CEO born outside the country." style="default"]
Nadella was born in Hyderabad, India, and studied engineering at a university there before moving to the United States. He went on to study computer science at the University of Wisconsin-Milwaukee and earned a Master's degree in business administration at the University of Chicago. That makes him one of just a handful of Indian-born chief executives to run major American companies.
[/acc_item]
[/accordion]
In an email to Microsoft employees published by the company, Steve Ballmer announced the news and said he was "pumped about the future of Microsoft" (typical Ballmer, we'll miss you big guy). He praises Nadella's technical and business skills, and gets surface-level emotional about Microsoft's big, bold moves.
In his own email to Microsoft employees, Nadella reflects on his time at the company and talks about how he asked Gates to come back and spend more time at the company. He points out the importance of innovation to Microsoft, and puts forward both mobile and cloud as key priorities for Redmond going forward. Here's an excerpt about what he sees in terms of where we're headed with computing.
I believe over the next decade computing will become even more ubiquitous and intelligence will become ambient. The coevolution of software and new hardware form factors will intermediate and digitize — many of the things we do and experience in business, life and our world. This will be made possible by an ever-growing network of connected devices, incredible computing capacity from the cloud, insights from big data, and intelligence from machine learning.
Microsoft, according to Nadella, is uniquely positioned to usher in this new computing future. He continues in his email:
We are the only ones who can harness the power of software and deliver it through devices and services that truly empower every individual and every organization. We are the only company with history and continued focus in building platforms and ecosystems that create broad opportunity.
[youtube height="500″ width="800″]http://www.youtube.com/watch?v=T8JwNZBJ_wI[/youtube]
The appointment of Nadella could signal a doubling down on its Server and Tools business, which is now a $19 billion piece of Microsoft's overall revenue picture. The new CEO was also instrumental in Microsoft's work around digital rights management and interactive TV, however, and as mentioned he also works with the Xbox division, so he's a more well-rounded pick for the top spot than many may realize. Nadella's own message repeatedly hits the dual points of both cloud and mobile devices, too, which is a good indication that the company doesn't want it to seem like they're going to be ignoring the hardware side of their business.
Alongside the news of Nadella's appointment, Microsoft also announced that founder and former CEO Bill Gates will be joining as "Founder and Technology Advisor," a role that will see him take a more active hand in product development. The move seems designed to offset any perception of Nadella's inexperience on the hardware side, and indeed, the team should be a formidable one if Gates is really going to be spending more time off the bench. Gates will apparently spend 30 percent of his time at Microsoft under the new arrangement.
[youtube height="500″ width="800″]http://www.youtube.com/watch?v=M5BhQVuRcTk[/youtube]
Nadella is only the third person to occupy Microsoft's CEO role in 39 years, preceded by Ballmer who filled the role between January 2000 and January 2014 and Gates, who led the company between 1975 and 2000.
Microsoft will be hosting a webcast at 12:00 PM Pacific to discuss the executive changes, so tune in then to hear more about Redmond's latest leader, or follow our coverage right here.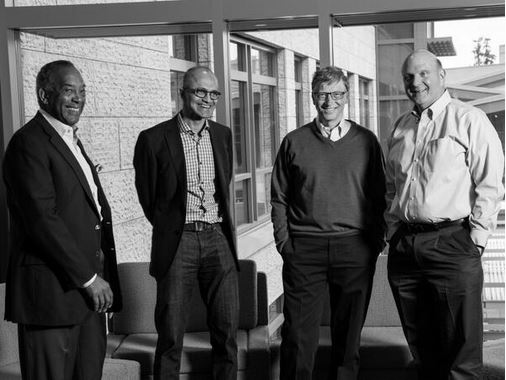 Microsoft had been rumored to be considering a number of outside candidates, but ended up choosing a longtime insider. Gates was reportedly a strong advocate for Nadella being nominated.
During more than 20 years at the company, Nadella has served in a number of executive roles at the company was most recently its VP of its Cloud and Enterprise business.
In an email to employees, Nadella said it was "very humbling" to be appointed to the chief executive role. "It reminds me of my very first day at Microsoft, 22 years ago. Like you, I had a choice about where to come to work," he wrote. "I came here because I believed Microsoft was the best company in the world… I knew there was no better company to join if I wanted to make a difference. This is the very same inspiration that continues to drive me today."
[divider scroll_text="Back To Top"]