Born on August 13, 1979, Lisa Sthalekar is arguably the greatest all-rounder women's cricket has seen. An orphan born in Pune and later adopted by an Indian father and an English mother living abroad, Lisa went to become one of the legends of the women's game. Her mighy influence in the game can easily be foxed by her seemingly grounded persona and shy smile. we her fascinating life story and what she had to say in one of their encounters.

February 17, 2013: It's a pleasant evening and a good day of cricket is underway at Mumbai's Brabourne Stadium, with the floodlights illuminating the ground. Lisa Sthalekar trots back to her bowling crease and prepares to bowl to West Indies' Deandra Dottin, who in the former's own words is "the hardest hitter in the women's game". Sthalekar sends a loopy and tempting delivery to the West Indian who charges down the track and is foxed by the flight – BOWLED!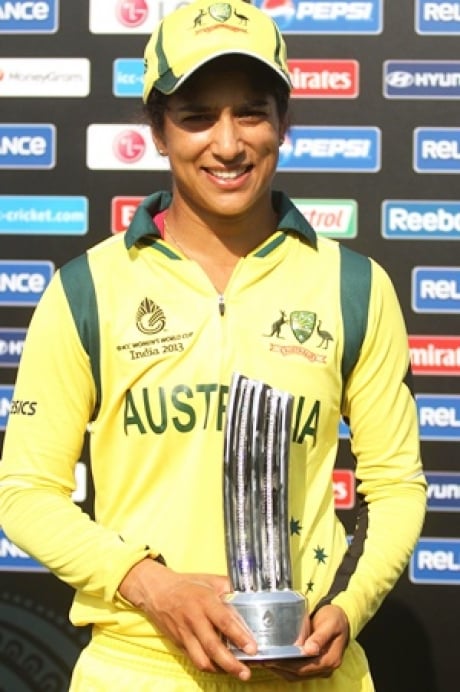 Sthalekar goes on a celebratory run for she knows and so does the rest of the world that Australia have sealed the ICC Women's World Cup. With 150 runs needed in less than 20 overs was asking for a display of a lifetime from Merissa Aguilleira's girls. Two more off-breaks down, She walks back to her fielding position accepting the back-pats from her teammates, and to no doffing of hat or acknowledging the absent applause from the sparse crowd that had gathered to witness the match in South Mumbai. It was to be her final act in international cricket, bringing an end to a glorious career of arguably the greatest all-rounder in women's game.

Indian connection:-
The story of Sthalekar's life doesn't start with the prettiest scene. When girls of her age had endless affection being showered on them, she didn't have the merriest of beginnings. Little would she too remember of the days when she was stranded by her biological parents. Taken care at an orphanage in Pune, Laila, as she was known there, was adopted by the son and daughter-in-law of Maharashtra MLA Anant Sthalekar. Haren and Syu Sthalekar, living in the US, were in India looking to adopt a baby boy. However, disappointed at not finding the child they were looking for, the orphanage suggested them to adopt Laila, who was in need of family care.
Three weeks after her birth, the Sthalekar family moved to the US and from there to Kenya before settling in Sydney, thus starting Lisa's Australian journey. Expressing her gratitude to her family, she wrote in her book, "I'm forever grateful for the opportunities they have given me and for their unconditional love."
Sthalekar radiates deep love and nostalgia even today when she talks about her days in India. Quite often she has recounted her experiences of flying kites and eating paan by the roadside. However, speaking about her most memorable moment in the country, she told the writer, "It has to be with my grandmother in the school with the house on the top-floor. It was a four or five-bedroom house, and then there was a school below that. I used to run amuck when the school was going on. She was the headmistress. It was in my school holidays when I would come over to India. I used to enjoy a lot and have fun with my grandmother."
She has since toured India thrice as a player, ending up on the winning side each time, including bagging a World Cup. Yet, the most memorable moments for her came off the field as she tried to find her way out of Mumbai traffic, lectured her teammates on how to dress and behave with the locals and engaged in discussions with taxi drivers who spoke in Hindi, a language she didn't understand.
While talking about her Indian experience, Sthalekar says, "As soon as you land, you taste India, almost biting into the humidity and pollution. For me it is such a comforting feeling, a feeling of home, of happy memories." Those are unpleasant words at many levels, yet comforting and filled with warmth.

Early life:-
The Sthalekars belonged to the Goud Saraswat Brahmin sect, the same sect of the Gavaskars, Tendulkars, Wadekars and Vengsarkars.Although she wasn't a Sthalekar by blood, it really isn't a surprise to know where the cricketing instincts came from.Inspired by her father who loved the game, Sthalekar took to cricket with much joy. She recounts, "He [dad] was the key. He took me outside, introduced me to the game, took me to SCG (Sydney Cricket Ground). Obviously he had real passion for the game, as most Indians do. But he realised his shortcomings. He wasn't a good cricketer himself. But he ensured that I got the best coaching at a very young age and provided me with all the help that I needed," she told the writer in one of their candid conversations. And in a few years, it was Lisa who came up to her father, as Haren narrates, with the desire to take up the game seriously. Unaware whether girls could pursue the sport, Haren went around asking local clubs if there was a chance Lisa could play cricket. Although she was taken in to play Under-10s for Pennant Hills/Cherrybrook, she had to defeat her inner battle of the sexes before the real game actually began.
Wanting to hide the fact that she was a girl, Lisa would dress up in long pants and have her cap on even while bowling, a practice that continued till the very end of her international career. Narrating a comical incident, Sthalekar writes in her book Shaker, "Back then, I wore a cap instead of a helmet, whilst batting. It proved to be a great disguise but I didn't realize how good it was, until one day when I was running between wickets. Being the 'Speedy Gonzales' that I am, my hat fell off and as it fell to the ground my large ponytail was exposed. With that, one of the boys shouted out "hey, that bloke's a girl!"
Not to be fluttered, she went on to play cricket with boys till the Under-16s. She was so comfortable playing with the blokes that apprehension surrounded her when she had to move on and play with the girls.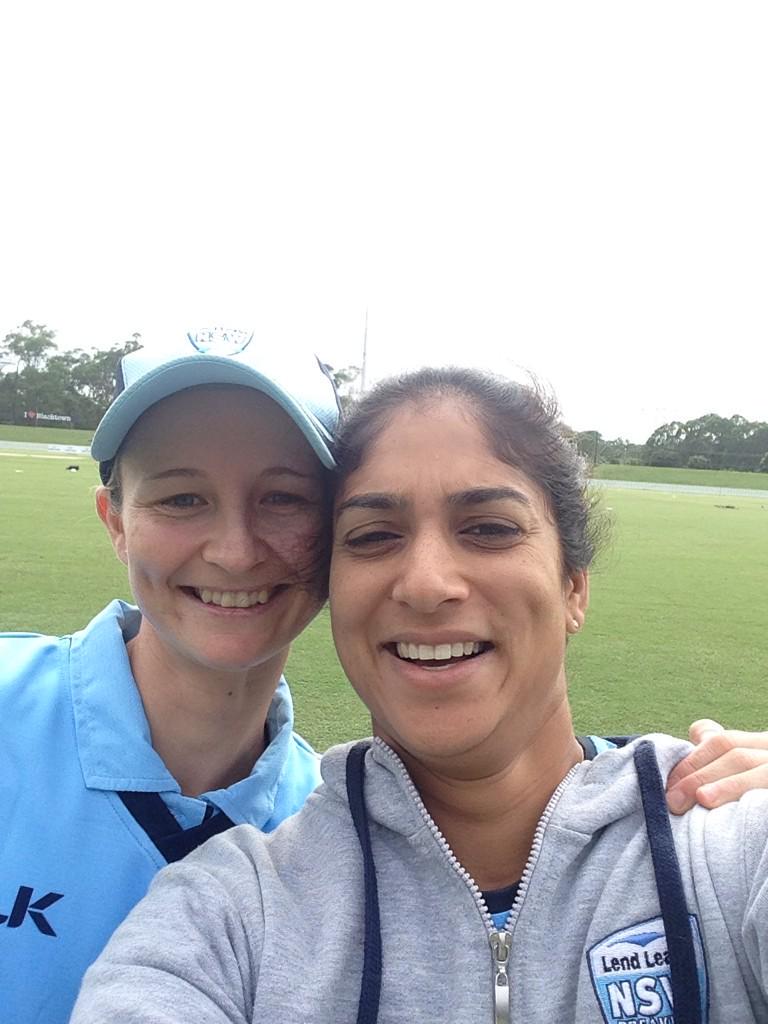 First Cricket Tour and the journey thereon:-
Sthalekar was selected from her region to play in the Combined High School (CHS) cricket competition in New South Wales. The progress from thereon was smooth as she soon found a place in an invitational team which comprised New South Wales and Victorian players in National Championship. A string of fine performances helped Sthalekar get a chance to train with the Under-19 New South Wales team. It was here that she met Steve Jenkin, who went on to coach her at all levels, including international.
The following year, she had made it to the New South Wales Under-19 team. However, opening the batting for one of the strongest line- ups, Sthalekar found it tough to match the efforts of her teammates. By the time the team had progressed to the National Championship final, Sthalekar was understandably dropped from the side.
"Natural talent only gets you so far, and then you realize you have to start really working for it and start taking it seriously. Throughout my career, I experienced moments/situations where I had to make a decision, do I continue along my current path, do I call it a day or do I take my game to the next level?"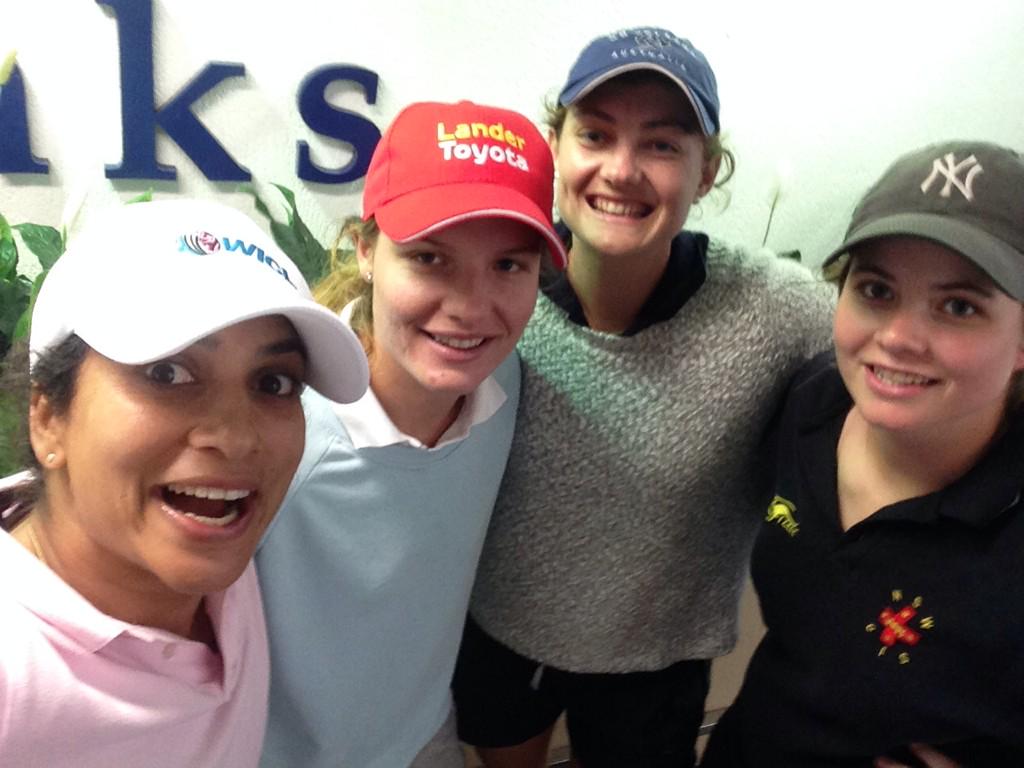 It was at this point that she had started questioning her commitment to the game. It was the moment of realization as to how esperatelyshe wanted to do well in the game that she loved. The moment of wisdom, if you would call it, came and soon reflected on her performance.
The year after that, by the time the National Championship had ended; she had done enough with both bat and ball to be awarded the title of joint Player of the Series. Within a few years, she was named the captain of the CHS team that comprised of a number of players from the New South Wales Open team for the tour of England and Ireland. Her personal moment of success during the tour came when she notched up a brilliant triple century.

Enjoyed watching them play, but they were not my idols:-
Contrary to popular belief, Sthalekar didn't look up to Michael Slater and Adam Gilchrist, two of her favourite cricketers, as her idols during her developing years. "I have never had a hero as such who has inspired me to play the game. I have always enjoyed watching certain players. I enjoyed how they [Gilchrist and Slater] batted and how they approached the game. When these two players batted in Test matches or One-Day International (ODIs), I would stop what I was doing and watch the match. It is similar to what people do in India when Sachin [Tendulkar] comes to bat."

Australian debut:-
Like every beginning for Sthalekar, the excitement of her Australian call-up for the 2001 Ashes wasn't set to go along a dreamy path. Soon after getting the news of being selected in the squad, she slipped and rolled her ankle on a gutter before hitting the ground at the SCG. The injury was, as Australian team physio Lisa Ross had identified, a grade three strain, and as Sthalekar would say, it was the most excruciating physical pain she had suffered. The injury only seemed worse with Sthalekar's inability to control her tears. She did fly down to England, but managed to play just one warm-up match on the tour.
However, she did get to make her ODI debut against England at Derby in 2001. She got another chance at the international level in thevery next match before being dropped. Her performance wasn't bad as she remained unbeaten in the limited balls she got to face lower down the order and was economical with the ball.
It took her two more years to make her Test debut, when England toured Australia for the Ashes in 2003. During this period she had secured a Bachelors degree in Arts and double majors in Psychology and Religious Studies. Amidst all the highs and lows, she also lost her mother to a five-year battle with cancer in 2002.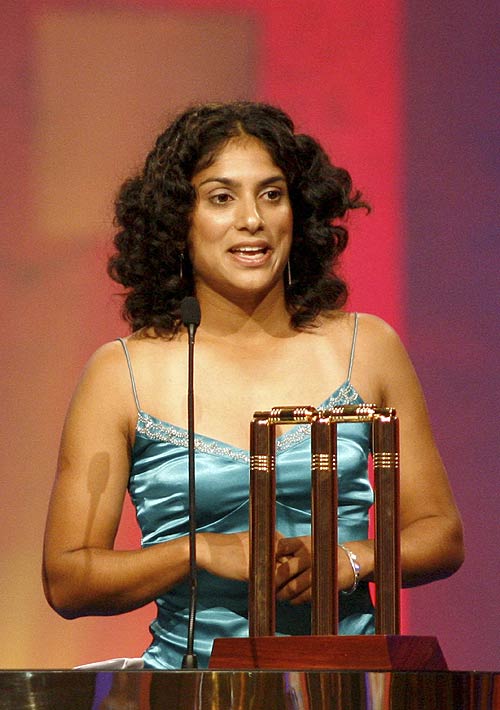 The 2005 Ashes:-
For any Australian, the Ashes holds a special significance and the urge to perform a notch higher is not surprising. Sthalekar's start to Test cricket, however, wasn't the best, especially with the bat. Pushed in to open the innings with skipper Belinda Clark, she returned with scores of six and a duck in the two innings. Nonetheless, she bowled well and bagged two wickets for just 24 runs in the match, including the prized scalp of English skipper Clare Connor, who happened to be her first Test wicket.
However, it didn't take too long for her to redeem herself with the bat as in the very next match, she notched an unbeaten 120 — the only century in her eight-match Test career. Although the encounter ended in a draw, Sthalekar had shown her class to the world and announced herself at the international level. It was not just the century, but also the 94-ball resistance in the first innings when the eventual Player of the Match Lucy Person was running riot in the opposition ranks, that truly displayed her graduation to the next level and temperament to stay on.

Early years:-
After a poor run in 2002-03 for Australia and New South Wales, Sthalekar found the form of her life in Australia's Women's National Cricket League (WNCL). She picked up wickets in heap and scored runs in abundance on help her side regain the WNCL title. By the time Australia toured India in 2004, she was a key player in the side. Her off-breaks and wristy batting were the biggest assets in the dry Indian conditions. Sthalekar scored 152 runs and bagged eight wickets as she helped her team emerge victorious.

2005 World Cup:-
Despite all the achievements in her four-year career till then, the biggest desire was yet to be fulfilled. Pained at watching her team lose the 2000 World Cup final as a fan, Sthalekar was determined to bring back the Cup to Australia. She wasn't coming into the tournament at the back of a good domestic season. To worsen matters, she had just injured herself while fielding in the build-up to the World Cup in a home series against New Zealand. However, she made it to the World Cup.
Despite putting up average performances throughout the tournament, Australia had managed to beat England in the semi-final and progress to the final. Although Sthalekar contributed in every department, her performances weren't exceptional. With the prospect of facing India in the final, Australia were a relaxed lot and so was Sthalekar. Probably she knew, or she had just saved it — the best for the last.
After the Southern Stars were reduced to 71 for three, Sthalekar joined Karen Rolton to forge a crucial 139-run stand for the fourth wicket. Having helped Australia post a decent total of 215, she came on to bowl five tight overs and bagged the wicket of Amita Sharma. More importantly for her, she could see her efforts help Australia bag the cup as India lost the match by 98 runs. "I'm sure the win had buried some demons for those who experienced the loss of 2000 [World Cup]," she said.

Middle Years:-
That year was to bring more glory for Sthalekar. On their way to England for a return series, the Southern Stars side had a stopover atIreland, where the two teams were to play the Irish team. In the last match of the tour, she struck her maiden ODI century, which tooended up being overshadowed by Rolton's knock. Nonetheless, those were good signs for her as well as the team, as Australia waspreparing for an intense tour of England.
Sthalekar's seven wickets with the ball and 77 runs with the bat didn't help as Australia lost the Ashes for the first time in 42 years. However, her performances in the ODI series that followed were noteworthy and bore positive impact on the results. After the series was leveled going into the final encounter, she bagged two crucial wickets and later helped Australia chase down England's total of 256 runs with a fine knock of 53. However, the tour didn't end on a high as she was clobbered all over the park in Australia's inaugural T20 match and was later dismissed for a duck when she came out to bat.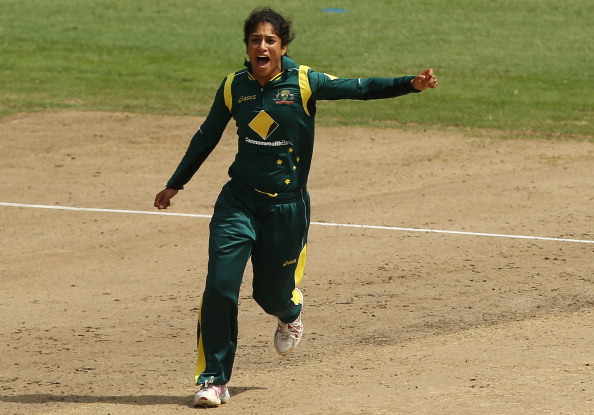 Back home, Sthalekar had yet another successful run in the WNCL during the 2005-06 season as she was instrumental in helping New South Wales to another National Championship victory. Soon after, Australia hosted India for a one-off Test match at Adelaide in February 2006. It was to be Sthalekar's first Test against the country of her birth and the only one of her career against a non-English team, and she didn't miss the chance to impress.
Coming in to bat at No 4 with the scoreboard reading 54 for two, she stroked a fine 72. By the time she was out, the score read 213 for eight. When India came out to bat, they were dismissed for 93 and asked to follow-on. Sthalekar continued her merry run in the match bagging five wickets, including the prized scalps of Mithali Raj and Anjum Chopra. For her brilliant efforts she was awarded the Player of the Match. It was at this point that Sthalekar was proving to be a match-winner with the bat. She started scoring runs at a more consistent basis and had established herself in the team as a batsman who is equally reliable with the ball. More importantly, she was delivering in crunch situations. Twice in must-win encounters, she played invaluable knocks with the bat to help New South Wales defend their domestic title.
She followed it up by scoring 394 runs at an average of 98.50 when Australia toured India for a four-nation ODI series. Her run-fest continued for the next one year. It was also the period when she was proving expensive with the ball. However, that too was to change with the start of the 2007-08 season. In the very first match of the WNCL, she returned with figures of two for seven in her 10 overs. She continued to deliver in crunch situations, and played handy knocks in various tournament finals and must-win matches.
When the International Cricket Council (ICC) introduced players rankings for women in 2008, she occupied the top-spot in the rankings for all-rounders. She was also awarded Australian International Women Cricketer of the Year twice in a row in 2007 and 2008. Starting 2005-06, she also led New South Wales to five consecutive WNCL championships. During this period, she averaged over 40 with the bat and just over 20 with the ball.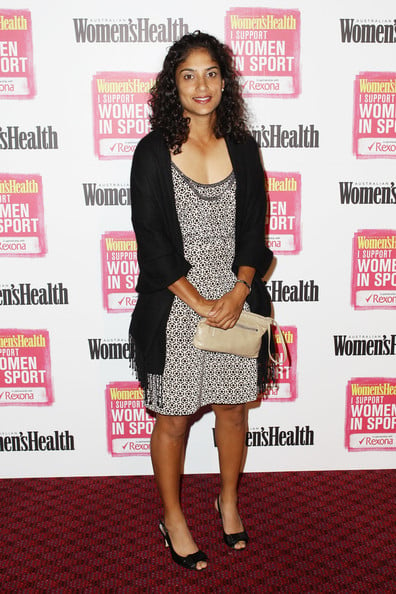 Lisa Sthalekar is the first and the only women cricketer to score over 1,000 runs and pick more than 100 wickets in ODIs

2009: World Cup and World T20:-
It was the first women's World Cup to be organized by the ICC. With more money and extensive promotion, stakes were higher for players to perform better. However, Sthalekar couldn't do her best to grab the attention. She had a miserable tournament with bat as Australia crashed out of the tournament in the Super Sixes. "Personally, I was bowling well, but couldn't buy a run. I wanted to do well, maybe too well."
While entering the Super Six stage, Australia had to win all their matches in order to qualify for the final. However, a shock defeat against India in the very first match of the round shattered their hopes. "It was an empty feeling knowing that we weren't going to make the final of the World Cup…Everyone managed to keep it together whilst we were in the change rooms, but there was not a dry eye in the privacy of our shared rooms. I was rooming with Delissa Kimmince…As soon as she went into the shower, I allowed myself to cry. I got myself together as she came out only to lose it again in the shower." Sthalekar's performance with the ball, however, was brilliant. She picked up 13 wickets at an average of 15.69 at an economy rate of 3.45 in the tournament.
Australia's horrid run continued that year as they were beaten by England in the semi-final of the World T20. At a personal level, Sthalekar continued to impress and strengthen her position as one of the dominant figures in women's cricket, but there was little consolation for her as the glitter of Southern Stars was slowly weaning. A number of surprising retirements were announced following the twin debacle.
However, the team came back mentally stronger and determined next year, and bagged the ICC World T20 championship, with Sthalekar proving effective in all departments.

Post 2012:-
After having worked with Cricket New South Wales for almost eight years in game development, Sthalekar's contribution to the game was duly recognized and she became the first female board member of the Australian Cricketers' Association (ACA). She was a part of the ACA's Women's Executive since its inception in 2009-10. In her current responsibility she assumes the role of Youth Program Manager – Female.
Speaking about Sthalekar's inclusion as ACA's board member, former fast bowler Geoff Lawson said, "It says a lot about her as a player, but more importantly about her as a person of great integrity and influence in the game that is her life." By the time the 2013 World Cup had come, Sthalekar was one of the giants of the game. She was already ranked number one in the ICC T20 Rankings for all-rounders and two in ODI rankings for all-rounders and bowlers. She played a key role in yet another successful campaign for the Southern Stars before bidding farewell to international cricket. It was an end to one of the most glorious careers in women's cricket.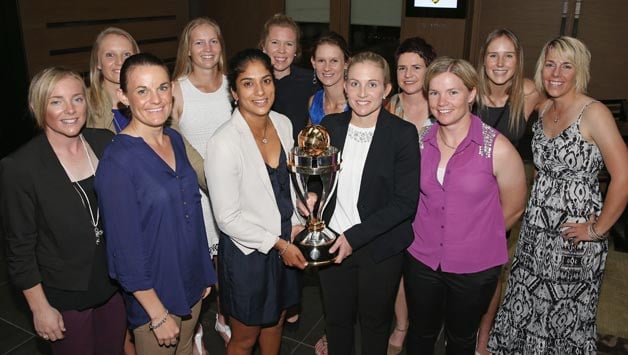 The 2013 World Cup winning team…From left: Sarah Coyte, Alyssa Healy, Erin Osborne, Meg Lanning, Lisa Sthalekar, Alex Blackwell, Julie Hunter, Jodie Fields, Renee Chappell, Jessica Cameron, Ellyse Perry and Elyse Villani of the Southern Stars pose with the World Cup trophy

Sthalekar the all-rounder:-
Purely using stats, it will be tough to identify whether Sthalekar was a batsman who could bowl or vice versa. The Australian might boast of a fantastic bowling record, but she didn't take to the red cherry with as much love as she did to the willow in her hand. "One of the things I realised early in my career was that I wanted to be involved in every aspect of the game so I became an all-rounder and put myself at key position in the field. I like to be involved in the game all the time so that I can contribute at all times. I have always enjoyed batting more. If I have scored runs and played a really good game it is because I have batted well. Off-spin bowling was just to keep me occupied."
However, it was her bowling that helped her rise through the ranks in domestic cricket. She was drafted into the Southern Stars team also as a bowler who could bat. Sthalekar was sent into bat at No 9 in the order where she managed to score a solitary run. However, she impressed with her off-breaks returning with figures of two for 25 from her eight over. She continued to contribute more than handsomely with the ball at the international level from thereon bagging 146 wickets at an average of 24.97 and a measly economy of 3.66. Her averages were even better in Test matches and T20 Internationals. She ended her career as the only player in women's cricket to boast a double: scoring over 1,000 runs and picking more than 100 wickets in ODIs.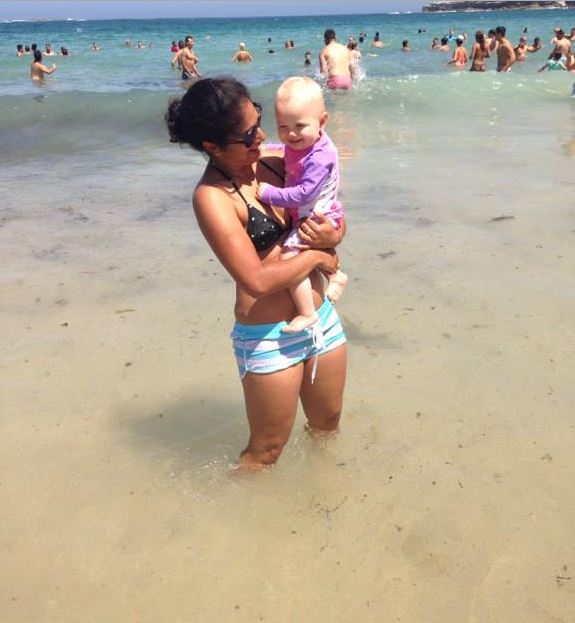 At Present:
The procession of Australians to the IPL has been given a twist for the upcoming season, with former Southern Stars players Lisa Sthalekar hired as TV commentators for the world's biggest Twenty20 competition. Sthalekar, who ended her decorated career as an all-rounder two years ago after the Southern Stars' 2013 World Cup win, has joined Jones for broadcasts of the women's domestic 50-over and Twenty20 finals, and has increasingly been used as a expert commentary by ABC Radio.
What do you think About This Story ? Are we Missed Your Favorite ! Tell us your comments below.
Click Here For 17 Hot & Sexy Photos of IPL Cheerleaders & Cheergirls | Cricket IPL 2015
Click Here 15 Photos Of Hot, Sexy & Beautiful Female Cricketers
Click Here 8 Hot & Sexy Anchors, Reporters & Presenters Who Brings Glamour In Cricket
H/T : cricketcountry.com
[divider scroll_text="Back To Top"]